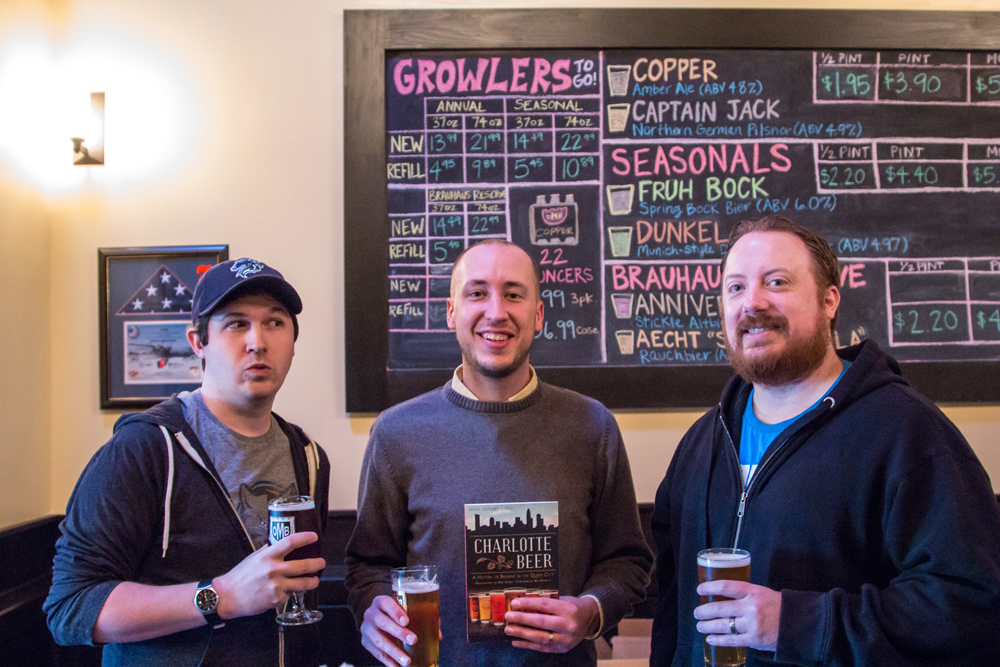 Hereford's face was either caused by a waitress walking by or the tray of beer she was carrying. Possibly both.

If you live in Charlotte and you like good beer, you need to know Daniel Hartis. He writes CharlotteBeer.com, the best source in the Queen City on NC and Charlotte Beers.
We caught up with Daniel at the Olde Mecklenburg Brewery for the first signing of his new book "A History of Brewing in the Queen City" which was released by American Palate, a division of The History Press. It's a great book, and we were happy to get a chance to talk to him.
__________________________________________________________________________________________
Charlotte Burger Blog: So, how did American Palate contact you?
Daniel: I think they just researched cities across the region to see who's not only got a good beer scene at the present, but also something historical. Charlotte, you wouldn't think, would have something historical like Charleston, Asheville, or Baltimore, or other cities that they've done beer titles with, but I did find out that there's a good bit of even pre-Prohibition history in Charlotte. Prohibition lasted a while here. There was one brewery after Prohibition, and then there were a host of 90's breweries. And that's what, to me, was most interesting because it's the closest to our current craft beer climate.
Charlotte Burger Blog: I know you got started with the beer scene in Asheville, but how did that come about?
Daniel: I was asked to cover beer and microbreweries for The Blue Banner, the school paper for UNC Asheville. At that point, really, I was drinking Milwaukee's Best or Busch—not to get wasted, it's just that was all we knew. We were college students. But, you know, we toured on a Brews Cruise, which still go on today, we went to Highland, Asheville Pizza, and French Broad. Highland especially, their Oatmeal Porter. That was the first time I had a porter or anything similar to that. After that I just made it a point to seek out local beers. Unfortunately, that article was assigned in 2006 and I graduated in 2007. So I only a had a year there, and I left in '08, so really two years to explore it. Of course, when I came back to Charlotte in '08 I continued that.
Charlotte Burger Blog: When did you start CharlotteBeer.com?
Daniel: In January of 2011.
Charlotte Burger Blog: What plans do you have for the future?
Daniel: I'd like to create a lot more content for the site, more detailed listings for every bar, brewery, or restaurant in the city. One of the things I'm most excited about is that I'd really like to do guides for, say South End, so it's even more hyper-local. So, it's like, "you're in Noda? Here's your breweries, here are your bottle shops, here are your bars." I'd like to continue growing the blog, growing the readership.
Charlotte Burger Blog: We looked at your Facebook readership, and it's over a thousand. That's really cool.
Daniel: Yeah. And Twitter's very active. I'm very fortunate that various people here I've been able to meet on various [online] accounts. Charlotte has a great craft beer scene, just really good people. All the breweries work together, the bars, the bottle shops.
Charlotte Burger Blog: One of the things we've been following on your site has been the proposed Charlotte zoning law for breweries. Could you tell us more about that?
Daniel: So,essentially, the breweries right now are confined to manufacturing areas in industrial zones, such as this, either I1 or I2. Birdsong and Noda are the same way. Heist Brewery got around that because they're classified as a restaurant. The same with Rock Bottom. So, what the bill aims to do, and we'll have to see how it goes, is the possibility of getting them in urban districts. Anyone who has been to a place like this realizes that, from a manufacturing standpoint, it's pretty quiet. There aren't trucks in and out all the time. There aren't loud noises or objectionable smells. I've been to two meetings, and they've been full of people wanting this to happen. And even the fact that the city, the planning department, has sponsored the whole process shows their support of the Charlotte beer scene. It shows that they realize that breweries like Olde Meck are bringing a lot of money into this city.
Charlotte Burger Blog: So, tell us about the research process. I understand you spent a lot of time in the library.
Daniel: Yeah, I really did. They were all very helpful in the Robinson-Spangler room in the library. A lot of the information for Pre-Prohibition history and just after were pulled from old city directories, old journals, and things like that. There really just wasn't much out there to go on. The 90's breweries were the same way. Even though the internet was around then, there just wasn't much online about them. It wasn't the same thing. You didn't have people writing about every possible thing that wasn't going on in the city. Fortunately I was able to make contact with just about everybody I wanted to from those old breweries: the brewers, the old owners, or even the managers. And they really helped when it came to writing about the 90's breweries.
Charlotte Burger Blog: Nice. Alright,  well, I have a history nerd question here. So, I know you write about Captain Jack, who is reported to have delivered the Mecklenburg Declaration of Independence to Philadelphia. What is your take on the historical legitimacy of the MeckDec?
Daniel: You know, it's tough to say. For me, I believe that it was legitimately the Mecklenburg Declaration of Independence, but you know, I'm not sure. I was very leary in the book. I say they may have been just the Mecklenburg Resolves, and not the full Declaration. I was careful to say that. But I think, regardless, most Charlotteans like to believe that. They like to think that we staked our claim as the nation's first to write a Declaration. And that it was delivered by a tavern keeper makes it just that much more cool.
_________________________________________________________________________________________
If you want to purchase a copy of his book, you can get one here. If you want to get a signed copy of Daniel's book, he still has a few signings left. You can catch him at:
Tuesday, March 19: NoDa Brewing's NoDable Release
Wednesday, March 20: Good Bottle Co. Session Beer Event
Thursday, March 21: Vintner Wine Market for the Charlotte Beer Tap Takeover
Tuesday, April 2: Heist Brewery
Wednesday, April 3: Triple C Brewing for Pilot Batch
Thursday, April 11: Birdsong Brewing for Thursty Thursday
Saturday, April 13: Park Rd Books
Thanks for Daniel for giving us the time to interview him, we look forward to drinking with him again!