Location: 7804 Rea Rd, Charlotte, NC 28277
If there are two things I like, one of them is definitely burgers. The other is definitely smashing things. When I was told there was a place that blended both concepts, I had to go there.
Smashburger opened its doors in Charlotte in the summer of 2011 and is located in the Stonecrest Shopping Center. You can find Smashburgers all over the country, but this happens to be the only one in North Carolina. Smashburgers is known for their unique way of preparing their burgers, but I'll get to that in a moment.
I, my wife Mrs. Angus, and my son Small Fry and a few friends arrived the early evening 1 on a Saturday night and it was PACKED. Now, I am not just talking about the parking lot. There is definitely ample parking in the area and you would figure at the time we arrived we'd be able to park right at the door. NOPE. We bribed an old couple into giving us their parking spot and we walked inside.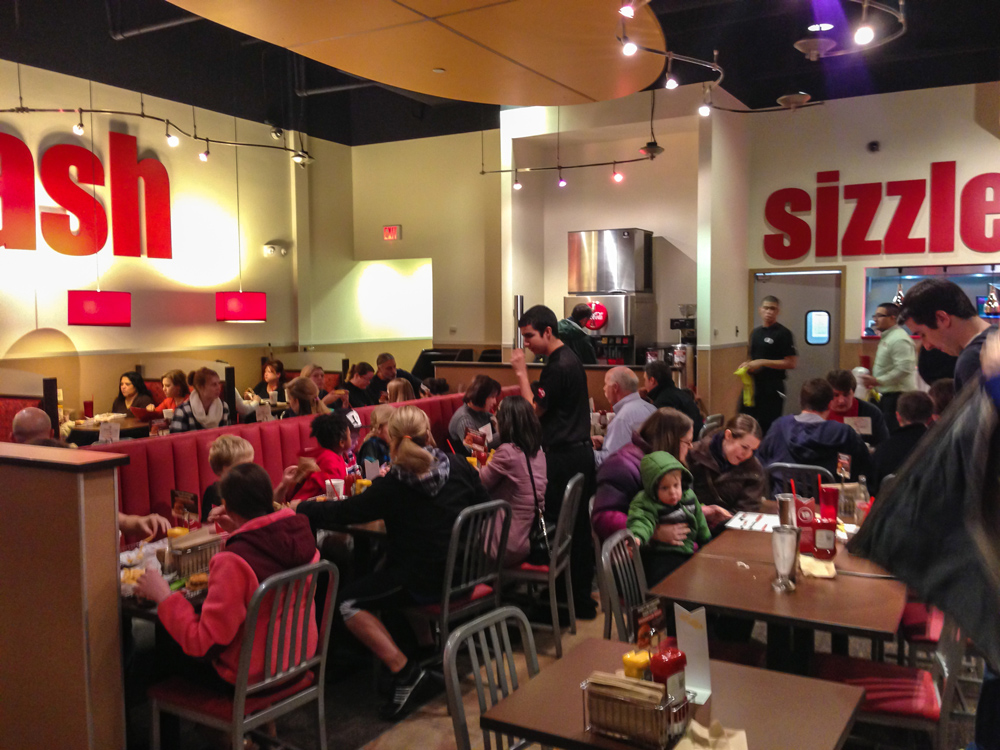 My son is the one in the green winter  jacket wondering why I am taking a picture and not getting him food.
Same thing. PACKED. We were worried that we would have to stand waiting for a table holding a 2 year old child, but Mrs. Angus spied a family getting up and we ran over and secured a spot.
Smashburger is one of those "I'm a restaurant", "No, I'm a fast food joint" places where you walk up to a counter and order your food but they bring it out to you and you use real plates and utensils. We grabbed a few menus and perused the options they had for burgers and then walked over to the counter.
Here's the Tale of the Tape:
EXHIBIT A:  BBQ, Bacon & Cheddar (Double Regular Smashburger)
(BBQ Sauce, applewood smoked bacon, cheddar cheese, and haystack onions on an egg bun)
Official Diameter:  5 inches (but that might be in part to the smashed patties)
Official Height: 3.25 inches
Cost:  $8.29 (Does not include sides)
Cooked to order: No
Smashburger gets its moniker from the way they cook their patties. As the very helpful and informative place card located at our table states, they start as a fresh never frozen ball of 100% Certified Angus Beef 2…smash it on a hot-buttered grill to sear the burger and seal in the juiciness.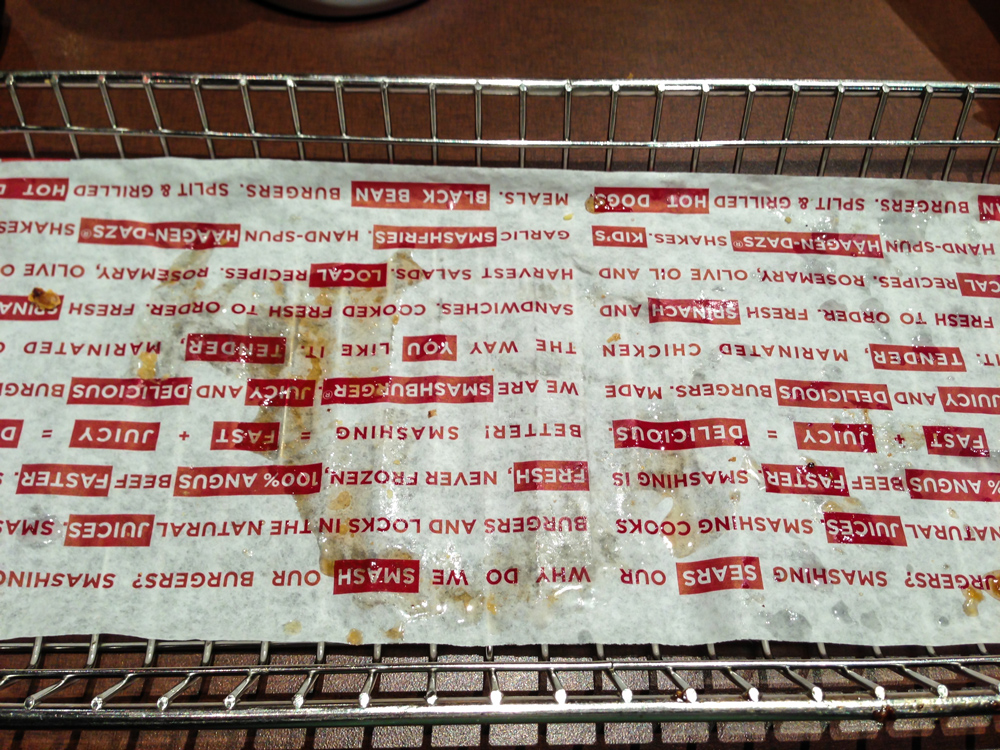 Smash. Greasy. Sear. Greasy. Juices. Greasy. Tender. Greasy. Fresh. Greasy. Delicious. Greasy. Greasy. Greasy. 
Well they definitely got that right, the juiciness was certainly sealed in. It came out, a greasy buttery mess. It was actually dripping when I did the transfer from my plate to the scale. As you can see from the pictures, grease was everywhere.
I am not one that lets grease get in the way of a good burger, so I dove right into it. The thing with me and "western" burgers is that if you are going to make one, go all the way. Haystack onion straws are fine, but just give me a nice crisp onion ring. As for the bacon, everyone knows I like it floppy, but their bacon was burnt and crispy.
The patty itself was really good, though. They season the patty after they smash it so the flavor is still all there and not cooked off. And it had a nice caramelized texture from the griddle.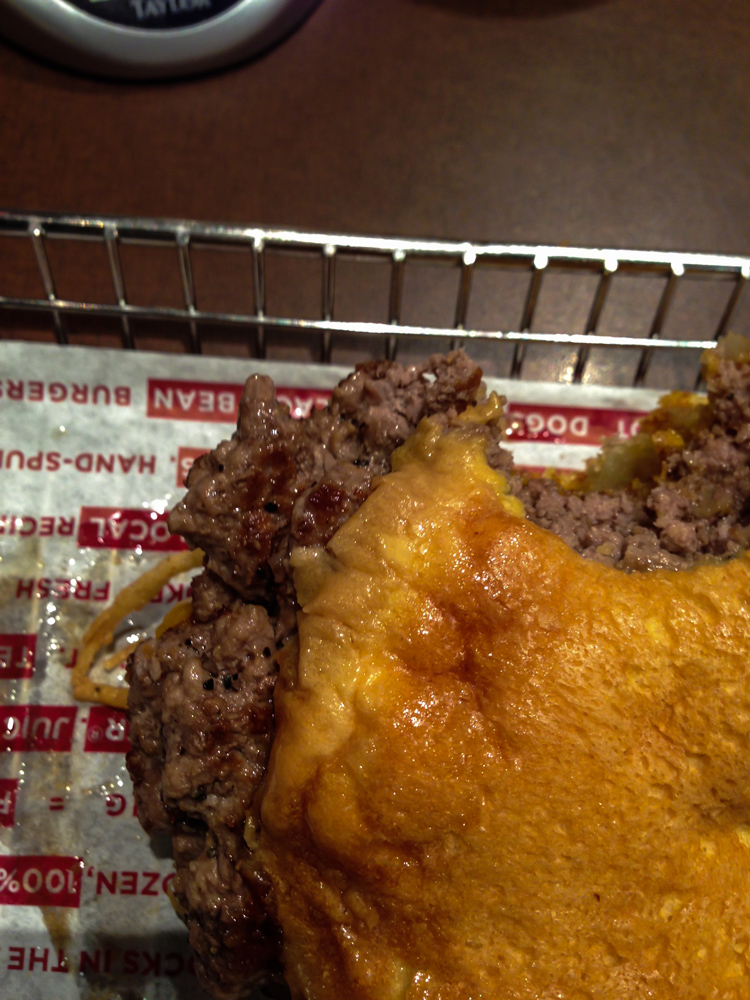 It's actually dripping right now.
In the end the grease was just too much for me. They even butter coat the buns here. The bbq sauce and the cheddar cheese taste was just lost in the midst of it all. I had to stop about half of the way though and call it quits. Normally, I would only call it quits half of the way through after about six Mickeys.
Burger Rating: 3.0
Other Food
Other Burgers – Here at Smashburger there are list of 7 burgers including 1 regional burger (in this case the Carolina Chili Smashburger 3). You can also create and customize your own with ingredients such as goat cheese, smash sauce, garlic mushrooms, and pretzel buns. They even have Veggie Smashburgers with black bean patties.
Sides – I was actually really impressed with the sides (except making the haystack onion straws a side… I mean… really?) They had different types of fries including Smashfries (which are not smashed at all) which were tossed with rosemary, olive oil, and garlic. That is what I ended up having and they were AWESOME. They were nice and crisp with the exact right amount of garlic. The Brunswick Smashfries sounded amazing (it's hard to be doused in Brunswick stew, cheddar cheese, and bbq sauce and NOT be amazing). Also they make one killer milkshake 4.
They had bottled beer there, but I always find it so weird when it is up near the counter where you order in a small cooler. They only had one regional beer, which happened to be one of my favorites, Carolina Blonde. They are also one of the few places around Charlotte that offer Cheerwine and Sundrop in a bottle.
Beer Rating: 2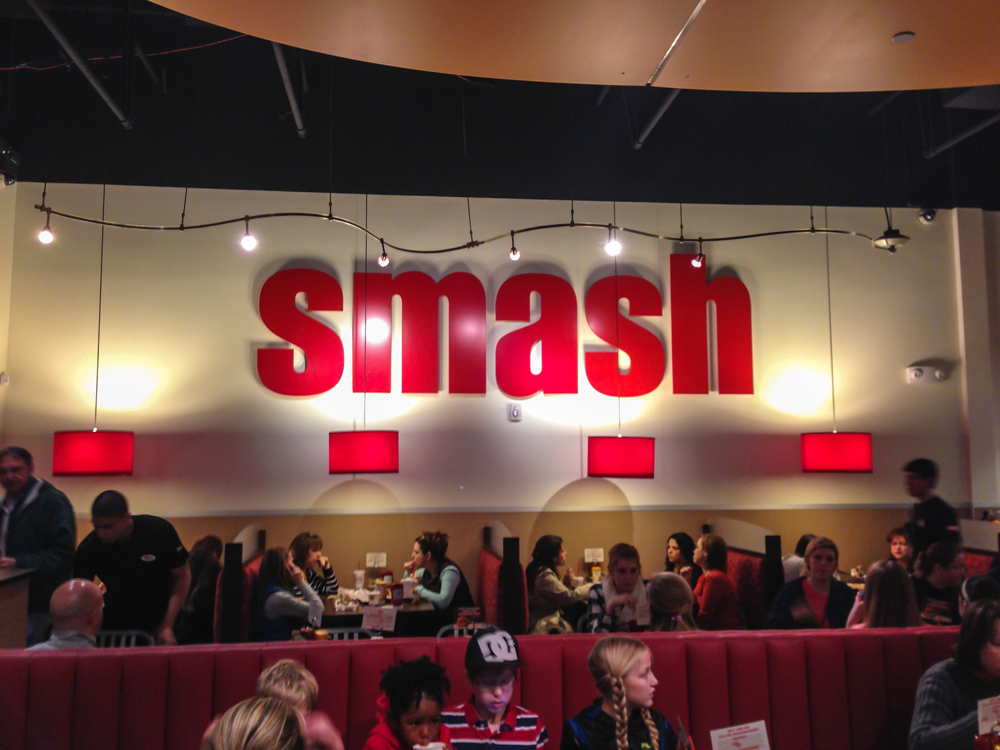 Your Graphic Design Methods professor would be so proud.
The place is decorated in a very corporate manner, with huge words that emphasize their brand on their wall. Now, the font they use is the type of font that every kid in design school uses called IMPACT 5. With big words such as "SMASH", "SIZZLE" and "SAVOR" plastered on each wall. Impact is like the new Comic Sans, except your Mom is slightly less likely to use it. So, I was going a little crazy. But you have got to give it to them. When they develop a brand they stick to it. So IMPACT was EVERYWHERE. And they like the color red also. Not sure if that was what looked good in the font choice, but yeah, red.
Environment Rating: 3
Conclusion
What was your favorite thing (non-food) about Smashburger?
Probably the location. Smashburger is located in an area of Stonecrest where there is a large patio with tables and chairs for dining outside. In the summer months they have local bands play, so you have free entertainment. Also, Regal Theater is in the same shopping center and it has the best 3D IMAX I have ever been to.
Would you eat here again?
I would like to think I would. The over-greasiness-factor might happened because I ordered a double patty in combination with the bun. Next time I'll get a single patty burger on a pretzel bun, which shouldn't be as greasy.
What font would you have chosen instead?
I don't know. Maybe Haettenschweiler.
Does Smashburger earn the Charlotte Burger Blog Seal of Approval?
It really doesn't. Now I have plenty of friends, including the people who went with me, who loved what they got. But, for me the grease was too much. If I couldn't finish it, then there must be something seriously wrong.
Signed,