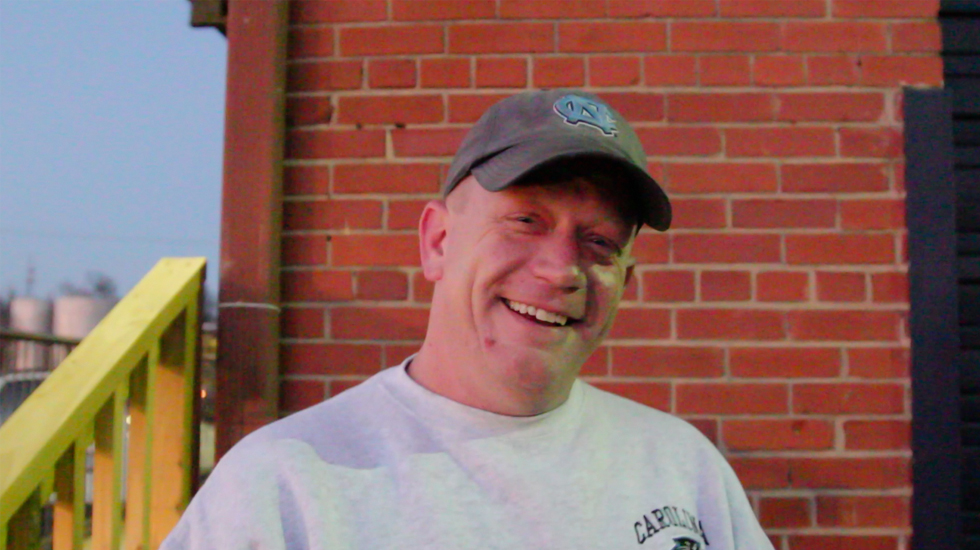 Andrew Lackey and Erik Hendrickson started Autoburger and Fry Guys in the spring of 2012. They have one of the most exciting food trucks in the Queen City. (At least to us. Maybe we're biased). We visited Autoburger on a Wednesday evening at NoDa brewing, one of their busiest nights. A lot of runners meet up there on Wednesday, go out for a few miles, and come back for a burger and some beer. We were able to spend some time talking with Andrew about Autoburger and the food truck business in the time he had between when the runners left and when they would get back.
Look for our review of Autoburger and Fry Guys later this week.
______________________________________________________________________________________
Charlotte Burger Blog: Congratulations on your one year anniversary. That's awesome. What are the benefits of doing a food truck as opposed to a stand-alone restaurant?
Andrew: Just the start up costs alone, is a big part of it to be honest. When you think about what the start up costs for a physical location is compared to our food truck, you can't compare the two. The other benefit is that we can go wherever. As an example, we're here tonight [NoDa Brewing]–we're here every Wednesday night. But the biggest difference is location, location, location. With a physical location you really have to pick a good location to thrive, and you're there. We have the ability to go anywhere. We're able to do things, like the Food Truck Fridays for example, that a physical location wouldn't be able to do.
Charlotte Burger Blog: How do you set your calendar? Do you go to people, or do people come to you?
Andrew: It actually goes both ways. With established trucks, and this is starting to happen for us, people call them. Because the word gets out, you know, Facebook, twitter, any social media. We still actually go after some specific locations that we think are going to be good avenues, especially for lunches. Dinners, that's a little different story because, for the most, people in Charlotte are driving out of town, so dinner we're not necessarily stressing so much.
Charlotte Burger Blog: Tell us about your food preparation, because it seems like y'all make everything, am I wrong?
Andrew: We try to do everything that we possibly can. What we really want is for this to be a restaurant on wheels. Period. No Questions. We started grinding our own beef–we would make our own cheese if we could. And, actually, our cheese is homemade. We're trying to get away from the processed food as much as we can. You've got to think about it–burgers are burgers. But, then there is a contingency of people who want the healthier side of things. We can control the fat content, we can control how fresh it is, we can control a lot of different things by grinding our own beef.
I'll be honest, Erik has a much better palate than I do, a much better palate, but I can taste the difference. We cook all of our burgers at any temperatures from medium to well, and Erik is actually excellent at that–he can pull them off at just right moment.
Charlotte Burger Blog: What about the truck? Where do you buy a food truck?
Andrew: Oh my gosh, do you have about 45 minutes? We actually went to Massachusetts, outside of Boston to get that truck. It came with a lot of the things we needed as far as refrigeration and a smaller grill. We've upgraded a lot things in it, just as we've grown. But, basically, it was hit the web and find anything and everything that we could that was even remotely close by.
Charlotte Burger Blog: And Massachusetts was the closest?
Andrew: Well, it was the closest for our price range and the closest with a decent truck. It was either head north, to the New York, Boston area, or head south. Atlanta had some. We looked into buying a new truck, fully outfitted, but you're talking seventy to a hundred grand for that.
Charlotte Burger Blog: So how old is that truck?
Andrew: It's a 1981 Ford E350 Step Van. Eventually, down the road, years probably, Erik and I want to open a restaurant. And we've thrown ideas out–like Pinky's over on the Westside, if we can swing it, we want to put that food truck on the top our restaurant. That's our baby.
Charlotte Burger Blog: I'll tell you what, your burgers are excellent. We really enjoyed them.
Andrew: That credit goes to Mr. Erik Henderson. He's the one that came up with the menu, he cooks 99% of the time, and he's really really good.
Charlotte Burger Blog: It was probably the most innovative burger we've ever tasted.
Andrew: We've got several specials that we run on rotation. When people ask me what's my favorite is the Latin, which has chorizo in it and queso fresco cheese. And then it has really really caramelized onions, fresh cilantro, and lime/cilantro aioli.
Charlotte Burger Blog: That's what I'm talking about. I wish that was on special today! That sounds amazing. Is that just a summer special?
Andrew: We try to alternate the specials. We try to run different themes, like French burger, the chorizo is more Latin. This Friday night we're going to be running what we call our Pork Lovers with a fried pork belly on top of the burger. I keep trying to tell Erik we need to call that one the Heart Stopper, but that might be a little unappetizing.
The fun thing for me is that I'll pick him as we're getting ready to prep and he'll say, "Here's what we're going to do today," and that, to me, is awesome. I know a lot of people will see the monotony of a restaurant, but he's excited. And that excites me. It's like, "Okay, I can't wait to try this."
And we can make whatever we want. Getting back to the advantages of a food truck, we have flexibility. A lot of time, for physical locations, especially big franchises don't have the ability to be as flexible as we can be in our menu.
Charlotte Burger Blog: What is your busiest location?
Andrew: By far, Food Truck Friday is the busiest for a majority of the food trucks around town. Especially in the middle of the summer. It's all you can do to get as much food out as fast as you can. Sometimes we run out of food, and any time we sell out, it's a good sell out. You've got to figure, that's a sixteen foot truck with only about twelve feet of cooking and working space. Plus, being a small business, we don't order three hundred pounds of beef. We don't order, five hundred dozen buns and things like that. Also, because we're trying to get it as fresh as we can.
I do want to give a plug to Golden Grains, they're our bakery. They're really good. They're good to us. They let us try different things.
At that point, we had to end our interview. Some of the runners were beginning to return, so he had to run back to the truck.
Thanks for Andrew for giving us the time to interview him, and look for our review of Autoburger at NoDa Brewing later in the week.