Location: 5700 University Pointe Blvd 28262
For the longest time here at the Charlotte Burger Blog we have avoided covering chain restaurants. It wasn't that we didn't eat at or enjoy chain restaurants–we may be snobs, but we're not that kind of snobs–but we wanted to highlight what was different about the Charlotte restaurant scene. We didn't think chains fit into that.
But, what the hell, let's start covering chains. At least every once in awhile. We don't think it'll hurt anything; local restaurants will still be our focus. And we'll only cover a chain if we feel there is some compelling reason too–like if they are a regional chain or if they're doing something particularly interesting. We're making a few other changes, and besides, I wanted to stop by and try a burger at Hwy 55.
Hwy 55 began as Andy's restaurants in 1991 in Eastern NC. They have over 100 locations, the vast majority in NC (and most of those east of Raleigh).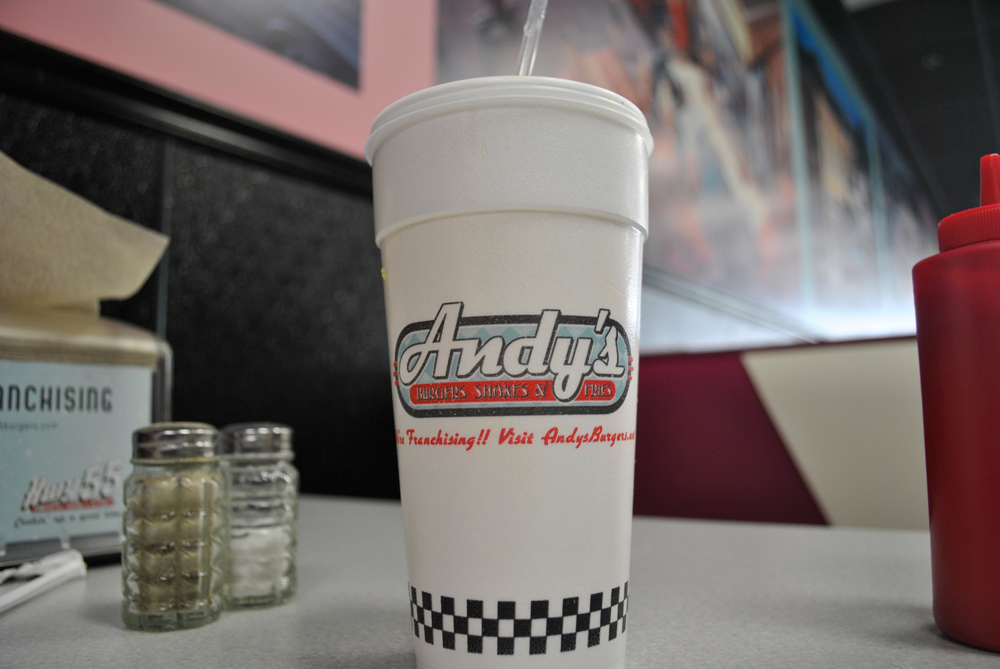 They haven't completely rid themselves of their old identity. But, then again, why get rid of a perfectly good cup just because you change your name and logo?
I grew up in Eastern NC, and I grew up with Andy's. It should be noted that the town I grew up in only had about four places that you could go eat, and three of those were classified as "family restaurants." Generally, that means the type of food your grandmother would cook, only not as good. I hated those places. Of course, we didn't have an Andy's in my town, but there were several nearby. When I got my license, and I could choose a place to go on my own to eat, more often than not it was Andy's. I went to the one in Vernon Park Mall in Kinston, or the one in Beulaville, or the one in Kenansville[ref]There's a 72% chance that I'm the only person living in Charlotte who has visited each of those towns. Also, 80% of statistics are made up on the spot.[/ref]. I absolutely loved them. It was there I fell in love with hamburgers.
But, I haven't been to one in a long time. I was not even aware they changed their name last year. It made me wonder: Would I like as it as much as I did when I was 16? Would it hold up? A lot of things haven't: Dave Matthews Band; Highlander the Series; wearing unbuttoned flannel shirts, even when girls could see me. Sometimes I wonder why I ever liked those things at all. (Well, not Highlander. That show was awesome. It was like Downton Abbey plus Heroes, only with sword fights[ref]For the record, Highlander is nothing like Downton Abbey or Heroes.[/ref]).
I stopped by Hwy 55 on a Tuesday afternoon to find out. There are a handful of locations for Hwy 55 already in the Charlotte area. They first started appearing here in the fall. Soon enough, if all goes to plan for the company, they will be everywhere.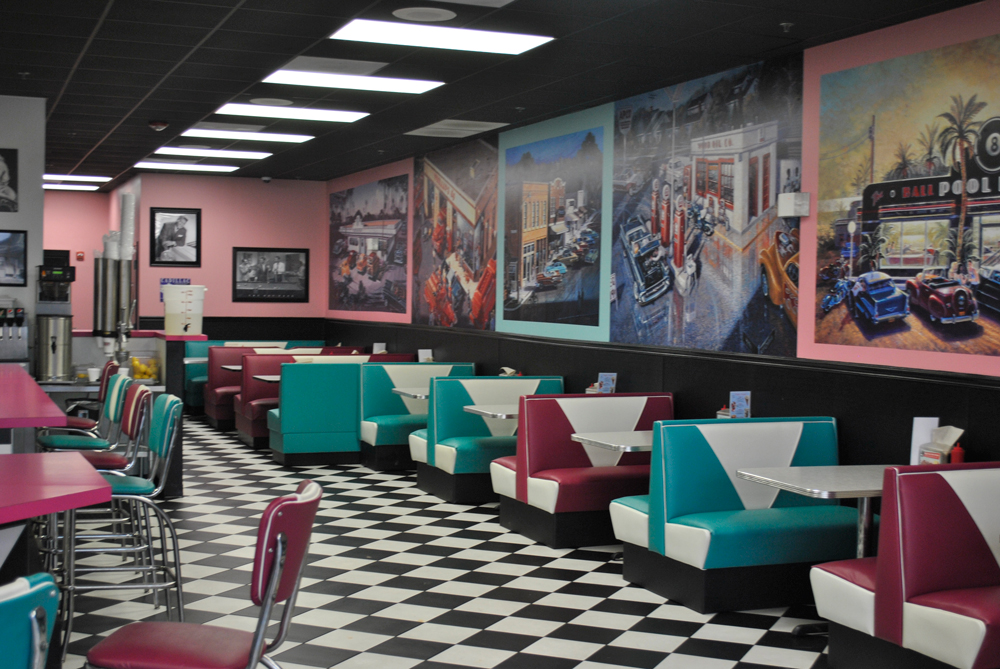 I think the teal and dark pink has scared everyone away.
I visited the one in the University area, in the same shopping center as the Wal-Mart. My buddy Matt came along with me[ref]Interesting fact about Matt. He has a superhuman-like ability to determine the celebrity doing a voiceover during a commercial. It's actually kind of annoying. He'll be watching TV and there'll be a commercial for, say, Nissan, and he'll be like, "Thanks for the information, Iron Man."[/ref]. Two notes about my visit: A) there were no other customers there at all. We had the whole place to ourselves. Maybe it was because I went in the early afternoon, inbetween when most people take their meals. And, it was a dreary Tuesday when people probably didn't want to be out. And, B) I was freakin' starving when I went there. It is important to note that last point, because it may have influenced my review.
The Tale of the Tape:
EXHIBIT A: Andy's Cheeseburger
(With bacon, lettuce, onion, and mustard)
Official Diameter: 4 inches
Official Height: 2.75 inches
Cost: $5.69 (Does not include sides)
Cooked to order: No
I was so hungry that day that I probably would have even given Chambers Grill a great review, so maybe you should take this with a grain of salt. But I have to say, I absolutely loved this burger. I thought it was amazing. What I really love about Hwy 55 burgers is that they season them really well, with a strong taste of pepper. Their bacon is crispy (for those who like that) and their buns are light and fresh. They seem squished in the pictures, but they were just that way from the transfer from tray to the scale.
In fact, I loved this burger so much, and I was so hungry, that I ordered a second burger. So here's a bonus burger review:
EXHIBIT B: Pimento Cheeseburger
(With bacon, which I didn't ask for, but I got it anyway, which was fine. I'm not sure if it was on my bill or not, though)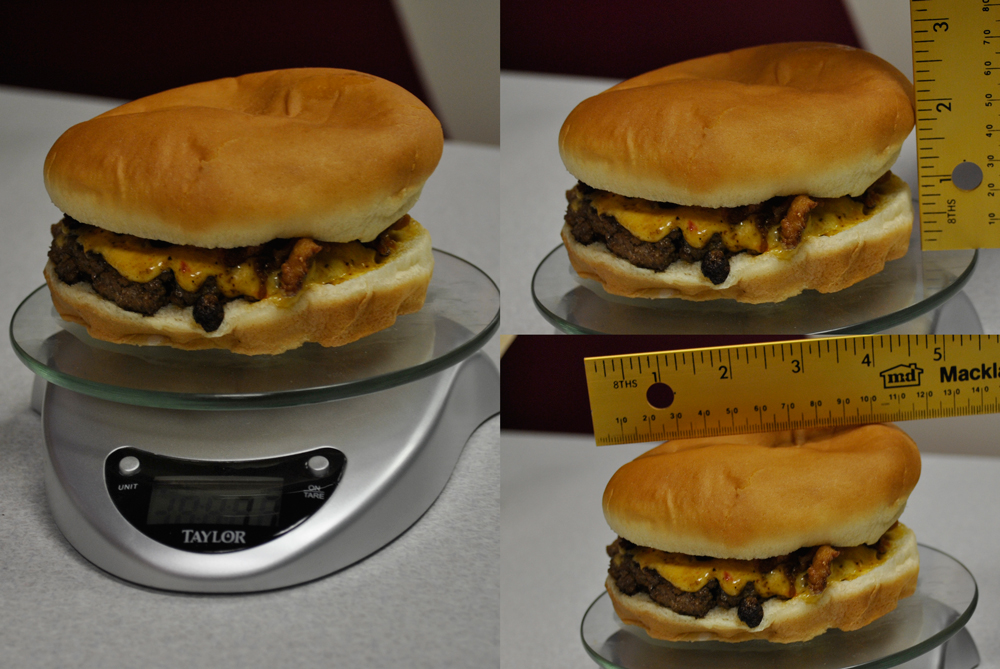 Official Weight: 7.7 ounces
Official Diameter: 4.5 inches
Official Height: 2.5 inches
Cost: $5.99 (Does not include sides)
Cooked to order: No
I'm not going to lie, I feel like a complete fat-ass by ordering two burgers. Especially since I could have just made the first burger a double for only 2 dollars more. But, if nothing else, having two confirmed to me just how good these burgers are. And the pimento cheese was decent. It's in fashion to have pimento cheese these days (and I love getting a southern style burger at the Diamond with pimento cheese), but a lot of places do it better than Hwy 55. Still, I liked it nonetheless.
Burger Rating: 3.75
Other Food
I also had fries with my first burger. (The more I write the more I feel this is a confession for Eater's Anonymous and not a blog post). To drink I got a fresh squeezed Orangeade, which has been an Andy's staple for years. They serve a lot of other sandwiches, including a shrimp burger and cheesesteaks.[ref]Oddly, the full name of Andy's was Andy's Cheesesteaks and Cheeseburgers. The cheesesteak has been demoted under the Hwy 55 moniker.[/ref]
Beer Rating: N/A
They don't serve beer.
Atmosphere Rating: 2
Andy's has always had a 50's theme, and one of coolest thing for a child eating there is that the kid-meals come in boxes that look like classic 50's cars. But, the 50's theme in their newer restaurants feels different than it was before. The places I went to as a teenager had more of a slapped-together feel. The nostalgia of Hwy 55 comes fresh out of the box. Whatever checklist you would make for 50's images is there. Elvis – check. James Dean – check. Marilyn Monroe – check (and check). On the radio they had Chuck Berry and Franki Vallie. I like all that stuff, and I understand the association between burgers and the 50's. But it's a well-trodden path, and they don't distinguish themselves thematically from other chains that associate themselves with that era. I don't see necessarily how that fits into Charlotte, considering if you're feeling a spell of 50's nostalgia you have restaurant options that have actually been around that long (i.e. South 21 and others).
Why does every nostalgia place have to be a 50's nostalgia place[ref]One exception I can think of: 80's nostalgia at the Breakfast Club.[/ref]. You know what would be awesome? A 1920's nostalgia place. Decorate the place in Art Deco and have the waitresses dress as flappers. Name the menu items after Bessie Smith and Jay Gatsby. I would eat there once a week.
Conclusion
What was your favorite thing (non-food) about Hwy 55?
Definitely the car boxes (which you can see here.) I didn't get a picture because I didn't order off the kids' menu. Also, this is the first review I wrote by myself without Angus and I felt like a creeper walking around taking pictures in an empty restaurant.[ref]Feeling may have been accurate.[/ref]
Would you eat here again?
Definitely. I'm glad that I liked my food as much as I did. It justified the underwhelming atmosphere, and also justified my own recollections about how much I liked this place. But, there are a lot of great burgers here in town. I don't know that I would go out of my way to stop by here. Also, it's within a stone's throw of one of the few South 21 restaurants, which I prefer, so if I lived in the area I would probably frequent them more than not .
Next time you come by, what will you order?
Probably the Po' Boy, definitely not the Big A Challenge. That's 50 oz. of meat, four toppings, a side of fries, and a 24 oz. soda (probably not diet). I thought two burgers was bad enough.
Does Hwy 55 earn the Charlotte Burger Blog Seal of Approval?
As much as I loved the food there, no. The Seal of Approval is for places that not only have great food, but you would go out of your way to visit them. These are the type of places you can't stop telling your friends about. Hwy 55, as good as it is, doesn't quite make it.
Signed,