WFAEats: All Things Food and Culture
The following is an article that we wrote for WFAEats. If you haven't visited their site, it's a local food blog published by 90.7fm WFAE, Charlotte's NPR News Source. They explore all things tasty and interesting in the Charlotte food scene. They post a lot of great articles about culinary escapades in the Queen City. Go check them out!
Hereford: We love hamburgers. After all, we spend a good part of each week eating them and writing about them. But, chances are that you love them too. According to the USDA, Americans eat over 25 billion pounds of ground beef a year, most of it in the form of hamburgers.
Apparently, though, that's still not enough burger for us as a nation. It seems that we crave burgers even as we eat other foods, such as pizza, or omelets, or even sushi. To accommodate this craving, many restaurants are offering an integration of burgers with their other foods. We like to call these culinary combinations Burger Mergers…
Angus: Note: we did not come to that name easily. We racked our brains (and our friends' brains) to try to come with something to call it that was half-way clever. Some of the other ideas we came up with included:
Burgosites
Burgalgamations
Burgenthysis
Collaburgations
Burgmutations
We ultimately selected the one that the spell check liked the most.
We would like to thank our friends Adam (from ThisBlogMayOrMayNotSuck), Lauren and Briana (from TheFoodBaby), and Daniel (from CharlotteBeer) for helping us to come up with a name.
Hereford: When we rate hamburgers, we always rate our experience in a variety of categories on a scale of 1-5. In reviewing these burger mergers, we'll have a few new metrics to rate and compare them. They are:
Burgosity: This metric will determine how burger-like the food is. This rating is on a scale from 1-5, with a one having absolutely no burger qualities at all and a five actually being a hamburger. Uniquely, for this measure a five is not necessarily positive; a three would be a perfect fusion of the two separate foods.
Overall Taste: This rating will answer how good we felt the food was. This is much more straight-forward.
Creativity: This is how we'll rate how ingenious we feel the integration is. The less obvious the pairing is, and the more complicated the recipe, the higher this rating will be.
We visited four restaurants and one bakery in the past two weeks to eat as many burger mergers in Charlotte as we could. Here are our findings: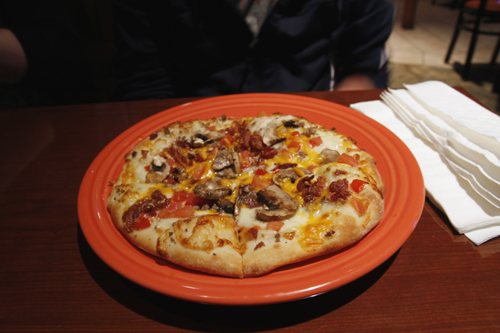 EXHIBIT A: CHEESEBURGER PIZZA
Wolfman Pizza
1039-A Providence Road 28207
Angus: The one food that rivals burgers in popularity here in America is pizza, so a fusion of the two is a natural pairing. Wolfman Pizza, which is probably my monster-themed restaurant in town, has one on the menu called the "Cheeseburger Cheeseburger."
The menu describes it as having ground beef, bacon, Roma tomatoes, fresh mushrooms, cheddar, mozzarella, "and our secret cheeseburger sauce."
Here's how we rated it:
Burgosity: We found that, despite the double name, the Cheeseburger Cheeseburger strangely didn't seem very cheeseburger-like. We thought it was more like a normal pizza. In fact, there was not very much ground beef on it, something unexpected for a cheeseburger pizza. But, it was outweighed by the bacon.

I think that they should have probably used cheddar exclusively for the cheese, as the mozzarella is very normal for pizza. The mushrooms, also, were an odd choice to include. They aren't a classic cheeseburger topping. The tomato was a good choice, though.
I couldn't quite place what the "secret cheeseburger sauce" was, I think maybe that it's a very mild ranch, but I know one place where I've never tasted it before—on a cheeseburger. Rating: 1.5
Overall Taste: With all that being said, we thought this was a very good pizza. The ingredients were fresh and flavorful, and everything worked well together, even if we didn't think it was very cheeseburger-like. We quickly destroyed this. Rating: 4.5
Creativity: This was a combination that seemed obvious, but they went in an odd direction with the ingredients. A little bit more thought would have made this more burger-like, and would have warranted a higher score. Rating: 1.5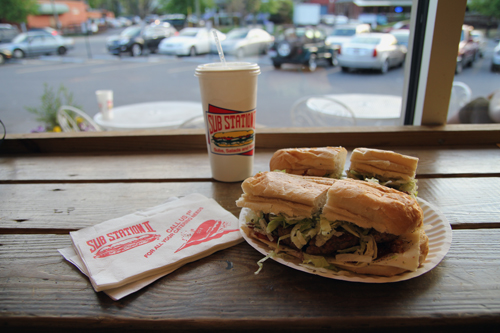 EXHIBIT B: CHEESEBURGER SUB
Sub Station II
1941 East 7th Street 28204
Hereford: For the next burger merger, we stopped by my local franchise of the modest southern sandwich chain, Sub Station II. There, if you order a #36, you'll get a Cheeseburger Sub.
The Cheeseburger Sub comes just like a normal sub, but with a hamburger patty and cheese. All of the normal options are available, such as lettuce, tomato, onion, bell pepper, banana peppers, etc.
We chose to get a standard hoagie roll, and get it all the way (lettuce, tomato, onion, salt & pepper, oregano, and oil & vinegar) with bacon. For cheese we took the standard American.
The analysis:
Burgosity: Hamburgers are already sandwiches, and the biggest difference for this was the roll. I'm not sure what they could do to create more of a fusion, but there has to be something. Rating: 4.5
Overall Taste: After ordering, they pulled some pre-pared hamburger patties from a container, which couldn't have been fixed that day (I'm sure their deli meats are more popular options). We're also pretty sure that they didn't contain 100% beef. Mrs. Angus, Angus's wife, said it tasted like a very good school hamburger. Perhaps not the type of praise they would want, but it is certainly accurate.

The bacon was also pre-prepared, but that is to be expected at a sandwich shop, where everything is usually made quickly. All of the other ingredients (lettuce, roll, etc.) were very typical sandwich shop fare and were pretty good. Rating: 2.5
Creativity: This is an even more simple combination than the cheeseburger pizza. As noted earlier, it feels like something more could be done to make this more of a true burger merger. I mean, I can't think of anything, but certainly someone smarter than me could. Rating: 1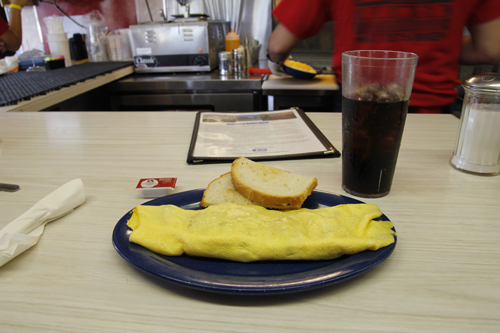 EXHIBIT C: CHEESEBURGER OMELET
Mattie'S Diner
915 Hamilton St. 28206
Angus: We arrived at our next burger merger in a slightly different fashion than the others. That's because it's not something you'll find on the menu at Mattie'S.
If you haven't been to Mattie'S, you really should give it a try. It's run by some very nice people, and it's a beautiful authentic diner from the 1940's. It's one of our favorite new places. They have a lot of great food on the menu. (Read our review of their burgers here.)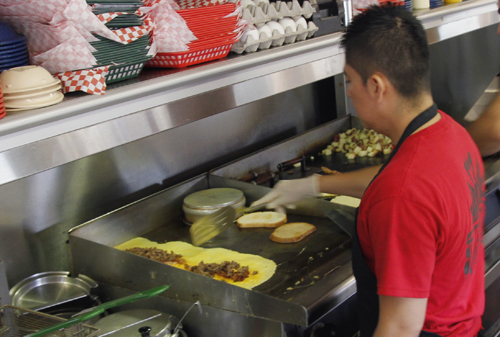 I was over there a month or so ago with Mrs. Angus for breakfast, and was having a hard time deciding on exactly what I should get. Mattie himself was cooking the food behind the counter and made a suggestion for me—"How about I fix you a cheeseburger omelet?" I have a standing rule—any time a cook asks if he can fix you something, you should. And it was fantastic.
If you decide to go in and have one for yourself, just ask your server for it, and they should have no problem making you one.
Here's how it rates as a burger merger.
Burgosity: One of the things I loved about the cheeseburger omelet was that they start by putting a fresh seasoned and prepared hamburger patty on the grill. Then, let it cook for a minute, breaking it up, and cook it some more. Then they cook the eggs, put a layer of cheese in it, and add the hamburger meat and a few strips of bacon. It's simple, but perfect. And it's a near perfect merger of the two foods. It's a great omelet, with the qualities of a great hamburger. Rating: 2.75
Overall Taste: This is my new favorite omelet. It tasted amazing. I could probably eat one of these every morning for breakfast. Rating: 5
Creativity: Even though it's relatively simple, I was originally impressed that it was made up on the spot and was ultimately so tasty. It's not two foods that I would necessarily think to put together. Rating: 3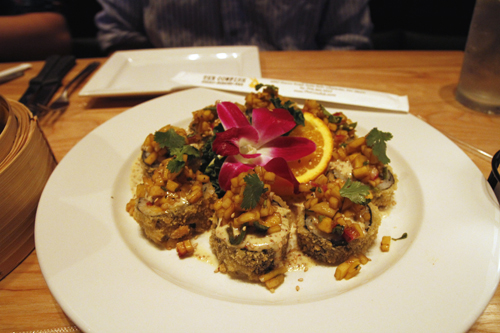 EXHIBIT D: BURGUSHI
The Cowfish
4310 Sharon Road 28211
Hereford: When we first reviewed The Cowfish back in November, it had just opened and everyone there was full of hopes for what the place could be. When we returned on a Monday night a couple of weeks ago to review their signature item, a burger/sushi hybrid called "burgushi," we had to wait 40 minutes just to get a table. It has become one of the most popular new restaurants in Charlotte.
That popularity is based on their unique (and by unique, I mean odd) combination of food. Of all the burger mergers in this review, it is the one that is the most likely to give people pause. It's the type of place that you have to tell people you've been to, and the type of place that when you do you'll spend a half an hour answering their questions about what it's like.
There are actually several different variations of burgushi to choose from, each with a different level of burgosity. On this trip we chose the South of the Border Roll, with, "seasoned natural Angus beef, homemade pimiento cheese, guacamole and tomato salsa rolled with sushi rice and seaweed, dusted with panko and flash fried. Each piece is topped with sweet & spicy mango salsa. Served with creamy dijon sauce."
Here's how we rated it:
Burgosity: Because you eat it with chopsticks, and it is topped with sushi-like sauces, it initially seems very sushi-like. But then you bite into the beef and it is very burger like. As you're chewing it, it the tastes go back and forth between the two foods. It's a very interesting, and perfectly balanced, experience. Rating: 3
Overall Taste: It may seem like something like this would primarily be a gimmick, and maybe that's true, but if so it's a tasty gimmick. These things are amazing, and something that has to be tasted to be believed. Rating: 5
Creativity: They way they integrate these two items really takes a sort of genius. If I had made a list of 50 possible burger mergers you could create, burgushi never would have made it. Rating: 5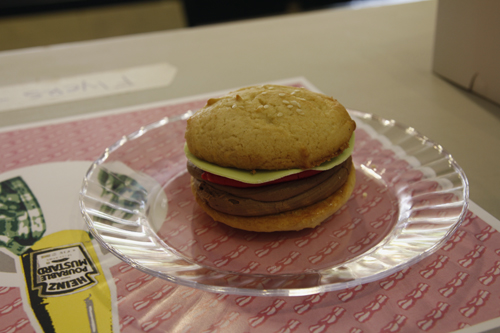 EXHIBIT E: HAMBURGER CUPCAKES
Edible Art
2900 Selwyn Ave 28209
Angus: At this point we were beginning to exhaust our burger mergers possibilities. But I had read before about people having hamburger cupcakes, and we thought that might be an interesting way to end this experiment—with a dessert.
So we emailed The Edible Art Bakery on Selwyn Avenue and asked if they would mind being a little creative and come up with something special for us. We gave them very little instructions. We said we would like a hamburger cupcake, but all the details would be up to them.
Luckily for us, they seemed excited about the challenge. But, they said, it wouldn't exactly be a cupcake. They instead made it out of vanilla whoopee pies and used chocolate filling to make the burger. Then they added fondant lettuce and tomatoes for garnishes, and even put some sesame seeds on top to create the perfect illusion. These things really looked like little sliders.
Here are the ratings:
Burgosity: Obviously, this had no burger flavors—I don't think I would want it to—but the shape and inspiration was from hamburgers. Biting in to the cake and icing was kind of odd at first. My mind was reflexively expected something else. But they tasted sugary and sweet. Rating: 2
Overall Taste: These things were better than I even expected. I shared some with a few of my classmates at UNCC, and people went crazy for them. It was partly the novelty, but it was also because they were so sweet and so good. Rating: 5
Creativity: The good people at Edible Art took our open suggestion and ran with it, coming up with something really cool. It wound up being different from what we thought they were going to do, but I think they did a great job. Rating: 5
Hereford: I hope that there are a lot more burger mergers out there that we don't know about. If you find any, please let us know at hereford@charlotteburgerblog.com, or angus@charlotteburgerblog.com. We would love to be able to write a follow up to this article with even more items.
Angus: Who knows what's out there. Hamburger potato chips? Hamburger ice cream? Hamburger soup? Hamburger pie? Really, the possibilities are endless. And sure, some of those sound like they could be gross, but I never would have expected hamburger sushi to be as wonderful as it was. Restaurateurs of Charlotte, consider yourself challenged!
Sincerely,