Location: 7725 Colony Road 28226
Angus: It's officially summer. Maybe it's not according to the calendar, but I don't care about calendars. I care about beer, and it must be summer because craft breweries around the country are introducing their summer seasonal brews.
Among them is the Olde Mecklenburg Brewery, who has released an awesome summer Pilsner that they're calling the Captain Jack Pilsner. We went to the release party to try some as early as possible, and we love it. We also were able to meet a lot of cool people there as we consumed a couple of mugs of the Capt. Jack, and a couple of mugs of the other great beers they have.
Hereford: After leaving the brewery, it was time for us to do a burger review. Our latest burger place was suggested to us by Tom and June, who we met while reviewing Mueller's. They told us about several places that they thought had great burgers, but at the top of their list was The Lodge.
So, we piled into our friend Matthias's car (we were in no state to drive), plugged the address into the GPS, and went to find out about it for ourselves.
Angus: The Lodge is located at Colony Place, a small but very nice shopping center that seems almost exclusively built for the homes around it.
When we went inside, the first thing that caught our attention is that you are allowed to write on the wall. I always wonder how that decision is made—does one jerk sneak in a sharpie and put his name on the wall, leading the owner to think, "Ah, screw it. If we can't stop it, we might as well encourage it."
Hereford: People write some weird things on the wall. A lot of times it's just your initials and a date, but sometimes it's a nonsense statement. Some of the writings near our table said:
"I lost my dignity at the Lodge." —Well, hopefully not on our table.

"Spring Break 2011" —This might have been related to the previous one.

"I love the love. Reece Johnston." —This one might be too.
I don't get whatever it is that possesses someone to write something like that. But, maybe we're lucky and we might one day find out. It's possible that Reece will be Googling himself one day and this review will appear. What's up, Reece! Drop us a line!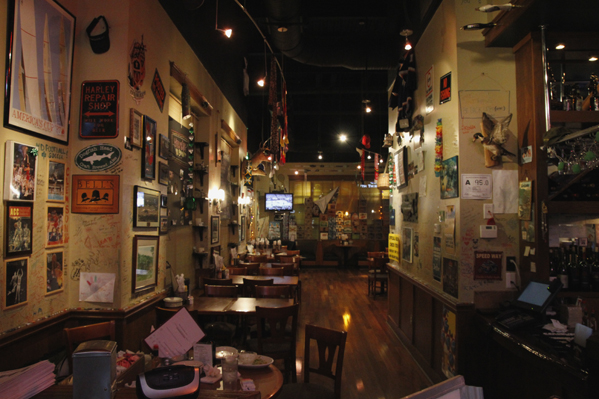 Angus: The Lodge is a sports bar, but it doesn't feel quite like most other sports bars in town. They call themselves a "sportsman's grill," and, accordingly, they have a broader focus than most sports bars. Naturally, they have the normal football and basketball stuff. But they also have hunting and fishing gear (and the only boomerang that I've seen in a restaurant outside of an Outback.) On the wall they have the mounted heads of black bear, foxes, and deer, none of which died of natural causes.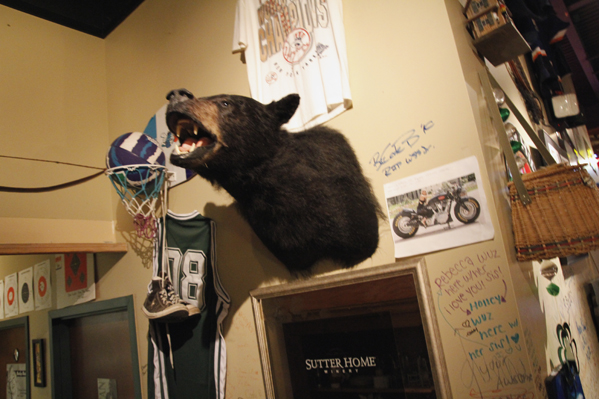 I guess some people might have a problem with that, but I thought it was awesome. There's a comfort there sitting and eating and staring at something that could kill you (the bear) and know that you're still at the top of the food chain.
Unfortunately, the sportsman's theme is somewhat undercut by their music selection. When "I Want it That Way," came on, I wondered if the guy who shot that black bear was listening to the Backstreet Boys on his iPod when he was loading his gun.
Hereford: We decided not to order any beer with our meal, since we had consumed quite a bit at the OMB (and honestly, I was still feeling it), but we did like what we saw on the beer menu. They had a lot of great beer on hand, but specifically they had a lot of great beer from breweries in NC and SC. In addition to the Old Meck they had on tap, they also had Natty Greene's, Lone Rider, Mother Earth, and Catawba Valley (of which we're very big fans of their White Zombie and seasonal pumpkin beers).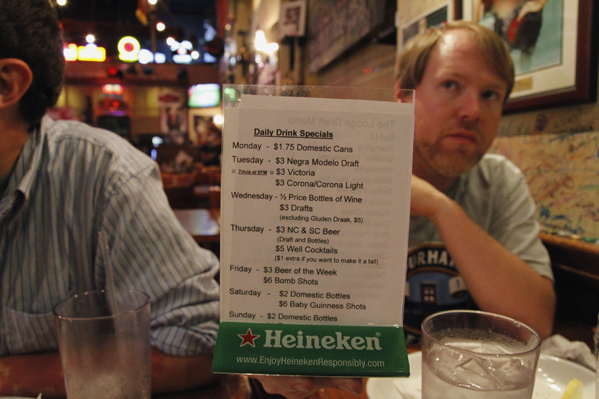 Best of all, on Thursdays they have a local beer special: all NC and SC beer is only $3. That's a fantastic, and commendable, promotion. If you haven't had a chance to try any of those local breweries, the Lodge would be a good place to stop by on a Thursday to give them a try.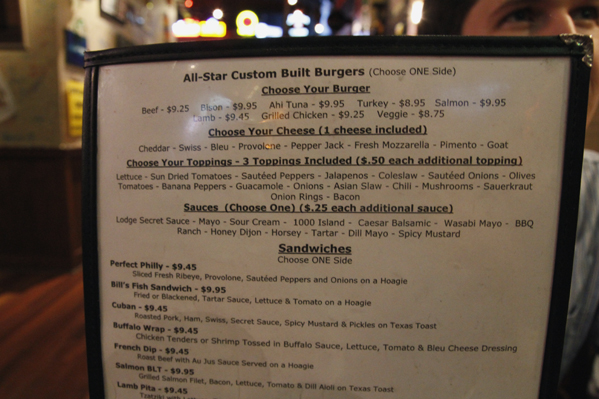 Angus: In keeping with the sportsman's theme, there are several meat options for your burger. Aside from the obligatory beef, they also have bison, tuna, turkey, salmon, lamb, and chicken. (They also have a veggie patty).
I really wanted to get a bison burger and sit in the Lodge and pretend I hunted it myself (with Theodore Roosevelt as my hunting partner!) Of course, Hereford had to ruin it. He told me that I shouldn't get bison as my meat.
Hereford: Well, I just wanted to protect the focus of the blog. I like how narrow and specific we are—I find it amusing. But, maybe I'm wrong. In fact, feel free to contact us to let us know if we made the right decision.
Angus: The burgers on the menu are listed as "All-Star Custom Built Burgers." They don't have specialty burgers on the menu—it's all build-your-own. Your options are listed in four stages: meat, cheese, toppings, and sauces.
As I resigned myself to eating a regular beef burger, I looked at my options for each of the other three stages. You have a limit on each of the other stages for how many you can get before they charge you. For cheese, the first slice is free, then it is additional for any more. They have several options for cheese—cheddar, Swiss, bleu, provolone, pepper jack, mozzarella, pimento, and goat. For toppings, three are included before they start to charge you. There are over 15 toppings to choose from, including coleslaw, guacamole, chili, mushrooms, and bacon. One sauce is included, and they have more than ten sauces to pick from, including sour cream, wasabi mayo, horsey, Thousand Island, and "The Lodge Secret Sauce." (Spoiler alert: the secret sauce is garlic aioli.)
From the options I had available, I chose a burger with cheddar, mozzarella, lettuce, bacon, and Thousand Island.
Hereford: I would have asked our server to simply select my options for me (as I did at Mac's), but for two reasons I didn't. One, our server told me she would probably have picked a classic burger anyway. Second, while they don't have specialty burgers on the menu, they did have some burger specials on an erase board as we walked in. Their burger of the day was a Pittsburgh Burger (similar to what Angus had at Nix.)
Angus: After about 20 minutes, our food came out.
Here's the tale of the tape:
EXHIBIT A: ANGUS' ALL-STAR CUSTOM BUILT BURGER
Official Weight: 13.7 ounces
Official Diameter: 5 inches
Official Height:3.25 inches
Cost: $9.25
Angus: I was immediately impressed with the size of this burger. (Of course, Hereford's was even bigger.) The beef on the burger was seasoned and had a lot of flavor, and was cooked perfectly to order. Someone in the kitchen took great care to get it exactly right. I suspect it was cooked on a griddle, because it picked up a lot of juice (and that flavor).
The toppings were also great; the bacon was thick and floppy, and the cheese was fresh—especially the mozzarella. The mozzarella was so thick and fresh it almost prompted me to start speaking in Italian for the rest of the night.
The only thing disappointing about my meal was my side of onion rings. I felt they were too greasy, and were cut too thin. The breading slid off as I ate them. To me, they seemed more like onion straws.
EXHIBIT B: THE PITTSBURGH BURGER
Official Weight: 15.2 ounces
Official Diameter: 5 inches
Official Height: 4 inches
Cost: $9.25
Hereford: It was close, but this was the largest burger that has been served to me for this blog. It was enormous, and a challenge to eat it all, even as it tasted great.
There wasn't any sauce on the burger, so flavor came from the beef, the cheese, and the slaw. All three were great. The slaw was a vinegar based slaw, and gave the burger a nice tartness.
However, I don't see what the point of the French fries on top of the burger. The fries they used were the same as the ones I got as a side, which was good—they were shoe-string fries that were crispy and lightly salted. But they don't' have a lot of flavor, and they don't add a lot of texture. They're great by themselves, but they get lost on top the burger.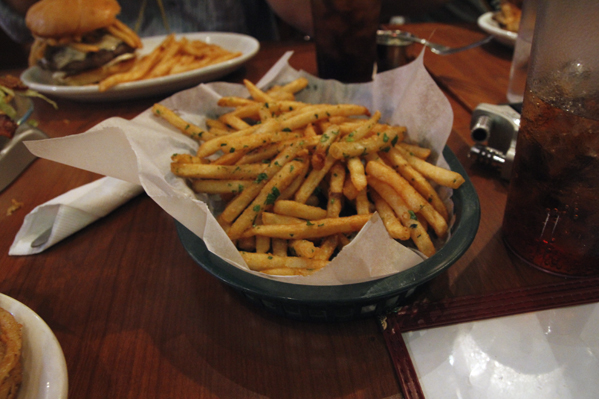 I think maybe they should use garlic fries for the burger, which we also had an order of at the table. They were very garlic-y, and would have added a strong flavor.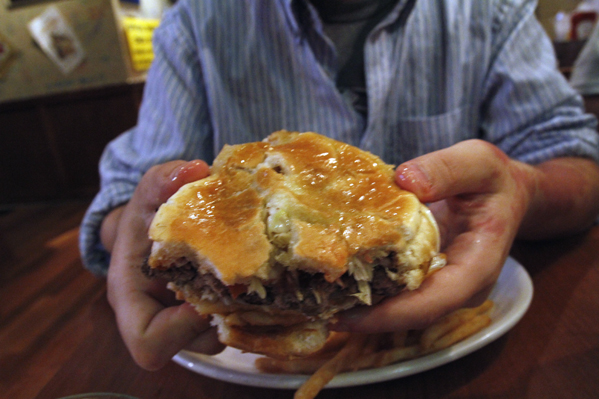 My biggest complaint about the burger, though, was that it was extremely greasy. The burger's natural juice mixed with the vinegar that leaked out from the slaw and got everywhere. I had to ask people to hand me stuff. It felt like I had dipped my hand into a vat of oil.
So, with that said, here's the final analysis:
Food: 4.5— The recommendation we received turned out to be a good one. Not only does The Lodge serve high quality burgers, but they are also massive burgers. Just ask for extra napkins.
Service: 4— We were just about the only people there, but our server was very nice to us. That's even though Hereford, who still had too many beers in him, made comments that were supposed to be jokes, but wound up sounding kind of rude. By the way, if you're reading this, he apologizes.
Theme: 4.5— The Lodge gets extra points for taking a normal sports theme and going somewhere slightly different with it. It reminded us of the first several years of Sports Illustrated, except minus the yachting.
Atmosphere: 3.5— It seemed like it's probably a cool place to hang out, but there weren't many people there, so that was hard to judge. We suspect this is probably higher on a weekend night.
Beer Selection: 4.5— This rating is rather high due to their large number of local beers. That's something that we think is important and should be rewarded. Now we'd love for them to add some Four Friends brewing to their list.
Signed,