Note: This restaurant is no longer in business.
Location: 15025 Lancaster Highway, Suite D-1 29277
Hereford: One of the consequences of writing a food blog, but especially a burger blog, is that you will gain weight. You can't eat burgers as often as we do and not notice some unflattering changes to your figure.
That's why I'm trying to lose weight. I'm getting out and running and eating better, (you know, when we're not out for a review). But finding something to eat that you like, but isn't terrible for you, can be frustrating. You've trained yourself for years to eat certain things, and then you try to deny yourself those things. It doesn't always work.
But now there's a place in Charlotte where you can try to bridge that gap between what you want to eat and what you should eat. It's in Ballantyne, and it's called Topz Healthier Burger Grill.
Angus: At Topz you can get the food you would want and expect from a burger place: burgers, hot dogs, fries, onion rings, etc. But it's not like other burger places. They don't serve it absorbed in greasy fat. With each menu option they have tried to make it somehow healthier, so you don't have to feel guilty for eating it. (Or, at least, less guilty). That's why they wear these shirts: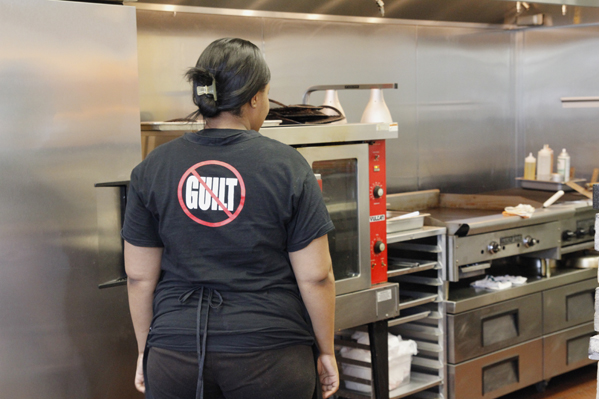 Now, healthier doesn't necessarily mean healthy. But it's better than what you would normally expect from this type of food. And if you want it completely healthy, you can choose to do that too. While their focus is burgers, you can get a salad or a fish sandwich there.
Hereford: We had been aware of Topz for a while, but we didn't have plans to review it because we thought that it was a part of a larger chain. We Googled Topz and saw hits come up from California, Texas, and Michigan. We're not opposed to chains, but we long ago decided that it isn't the purpose of this blog to write about them.
But then we got an email from Chip Wallach, Topz's owner, who invited us to stop by. He informed us that when Topz opened in 2008 they were a part of a franchise, but since then the franchise has gone out of business. All of the other Topz restaurants are gone, save for one in Santa Monica, and they are no longer affiliated with each other.
Angus: He also said that since they've been on their own they have added new items to their menu and that they are trying to be creative with their offerings.
Now that we know that Topz is locally owned, is not part of a franchise, and completely different from other burger places in town, we decided that it is definitely the purpose of this blog to stop by and find out about them.
Besides, we could use a break from greasy burgers we normally eat. We love them, but our bodies would probably thank us.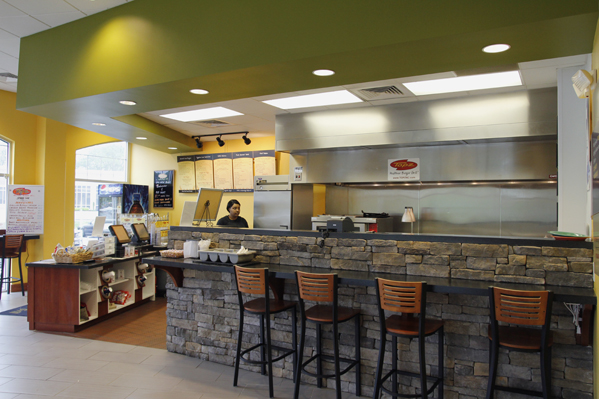 Hereford: We stopped by on a Friday for lunch, and I'm glad that we did. It seems like it's much more of a lunch place (even though they're open until 9 p.m.). It's bright and open inside, reminding me of a Subway or a Quizno's, but nicer. The signage and decorations of the store are obviously a remnant of their former franchise.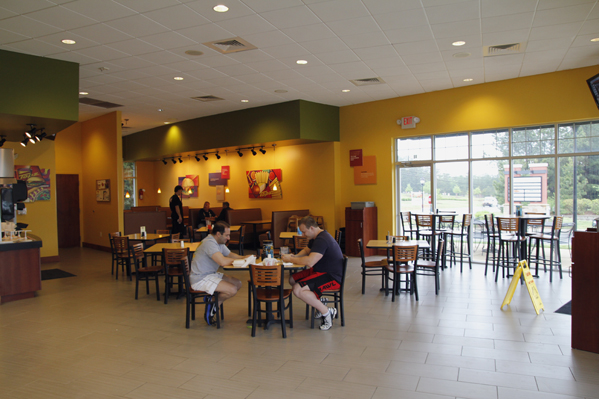 There were a few people when we came in, but it wasn't busy. (We stopped by on Good Friday, and I don't know how much of a factor that was.) We did see a couple of guys in work-out clothes that had walked over from the gym a couple of doors down, which seemed appropriate.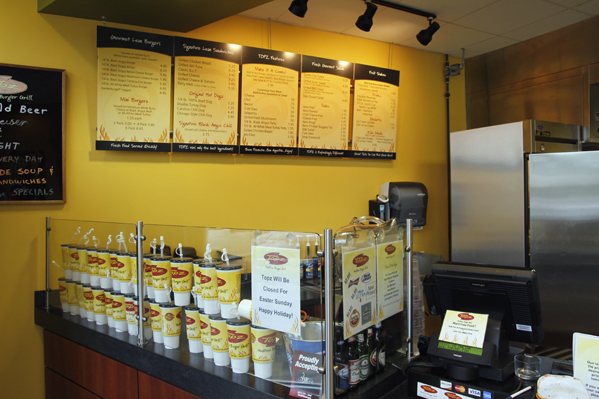 Angus: Topz uses a lunch counter procedure for ordering. They have a counter where you tell them what you want, and then someone brings it out to you. You get your drinks yourself.
Since the first thing we did was order, here's what we selected. I got a quarter pound Black Angus Bacon Cheese Burger with Thousand Island dressing and American cheese. (I had them hold the pickles, tomato, and grilled onions that normally come with that order).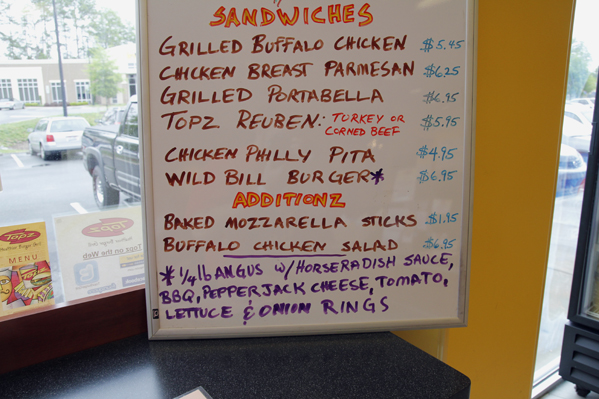 Hereford: I got the Wild Bill Burger, which was suggested to me by Chip and is one of the menu items that they did not get from the franchise. It's a quarter pound Angus beef burger with horseradish sauce, barbecue, pepper jack cheese, tomato, lettuce, and onion rings.
Angus: It was about 1:00 p.m. when we walked in, so we didn't order any beer, but they do have some available (in bottles, none on tap). I might not have gotten any, even if it was later. All they had were bottles from major distributors, like Bud, Bud Light, Michelob Ultra, Heineken, and Amstel.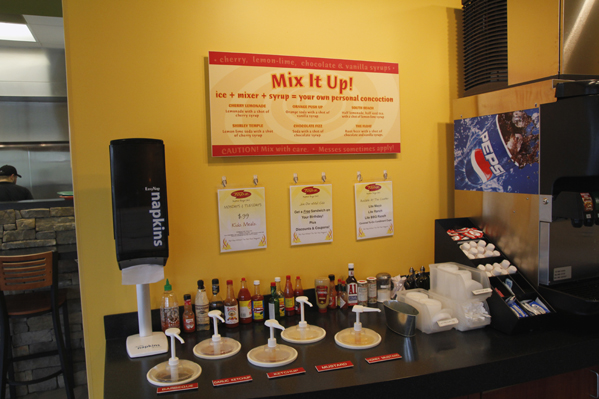 But, while their beer selection is limited, the soda selection is limited only by your imagination. That's because they have, next to the soda dispenser, five syrup squirters so that you can flavor your own soda. I could, if I wanted, make my own Vanilla Coke or Shirley Temples . (Or, rather, Roy Rogers's ). They have some of these suggestions for flavor combination up on the wall.
That's the type of small thing that I really like. It seems playful, and it's uncommon, and it's the type of thing that will make me come back to a place, even though it's small.
Hereford: Speaking of options, they also have about fifteen sauces available to put your food, with a majority of them being hot sauces. They had Texas Pete, three different kinds of Tabasco, Frank's Red Hot, Cholula, and more. Your experimentation doesn't have to end with your soda.
Angus: While we were waiting for our burgers, they were kind enough to bring out some appetizers for us to sample.
The turkey sliders were served with mustard and a pickle on a miniature white bun. (They also come with onions, but they withheld them since I ordered my burger without them.) We thought they were fantastic. The turkey was grilled and seasoned, and tasted great. It was very simple, but very satisfying. They also gave us a chicken chili with beans and it was equally as impressive.
Hereford: I liked these two menu items alone so much, that I came back a week or so later just to get them after working out. I short warning: the chili that they served us doesn't appear to be on the menu. When I asked for the bowl of chili when I returned, they gave me a bowl of thick meaty chili that was more like what I would put on a hot dog (which is on the menu). It was good, but it wasn't the same thing. If you go in looking for this chili, you may want to be fairly descriptive.
Angus: So, after waiting for only about ten minutes, our food came out.
Here's the tale of the tape:
EXHIBIT A: 1/4 lb. Black Angus Burger
Official Weight: 8.2 ounces
Official Diameter: 4 inches
Official Height: 3 inches
Cost: $4.85 (sides sold separately)
Angus: What's beginning to amaze me about the burger selection in Charlotte, or maybe just hamburgers in general, is how different they can be from place to place. They all share the same form, but sometimes they seem like they are completely different foods.
The burgers from Topz don't seem like anything else in Charlotte. The primary difference is the meat. It's an 80/20 lean cut burger, and it's cooked on a charbroiler, which helps to remove additional fat. It tastes very lean, which is striking compared to what we are used to. I liked the flavor a lot.
The Thousand Island dressing, which was low fat, was a great sauce to have on it, the cheese was good (and not low fat) as was the bacon. The default option for bread is wheat, and I liked the bun a lot. It held up well and it had a lot of flavor.
It was a great burger.
EXHIBIT B: Wild Bill Burger
Official Weight: 10 ounces
Official Diameter: 4.5 inches
Official Height: 4 inches
Cost: $6.95 (sides sold separately)
Hereford: I was told that one of the few things that is not meant to be "healthier" at Topz Grill is the Wild Bill Burger. It's a decently sized burger with onion rings and cheese and a couple of different sauces, and it's meant for any burger lover, not just one who wants a few less calories. Still, the beef is still cooked on the charbroiler, and tastes lean. It still comes with a wheat bun. And the onion rings are air-baked and not fried (more on that in a moment). So, while it may be the least healthy item on the menu, it still isn't nearly as bad as it could be.
The horseradish and the barbecue give the Wild Bill Burger some extra kick, but the sauces are used sparingly enough that they aren't over powering. The pepper jack is a little spicy, but not much. I think I probably would have actually liked many a little Frank's Red Hot on this too. The cheese is one of the few menu items at Topz that is never low-fat. They don't believe in that because they say that low-fat cheese tastes terrible (and I agree).
Angus: I think my favorite thing about Topz might have been their sides. Because they are air-baked, they completely lack grease. You only taste the product and don't taste what they were fried in. Hereford, Mrs. Angus, and I each got a different side and we each loved them.
Hereford got the fries, which were fluffy inside, but were still crisp outside. They were great. I got the onion rings, which I loved, because I could eat a ton of them and not get stomach cramps later. I thought they were amazing. And the sweet potato fries (or Aero Sweets) tasted like a baked sweet potato. We loved all of them.
So, with that said, here's the final analysis:
Food: 4.25— We think that most people, even if they aren't trying to eat healthy, will love the food at Topz Grill. If you are trying to eat healthy, then you'll love it even more. However, people who only used to those greasy, fatty burgers will notice a difference in taste.
Service: 5— Even though you don't have a server, the staff at Topz will still come out and check on you and make sure that everything is all right. We're all used to lunch places that stop worrying about you once the food is placed at your table, but it's not like that here. You can tell there are people there who care more about customer service than you'll find in a typical corporate lunch franchise.
Theme: 4— Topz's theme is that they serve healthy food, and they follow that throughout the menu. It is their identity. That's a strong theme, and an admirable one.
Atmosphere: 4— Topz has a great lunch atmosphere, but it's not the type of place at which we would want to eat dinner. It has a niche, and it does that thing well. One thing we liked about the atmosphere was that it was very kid friendly. They had Nickelodeon on one of the TVs, and they have coloring books available. It's nice to know that you can take your kids somewhere to get a burger that is kid friendly, but also isn't McDonald's.
Beer Selection: 1— Beer isn't really their focus—but they have some basic choices if you absolutely have to have one.
Angus: There is a certain connotation when someone says that they are "eating healthy." Normally that means that they're eating food that they don't enjoy, just so they can lose weight. That's not a trade-off that I'm comfortable with. I don't think that Topz Grill is either. We really enjoy what they're doing there. It's a public service, really.
Hereford: For me, it's really too bad that Topz is all the way out in Ballantyne. I'm trying to lose weight, and Topz serves the type of food that I need to eat, but I live in Plaza-Midwood and that's too long of a drive to make frequently. But I know that I will go there again, because really, there's no other place like it in Charlotte.
Signed,