Location: 2511 south Blvd. 28203
Website: http://www.macspeedshop.com
Angus: Since we haven't posted a review in a while, it may have seemed quiet here at the Charlotte Burger Blog. While in fact, it's been anything but.
In the past several weeks I've finished my exhibition show at the University of North Carolina at Charlotte featuring burger blog artwork, which involved a lot long nights and lots of hard work. And we've also finished an article for WFAEats about "burger mergers," non-burger food items that are masquerading as burgers.
But on national tax day, we finally got back to our normal routine—eating and reviewing hamburgers here in Charlotte. The latest stop on our quest: Mac's Speed Shop.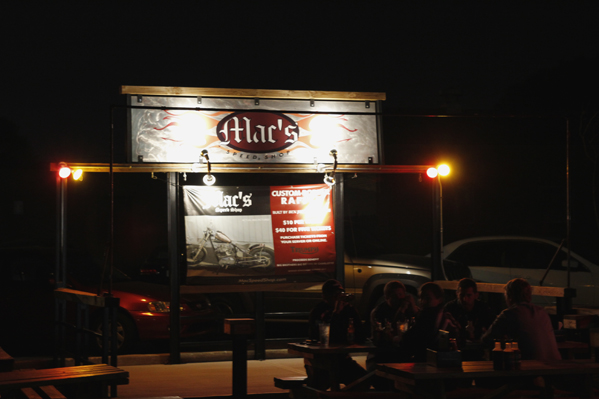 Hereford: Mac's is a biker bar, of sorts, that is largely known for their barbecue. But we've also heard that they make a pretty decent burger, so we decided to stop in and see for ourselves.
Now, any place that chooses motorcycles as its theme is inviting associations that other restaurants don't have to deal with. Partly that's because of Hollywood and movies like The Wild One , but a lot of those associations come from real life. The so-called "One Percenters" can be a rough group of people, associated with rampages, gang rapes, & murder. (Which I learned a lot about reading Hunter S. Thompson's Hell's Angels.)
Angus: But Mac's is more Wild Hogs than The Wild One. It's a restaurant that is more for the 45 year old banker who rides on the weekends than for anyone truly dangerous.
That's definitely a good thing. I'm sure that customers and servers alike are happy to not have to fill out police reports on a regular basis.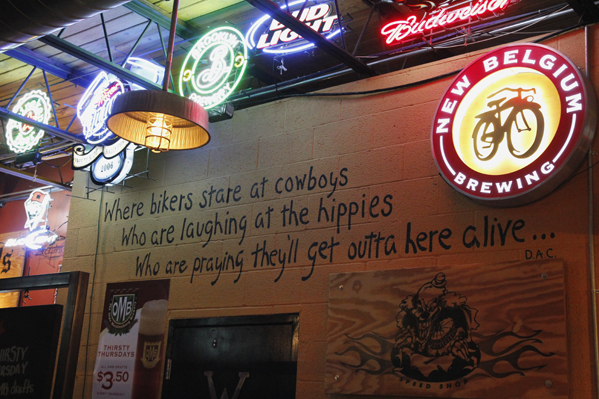 Hereford: But, even though Mac's is as friendly and safe as your neighborhood Applebee's, they still seem to want to cash in on that dangerous association that motorcycles have. On the wall, in very large print, they have a quote from David Allan Coe's "Longhaired Redneck" that reads:
Where bikers stare at cowboys

Who are laughing at the hippies

Who are praying they'll get out of here alive…
Now, Angus is a former Marine and can be a tough guy, but that definitely doesn't apply to me. I mean, I'm not a hippie, but I'm probably their equivalent in regards to toughness, ferocity, and overall fighting ability. So if any hippies are praying to get out of there alive, I would be hiding in the bathroom.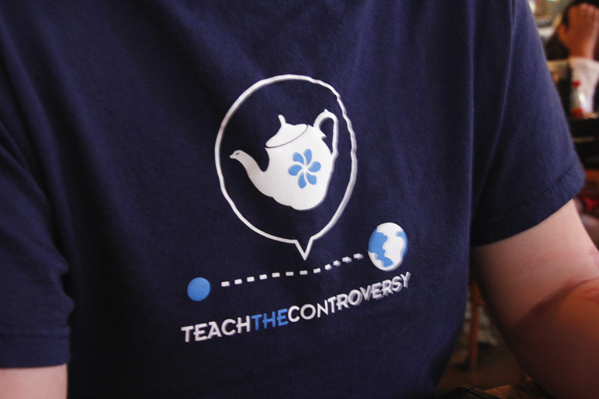 But despite those lyrics, it's not that type of place. I didn't feel threatened even though I was wearing a t-shirt that referenced Bertrand Russell and featured a flowery china teapot on it. If Mac's was anything like the dive bar in the song, I would be shaking in my Skechers.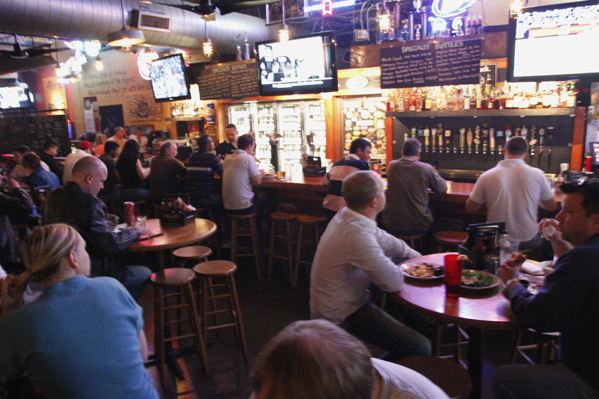 Angus: In fact, outside of the art on the wall, most things at Mac's don't jive with the biker bar stereotype. For instance, on the radio they played 90's music, including the Counting Crows. I don't know, shouldn't they have on the all-Steppenwolf channel on Pandora?
Hereford: And would we see little girls dressed up like princesses running around the tables being chased by their grandfather? And would turkey wraps even be on the menu?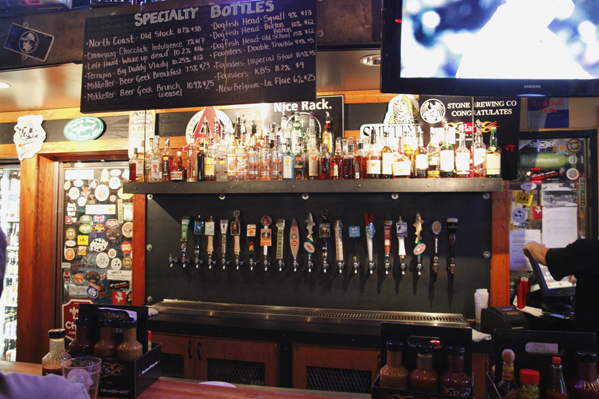 Angus: There was a wait for a table when we arrived, so as we pondered these things we headed to the bar to get a beer. I had only been here once before, and that was several years ago. I didn't remember Mac's having such a massive beer selection. They have over twenty beers on tap, including two different selections from the Olde Mecklenburg Brewery and a 90 Minute Dogfish IPA that I'm a big fan of. And best of all, there was no Big 3 on tap. They also had many, many more selections in bottles. It was very impressive.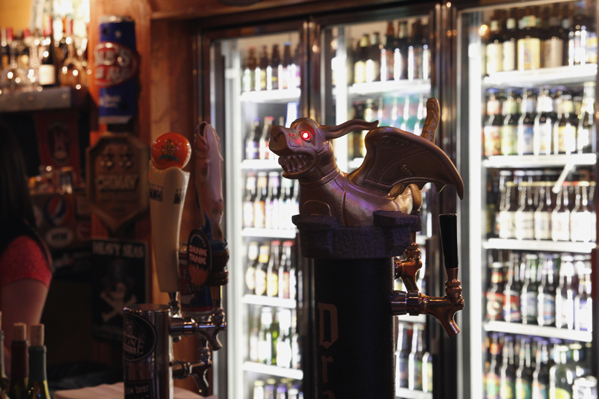 Hereford: They even have one tap that looks like a dragon and has eyes that light up that is dedicated to Belgian beers. Not Belgian-style beers, like Blue Moon, but actual beer from Belgium. Maybe I don't think of European beer imports from the Benelux region when I think of biker bars, but I liked it.
Angus: Another great thing about beer at Mac's is the different size options they have available. You can get a normal pint of beer, or you can get beer shots—a bunch of small glasses that allow you to sample a lot of different beers you haven't had before. Or, you can get a liter—which is what I got. I'm not even sure I wanted that much beer—I just wanted to be able to say to people that I had a liter of beer.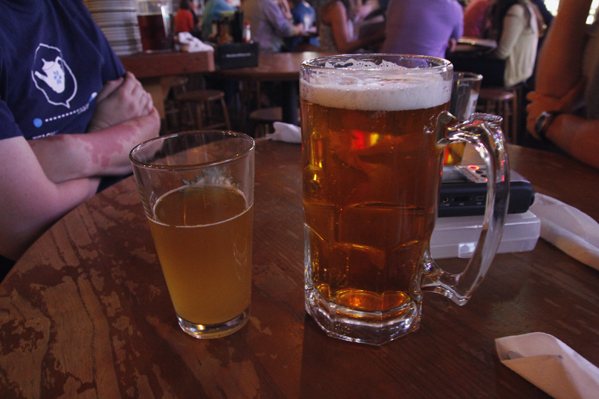 Hereford: Look at that—my beer could fit in that mug. His beer could eat my beer. That's the size beer you order when you want to feel like a Viking.
Angus: And that's exactly what I felt like.
After getting our beer, the hostess came and found us and sat us at a high top table with stools that reminded us of Hooter's and we began to go over their menu. They have a lot of different food at Mac's. They're known for their barbecue, but they also have wings, tacos, quesadillas, wraps, and (of course) burgers.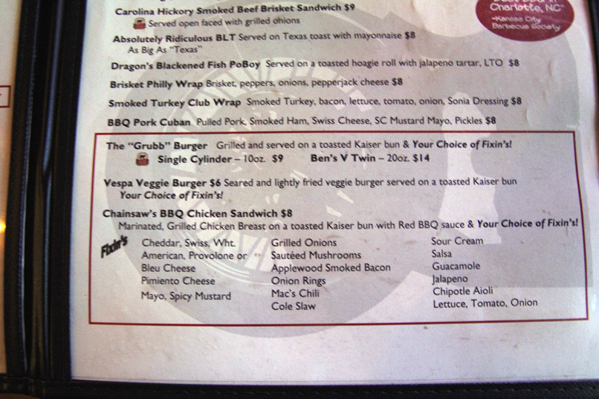 They call their burgers "Grubb" Burgers (quotation marks theirs) and they come in two sizes: the "single cylinder" and the "Ben's V twin." I'm sure that's an homage to a certain other burger joint in town.
Hereford: They don't have any specialty burgers there, but they do have over twenty possible side items. These side items include a variety of cheeses, chili, sour cream, salsa, and chipotle aioli.
Angus: You know, I think chipotle aioli is for The Outlaws. I hear it's their favorite.
Hereford: Angus got his normal bacon cheeseburger, but I decided to do things a little different. I like having my specialty burger selected by our server, so I thought of a way to still able to do that, even though they don't have specialty burgers. I decided to have her pick any four of the fixins they had on the menu—any four whatsoever—to put on my burger. I didn't even want to know what she decided until it came out. I wanted it to be a surprise.
Angus: Of course, when Hereford asks her to do this for him, she looks at him like he's an idiot. (Understandably) So,I decide to chime in and help by explaining the Charlotte Burger Blog, and what we do. It didn't help at all. She gave me the same look and said, "I have no idea what you're talking about."
Hereford: Yeah, I think that's actually probably the proper response in that situation. What we do is kind of strange. After all, normally people are fairly happy to pick their own ingredients.
But, after a moment of further explanation, she said, "okay," and went back to put our order in.
Angus: After her reaction, though, I told Hereford that he was really putting himself at risk. She could bring him anything, and since she thought we were weird, maybe she would try to find weird menu items. For all he knew, he could get a strange combination like sour cream and bacon and cole slaw and jalapeños, or something else similarly inedible.
Honestly, I was actively rooting for that scenario.
Hereford: Well, if that was what she brought out I would have eaten it. Or, at least tried to.
After about 15 minutes, the mystery was over.
Here's the tale of the tape:
EXHIBIT A: SINGLE CYLINDER "GRUBB" BURGER WITH BACON AND CHEESE
Official Weight: 10.5 ounces
Official Diameter: 4.5 inches
Official Height: 3 inches
Cost: $9
Angus: When I ordered my burger, I asked how bloody I could get it. I know there are laws in this state that outlaw under-prepared burgers, but I always want mine as close to rare as I can get it. But, our server told me that I could only get their burgers well done, since they don't grind anything in house. While that's disappointing, I understand. But I think that charging $9 for a burger is expensive considering that limitation.
When I got my burger, it was a little bit dry, but not really too bad, considering. It still tasted good. (Although I'm convinced Hereford got a bigger patty than what I got—take a look at the pictures).
The bacon on the burger was great, and prepared floppy—like I like it. Unfortunately, they do use the garnish lettuce that I dislike. But, the white American cheese tasted great, and was melted across the burger nicely. The best part, though, was the Kaiser roll, which was great bread. I think I like Kaiser rolls even more than sesame seed buns.
For my side, I chose onion rings. They looked great, but I wasn't very happy with them. I thought they were too greasy, and they fell apart when I ate them.
EXHIBIT B: SINGLE CYLINDER "GRUBB" BURGER WITH MYSTERY TOPPINGS
Official Weight: 13.4 ounces
Official Diameter: 4.25 inches
Official Height: 4 inches
Cost: $9
Hereford: When they put my burger on the table, I could tell our server took her job as my toppings-chef seriously. She made me a black and bleu burger, with bleu cheese crumbles, grilled onions, sautéed mushrooms, and bacon. It was actually very well thought-out and very tasty.
The bleu cheese had a strong, powerful flavor that was really good, and was complimented nicely by the mushrooms. And the bacon was fantastic.
I ordered my burger with fries, and they were very good as well. They had a little breading, but were not too greasy. But my favorite part of eating the fries, though, was the sauces. Mac' s keeps three or four barbecue sauces on the table—each a different style. I love French fries with barbecue sauce—especially with the different options they provided there. I tried them all, but would especially recommend the mustard sauce.
So, here's the final analysis:
Food: 4— Overall, we liked our burgers and would get them again here—even though Angus would have loved to have had his cooked less. The onion rings may not be stellar, but the fries were.
Service: 4.5— Although she seemed skeptical at first, our server did a great job at designing Hereford's burger. If this was a reality show where contestants would have to create a burger for us to judge, she would have made the second round.
Theme: 5— Mac's has a very strong biker theme. They have pictures of bikes up around the restaurant, including several prints by famous biker painter David Mann . It gives them a very strong identity.
Atmosphere: 5— Fortunately, they don't have the atmosphere of a biker bar. If anything, they are more of a sports bar. When we were there they had three different baseball games on, and one hockey game. It's a fun place to go and hang out.
Beer Selection: 4.5— Mac's beer selection really stands out. According to the plaques on the wall, they've won awards for that before. It's well deserved. If you can't find a good beer at Mac's, you probably don't know what good beer is.
Hereford: So, we found Mac's to be a great place—the type of restaurant with good food in which anyone can go and enjoy themselves.
Angus: Well, anyone but an actual member of a motorcycle gang. They'd probably want to go somewhere with fewer salad options and a more surly atmosphere.
But that's probably a good thing.
Signed,