Location: 705 S Sharon Amity Rd 28211
***Correction: This review states that Boris Diaw is a partner at Leroy Fox. That is not accurate. He is a partner at Mortimer's and Cowbell, which are Leroy Fox's sister restaurants.
Fair warning: this is not going to be a positive review.
Unlike some bloggers, we don't like to write negative reviews. There are a couple of reasons for this:
A) We started this blog because there are a lot of great burger places here in Charlotte, and we wanted to do something that celebrated those places. Our blog was a chance to share what we loved, not to focus on what disappointed us.
2) It's not easy to know if we're being completely fair. I love burgers, but any expertise I've gained comes only through the accumulation of experiences. I'm not a real foodie, and I don't have a culinary background. I go into every review knowing that any strong negative reaction I have could be because I don't really know what I'm doing.
and D) No matter what I think about the food at a restaurant, somebody worked hard to make it. I don't want to disrespect the time and effort people have made in the course of their jobs. After all, random douche bags don't show up at my job and then report on the internet how sucky I am[ref]Well, not that I know of.[/ref]. That would certainly make my day more stressful.
This may all sound like a sort of apology, but it's not. We want to be honest when we write, and sometimes we honestly don't like a place. After all, I don't want to be the James Lipton of the Charlotte food scene. In order to trust what someone tells you is great, you have to know what they think isn't.
I should say that we wanted to love Leroy Fox[ref]Pronounced LEE-roy, not Luh-ROY. We asked.[/ref]. We have a long list of places we want to eat at in Charlotte (please, send us more!) and this place got our attention by its positive press and intriguing menu. Also, I was excited that it's part owned by former Charlotte Bobcat, Boris Diaw—perhaps the most talented player in Bobcats history.
We were so confident Leroy Fox would be good that Angus and I made sure to bring our friend Geoff, who had told us that he was in need of a good burger and that he wanted to join us for a review.
Alas, like Boris Diaw, the burgers at Leroy Fox never lived up to their potential.
Here's the Tale of the Tape:
EXHIBIT A: THE PROHIBITED BURGER
(with cheddar, bacon marmalade, lettuce, & tomato)
Official Diameter: 4.5 inches
Official Height: 3 inches
Cost: $11 (includes sides)
Cooked to Order: No, served well-done by default
This was a rare circumstance in which both Angus and I got the same burger. In fact, Geoff got a Prohibited Burger too. We all were agreement in what we liked and disliked about it.
First, what the burger got right: The brioche bun was great—obviously fresh baked. And we absolutely loved the bacon marmalade. It was unique and provided that great bacon flavor that everybody loves, as well as a hint of sweetness. 
But, it was topped with unnecessary garnish lettuce. We may be the only people crusading against this, but I don't think it works with burgers[ref]No taste, no crunch, a lot of times makes the good ingredients slide off.[/ref]. But that's whatever. What was unforgivable was that the burger was overcooked and dry. In all fairness, the description in the menu said it would be "char-grilled". I didn't necessarily take that to mean it would be charred. They weren't juicy and they had no flavor.
Geoff made the salient point that a menu item's price carries certain connotations. When you pay $11 for a burger, even if it does come with sides, you expect it to be a gourmet burger. And gourmet burgers are cooked to order. If you're going to char my burger, at least do me the favor of lowering the price.
This seems like a good time to remind everyone, both restaurants and readers, that the food laws changed in September and burgers can now be cooked to order—including medium-rare and rare. Not to be obnoxious, but I'm going to put that in bold and all caps for the people who just scroll through:

IT IS LEGAL IN NC TO COOK BURGERS RARE!
And if you don't believe me, click here. 
It seems like many restaurants have been slow to implement this change. If you like rare or medium-rare burgers, please make a point to ask your servers for it. If they inform you they can't do it, ask politely if it's possible to speak with a manager—not so you can be a dick, but to ensure that restaurant management is aware of the demand for a properly cooked product.

Burger Rating: 2.5 (the extra .5 is for the bacon marmalade)
Other Food:
While I'm on the subject of disappointments at Leroy Fox, my fries were cold. Well, for accuracy's sake, they were about room temperature, but for fries they were cold. It's a shame, because otherwise they were pretty good. I ate them anyway.
Outside of the burger and the fries, our table liked everything else we had. It should be noted that Leroy Fox is mainly a chicken restaurant, and those in the group that got chicken were pleased.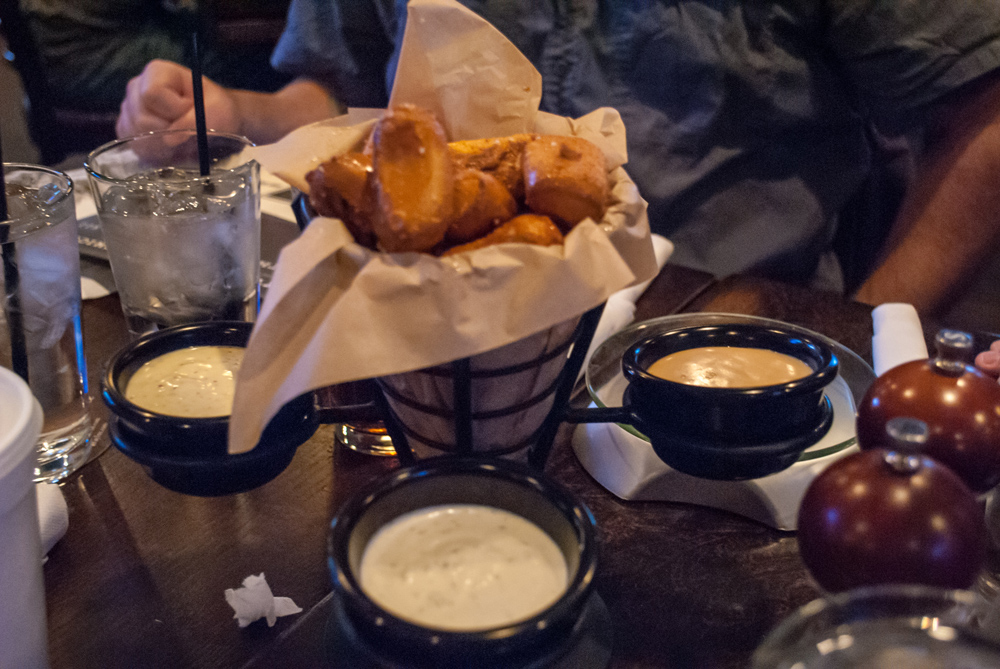 And, for an appetizer, we ordered the hot pretzels which were fantastic. They were vienna sausage shaped, and were accompanied with three different dipping sauces—honey mustard, ranch, and queso. I hogged most of these before the meal, which kept the overall visit from being too disappointing. Well, that and the beer.
Beer Rating: 3.5
Leroy Fox has a quality set of beers on tap. We ordered some Olde Mecklenburg Coppers, and they have other regional brews including Birdsong (which is quickly becoming one of my favorites), Natty Green, and Big Boss. In addition to these good beers, they have all the typical stuff too, so anyone who goes should be happy. Even my girlfriend, because they have Woodchuck and she refuses to drink anything else[ref]Hey Paula! I love you![/ref].
Atmosphere Rating: 4
The management group behind Leroy Fox has put a lot into their branding. They have an impressive website and I like the typography they use online and in their menus.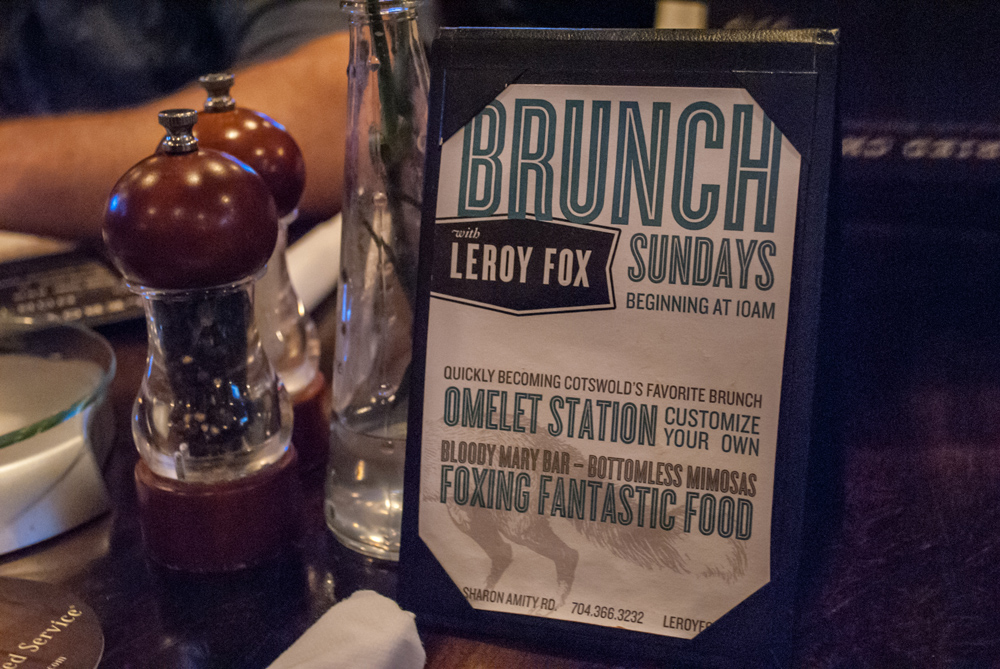 Inside the restaurant was vibrant, with a lot of cool nods to Charlotte, especially in the wallpaper in the waiting area with the names of the most popular streets in town.
I know Angus and Mrs. Angus were happy because, even though it was a bar, it was also family friendly. They brought their two year old, Small Fry, and anytime we go some place it's a question as to whether there will be adequate seating or not. There was, and in fact there were many families there dining.
What was your favorite thing (non-food) about Leroy Fox?
It doesn't necessarily make sense, but one of the walls of the dining room is covered with non-functioning doors. This led to many stupid Let's Make a Deal jokes at the table, which are too lame to reprint.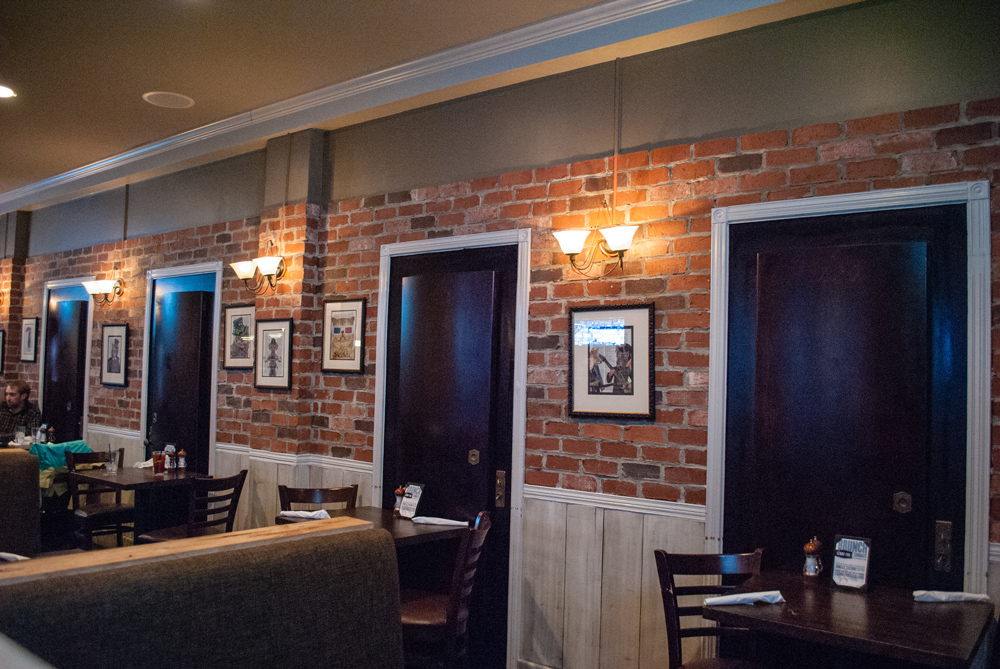 Would you eat here again?
Absolutely. We've actually been back for beers since we came for a review. But, unless we knew they were going to cook our burgers to order, we would just get the chicken. And, I'm not going to lie, I love the fact they have a plate on the menu called the "Winner, Winner, Chicken Dinner."
Is Leroy Fox a real person?
Good question. I'm going to go with no, but there was a decent amount of internal debate as to that fact. I'd like to believe Leroy Fox is an old teammate of Diaw's from France; possibly Rick Fox's little brother.
Does Leroy Fox earn the Charlotte Burger Blog Seal of Approval?
Nope. But, it seems like it's something that is easily fixed. I hope to see that one change, how they cook their burgers, soon.
 Signed,