When we review a burger joint, we bring our measuring and weighing equipment with us. But we don't just stick to our quest to eat every burger in Charlotte when we go out for reviews, and sometimes we want to write a quick review of a burger that we just happened upon. We call these Short Orders.
Location: 8400 Bellhaven Blvd  28216
I was invited to go to trivia with my friend Matt at the Sports Page, over in the Coulwood neighborhood. We got there a little early and decided to get some food. When I left the house, I wasn't planning on doing a review. But, after looking at the menu, I got a burger craving (they hit me two or three times a week). So, I thought I would put together a quick run down.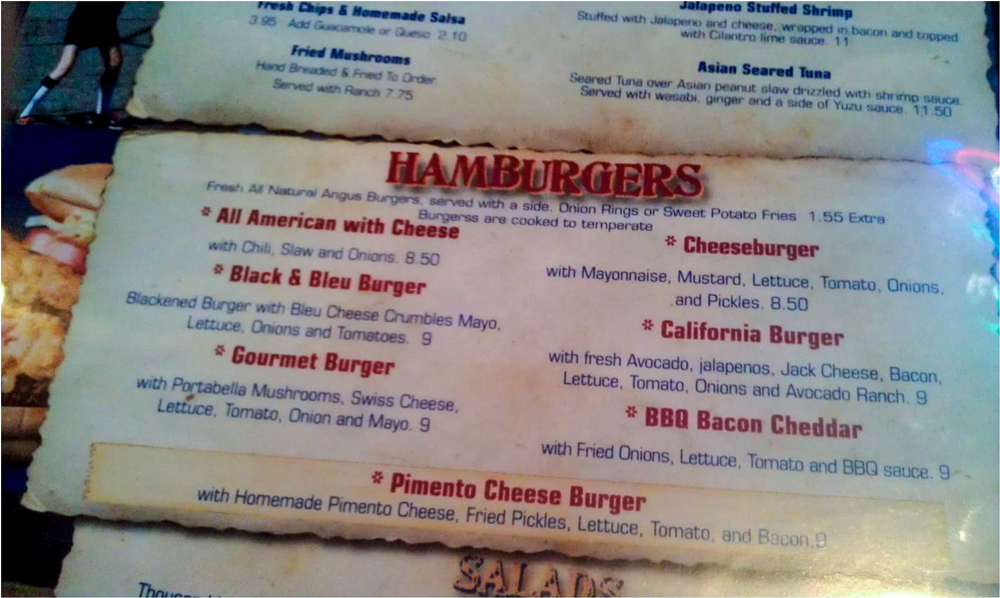 What type of burger did you get?
Although I came close to getting the California Burger, I opted for the Pimento Cheese Burger (which was kind of hiding at the bottom of the burger portion of the menu—I almost missed it). As Matt pointed out, Pimento Cheese is like the new Bleu Cheese. Pretty much everyone has a version of that. I may be jinxing myself, but I haven't really had bad pimento cheese lately, so I thought it would be a relatively safe choice.
I was excited to see that they cook the burgers to order, even if they did have a strange way of wording it.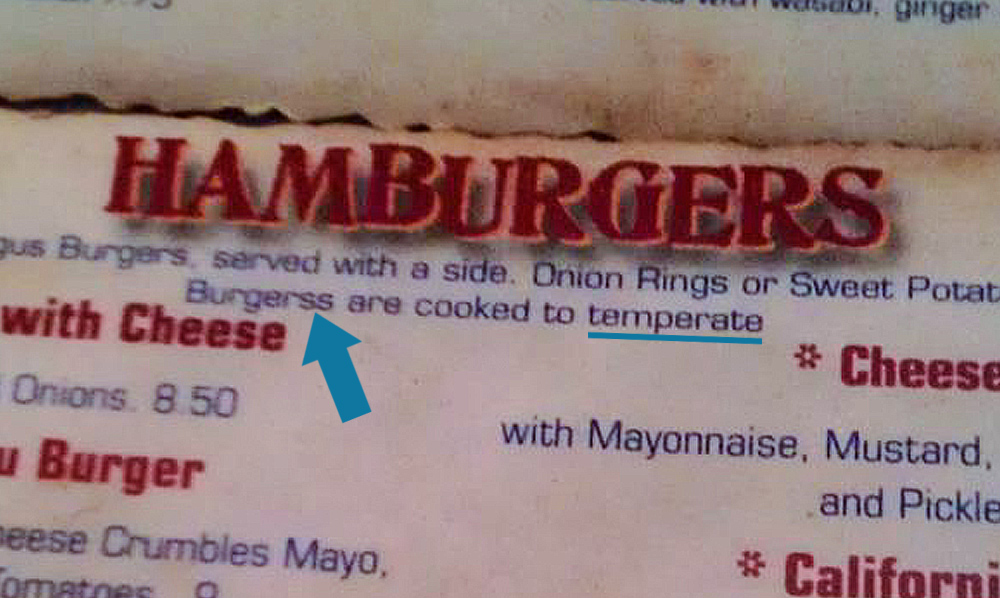 I know, we have no good reason to be dicks about spelling. We mess up our grammar constantly. Still, I noticed it.
Even though these burgers can be cooked to temperate, when I ordered it the waitress didn't ask how I wanted it. I know, I should have asked.
How was the burger?
Decent. It came out well-done, which was a disappointment. The pimento cheese was sub par (not to make a sports joke), but it was still enjoyable. The fried pickles could have just been pickles; I didn't noticed the fried part of them at all. Most of the other ingredients were unnecessary. When you have strong flavors like pimento cheese and pickles and bacon, the lettuce, tomato, and onion seem superfluous.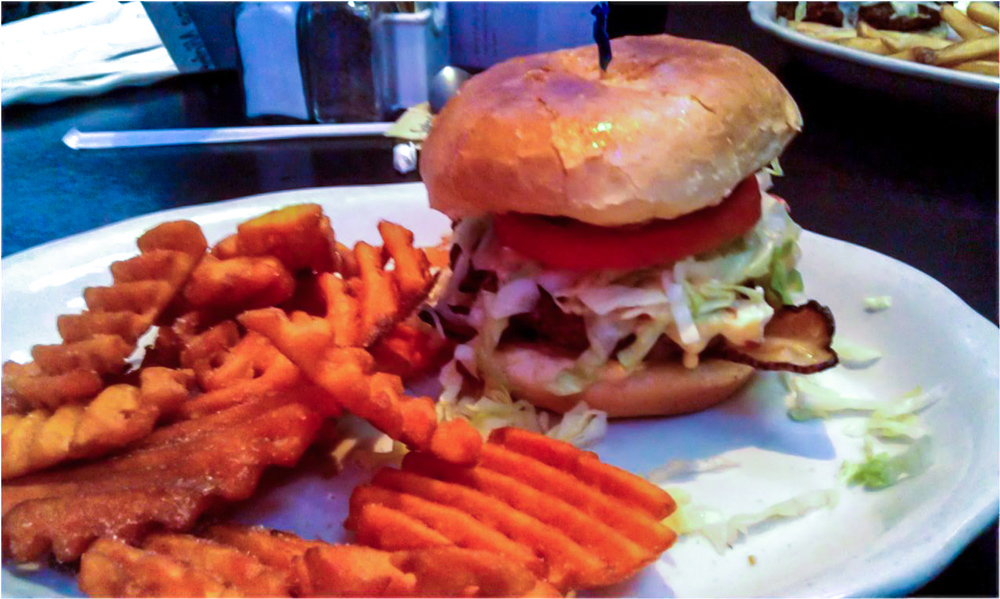 What about those sweet potato waffle fries?
They were great. Every place does sweet potato fries a little differently, and they are often served with different condiments (i.e. honey, or honey mustard, or icing). Sports Page didn't serve them with anything extra, but they were already coated with sugar, so they didn't really need anything else. Plus, they were waffle fries, which I've decided is the ideal type of fry. You can bite a large portion in one bite, yet everything remains crispy. I don't think I've ever had floppy waffle fries. Plus, the waffle design holds condiments well.
How was the atmosphere?
Most of the people there were regulars, but it was still welcoming for someone who wasn't. I did like how they lived up to their theme. They had a lot of sports memorabilia on the wall, but not just random sports stuff, but they had local baseball players jerseys such as Ray Durham and Chad Tracy, both of whom played high school ball in Charlotte.
We sat under a 1987 NASCAR poster as you can see below.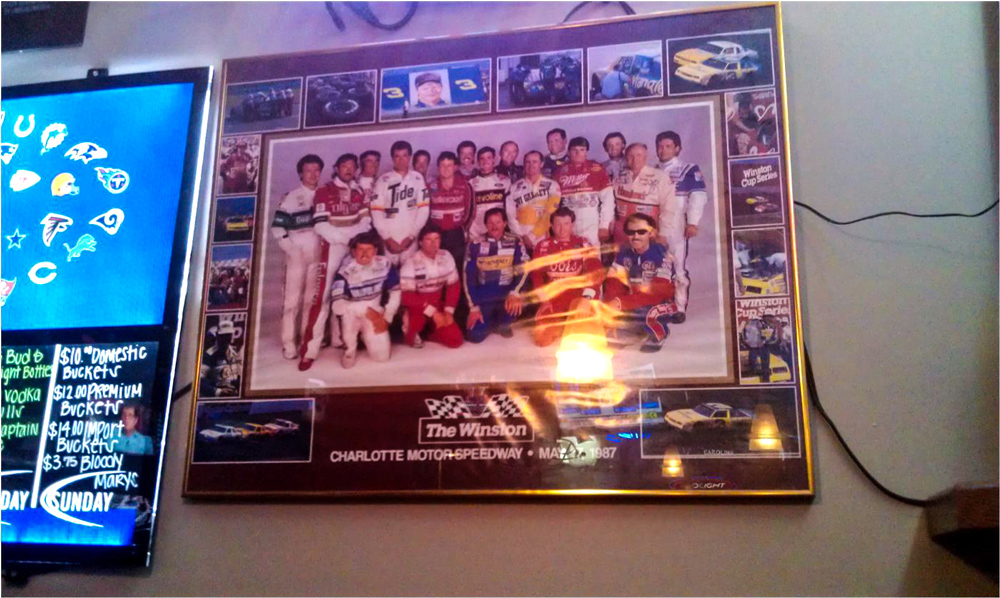 If you haven't seen this poster around town yet, you will. It's everywhere. I never paid much attention to it until a guy at the Thirsty Beaver was trying to convince me that Tim Richmond's penis was exposed in this photo. (For the record, it's just his hand). After that I've seen this poster at Joe Hooper's, Pinky's, and Kyle Fletcher's in Gastonia.
The restrooms labels also carried the sports theme, but I'm the type of nit-picky person who thinks too much about it and wants to correct them. They tried to be cute and, instead of just saying Men and Women, they had it listed as "Coaches" and "Cheerleaders." This person and this person might take issue with those labels.
Did you win at trivia?
No. We should have. We had first place going into the final question. Then we decided to bet it all that Margaret Thatcher majored in Economics at Oxford. Turns out it was Chemistry. If we had bet nothing, we would have won.
I still feel like a winner
Burger Rating: 2.5
Signed,