Location: 2935 Providence Road 28211
Update: Kent Graham is no longer with Block & Grinder.
When talking about food, my love for eating burgers is really only matched by my love for fresh cut meat. Where I grew up in California, you were able to walk[ref]Maybe run, rollerblade, bike, or Parkour.[/ref] down the street a few blocks to your local meat cutting man (or butcher if you want to be accurate or whatever) and pick up some great cuts of tri-tip, beef ribs, linguiça, and whole chicken. Living in Charlotte for the past five years, I rarely saw any butcher shop options in the Queen City, and I missed it.
Recently, we were contacted by a local marketing firm and they began telling us about their new client, Block & Grinder. Excited and wanting to hear more about this Restaurant/Butcher hybrid, Hereford and I locked in an interview with owner Jed Kampe and Executive Chef Kent Graham. We loved the conversation we had with those guys. They are two of the most passionate and fascinating guys we've had a chance to speak with. We would encourage you to read both parts (here and here).
In short, Jed explained to us that he owned the New York Butcher Shop off of Selwyn, but he wanted to have something with a little more freedom and space to create his idea of a butcher shop that is also a restaurant. He contacted Chef Kent and told him about his vision and they agreed to partner up and now they've opened one of the most creative restaurants in town.
Hereford and I were lucky enough to be invited to attend the VIP Sneak Peak[ref]You know, because we're important and stuff.[/ref] event shortly before their opening, in which they revealed for the first time, their full menu. We didn't know what to expect in terms of the event, so we just wore whatever we had on at work that day. We were sorely under dressed—I am an interactive designer after all, but at least Hereford had a tie on.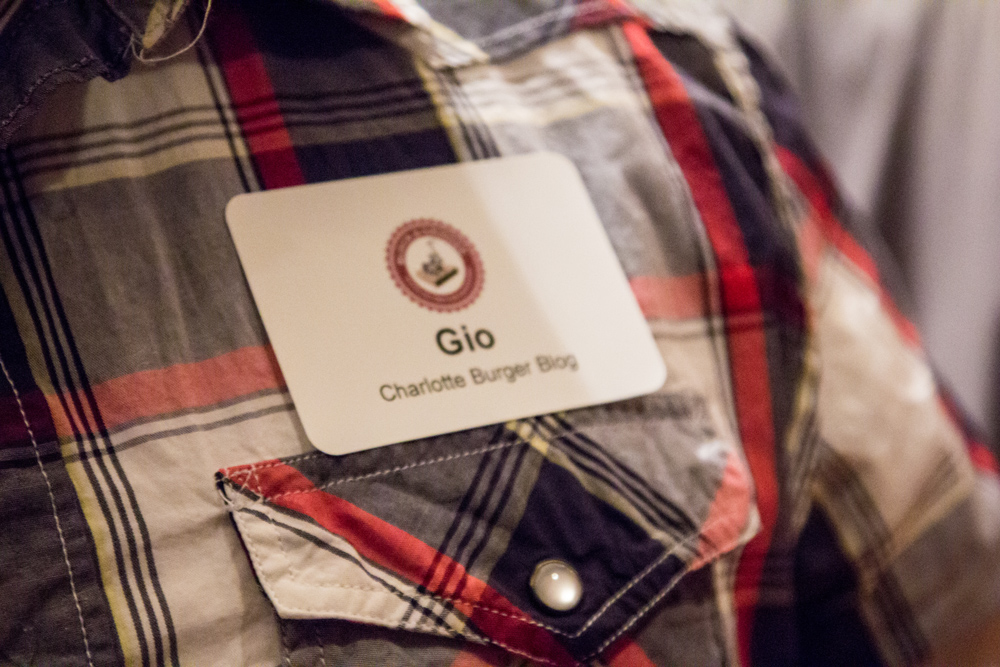 It wasn't a normal "eating at restaurant" experience. We checked in when we arrived, and they gave us name tags to warn everyone else who we were. Everyone in the Charlotte food blogging and social media communities were there. We recognized some heavy hitters such as Brianna of The Food Baby, Katie McKiever of Social Media Charlotte, Tonya Russ Price of Pop Rock Photography, and Dion Lim of WCNC-TV[ref]We were geeking out a bit.[/ref]!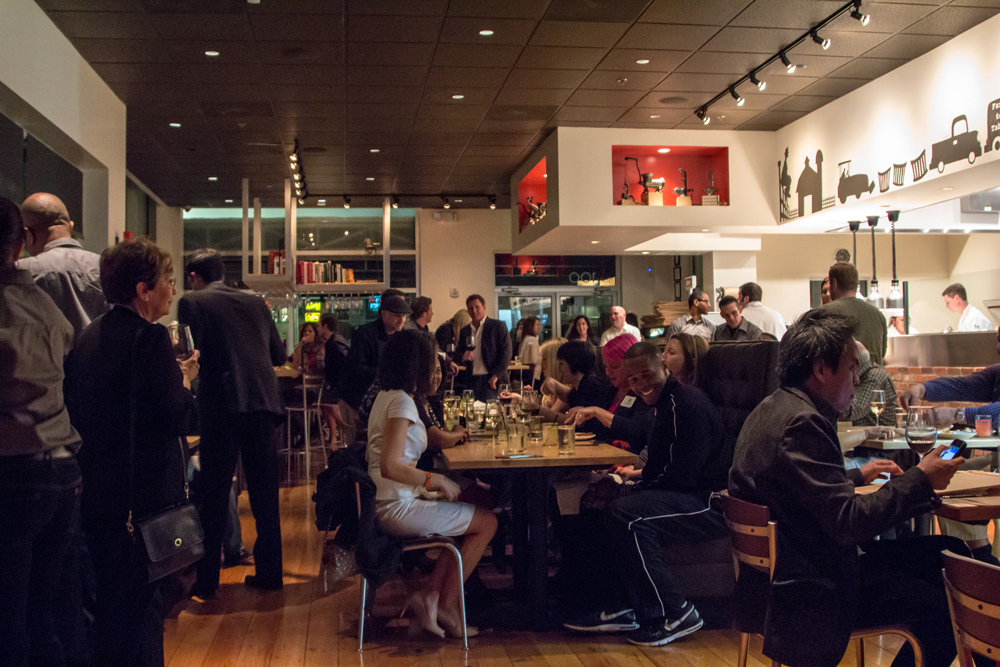 We stood around waiting for a table for what felt like forever, because it kind of was. That was due, in part, to everyone loving their food and loving the atmosphere and experience of the restaurant. Again, this probably isn't a normal dining experience there, but eventually the waitress finally noticed the "awkward burger guys" and showed us to our table.
Here's the tale of the tape:
EXHIBIT A: THE BACON AND CHEDDAR
(with house cured maple bacon and NY cheddar cheese)
Official Diameter:  3.75 inches
Official Height:  3.25 inches
Cost:  $10.50 (includes sides)
Cooked to order: Yes, served Rare
This burger has a deceptive simplicity. There aren't a lot of ingredients in it. It's all right there in the name. Bacon, cheddar, burger, and bun. Yet, the burger's flavor was complex. The bacon is cured in-house, and is as close to the Platonic ideal form of bacon as I can imagine. The cheddar was thick, and coated the burger. And the brioche bun was toasted on the bottom and the top[ref]I know! THE TOP.[/ref].
If you've went ahead and read our interviews, you know how much attention to detail they put into their food. Honestly, it seems unreal. But, that detail makes a difference in the taste. If you served me a burger with only cheese and bacon in most places, I would likely complain. Not here.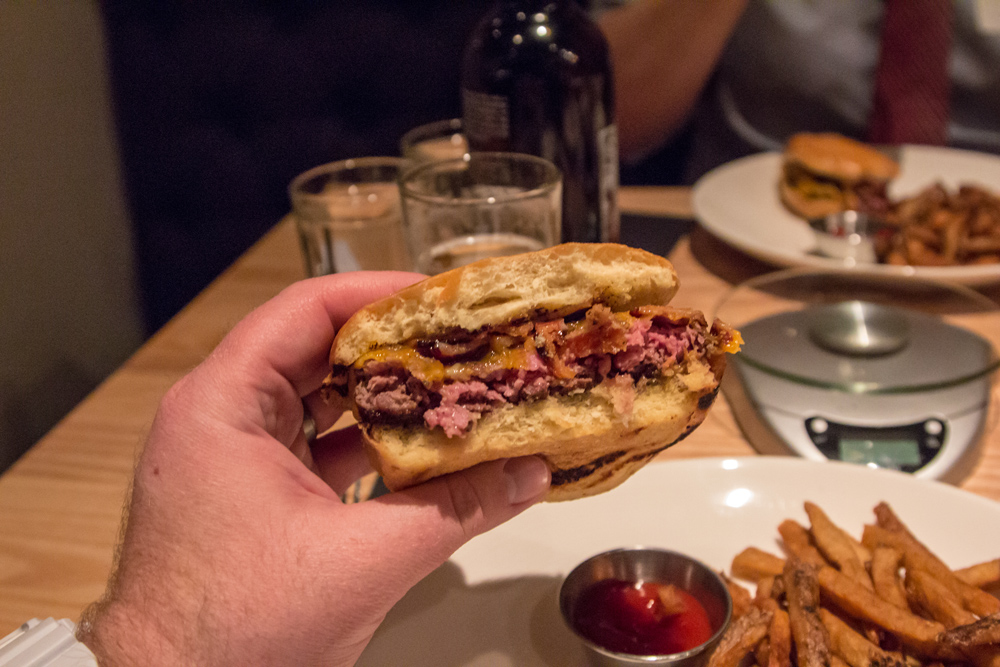 In terms of preparation, there is really only one way I prefer my ground beef. Rare. Simple as that. I like mine cooked up to the point where you take the patty, bypass the grill entirely, and just throw it on the bun. The bloodier the better my pops always said. I have had excellent burgers that have been actually cooked in many ways, but, in the end, a cold red center is the way to my heart. Block & Grinder prepared this burger BEAUTIFULLY. It was cooked to perfection. The seasoning wasn't overpowering, but it honestly didn't need it. The meat was so fresh that it acted on it's own to deliver a wonderful flavor.
Hereford and I both got the same burger this night, but when we stopped by for the interview the day before, Chef Graham decided to fix us a shiitake and gruyère burger that was equally amazing. (To drive this point home, I do not like mushrooms. But I ate every single one of those shiitake mushrooms that was on that burger. And I loved them.)
Burger Rating: 5
Other Food
One thing to keep in mind when considering Block & Grinder was that we went on Day 1. Chef Kent is like Tony Stark in the kitchen, and this menu was the Mach I armor, the first edition. By now they're on, like, Mach VII. These guys never settle. They constantly are finding ways to improve. We've been back since and have been amazed by some of the menu items they are adding. You won't be able to stop talking about this place.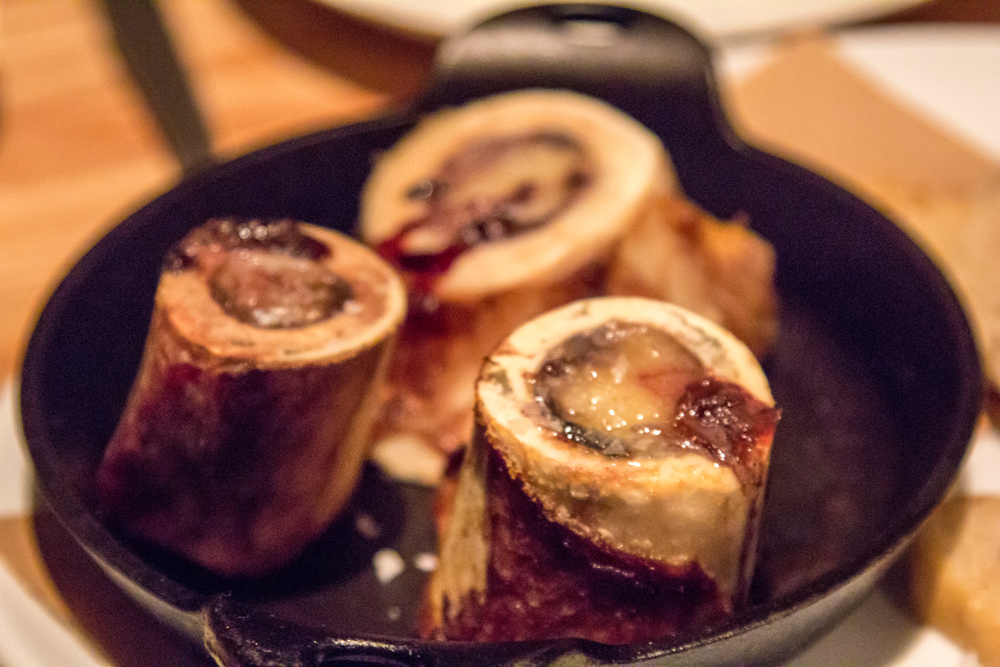 We ended up getting a few appetizers before our meal there, and what I loved most was the Bone Marrow. That's right, I said Bone-freaking-Marrow. Literally, they cut open some bones, give you some crackers, and let you have at it. This is probably the meatiest thing you'll ever eat in your life. It probably isn't for everybody, but everyone should at least try it.
Beer Rating: 3.25
Block & Grinder is best set up to make cocktails and serve wine. The wine list is extensive with the whole back of the restaurant being a wine cellar, of sorts[ref]You know, but not below ground. But then again, Crepe Cellar is above ground too….[/ref]. Talking with Jed they don't have any current plans of adding lines for drafts, but it's not because they don't want to. The space they are in limits their ability to add taps. But, that didn't stop them from having some unique bottled and can beer options at the VIP Sneak Peak.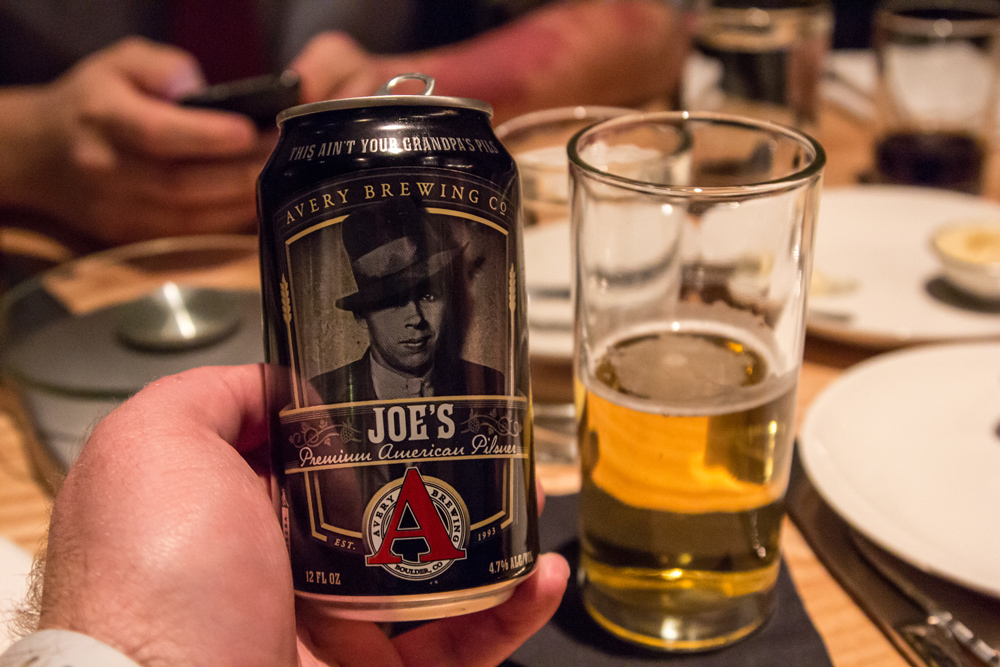 Hereford ordered, at the suggestion of our waiter, the Blue Mountain Barrel House Dark Hollow which is an bourbon barrel aged imperial stout. It was super strong, and Hereford's a light-weight, so he came away with a good buzz from that one bottle. I am a sucker for good graphic design and beer labels so I ordered the Avery Brewing Joe's Premium American Pilsner. I mean look at that guy, wouldn't YOU want to have a drink with him[ref]I use this as a basis for a lot of my decision making, such as when I got accepted to both UNC-Chapel Hill and UNC-Charlotte. I decided that it would be more awesome to drink with an ol' timey 49er than a dumb goat stuck in tar.[/ref].
Atmosphere Rating: 5
Block & Grinder set out to be a different type of butcher shop and they certainly accomplished that. As you enter, you are greeted by the display of lovely raw meat to your left and the cocktail and wine bar to your right (with a pretty sweet painting of Bill The Butcher from Gangs of New York hanging in the back).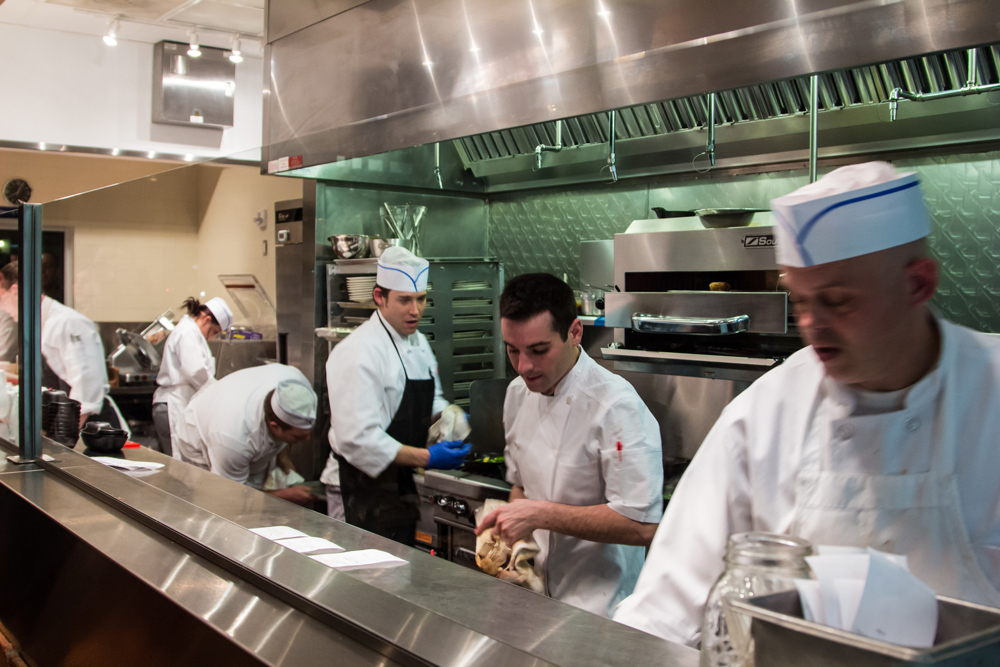 The kitchen and prep area is set right next to the butcher counter with viewable panes between you and them. I always appreciate the places that let you stand and watch your food being prepared (the chefs don't only have to worry about getting your meal just right, but they have to look good doing it.)
The dining area is one that takes a modern chic[ref]I know, I hate that word too.[/ref] approach to a butcher shop with butcher block tables, leather seating, and switch blades for utensils (They don't retract. We tried in vain to make it close and almost hurt ourselves in the process.)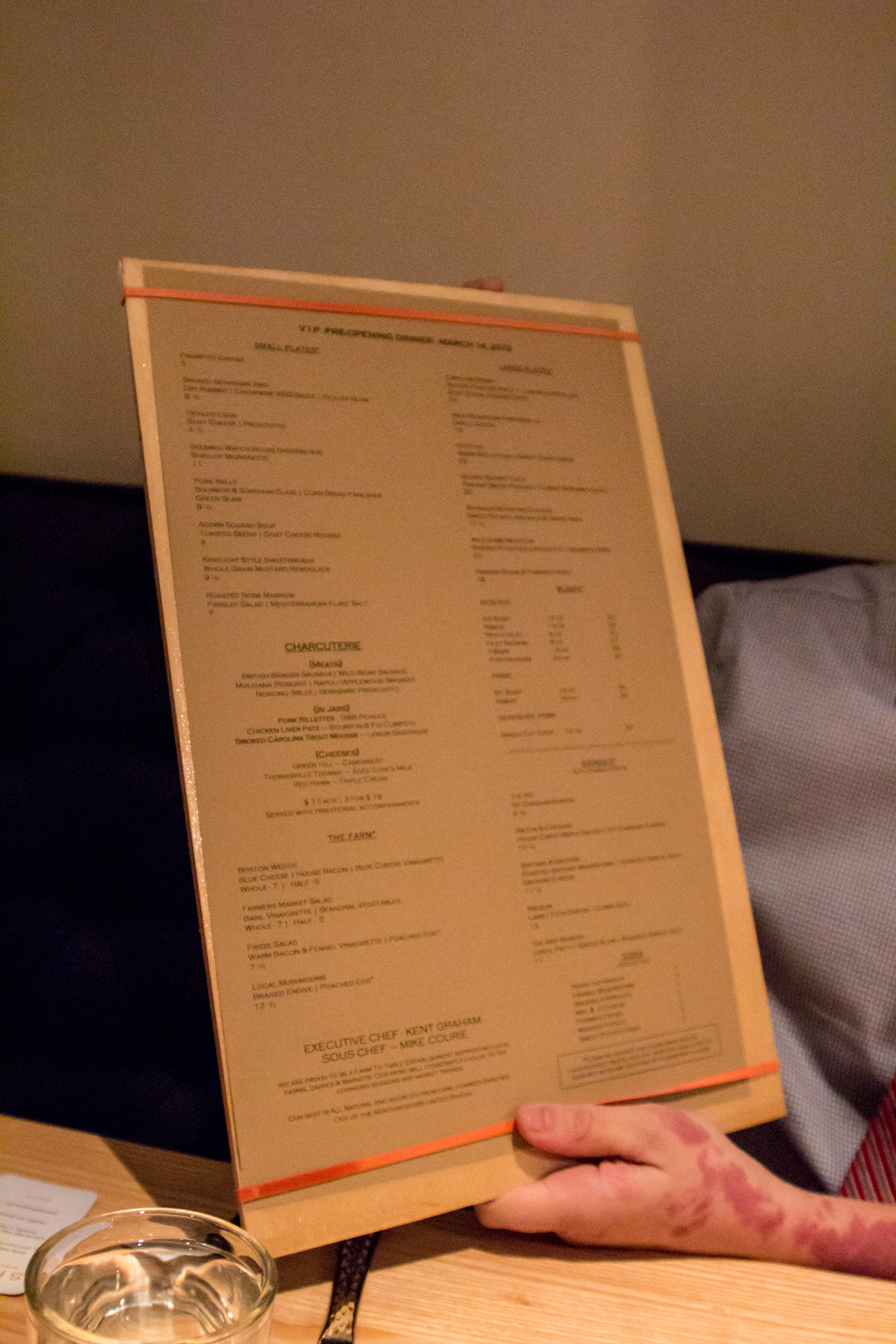 But what pushed the dining experience over the top for us were the amazing menus they had. They could have handed you a paper menu and called it a day but instead, they gave you a paper menu ON A BLOCK OF WOOD[ref]And Chef Kent just looked at us, dropped the mic, and walked out.[/ref].
Conclusion
What was your favorite thing (non-food) about Block & Grinder?
Well, it kinda has to do with food, but my favorite thing is the fact that Block & Grinder is not only an amazing restaurant, but also an amazing butcher. I can come in during a lunch, order a burger and also pick up a few steaks that I can throw on the grill later that night for dinner. They have a selection of house-cut meats and wild game that are always changing (depending on what mood Chef Kent happens to be in that particular week) and the chefs are always happy to help explain the proper way to cook each cut that you select.
Would you eat here again?
Try and stop me[ref]No really, I would like to see you try. I'm a former Marine, you know.[/ref] .
Next time you come by, what will you order?
There are plenty of things on the menu that I would love to try but what makes Block & Grinder totally amazing is the fact that Chef Kent keeps the menu as an ever changing fluid entity. When I come by again (which since the time of this review, I have) I will just ask for what he feels like making that day for me. I don't even want to know what it is before he puts on the table.
What's your favorite cut of meat?
Tri-Tip. It comes from the bottom sirloin primal cut. Rub with Susie-Q Seasoning, cook over a red oak open flame, and cut across the grain.
Does Block & Grinder earn the Charlotte Burger Blog Seal of Approval?
The Charlotte Burger Blog Seal of Approval was invented for places like Block & Grinder. Nuff' said.
Signed,