Location: 16139 Lancaster Hwy 28277
Website: www.elwoodsbbq.com
In our travels across the Queen City, we've stumbled upon restaurants and joints that have "Burger Bar" in their name. Even though I haven't found any place like this, when I see the words "Burger" and "Bar" together I automatically think that it should be like "Salad" and "Bar" being next to each other. I mean, who WOULDN'T want a bar with assorted toppings and other magical things to put on your burger? Does that even exist here in Charlotte? 1
Instead "Bar" referred to the counter at which alcoholic drinks are served by a bartender and not what I was hoping to find 2. When Elwood's BBQ Burger Bar got added to our ever expanding list, I was interested in also seeing what type of BBQ 3 they had there, since it is my second favorite food (after burgers).
When we arrived at Elwood's, we were greeted by everyone that worked there, not a "Welcome to Moe's!" kind of thing, but every time someone walked past us whether it be a waiter or waitress, cook, or manager, they said hello or stopped to chit chat. Mrs. Angus had her NC State shirt on and she almost got hugs and praises from just about everyone there. 4
I thought about getting a burger with BBQ on it (which would be the best of both worlds). I really wanted to try the Big Don Brisket Burger (double burger topped with sliced brisket, Red sauce and melted cheddar) but was afraid of the double patty 5. I went ahead and ordered the BBQ Bacon Burger, because it was a single patty.
Here's the Tale of the Tape:
EXHIBIT A:  BBQ BACON BURGER
(Single patty with Red sauce, cheddar, and a homemade onion ring)
Official Diameter:  4.25 inches
Official Height:  3.25 inches
Cost: $7.00 (includes sides)
Cooked to order: No
When the burger came out, it came with four strips of bacon, a nice thick slice of cheddar, a huge onion ring, and lots of BBQ sauce. Biting into it, I got an automatic crunch straight from the onion ring. The burger was not cooked to order, so it came out medium well, but it did have a little bit of juice left in the patty. The bacon strips were amazing and they covered the whole patty. The BBQ (or Red) sauce was a little overpowering—not the taste, but the sheer amount that was on the burger. I guess I shouldn't complain, since I am at a BBQ themed restaurant after all. The buns themselves were unimpressive and were similar to store bought ones.
Overall I did enjoy my burger, but I felt that it was lacking something. It did not come with any lettuce, or tomato, or mayonnaise, but I am not sure that was it. It was a perfectly fine burger but I couldn't shake the feeling that it needed something else.
Burger Rating:  3.25
Other Food
Elwood's is more a full service BBQ joint than anything, offering up pork, chicken, beef brisket, ribs, sandwiches, lots of salads, and plenty more. Mrs. Angus and I got a starter of Elwood's Cheese Fries 6 and I ordered a side a brisket to come with my burger.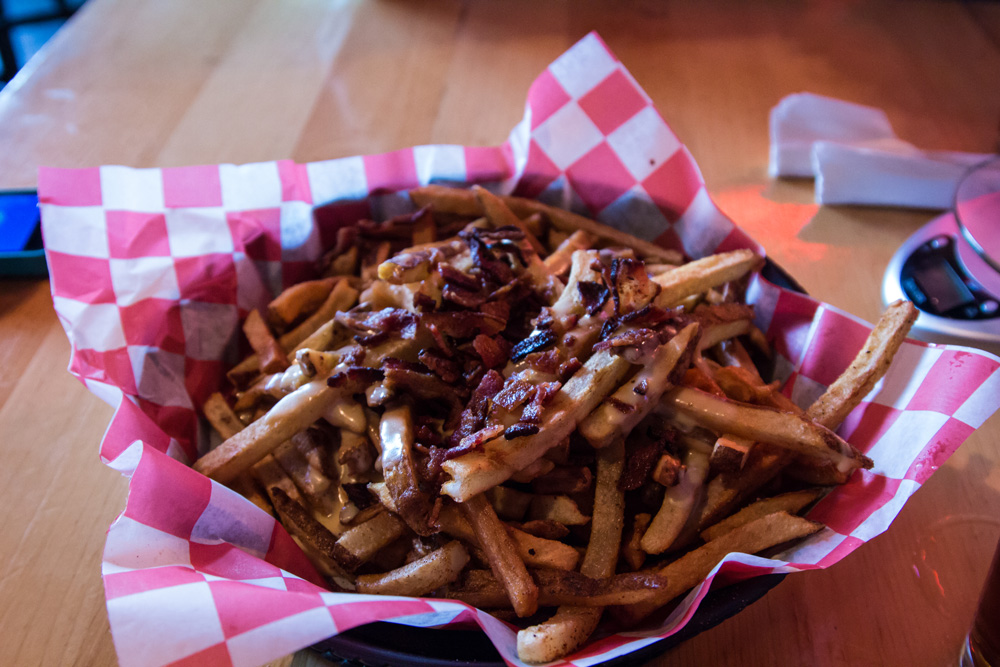 The cheese fries were actually pretty amazing. I was expecting melted shredded cheese, but instead it was cheese sauce (which stayed good until the end and is what I felt made the dish) and it was topped with hand crumbled bacon 7. My brisket however came out pretty dry, but then again there was like three different types of BBQ sauce on the table to douse it in 8.
Beer
Elwood's had two local options on tap (Olde Mecklenburg Brewery's Copper and NoDa Brewing Company's Woody & Wilcox IPA) and several other craft options. I, of course, have to have a Copper first where it is available. I am happy to see that small joints like this are able to support their local breweries.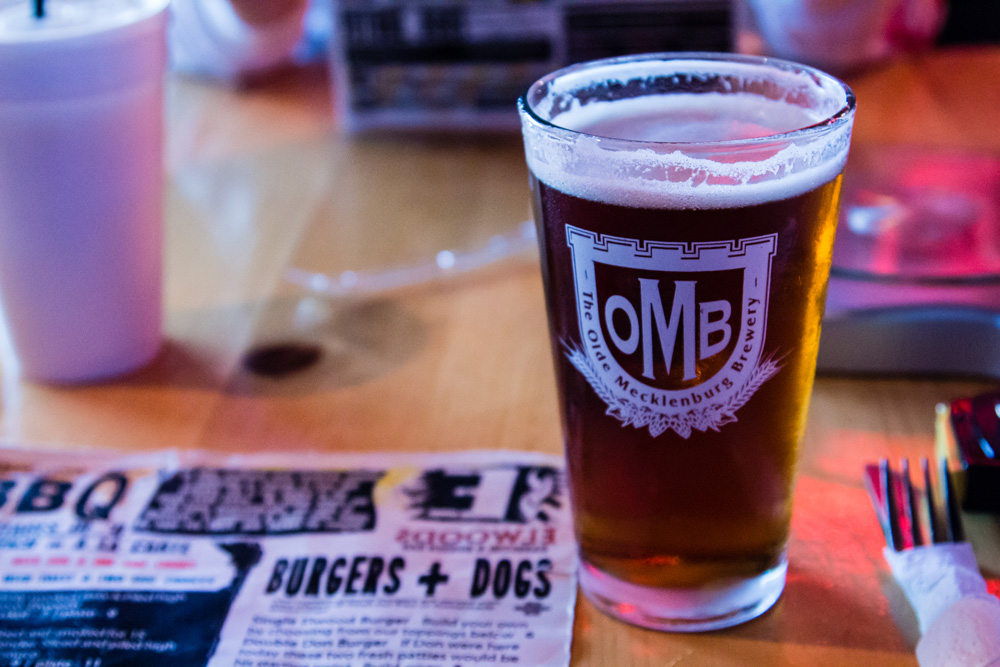 Beer Rating: 3.75
Atmosphere
Inside Elwood's there was a bar area, and sitting area, and a covered outdoor patio. We sat inside and noticed the after-work crowd grabbing a beer at the bar and the after-school family crowd in the restaurant sitting area. The staff was extremely nice and it felt like they genuinely liked being there and serving you.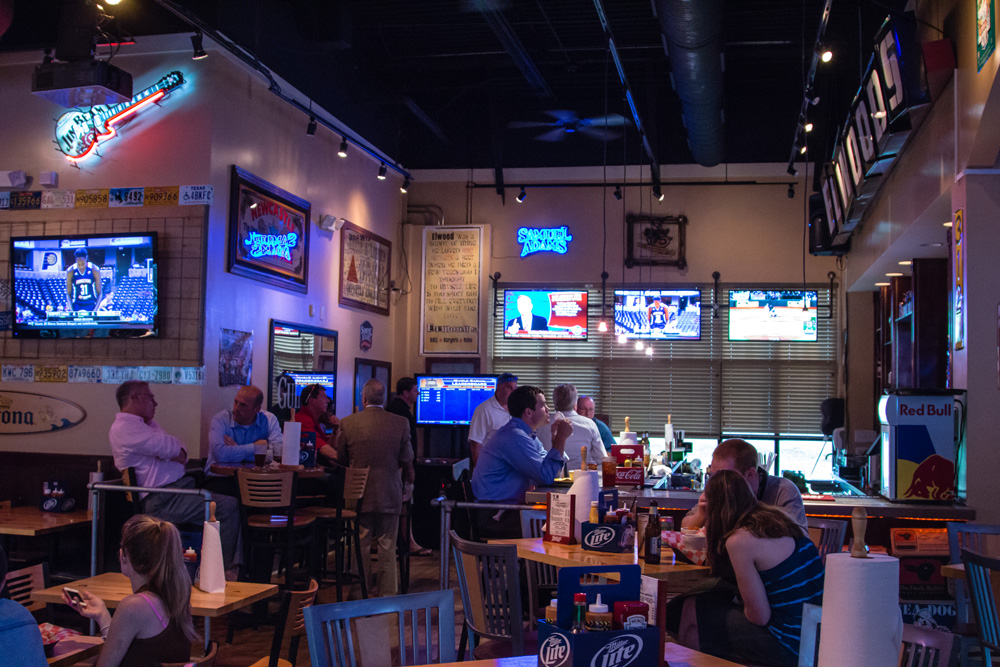 There were tv's lining the walls and two huge projection screens flanking both sides. It would be really awesome to see a game from (insert sport or tournament 9).
Atmosphere Rating: 4 (.5 bump for super family friendly service)
Conclusion
What was your favorite thing (non-food) about Elwood's BBQ Burger Bar?
My favorite thing is one that I almost didn't see. While we were getting Small Fry ready to leave, I happened to look up and notice this quote painted on the wall: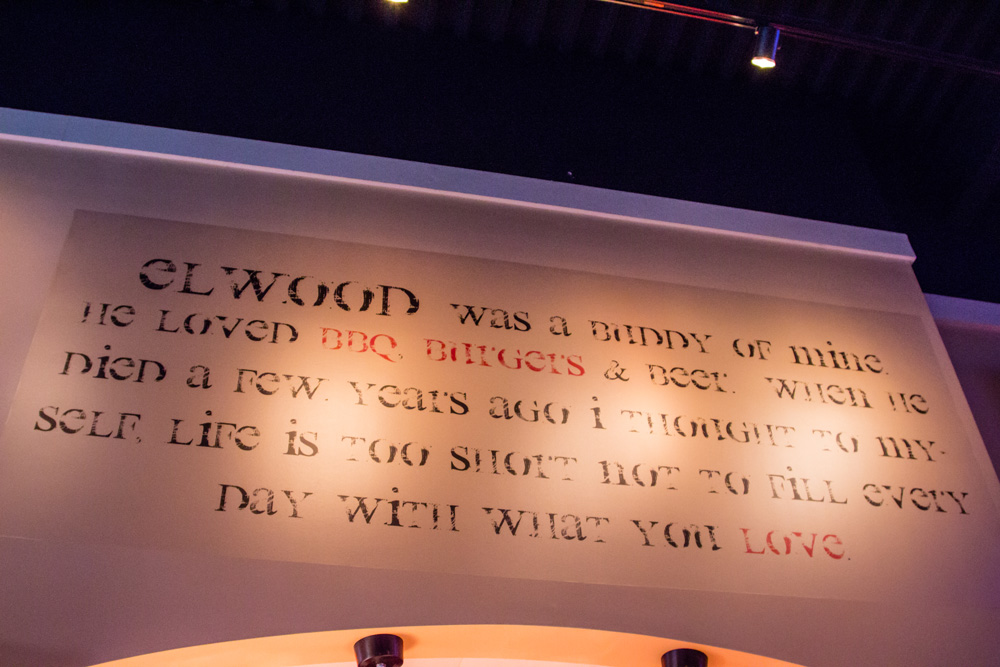 "Elwood was a buddy of mine. He loved BBQ, Burgers, and Beer. When he died a few years ago, I thought to myself, life is too short not to fill every day with what you love."
I thought that was truly inspiring. Looking on their website I found that this restaurant was created to honor one "Big Don" Elwood and they brought all the family recipes together to create a place where Big Don would love to come to. This quote speaks volumes to almost anyone who looks upon it and I am proud that I was able to see it.
Would you eat here again?
Definitely. If not for anything else, I would come back and at least have a beer and a toast to "Big Don".
Next time you come by, what will you order?
I would like to try the rest of their BBQ options. Elwood's offers a combination plate that gives you a sample of everything they have (or choice there of).
Does Elwood's BBQ Burger Bar earn the Charlotte Burger Blog Seal of Approval?
Even though I had a great experience from the staff, and a nice cold beer, the burger still is lacking that last little bit in order for it to earn the Seal of Approval.
Signed,