Location: 1114 Concord Ave, Monroe, NC 28110
Website: Official Facebook Page
Hereford: We call ourselves the Charlotte Burger Blog, but never wanted to only focus on the city of Charlotte. There are a lot of great burgers in the suburbs that we wanted to try. We knew, though that before we started hitting burger joints in the surrounding areas, we had to cover enough places in the Queen City first. We needed to earn our name. After three years 1 of chronicling burgers in Charlotte, we've hit that point and we've started to try to branch out to the surrounding counties.
Of the burger places around Charlotte, Duke's Grill might be the most famous of all of them. It was one of the first places we heard about when we first started receiving recommendations, and recently it was featured on the Travel Channel show, Burgerland 2
Angus: After graduating from college, I got hired by a creative agency based in Monroe, NC. Designing and developing the Charlotte Burger Blog was a big part of my portfolio, and the first thing they asked me during the interview process was, "Have you been to Duke's?" You would think that the first thing they would ask is about my history or what I was looking for in a workplace, but that just goes to show you how awesome of a company they are.
One lunch hour my co-workers grabbed me so I could try Dukes (off the record of course). The one thing they told me, though, was to leave my cell phone in the office. I asked why, and they just said that the owner has forbid cell phones in his establishment and that he will kick anyone out that has one.
Wait. What?!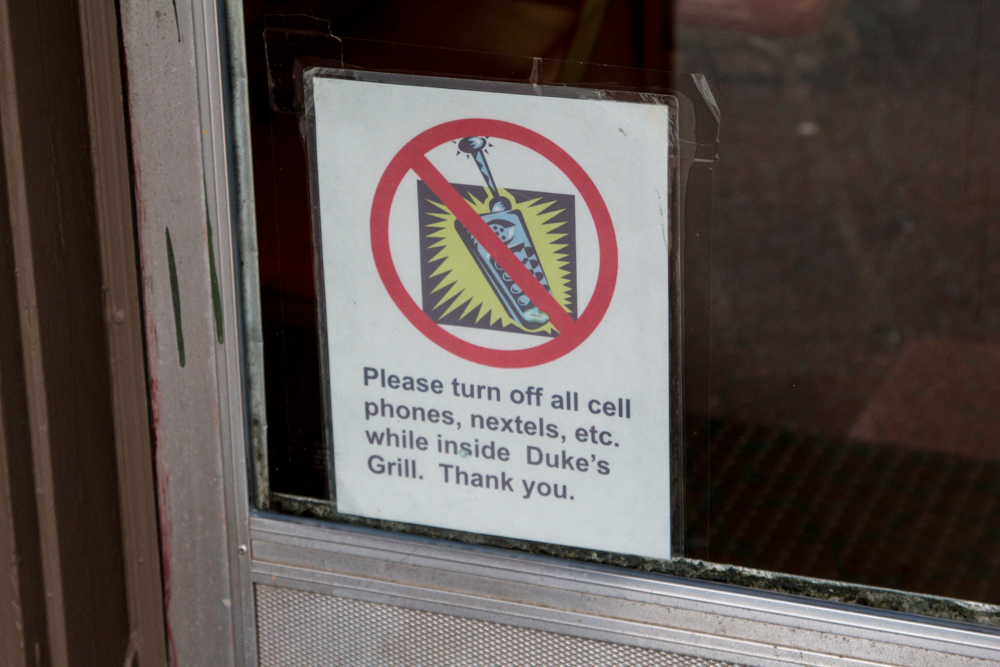 Hereford: That's what everyone says about Duke's. They always mention A) the awesome food and B) the cell phone policy. It's a part of their thing.
Before we stopped by, I kept obsessing about the policy. I kept going back and forth between arguments why this policy makes perfect sense and why it's completely stupid.
On the one hand, I get why cell phones can be annoying. People are always finding new ways to be rude. Some people will be too busy texting to notice that someone is trying to take their order. Some people talk too loudly on their phone. Some people have annoying ring tones. 3
Besides, is it so hard to put away a cell phone for the 30 minutes that you're going to sit down and eat?
Angus: On the other hand, we live in a world that has, for the most part, embraced technology. Cell phones are pocket sized mini computers that can do almost anything. I have virtual client meetings on my phone all the time. I work during lunch on my phone, as well as do things for this blog. Also, when my son, Small Fry, was a newborn I looked at my phone constantly to make sure everything was OK.
Having a no cell phone policy in your store today is worse than those places that do not accept credit and debit cards for payment.
To get to the point, either they are just afraid of technology and progress or it is a total shtick that they use to make themselves stand out.
Hereford: I think those are all good points. After all, people don't need cell phones to be rude. In fact, I would argue that the vast majority of people use their cell phones without bothering anyone else.
But, then again, it's their business and they absolutely have the right to make their own decisions about how to run it. They warn people adequately. You can make the choice whether or not their policy affects your enjoyment of their services. 4
We certainly prepared ourselves. We brought pen and paper to take notes, and we made sure to bring our camera so we didn't have to take cell phone shots.
Angus: Ultimately their cell phone policy wasn't the reason we stopped by, we were there to enjoy some burgers.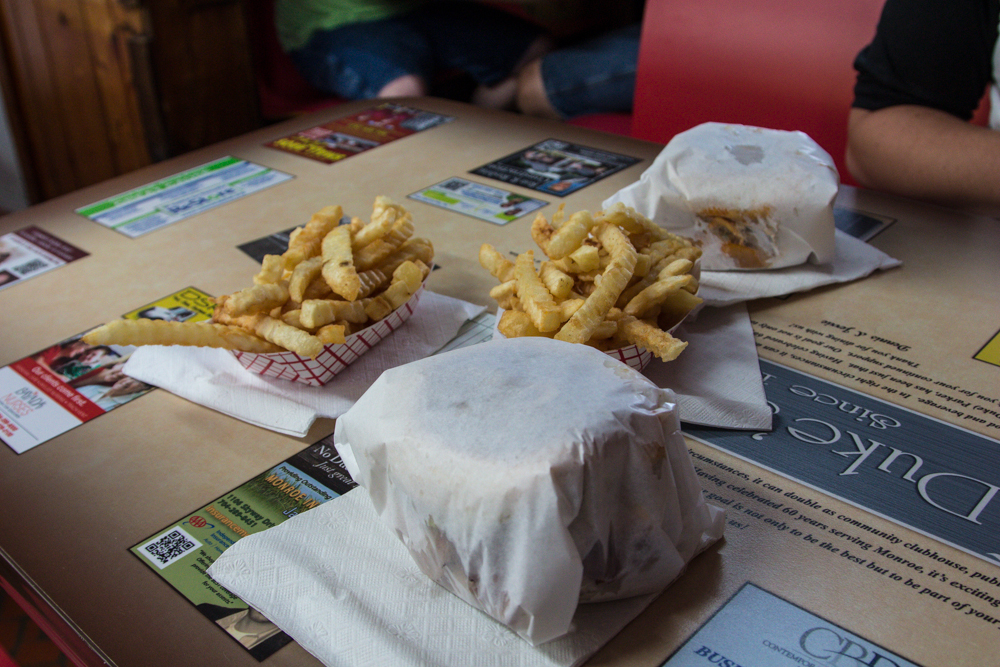 Here's the tale of the tape:
EXHIBIT A:  DOUBLE CHEESEBURGER with BACON
(with lettuce, American cheese, mayonnaise, ketchup, and bacon)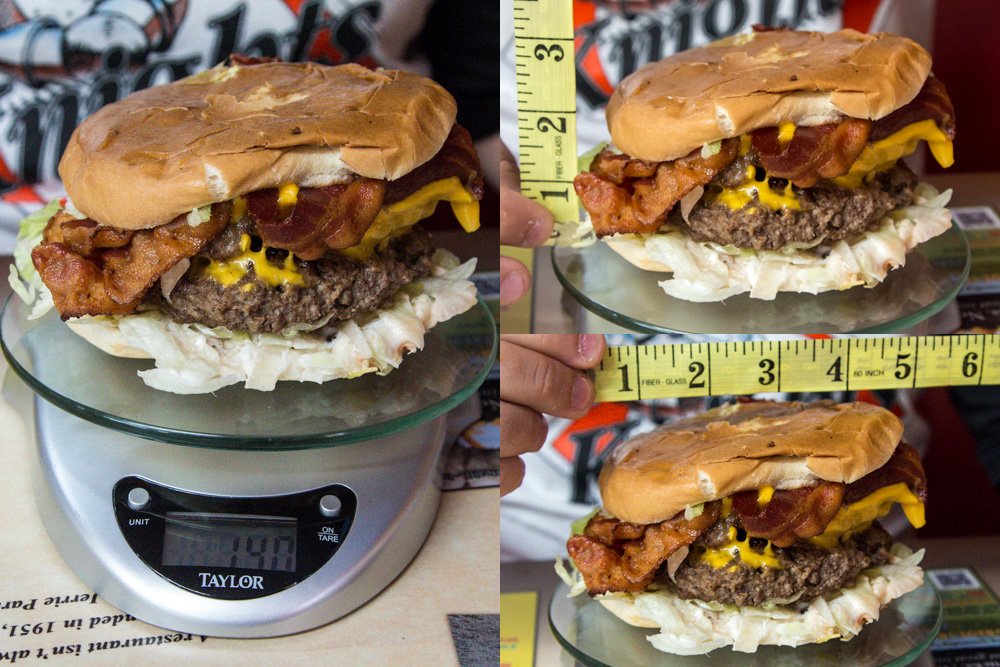 Official Weight: 14 ounces
Official Diameter: 5 inches
Official Height: 3 inches
Cost: $5.95 – Bacon an extra $2.25 (side not included)
Cooked to order: No
Angus: First off these burgers are massive! Fourteen ounces?! Dang! Taking your first bite you get overwhelmed with how much meat there is, even for a double patty burger. But still, it was glorious. Now these types of places only cook a burger one way (medium well), but that's ok since the grease of burgers past was still left on the griddle and it gave the patties a nice juicy taste.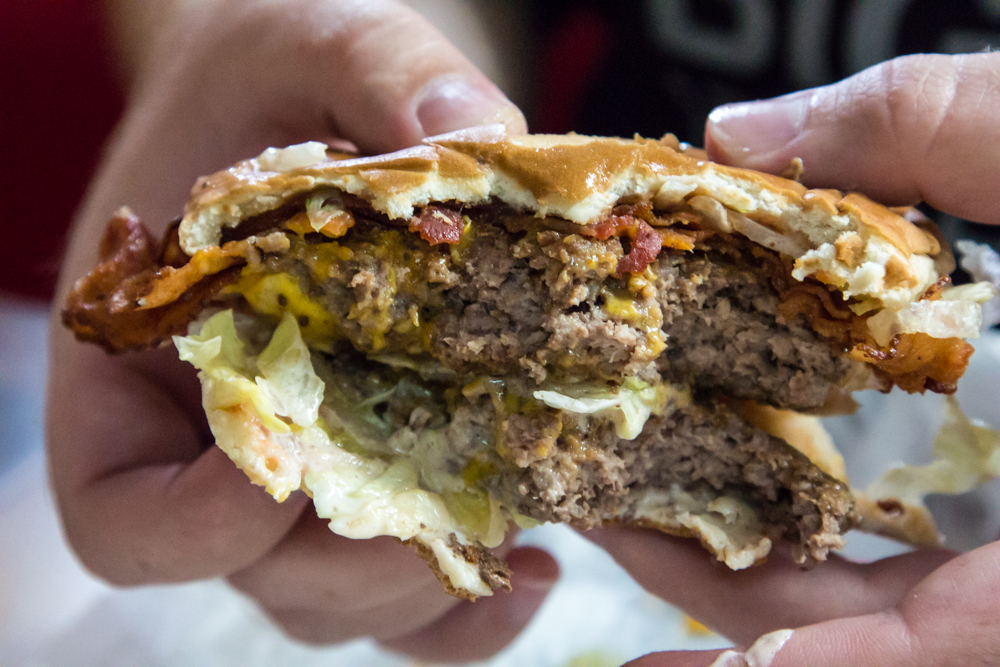 The cheese was melted and everywhere. The lettuce was shredded iceberg (YES!) and it looked like they took the time to place it everywhere on the burger. It was on top, on the bottom and in-between the patties! This burger probably had the most bacon that I have ever received 5. Most of the time when I order a bacon cheeseburger I get stuck with 2 slices of bacon that are crossed on top of the patty. Not here. It looks like there was at least four strips and they were cooked in a way that made them into a small patty themselves. It was pretty amazing.
The only thing I felt the burger lacked was a proper bun. The burger was so massive and the toppings so great that the bun just fell apart while you were eating it. You do see places like this (similar to Brooks, Diamond, and Pinky's) that use the afterthought "store bought" buns.
All in all I really enjoyed my burger and it was exactly the type of burger that you would expect to get at an old, established joint like Dukes.
EXHIBIT B: DOUBLE CHEESEBURGER All THE WAY
(with chili, slaw, American cheese, and mustard)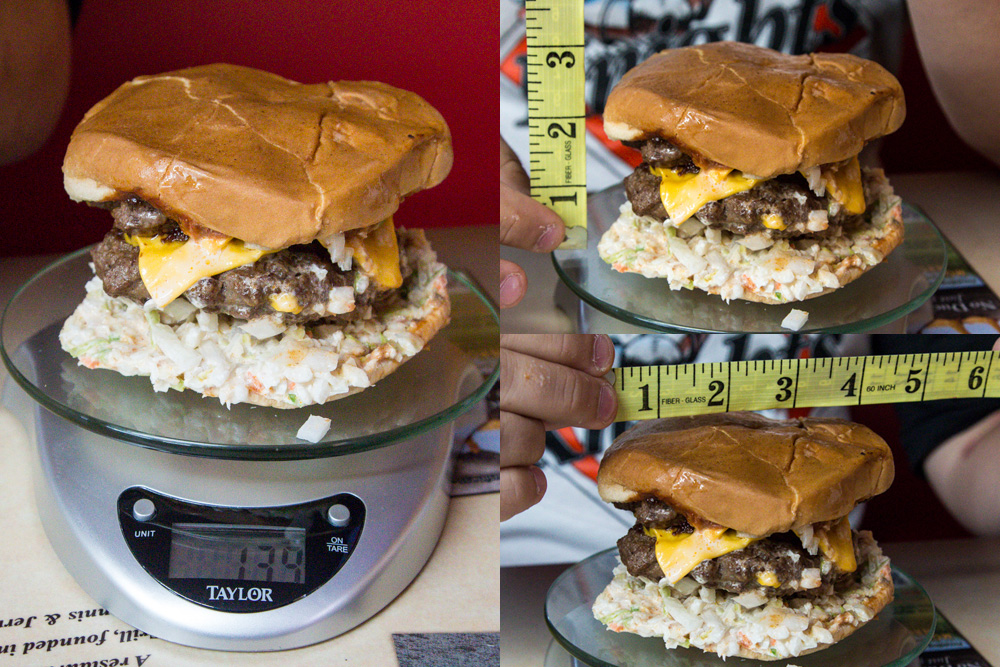 Official Weight: 13.9 ounces
Official Diameter: 4.5 inches
Official Height: 3 inches
Cost: $5.95 (side not included)
Cooked to order: No
Hereford: I don't have much to add to Angus's analysis, since we had the same burger (except mine didn't have all that bacon).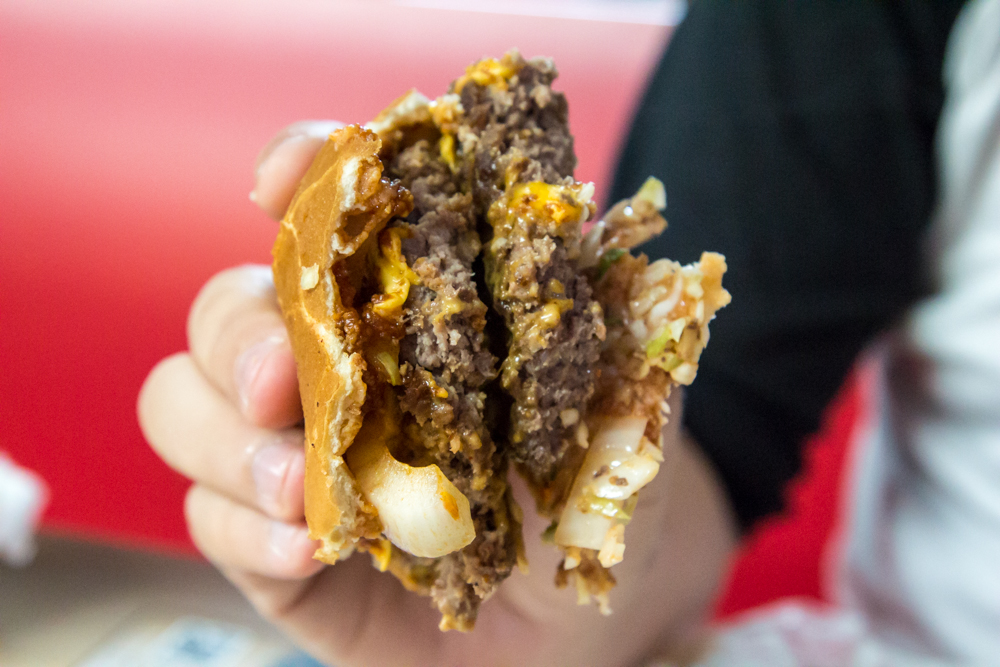 The burger certainly lived up to its reputation. Lately it seems all I've had are Carolina style burgers, and this is as good of an example of the style that I've tasted. They put the slaw on the bottom and the chili on the top, giving it a flavor separation. Both were excellent, especially the chili.
Burger Rating: 3.5
Other Food
Angus: Dukes offers other sandwiches in addition to the burgers they serve. They have plates such as burger steak, chopped BBQ, and fried chicken. They also have an extensive breakfast menu that they offer daily with all the great southern style items such as country ham and eggs, omelets with livermush, and of course, grits.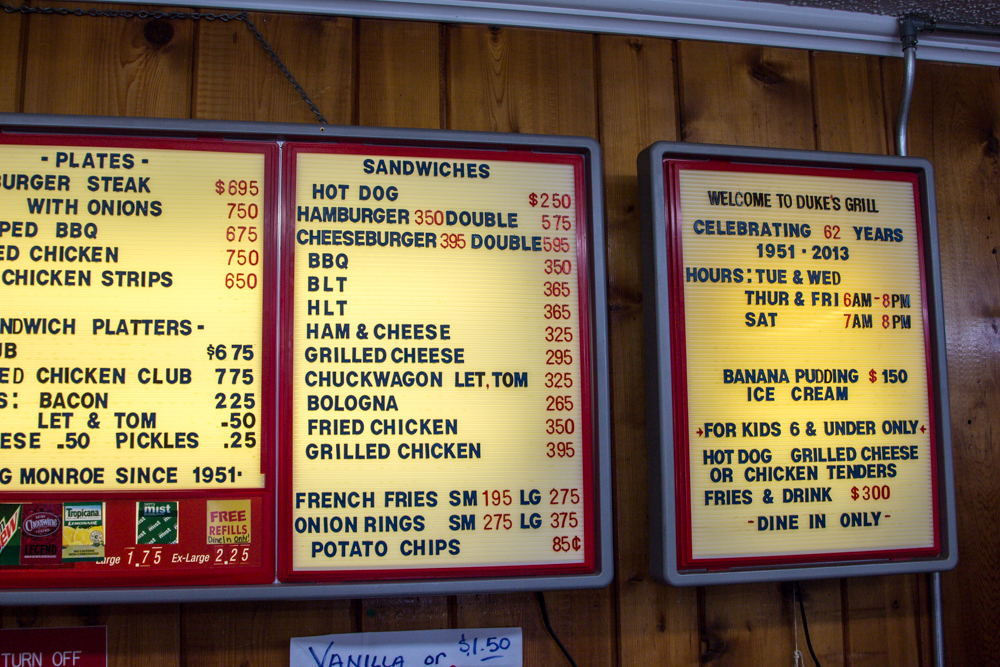 Beer
No beer.
Beer Rating: N/A
Atmosphere
Hereford: Duke's is a family restaurant, with extremely friendly wait staff. But, as I ate, I kept thinking about those cell phone signs. Honestly, it added a touch of negativity to the place, even if that wasn't their intention. When my phone rang shortly after we finished eating, I stepped outside to answer it.
I'm not going to lie, I thought about just answering it right there in the restaurant. I was done with my burger, and I kind of wanted to see what would happen. I've heard stories about people being kicked out, but how does it work exactly? Are they firm, but adamant that you leave, or are they rude and yell at you? Do they still make you pay as you stand out in the parking lot?  I wanted to know, and it would have been nice to report, but alas, I'm either too polite or too scared to intentionally do something like that. 6
I came back in and asked Angus if anyone said anything or gave me any dirty looks. He said no. I don't if I know if I was relieved or disappointed in that.
Atmosphere Rating: 3.25 (.25 deducted for all the cell phone signs)
Conclusion
What was your favorite thing (non-food) about the Duke's Grill?
Visiting Duke's with co-workers that have lived in Monroe since their childhood, you can sense the camaraderie they feel when they visit. Everyone knows each other and you can hear the stories being shared between old friends. It's a thing you commonly find in small towns.
You obsessed about those cell phone signs, how many were there exactly?
I don't know exactly, but we counted eight, including the one on the door. I didn't check the bathroom (which was outside, so it sucks if you have to pee when it's raining).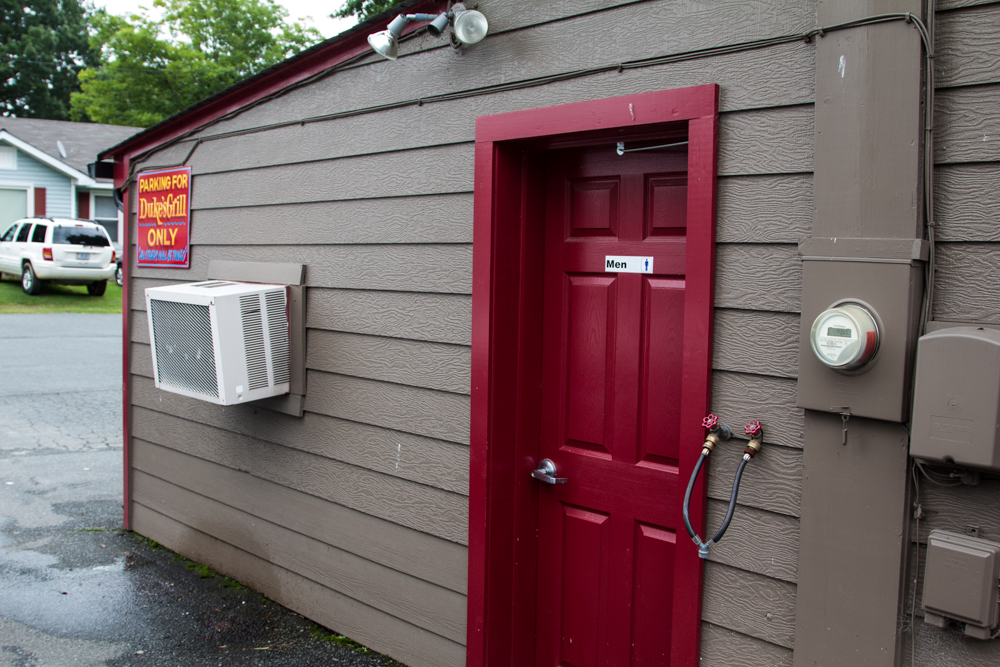 Would you eat here again?
Yes.
Does Duke's Grill earn the Charlotte Burger Blog Seal of Approval?
Despite the cell phone policy, and I know we've discussed it at length, we loved Duke's. They're a great family-run restaurant that serves classic burgers, and they've been doing so since 1951. If you're in Union County, this is a place that you must visit.
Signed,