When we go out for an official burger review, we usually bring our equipment: tape measure, scale, tricorder, etc. But we don't just stick to our quest to eat every burger in Charlotte when we go out for reviews. Sometimes we want to write a quick review of a burger that we just happened upon. We call these Short Orders.
Location: 205 Madora St, Mt Holly, NC 28120
Website: www.brightstargrill.com
How did you hear about the Brightstar Grill?
Before I actually moved to Charlotte, I lived a year in Belmont and then three in Mount Holly. When I lived there I would occasionally hear someone talk about the Brighstar Grill, but I never stopped by. It's kind of hidden, so I didn't know exactly where it was, and I often went into Charlotte for my eating adventures. It stayed in the back of my mind as a place I should try to go to one day.
I was in the area recently for lunch, and it popped back in my head. I didn't know even if it was still there. I did a quick Google search for Brightstar, found it again, and looked at the map. I figured I pretty much knew where it was. So I went driving around to try to find it. It turns out I was over confident. I was going circles in this neighborhood, but I didn't see it anywhere. I finally put it into my GPS, and I found my way. But it seems that I was now behind the building and I came in the back way.
When I pulled up, I saw this sign. Clearly, it's pretty old, and it's not been kept up well. From there the entrance is a driveway into the woods. You can't see the building, or exactly where it leads.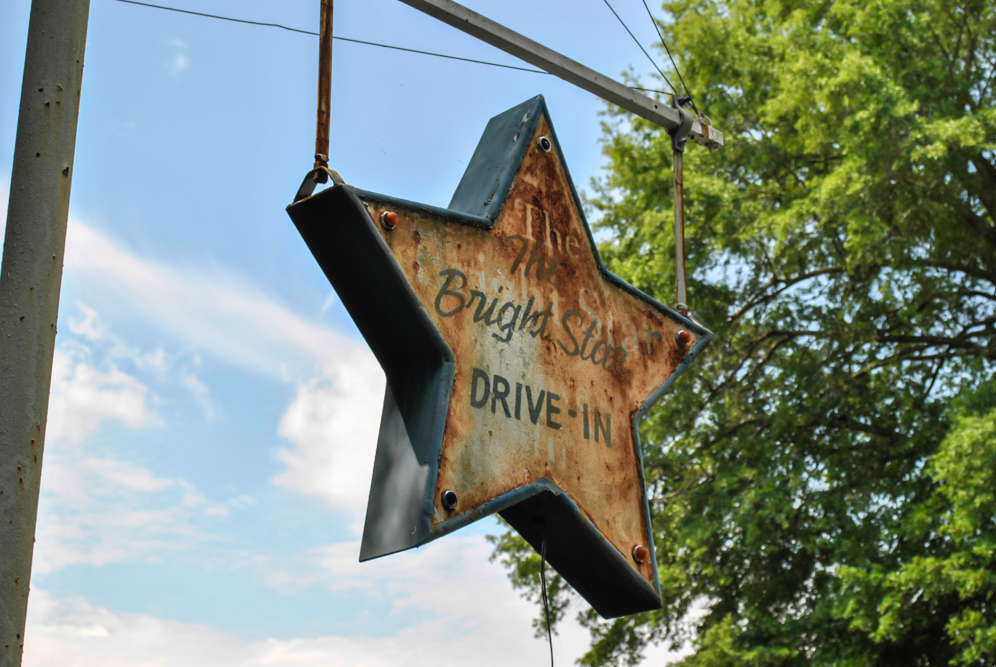 I pulled around and could see that they have a nice new sign in the front. It would have been a completely different experience coming in that way. Although Brightstar once was a drive-in, and you still see it referenced as such sometimes, they no longer have their drive-up ordering kiosks up. They still have the area, but now it's pretty much just a parking lot.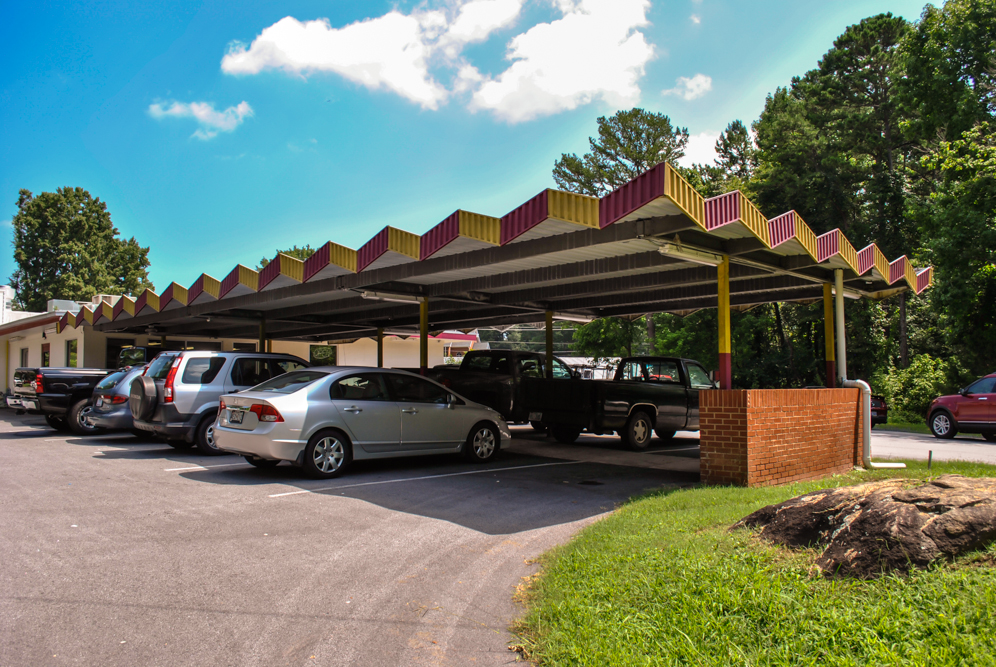 What did you order?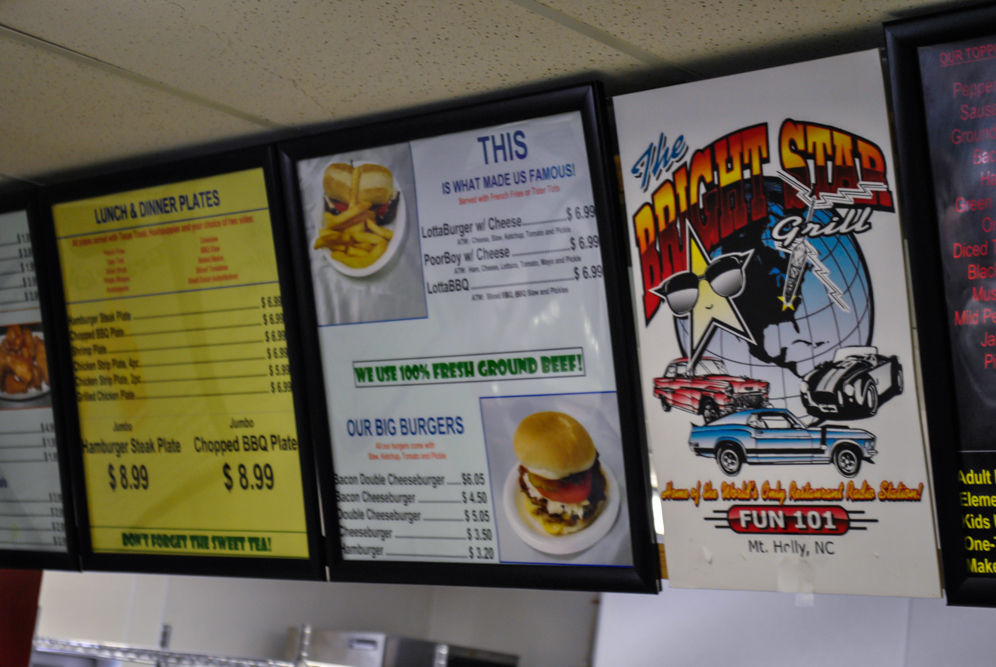 Well, the choice was pretty much made for me. The menu says the LottaBurger w/Cheese is the burger that made them famous. I couldn't turn that down now, could I?
What was it like inside?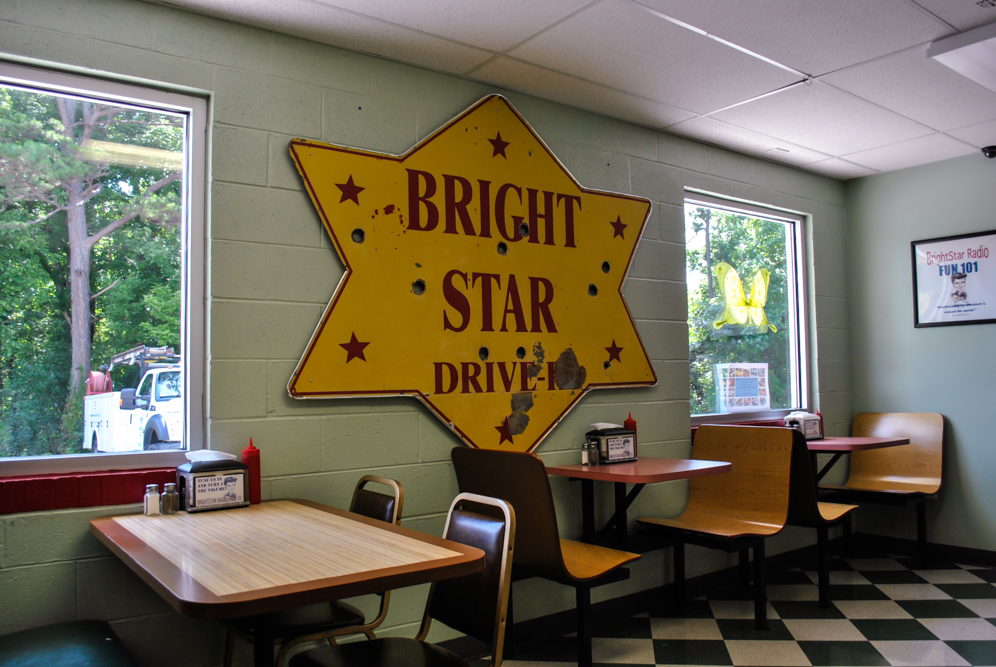 A lot bigger than I expected. They have a main dining room when you walk in, then another long dining room on the side. There they have an old sign (although not as old as the one from the back entrance) on the wall that I'm sure once was outside.
Sometimes I can be somewhat slow on the uptake. I sat down after ordering and started playing with my phone and noticed ads at every table and on the wall that said: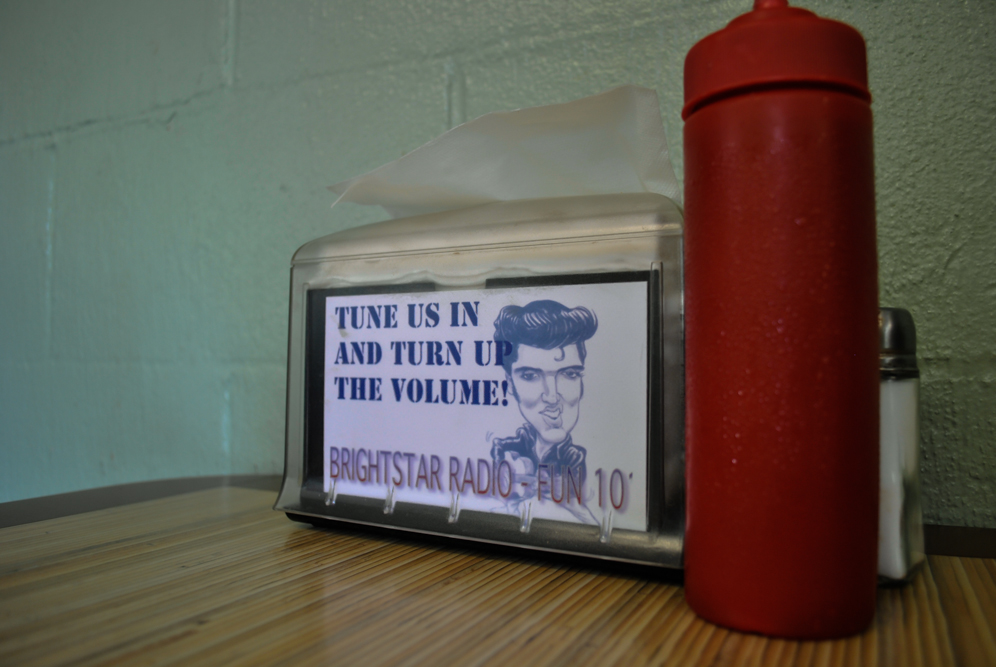 But I didn't think anything of it. I could hear The Animals playing, but I figured they must have just ripped some "Groovin' to the 60's" CD's and made a playlist out of it. Then I heard an ad for a plumber in Mt. Holly and realized they had created their own internet station.
I felt pretty dumb when I looked up and realized I literally could look into their recording booth. They have a fairly professional radio station there. That's a first for the blog—a burger joint/radio station.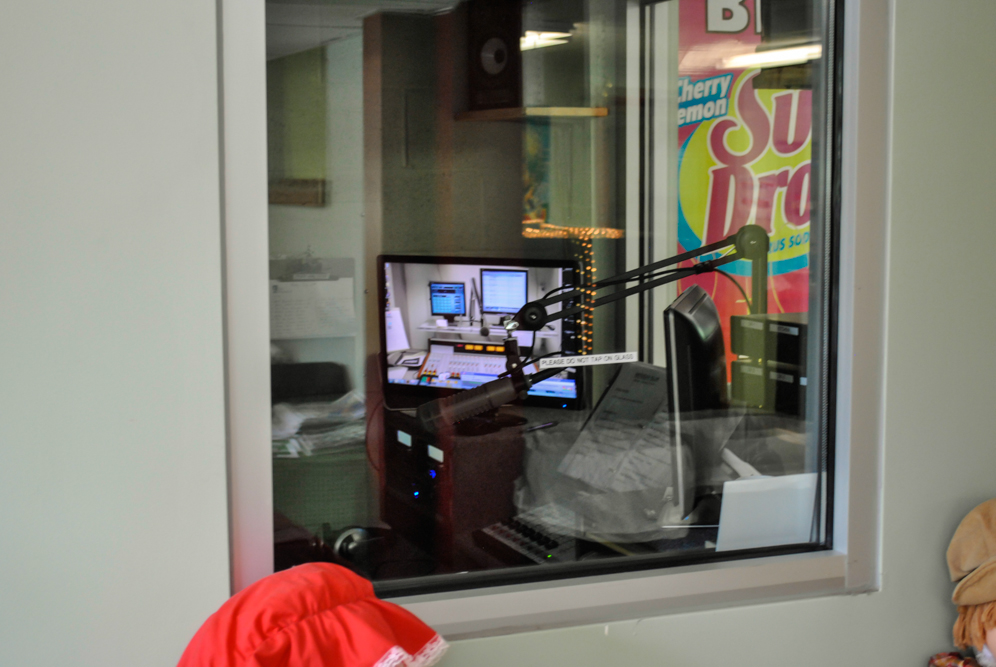 It's too bad there was no one inside recording at the time. That would have been awesome. After the Animals they played the Showmen, the Outsiders, Bobby Day, and Elton John.
I looked at their website later, and it says the site is "Coming Soon". But they have the station plug-in at the bottom, if you want to tune in.
It also says that Brightstar has the best burgers in town, but it's Mount Holly. What exactly is their competition?
How was the burger?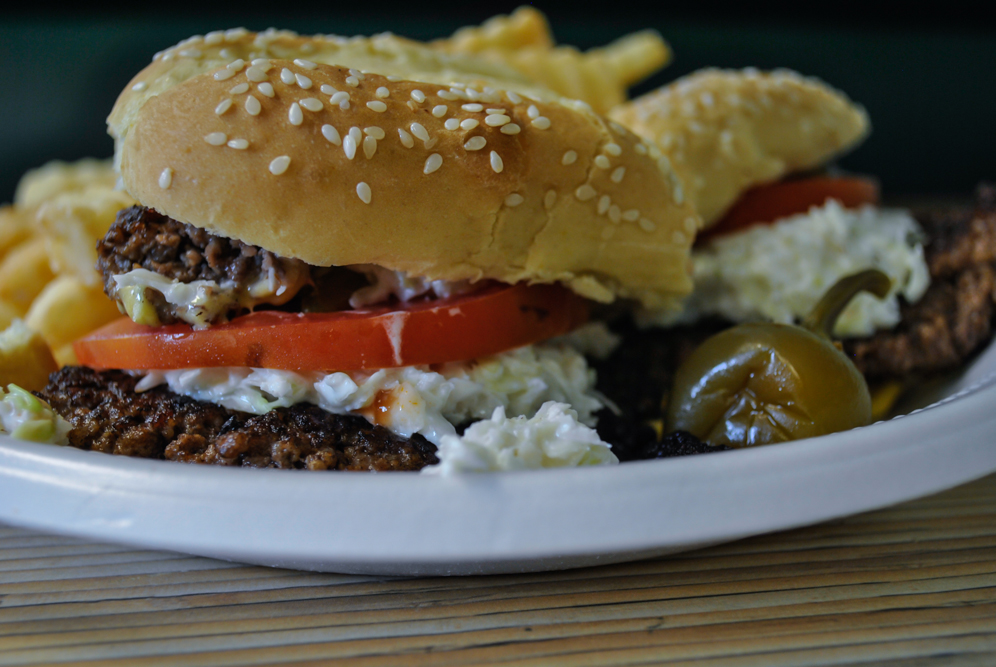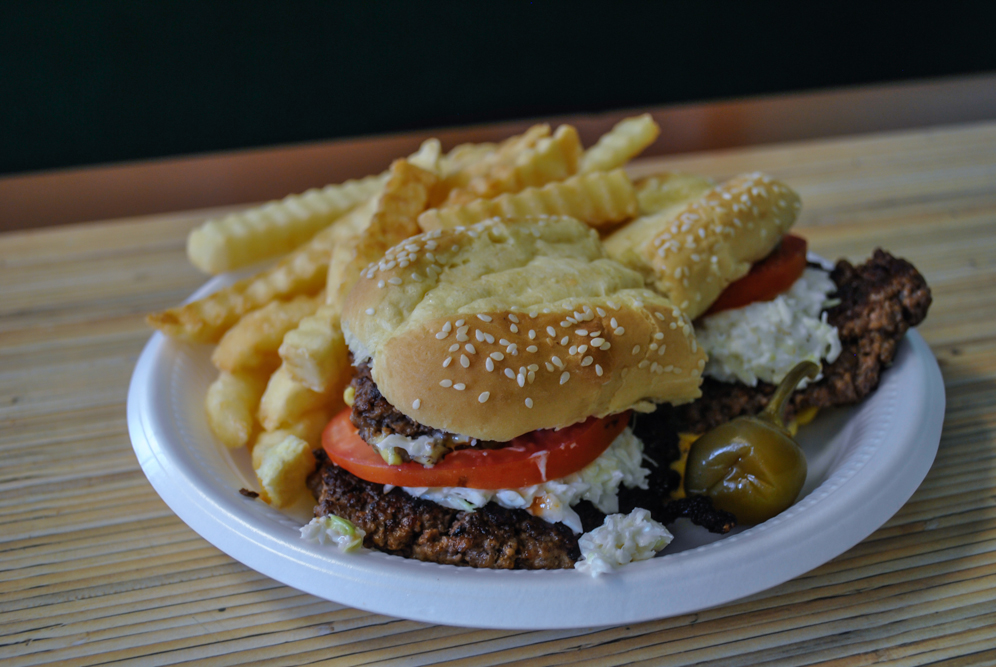 Not exactly what I expected. I've had a lot of Carolina Style burgers lately, to the point where I'm going to have to start avoiding them just to shake up my palate. But this isn't quite a Carolina style burger. There's coleslaw, but no chili. And it's a heavy coleslaw, like you would find at a Gaston County fish camp. Oddly, it's not on a hamburger bun, but on a sesame seed sandwich bun.
It was extremely messy to eat, and some of it I had to get with a fork. But I enjoyed it.
Was it, as advertised, the best burger in town?
Sure!
I regret never coming here before. It feels like a missed opportunity. I can't believe I lived here three years and never found this place. Who knows what else was in Mount Holly that I was missing out on. I mean, probably nothing, but I guess you never know.
Signed,