Location: 1700 Montford Dr., 28209
Website: www.rollten.com
Bowling alley food.
I know, those aren't words that inspire confidence. It brings to mind visions of hotdogs on rollers and over-salted nachos with orange, plastic cheese. But, while most bowling alleys assume you come to play ten pin and will eat whatever they offer, 10 Park Lanes on Montford Dr. is trying a little harder. They underwent a renovation a few years ago, and now they have a full service restaurant and bar, far beyond what you might expect.
This continues our summer visits to recreation places with burgers, as seen earlier at Knights Stadium, and The U.S. Whitewater Center, and of those places 10 Park lanes may try the hardest and take its food the most serious. They wants to be the kind of place where you would want to eat, even if they didn't have bowling.
They have a whole section of their menu devoted to their "Sizzling Burgers," and a lot of them looked good. They have a Roll Ten, which is topped with pulled pork, and a 50/50, which is a beef and bacon blended burger 1. But, I'll have to try those a different day. When I saw a Juicy Lucy listed, there was no doubt I would have to get that.
Here's the Tale of the Tape:
EXHIBIT A: JUICY LUCY
(with Lettuce, Tomato Onion, Pickle, Jalapeno Bacon, and Cheddar Cheese)
Official Diameter:   5 inches
Official Height:   3.5 inches
Cost: $11 (Includes sides)
Cooked to order: Yes: Medium, Medium-Well, or Well
For those you who are understandably hesitant to Google a term like, "Juicy Lucy," it's a burger that has cheese cooked into the patty. As you can see here in this recipe, you form the patty around the cheese so it will ooze out as you eat it.
Or, at least, it's supposed to.
Whoever made the menu at 10 Park Lanes apparently liked the name of the Juicy Lucy, but not so much the actual style of burger. The burger had cheese, but it wasn't within the patty. It was on top. I asked the waitress why it was called a Juicy Lucy when it wasn't, and she just seemed confused 2. She had never heard of the term before.
So much of running a restaurant is managing expectations. This burger was a disappointment, even though taste-wise it was pretty good, all because I thought I was getting something that I didn't.
The burger was slightly over-cooked—medium well burgers should have some pink center—but the bun was extra buttery, and I loved the jalapeno bacon. It was spicy, but not overpowering. You have two options for bacon, and the other one was pecan bacon. The choice nearly paralyzed me, and I'm still not sure I made the right one. I've never even seen pecan bacon on a menu before, I would love to know what it's like.
Burger Rating: 3.1
Other Food
The only other food I got on this trip was fries, and they were crinkle-cut—fine, but unremarkable. But, one thing I loved was that they had four different BBQ sauce options, all which were homemade and unique. Clearly, they're meant to be tried with the actual BBQ on the menu, but I used those fries to try all of them. They had Chipotle Apricot, Honey Comb, Piedmont Blond, and Jalapeno Coffee, the latter of which was my favorite.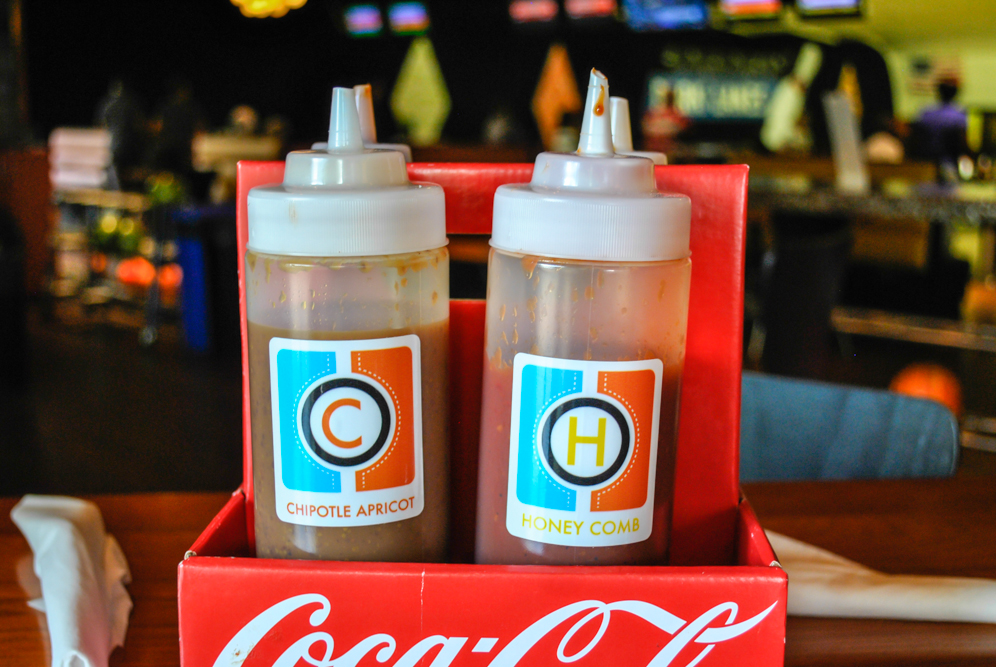 Beer
One of the things that makes 10 Park Lanes such a great place to hang out is that they have great beer options. They have local options, standard national craft beer, and what everybody else drinks. We tend to focus on the first of those groups, and when I stopped by they had Four Friends, NoDa Brewing, and Olde Mecklenburg, along with NC choices Highland and Natty Green.
Also, they have a moonshine still. I'm not much of a moonshine guy, but if that's your thing, this is the only place I know of that has one.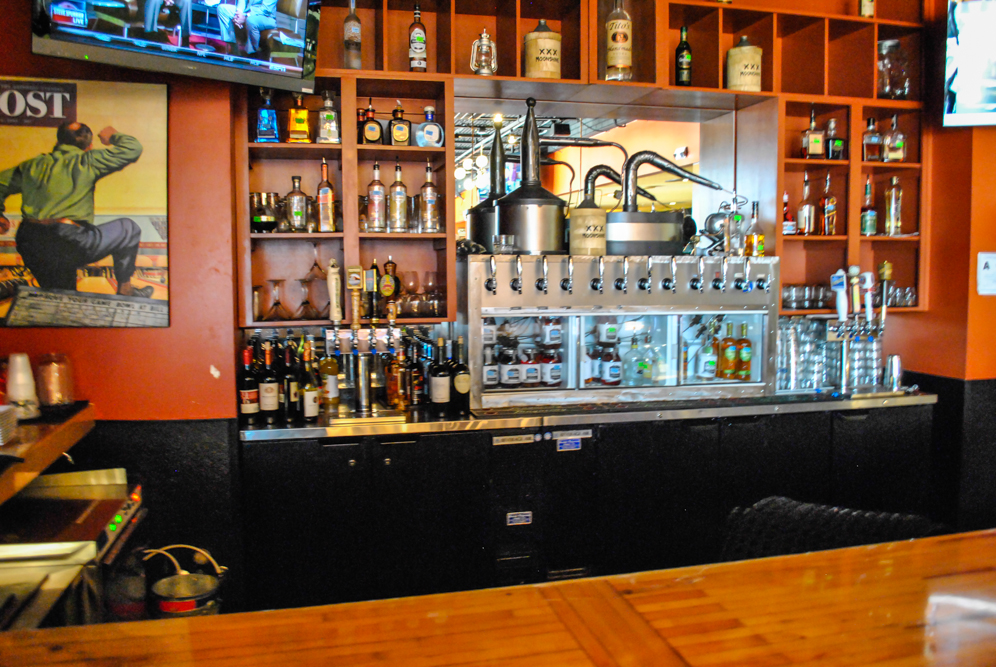 Beer Rating: 4
Atmosphere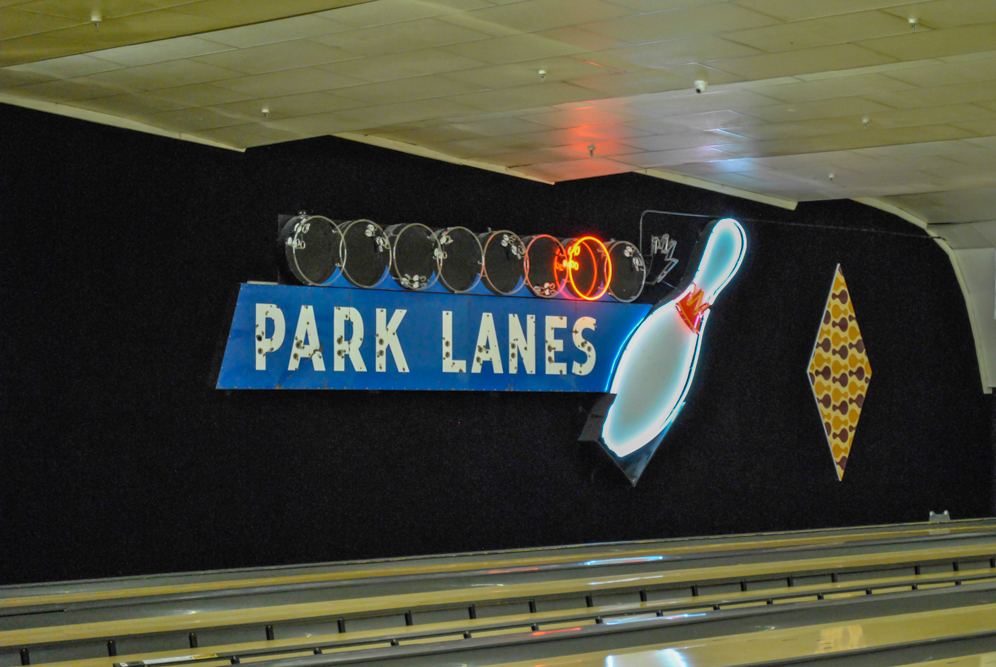 I've been here at night before, and this place can be crazy busy. It's not surprising; it hits that sweet spot of good food and a cool retro-style. This is a great place to hang out, although sometimes it can be hard to get a lane. I loved going to bowling alleys when I grew up, but some of them now are like museums of what people used to do to have fun. 10 Park Lanes isn't like that.
Atmosphere Rating: 4.5
Conclusion
How did you bowl?
Not great. The truth is, I'm not a good bowler. For a guy, that's like admitting that you can't change your own oil or you don't have a tool set 3. The problem is, I try too hard. I watched Wide World of Sports growing up, I know what it looks like when people who know how to bowl do. So I try to do that. But my arm swings wide or something. I don't know. I'm terrible. The thing is, my girlfriend always bowls better than me and she awkwardly tosses it down the lane at about 5 mph. It's embarrassing.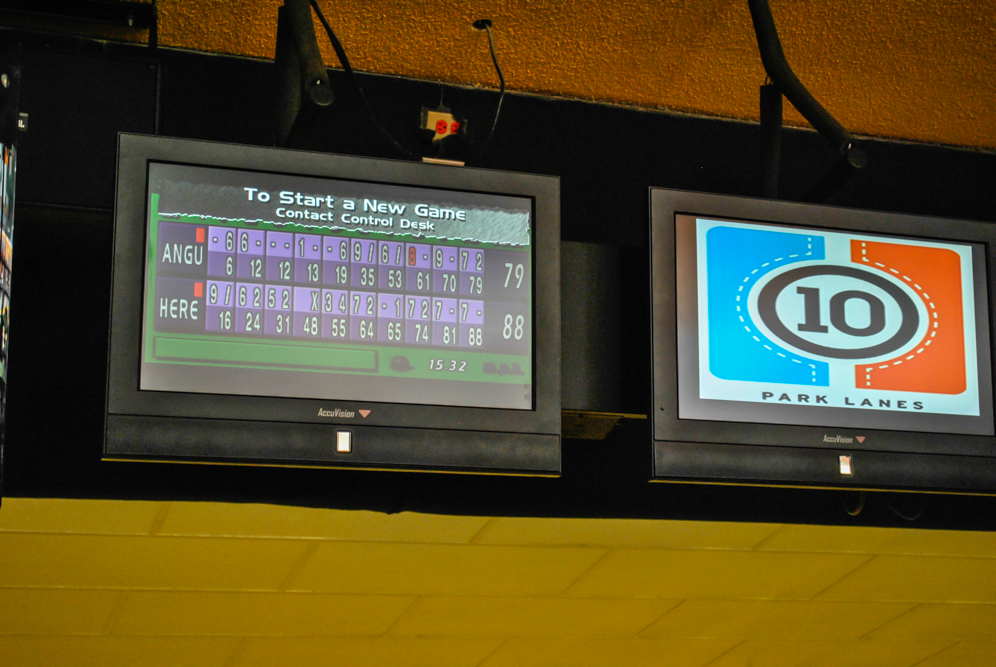 I should note that Angus didn't come along for this review, I just inputted his name on the screen so I could get this picture. Then I bowled for both of us. And made sure he lost.
Will you come back here again?
More than likely. The last time I came by was for a Bobcats Watch Party, and if they have one here again, I'll make sure to show up. I might just play pop-a-shot, though. I'm significantly better at that than I am bowling, and for the record, I'm terrible at pop-a-shot.
When you come by next time, what will you get?
I want to try some of their BBQ, mainly because the sauces would probably be better on that than their fries since some of them are thin.
Does 10 Park Lanes earn the Charlotte Burger Blog Seal of Approval?
They probably would have, if they had faked me out with the Juicy Lucy business. Until they change the name of that menu item, or actually make me a Juicy Lucy, no.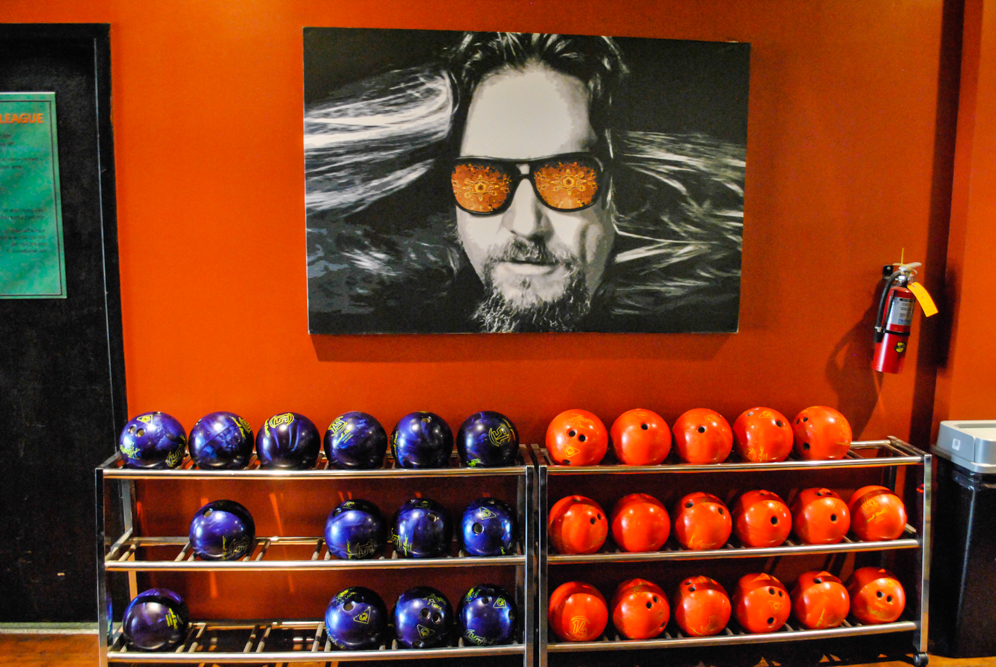 Signed,

Notes:
Somewhere, Angus is flipping out. ↩
Or maybe it was just because I had just measured and weighed my food and now I'm asking a bunch of weird questions. ↩
Incidentally, both of those are also true about me. ↩