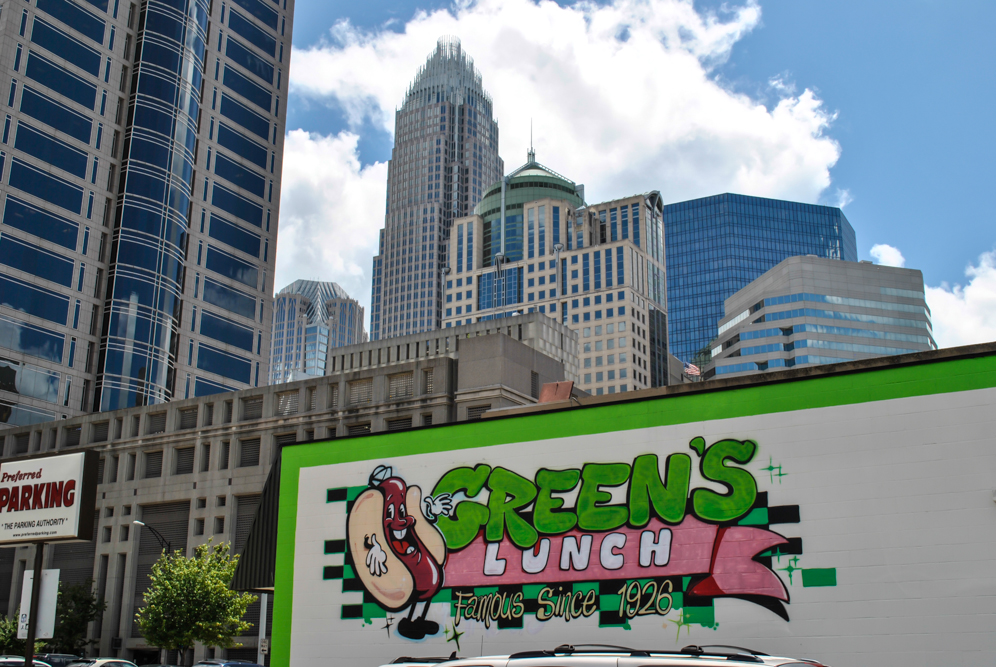 Location: 309 W 4th St. 28202
Website: greenslunch.com
My friend Matt and I both had a weekday off recently, so I suggested we drive uptown and check on the progress of the new BB&T Ballpark, the future home of the Charlotte Knights. As I've mentioned before, we're both baseball fans, and we have been to a bunch of minor league parks. It's exciting to us that soon Charlotte will get a AAA ballpark that the city deserves, and we try to check in on its progress frequently.
After walking around it and remarking, "gee, it's starting to look like a ballpark 1," we decided to get some lunch. Luckily, directly across the street from the new ballpark is one of the oldest restaurants in Charlotte, Green's Lunch.
Green's has been around since 1926, which I believe makes it the oldest place we've reviewed. How old is it? It's so old that when it was built the Cubs only had a World Series drought of about 18 years.
Inside, it seems like the 60's more than anything to me, although according to the blog, Charlotte Eats, they renovated the inside sometime in the 1980s. There's a line to the right, which leads to a person taking your order. Then you turn 90 degrees and they place a tray on the counter, which you will lead to the cashier after they put your food on it. Fast casual dining is all the rage in restaurant circles, but that's been the way they've been doing it here forever.
Green's is famous for their hotdogs, which is clear from the mural on the side of the building, the neon sign on the wall, and the plastic hot dog flower arrangement in the window. So, naturally, I got a dog. But, of course, I got a double cheeseburger too. Here's the Tale of the Tape: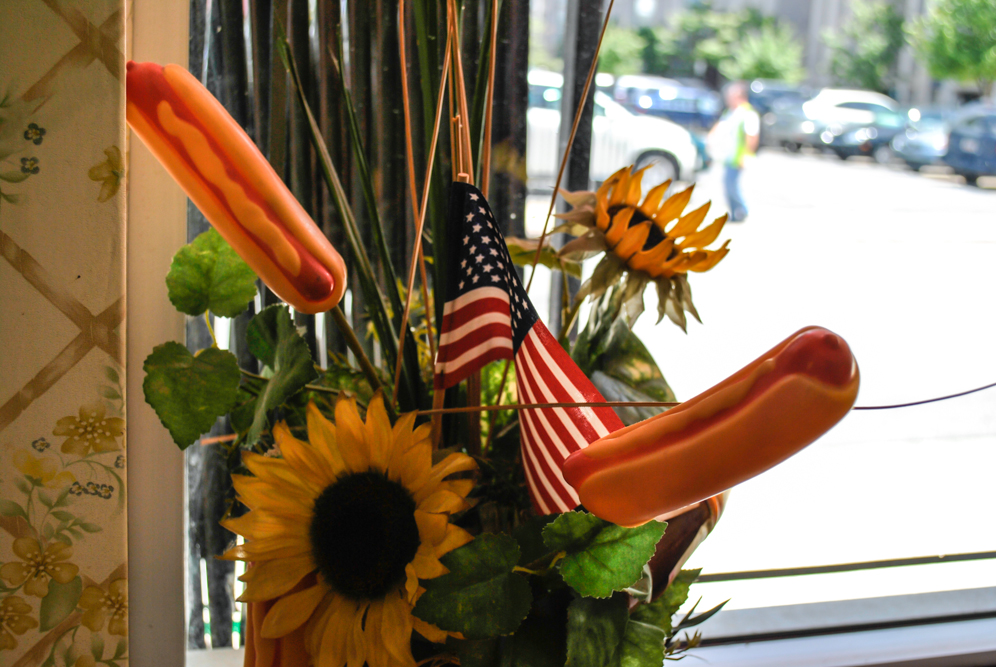 EXHIBIT A: DOUBLE CHEESEBURGER
(with chili, slaw, cheese, and I think mustard and ketchup)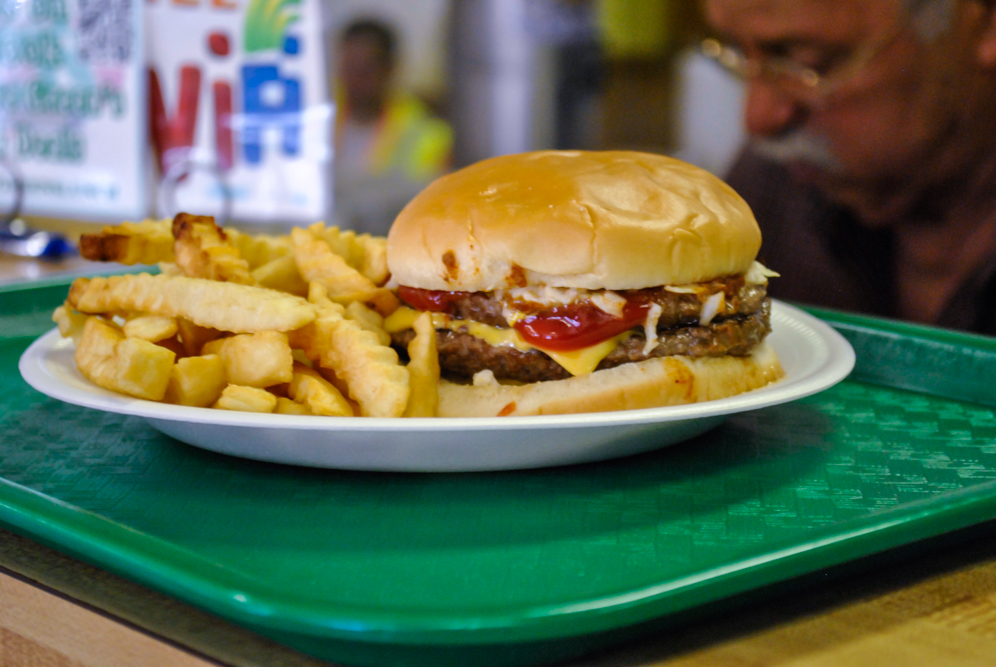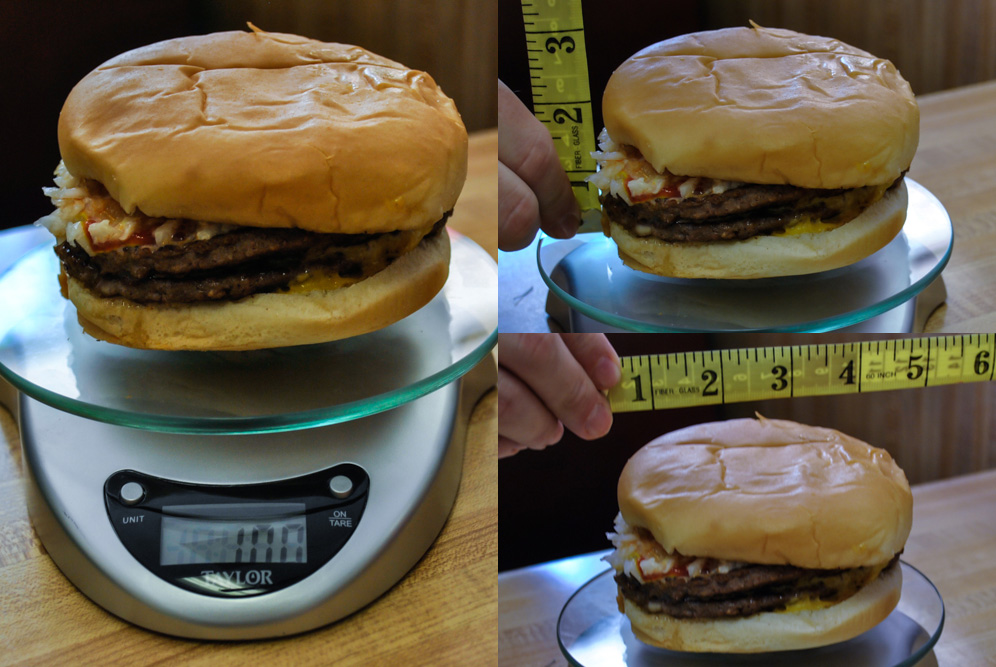 Official Weight:    10 ounces
Official Diameter:   3.5  inches
Official Height:  2.75 inches
Cost: $3.65 (does not include sides)
Cooked to order: No
A lot of times if a hamburger doesn't taste great, if the meat is bland and doesn't have a lot of flavor, I draw the conclusion that it's because burger came pre-packaged and frozen. Sometimes I feel confident in that assessment, even though I'm not in the kitchen and I don't know for sure if it's the case.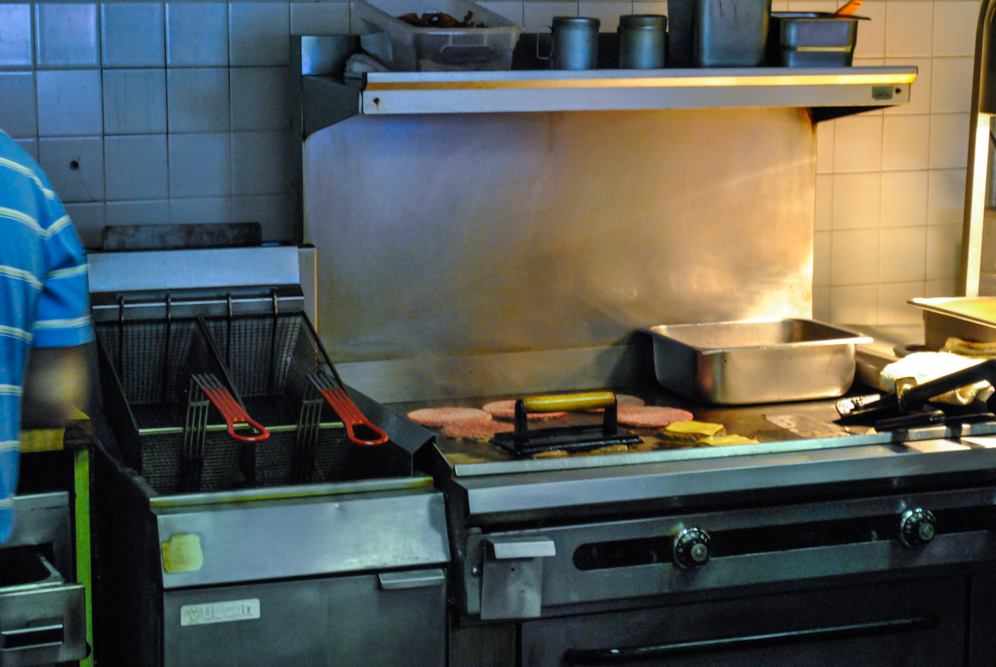 This time I know for sure. We spotted them bringing out frozen patties from the back when we were in line. You can still see the frost on them on the grill. And the burger didn't taste good. The meat was bland and had a weird texture, just as you would expect from frozen food.
Everything on it was fine; I enjoyed the chili and the slaw. If anything, I wish they were stronger. They could have masked the burger taste more. Also, I didn't notice it much, it seems strange to me that they put ketchup on them.
Burger Rating: 1
Other Food
The hot dog, on the other hand, was perfectly fine. That makes sense, since it's their flagship product. Almost by definition you are less choosy about hotdog meat.
Beer – N/A
Atmosphere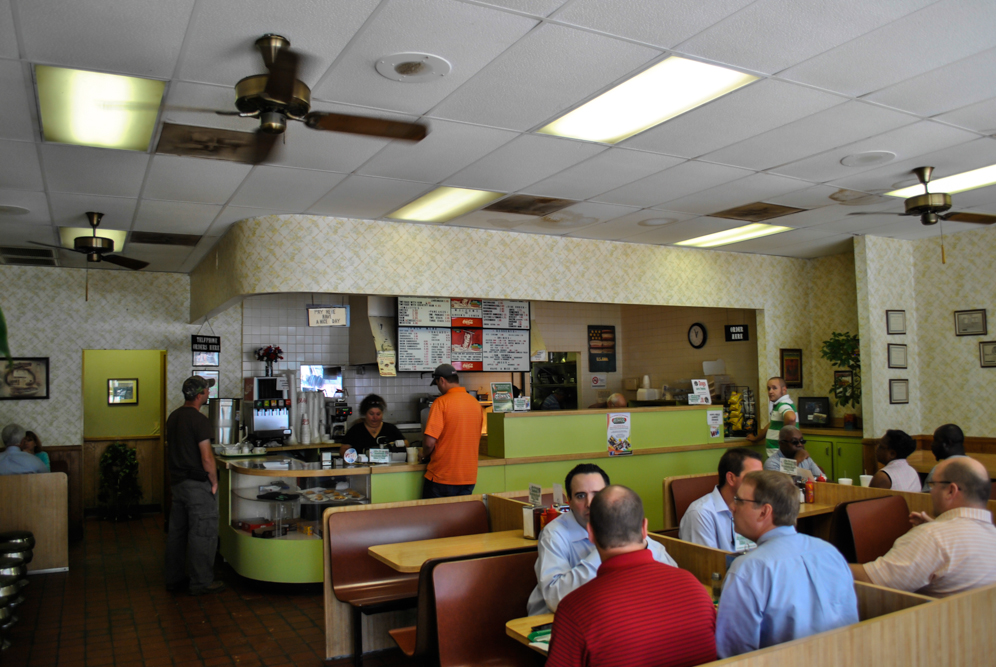 I am a complete sucker for old places that are slow to change, and this place hasn't changed in a long time. They had some very interesting wall decorations, including a poster of Charlotte from the 80's and some old write-ups from the Observer.
There were a ton of people there for lunch when we dropped by. There were uptown businessmen and regulars, to construction workers on break from building the stadium.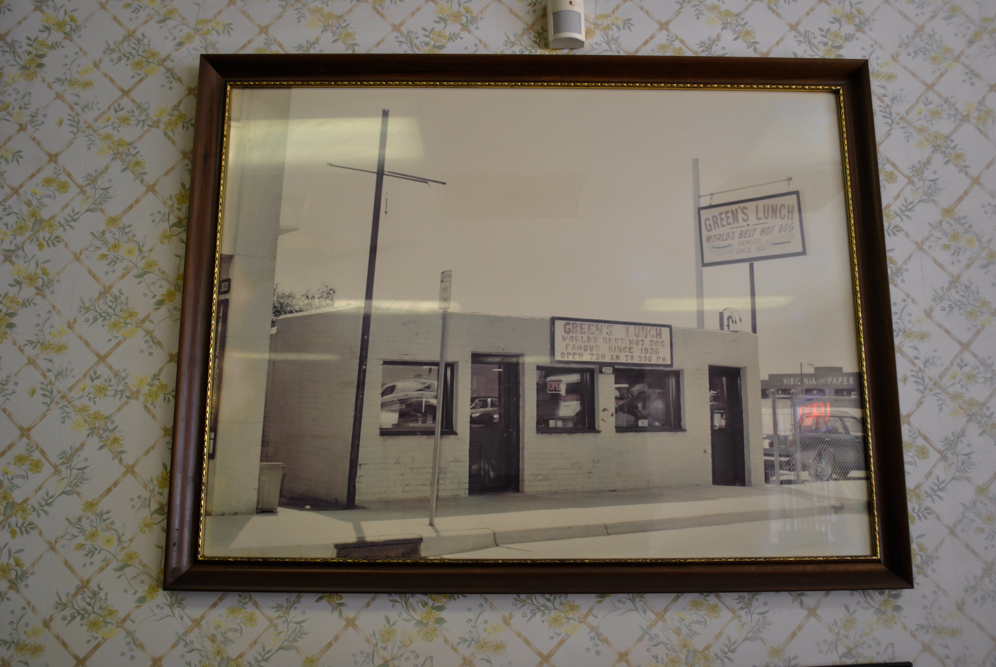 Atmosphere Rating: 3.5
Conclusion
What was your favorite thing (non-food) about the Green's Lunch?
I wish we had sat on the other side of the restaurant, because I would have loved to read the article on the wall from the Observer or stared at that Charlotte poster. But I thought they were really cool, and next time I stop by I want to get a good look at them.
Would you eat here again?
Yeah, and not just to look at the stuff on the wall. This place is going to be my destination to stop before games next year.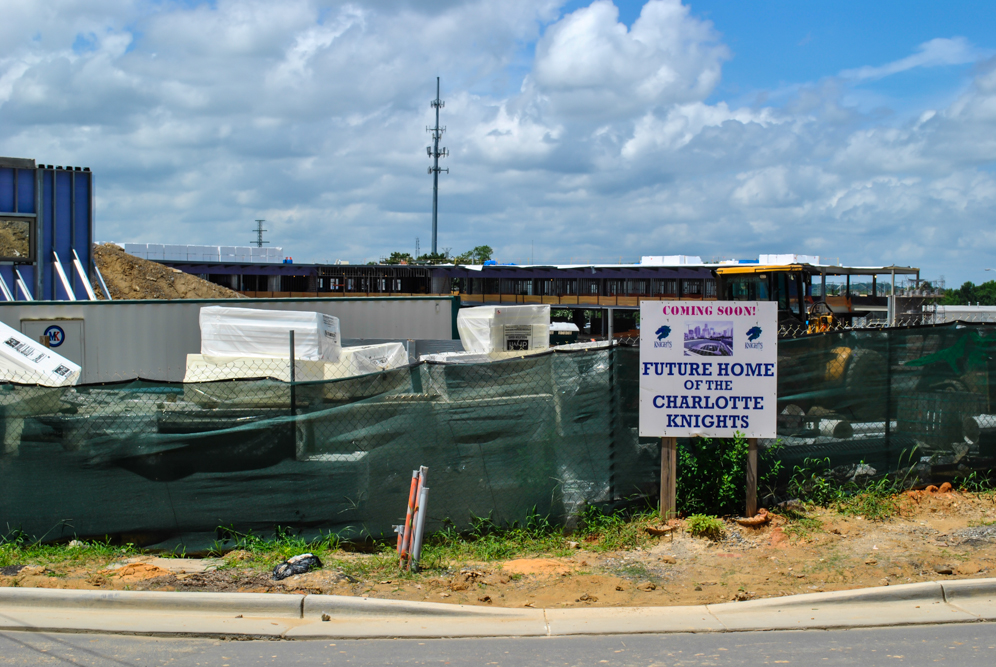 When you come by next time, what will you get?
Probably just a hotdog.
Does Green's Lunch earn the Charlotte Burger Blog Seal of Approval?
Unfortunately, no. As cool as I thought the place was, the frozen patties are a deal-breaker as far as the Seal of Approval goes. But, that's just the burgers. I would still encourage people to stop by.
Signed,

Notes:
Although, it's still amazing to me that they'll have it ready in time for next season. It's still just a skeleton now. ↩