Location: 4009 South Blvd. 28209
Website: www.zackshamburgers.com
Hereford: Last Friday Angus and I followed the light rail down South Boulevard to where it meets Scaleybark and stopped at one of our favorite classic burger joints in Charlotte—Zack's Hamburgers.
Angus: I've always loved this place—it's got the old-style appeal that we love. It's got a great sign outside—it's probably 20 ft tall—and it looks classic. It lets you know that you're going to be eating at place with real history. And, it reminds of the places I used to eat at back home in California.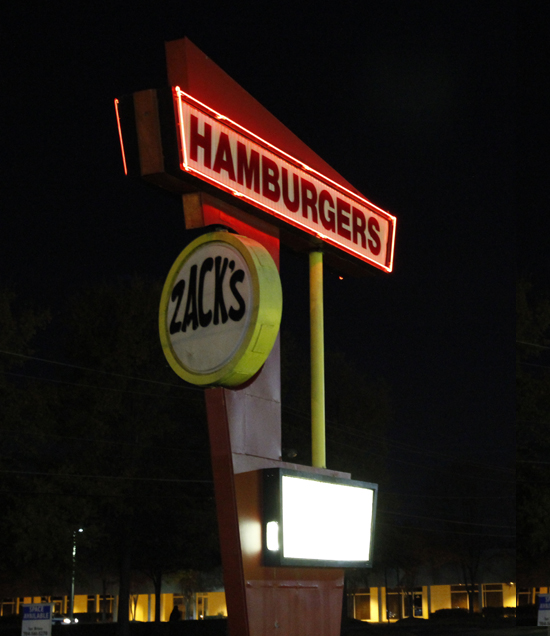 Hereford: Zack's is an old walk-up place that they've converted to have a dining room. It wraps around in a U-shape around the main window where you place your order and get your food. I'm not sure when it was converted, but it seems to have been in its present condition for some time.
It's a bit drab in the dining room—the paint is brown and the posters are faded from the sun. For some reason they have decorated with a lot of fake ferns. But, this isn't the type of place you go for a night out or for a date. You come here for a good grill-style hamburger. And if you do, you won't be disappointed.
Angus: There are no waiters here (you order at the window), and there's not much of a décor (unless you count the life sized and faded Elvis Presley cut out!), so those will not be factored into our review. As a result, it'll likely be a bit short. But it's still one of our favorites.
Zack's doesn't have much on the menu in regards to burger variety—hamburger and cheese burger (and double options). Each comes with Zack's special sauce, which, like the McDonald's secret sauce, is their own variety of Thousand Island.
The Zack's special is a double cheeseburger meal with fries. The official description is:
"2 100% ground beef patties with double American cheese, lettuce, tomato, pickles, onions, mayonnaise, special sauce, on a toasted bun, served with french fries."
Hereford: Obviously that sounds a lot like a Big Mac. Maybe it's just a coincidence, but Zack's has been around since 1976. The famous commercial that touted the ingredients of the Big Mac was featured just one year earlier.
I don't know if the Zack's special was invented at the same time, but it if was there's a possibility they wanted to cash in on the popularity.
Angus: That would be fine by me—I definitely think they do it better.
Hereford: Because of the limited menu we both decided to both get the Zack's special. Our normal rules of one double cheeseburger and one specialty burger were set aside since they didn't really apply at this restaurant.
Angus: Naturally, our food didn't take long to prepare. It was only 4 minutes after we ordered at the window before our number was called.
And now, the tale of the tape:
EXHIBIT A: THE ZACK'S SPECIAL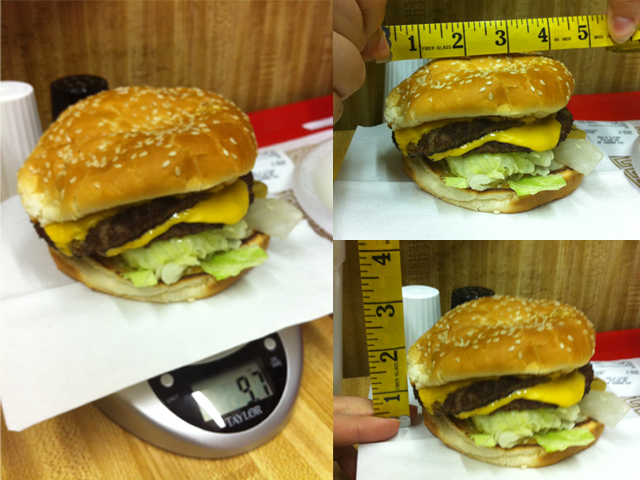 Official Weight: 9.7 ounces
Official Diameter: 4 inches
Official Height: 3 inches
Cost: $4.55 (Including the cost of fries!)
Hereford: So, I first want to point out what a great deal with is. You get a burger and a lot of fries for under $5. If it without the fries it is only 3.35—that's a steal. I don't think that you could get a Big Mac any cheaper.
Angus: So, I think this is a great burger. The bun is toasted, and has sesame seeds and I always think that is great. The burger is layered carefully—special sauce, followed by a slice of cheese and the first patty, followed by lettuce and tomato, with the mayonnaise being the last part before the other bun. The separation works well and keeps all the flavors distinct.
Hereford: And they don't go overboard with the condiments. The special sauce and the mayo are there, but it's not slathered on. It's the perfect amount. And I was very impressed with the freshness of the lettuce and the tomato.
I see the tomato as a make or break topping. I like tomatoes, but they have to be sliced at the perfect thickness, they have to be perfectly ripe, and they have to be perfectly fresh. If anything goes wrong in that combo I find it gross and I have to slide it off the burger. No problems at Zack's, though, where everything is very fresh.
Angus: The fries they served were excellent. They were thin cut, much like you would find at McDonald's. They were not too greasy and they were not too salty.
Hereford: Also of note, because this became a small debate at our table, they keep their ketchup in the refrigerator so that it's cold when you get it with your fries. That's very common in homes, and very unusual in restaurants, but I liked it.
Angus: The only bad thing I'll say about Zack's is that their hours are too limited—they're opened from 11 am to 9 pm on weekdays. If you have a craving for a Zack's special on a Saturday, you have to wait at least two days to get one. I'm very happy for the family that they do well enough to have weekends off, but this is probably my favorite of these old-school restaurants in Charlotte and I wish I had the opportunity to come here more often. You can't imagine how many times I forgot they were closed and found myself standing in front of Zach's wondering why I can't get a burger.
Hereford: I'll also make a note of how the plates and the cups are made of Styrofoam. It seems to me that paper would be a better environmental option. I don't know, I haven't studied that or anything and it could be a misconception.
So, here's the final breakdown:
Food: 4.75—We continue to be stingy with our food ratings. We want a 5 level burger to be something really special. But this is pretty close.
Service: N/A—You walk up, order, get a number, and come get it when it's ready. That's not really ratable, but we'll note that we did get our burgers quickly.
Theme: N/A—This is an old-style burger place. No theme necessary.
Atmosphere: 2—Zack's seems more like a lunch place, and we went at night, but it was kind of dead.
Beer Selection: N/A—Zack's serves no beer, so it doesn't qualify to be rated.
Signed,