Location: 4310 Sharon Road Suite X05 28211
Website: www.thecowfish.com
Hereford: Angus and I (and our significant others) traveled over to the SouthPark mall area to visit a new burger place last Monday—Cyber Monday, in fact. Not to get off on a tangent, but I've always thought of Cyber Monday as an odd term. To be something that was coined with the last few years, it certainly seems like something someone would have said in 1996. Why don't they call it "Online Monday," or "eMonday." Do we call anything else related to the internet "cyber" anymore?
Angus: Yeah. Cyber sex.
Hereford: …..
Angus: …..
Hereford: So, yeah, to get back on point, last Monday we visited The Cowfish. It's a brand new establishment—they only opened one week before we dropped in. But, from the first time that we heard about the place we were excited about it.
One of the first things we did when we were planning the blog was to create a quick list of burger places in Charlotte that we wanted to visit. At the top of our list was a restaurant called The Counter at SouthPark mall, which served high end burgers with a lot of options.
But we drove by the place a couple of months ago and found it had closed. Replacing it in the building was The Cowfish, a restaurant that was creating a hybrid between, of all things, sushi and burgers.
Angus: Now, I absolutely love sushi. And of course I love burgers, so I knew this place would be awesome.
It's tucked into "The Village at SouthPark"—an assortment stores on the corner of the property complex of the mall near the Crate & Barrel. There's expensive residential space above the retail property, and it's all pretty fancy. And that continues inside. When I walked in I was immediately blown away.
Hereford: And I was immediately skeptical.
Inside The Cowfish were large pieces of original art. There was a take-off of Roy Lichtenstein using the characters of Burger King and Wendy.
There was a Shepard Fairey style Godzilla poster. There was a take off of American Gothic with hamburgers on the pitchforks. There was an Andy Warhol style print with hamburgers. There were large plastic depictions of sushi rolls on the wall.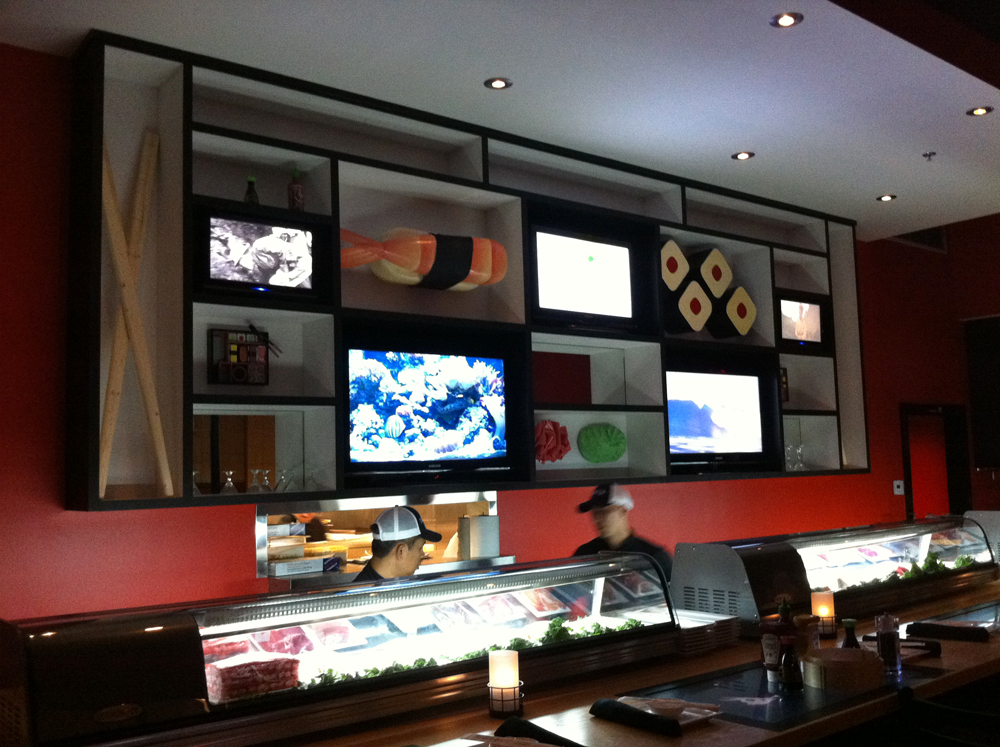 My immediate response was that it was, perhaps, too ironic. That feeling was reinforced when we were sat in front of a giant painting mash-up of Picasso's Guernica—arguably the most meaningful piece of art in the last century—and Dog's Playing Poker—arguably the most meaningless piece of art in the last century.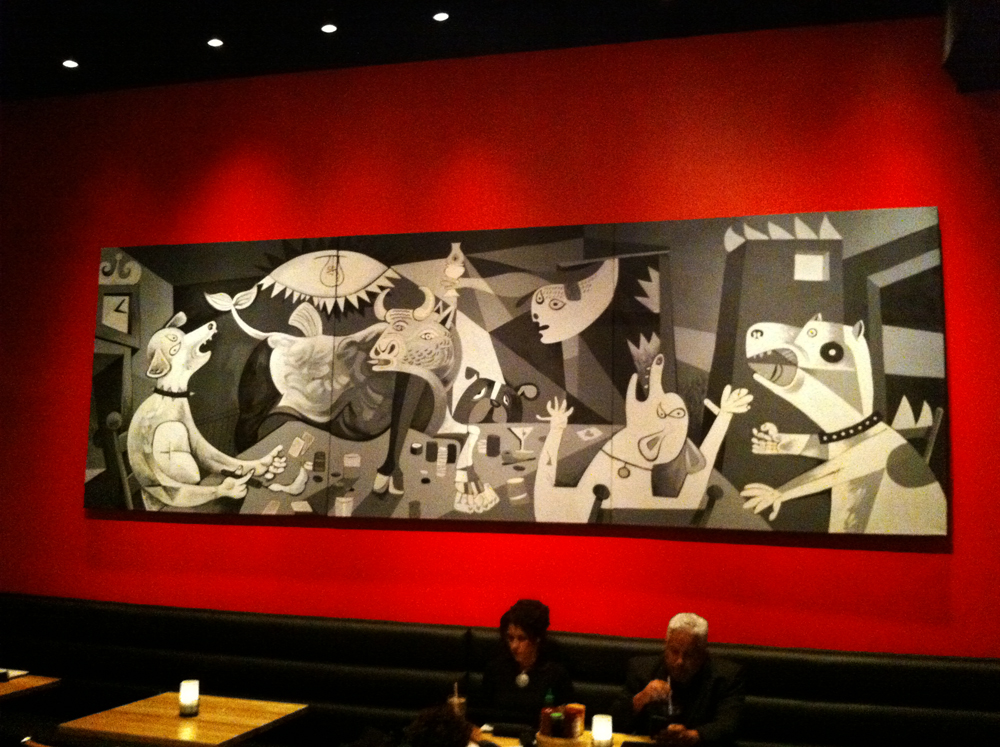 My problem with irony is that A) it is often too detached to be truly meaningful, and B) is often used as a way to be exclusive—you're only smart if you "get it." But I wasn't sure what there was to get. (I'll note that while I haven't actually read any David Foster Wallace, I've read a book lately that discusses him, and that might have influenced my negative reaction).
Angus: My reaction was the complete opposite. Since I have a background in digital media and art history, I looked at the skill and creativity of the artist and was impressed. I loved the references they were making.
I found the interior lavish. Not in a posh, stuffy way, but in the sense that they really went all out. If their theme is like a road, then they drove as far down it as I can possibly imagine.
Actually, the only piece of art that I think people could actually find offensive was the Guernica piece. Because the original was so powerful, I can see people being offended by that. Actually, I know probably about 3 people right now that would be upset at it.
But I liked it. I thought it was funny. It was all original art—I'm very much for that. And thought it all had good intentions—it was playful.
Hereford: I'm sure that Angus is right—it's meant simply to be playful. Still, I was skeptical. And that only increased as we sat down to order.
It's funny how in eating our true selves and insecurities are revealed. I didn't grow up in a wealthy family—my parents and grandparents were working class and all live in trailers. There's nothing to be ashamed or proud of in that, it's simply what was. I'm not a better nor worse person for it, but I grew up thinking that others DID think that it would matter.
Even though I've grown up and live a middle-class life, I feel out of place in a fancy restaurant. It's as if I'm going to do or say something awkward or show confusion and it's going to set off the waiter's hick alarm. The manager will come out and tell me in a hushed tone that maybe I would be happier eating some place else and being escorted quietly from the building as the other patrons stared and wondered how I could have possibly wandered into their exclusive club.
Silly, I know, but social anxiety isn't usually rational.
So, as our server initially gave us the prepared "tour" of the menu, using a reserved and formal tone, I felt out of place.
Angus: Meanwhile, since I don't suffer from Hereford's neurosis, I started pouring over the menu with excitement. They have a lot to offer at The Cowfish.
As we read through it, Mrs. Angus and I caught on that the typeface of the menu was exactly like eeZ Fusion (a sushi place in Huntersville that Mrs. Angus and I frequent). In fact, many of the menu options seemed similar. We asked the server about it, and he confirmed that their sushi chef once worked there. Knowing what I know about eeZ Fusion, that's a good sign for The Cowfish.
Unfortunately; however, I wasn't here to eat sushi—I'll have to come back and do that later. (I did notice that most of the other customers around us WERE eating sushi.) I had to eat a burger that night. But there was something on the menu that bridged the gap that seemed very intriguing.
Here at the Charlotte Burger Blog, we normally stick to a few choice menu items in our reviews—a cheeseburger, a specialty burger, fries, and beer. But, we had to take a slight venture out of the ordinary here to order what they call "burgushi," hamburger items wrapped like sushi.
Hereford: They had a lot of preparation options for the burgushi, but we chose the Taste Explosion, which was recommended by our server.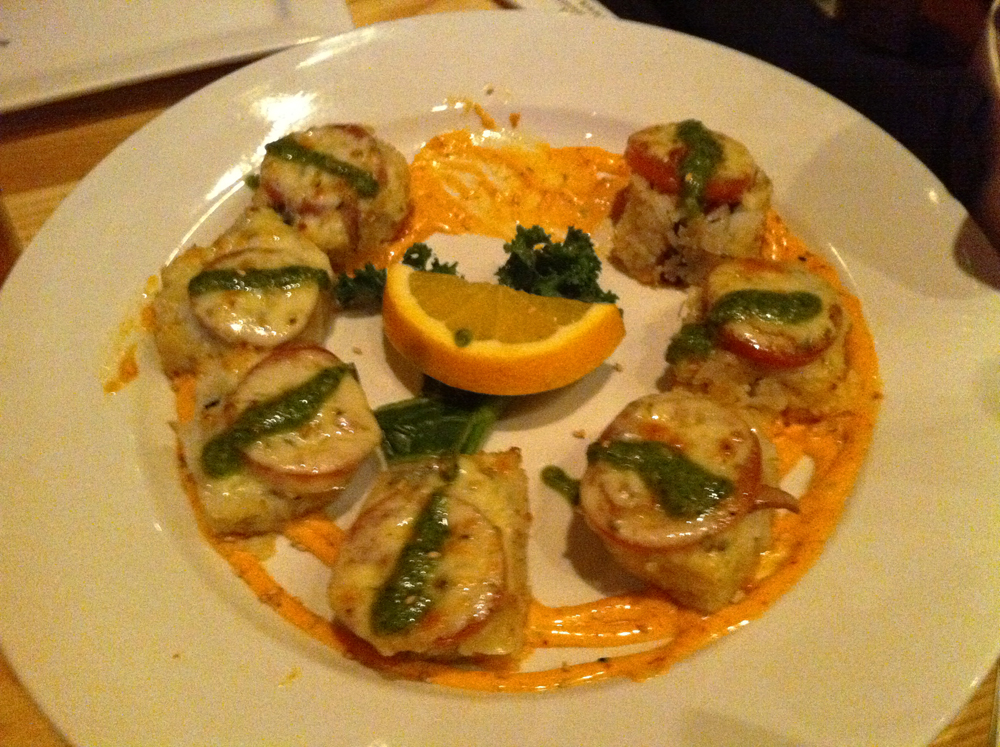 The Taste Explosion is described as, "Seasoned natural Angus ground beef, applewood bacon, fresh jalapenos and spicy cream sauce inside of a sushi roll coated with tempura flakes. Each piece is topped with marinated Roma tomato and pepper jack cheese, then baked to perfection. Drizzled with cashew cilantro pesto to finish"
You'd have to be pretty cynical to not think that sounded unique and interesting. You can try to imagine in your mind what that would taste like, but it's something that you've never actually had in your entire life, and that's pretty cool.
And it was around that time that I began to come around on the décor, and the restaurant as a whole. The specific trigger was the TVs at the sushi bar. The bar featured several TVs. The largest one carried a live feed of the fish tank around the corner—a fish tank that we later learned contained three ACTUAL cowfish.
Angus: We didn't even realize that such a species existed. We thought "Cowfish" was just a clever name.
Hereford: Above fish tank feed was a smaller TV featuring a slide show of images of the sushi you could order. I was very impressed with that presentation of the food, I couldn't stop watching it. You can check it out for yourself on their website www.thecowfish.com, which is top notch.
But what really started to turn my opinion was that on either side of the main TV they had small TVs, each playing a movie. On the left they had Godzilla featuring Raymond Burr. On the right they had a John Wayne film.
Even though I had been pretty negative up to that point, and ready to dismiss anything, I couldn't help but think that was cool and well thought out.
Then I started to consider the art again. I thought to myself, "You know, you really like Roy Lichtenstein. And who am I to judge the Guernica dogs playing poker? The artist had to be pretty inventive to find a way to visually make THAT work."
Angus: It was funny seeing Hereford change his mind in front of everybody. He was sitting there pointing out everything that he had an issue with, then I pointed out the Godzilla and John Wayne movies and he says, "Huh….That's actually kind of cool" and his attitude about everything turned around 180 degrees.
Then the burgushi came out.
I really had no idea of what to expect from the it. It was full of odd combinations: rice and hamburger meat and pesto and bacon and seaweed and tomatoes. But I was completely won over when I tried it.
Hereford: It was a little larger than the sushi that I had eaten before, but I felt it would be inappropriate to try to eat it with anything besides chopsticks. The rolls were large enough that using them felt unwieldy, and it was hard to eat it all with one bite.
But they were definitely a taste explosion. Because Angus doesn't like anything too spicy, we didn't have it with jalapeños. Normally I like things spicy, but it might have been even better this way. I was able to really concentrate on all the flavors.
It really blew me away, and if you go by there you really have to order this. I don't make that recommendation lightly.
Angus: When we first ordered we had informed our server that we were representatives of a burger blog. We didn't mention it until he asked us about our audio recorder. He didn't know what it was, and speculated that it might some type of burger-meter. (Burgometer?)
After we explained ourselves, they were very receptive to the idea of us reviewing them. The manager even sent out a few sliders which they thought were fantastic that they felt we had to try—on the house. That was the first time anyone had done that for us, and we appreciated that they were trying to impress us. It definitely worked.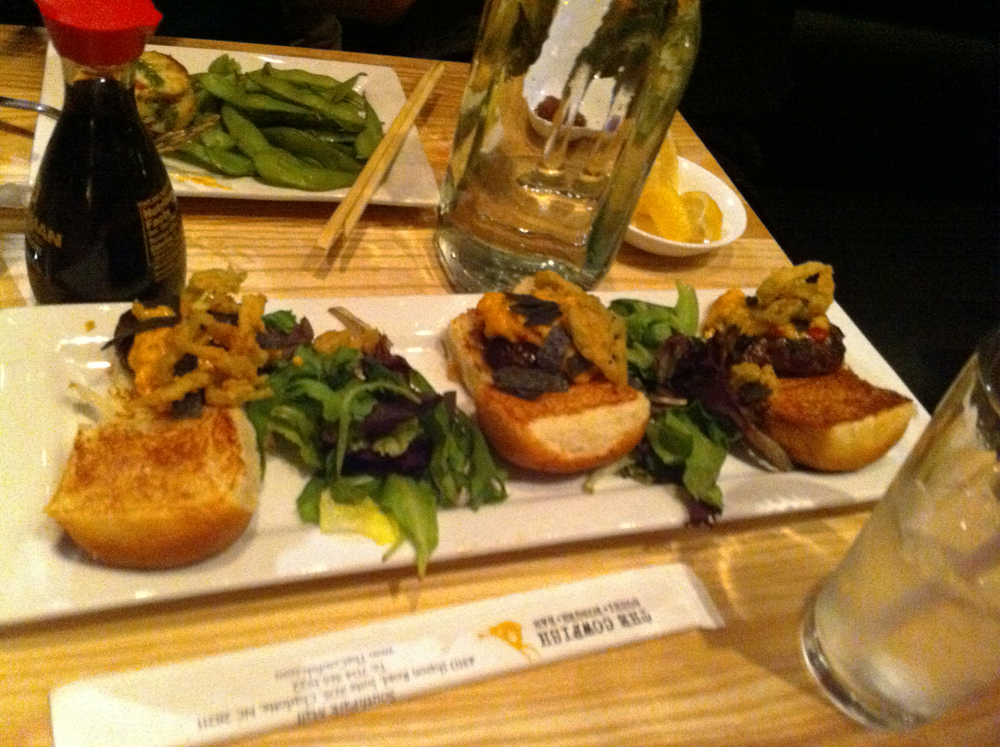 Hereford: The sliders they brought out were small versions of the "Mimi and Pop's" burgers. Before he insisted that we try it, I had eyed the description of the Mimi and Pop's on the menu. I was nearly afraid that it would be recommended, because I thought that it sounded strange.
The description says, "Beef burger loaded with homemade pimento cheese, crispy blue corn tortilla strips and fried pepperoncinis. Served on an English muffin."
I like pepperonicinis, but would I like them fried? What about tortilla strips on a burger with an English muffin? That's an odd combination. And I usually find pimento cheese as appealing as foot fungus. My grandmother fixes it, and I've always thought it looked a little like something that might come out of an alien sneeze—neon and weird.
But this was nothing like that—I was completely wrong (again). It was well made and fantastic. It was a little spicy and great flavor. And the burger was great. It all worked really well together.
Angus: And it tasted even better because it was free.
Then it was time to focus on we really came down here for—the burgers.
One of the things I liked about the burger menu was that you could build your own burger, and they had a lot of options. At The Cowfish, you can really customize a burger. And all along with what you would normally expect, they had a lot of off-beat options. They have everything from coconut onion rings to mixed olives. You pay for each addition, much like you did when this was the Counter, but nothing is more than a dollar. They have six different bun options, and eleven different cheeses. I thought that was cool.
Hereford: One thing that's interesting about The Cowfish is that they serve organically fed cows, which I know is important to a lot of people, so it's nice to have that option. Now, we don't particularly care, but I can see why a lot of people do.
Angus: So, for my normal cheeseburger, I got the CBCLT. I could have put together something, but this met the requirements.
It was described as, "Beef burger, sharp cheddar cheese, thick cut applewood smoked bacon, white cheddar cheese, lettuce, tomato and onion. Served on brioche with our signature Cowfish sauce."
I could have doubled it for five dollars, but with all the food we had ordered it seemed a bit much.
Hereford: For my specialty burger, our server suggested to me the "Be at Eez Burger." He said it was "A little crazier," and was said to be a little "sweeter" than a lot of people expect. The menu says that it has, "Beef burger topped with sweet teriyaki sauce, a thick cut coconut battered onion ring, roasted red peppers and grilled pineapple. Served with lettuce on a brioche bun."
I was willing to give it a try.
Angus: After we ordered, it was 12 minutes until we got our appetizers, and then another 7 before we got our meal. There's nothing wrong with that wait time—if anything we could have used more time between when the appetizers came out and when our meals did. We didn't have a chance to finish them.
But, that's partly because we spend so much time talking about what we think about our food.
And now, the Tale of the Tape:
EXHIBIT A: The CBCLT
Official Weight: 12 ounces
Official Diameter: 5 inches
Official Height: 3.5 inches
Cost: $10
Angus: Now, these were the most expensive burgers we had ordered so far. So I was expecting something really good. That's exactly what I got.
I really like the brioche bread they used for the bun. It was toasted, and thick enough that it held everything together. It was very dense.
I had two types of cheeses on mine, and I could taste a lot of cheese in the burger. I normally don't like white cheddar, but it complimented the flavor of everything else. I might not like it by itself, but it worked really well with everything else.
I thought the signature Cowfish sauce was awesome. It was different. It reminded me of shrimp sauce and also thousand island. Maybe a 70/30 mixture of the two.
The bacon was floppy, and there was a lot of it. I despise crunchy bacon—there's no flavor. My wife makes it that way and it kills me. I think the only proper way to serve it is when it can fold over on itself. The bacon on the CBCLT was perfect.
And the meat was full of flavor—overall it was a fantastic burger.
The only bad thing I could say was that there was not much lettuce. It wasn't iceberg, it was much less crunchy. It was more of a garnish. I would have preferred something with more texture.
EXHIBIT B: The Be at Eez Burger
Official Weight: 14.4 ounces
Official Diameter: 5 inches
Official Height: 5 inches
Cost: $10
Hereford: So, I have to admit, my burger was a disappointment. And by disappointment I mean, it wasn't exactly good. I'm not sure that was The Cowfish's fault. I had ordered by burger well-done. I usually prefer my burgers that way—warm with no pink . Unfortunately, when mine came out it simply did not have any flavor. Ironically, I think that it's possible that may be a result of the high quality of the meat they use. I tasted Angus's cheeseburger, and I thought it was fantastic and full of flavor. Mine was dry and dull, even though it was still slightly pink in the middle.
And the peppers that it was topped with were uninteresting as well. That, I think, was how they always are (I've had similar red peppers before and felt the same thing) so I think that if you like that sort of thing, it would be fine.
But, there were good things about the burger too. I agree with everything that Angus said about the brioche. The onion ring was fantastic—I don't normally like onion rings , I think they're too greasy. But I didn't find that to be the case with this one, and maybe that was because of the coconut batter.
But, it did make it a bit unwieldy—it was huge. The burger was five inches tall, and a full inch of that was the onion ring. I had to try to squeeze it down to make it manageable, but all I really accomplished was to have it nearly slide out.
The teriyaki sauce was great, and the pineapples had a great sweetness, and I think that the idea of this burger is a good one. I can imagine myself ordering this and liking it. But that didn't happen this time. I know they serve good food here; everything else I ate was great. That's what made my burger so hard to accept.
Of course, the server asked me if everything was okay and I didn't disclose my disappointment to him and maybe I should have. But I always find that awkward, and I really did love everything else.
Angus: We'd also like to note that the fries at The Cowfish were about as close to perfect as I can imagine. They were thin-cut shoestring fries with a perfect amount of seasoning. They weren't too salty, but they were very flavorful. Also, they were great without ketchup, which I think says a lot.
Hereford: To continue with the great treatment that we received, the serving manager came by to see us as we paid and gave us two free coupons for free appetizers for the next time we would stop by. That was extremely gracious of them, and we appreciated it.
Angus: As we were leaving I began to take pictures of the art. The owner of The Cowfish noticed and struck up a conversation with us. We found him to be an extremely nice, and warm person who was very proud of what he was starting here. He talked to us about the original art that he had used, and the history of how the restaurant was created. He showed us the children's book about the Cowfish that he wrote and had illustrated, and it was very impressive.
We certainly wish him the best.
And, as we departed to the parking lot to get into our cars, Ric Flair walked in.
Whhhoooooooooooooooooooooooooooooooo!
So, with that said, here's the final break down.
Food: 4.25—All the food that was placed in front of us was fantastic—except for Hereford's burger. You may wonder why we're rating it this high if that burger was not enjoyable, but Angus's burger was great and so was everything else. This might have made been a 5 if Hereford's had been as good as everything else. But, even if it shouldn't have been ordered well done, this as high as we can go.
Atmosphere: 5—It was a slightly fancy restaurant, but it seemed like a great place to hang out. The only note we would like to make is on the music. When we got there it was oldies (Johnny Cash and the Righteous Brothers) and by the time we left it was unremarkable instrumental music for fancy restaurants. I'm not sure why it switched (maybe it's based on time), but we thought it was odd. We wouldn't have noted it at all if it had remained constant the entire time.
Theme: 5—Really, they did a perfect job in regards to theme. It was consistent, well thought out, and informed every aspect of what they did. We can't imagine anyone doing a better job.
Service: 4.75—Throughout the evening our server was great and had a great since of humor, and we were visited by two managers who checked on us to make sure everything was up to par. That might have been because they knew we were blogging about it, but we like having that kind of attention. This would have easily have been a 5, but there was a slight SNAFU on our bill. It was taken care of immediately, though.
Beer Selection: 3.5—Their beer selection was actually fairly good. They had some local beers, such as Mother Earth, which scores highly with us. They had a few other interesting choices along with the normal selections from the big three. This score would have been higher, but most of the interesting choices were only in bottles. They had very little on draft. We prefer beer on draft, and rate higher for that.
Signed,