Note: Chef Zack Gadberry has left The Wine Shop. Also, since publishing this review we have gone back to take another look at what has changed since Gadberry left. You can read the revisited review of the Wine Shop here.
Location: 7824 Fairview Road 28226
Website: http://www.thewineshopatfoxcroft.com
Angus: There are many reasons why we love writing the Charlotte Burger Blog, but maybe the best one is the wonderful feedback that we've received from readers.
Hereford: And here I thought you were going to say the free food.
Angus: Well, I don't think we get enough of that for it to qualify.
No, it's been pretty cool receiving emails from people who cheer us on in our quest, and tell us of new places that we need to try. We now have a list of places on our calendar that we would never have heard of if not for people sending us a note and telling us about it. We would like to tell you thanks, and encourage you to continue to send those to us. If you tell us to go to a place, I promise that we will eventually make it there.
Hereford: That's exactly how we came across The Wine Shop at Foxcroft earlier this month. A reader named Brent Baronofsky sent us an email and told us that we had to try it out. He really sold it, too, because he told us that a chef had set up there, making everything by hand—pasta, bread, sauce, ground beef—everything. Best of all, though, was that he was also making hamburgers. To hear it from Brent, they were something very special. After all that hype we had to try it out.
Angus: We didn't know exactly who Brent was when he first emailed us, but it turns out that he's an artist and an architect who has designed several restaurants in town, including The Cowfish , Eat Here Now, and the Customshop . He has a background in set design for films, which he then turned into doing permanent sets for restaurants.
Hereford: He's a really cool guy, and it was fun to have the opportunity to sit down with him at The Wine Shop, eat some burgers, and discuss the food scene in Charlotte.
Angus: The Wine Shop is the type of place that you would probably never expect to even serve food—and if you did expect them to serve food, you would probably be surprised that they serve burgers. Nothing on the outside of the building advertises that they serve anything but wine.
We arranged to meet on a Friday night, and we got there a bit early. So, we went ahead and got a table and looked around. I'll tell you one thing—they sure have a lot of wine. This is a very well-stocked wine store, so even if you don't want to eat hamburgers there, you could find a good reason to stop by.
The dining area is relatively modest—in the middle of the store they have several high-top tables—and they also have a bar. There is no beer available on tap at the bar, but they do have wine on tap.
Hereford: They have a couple of TVs in the dining room. One was tuned to a basketball game and one to the Food Network. We felt that both were unnecessary. After all, if you can't enjoy your company in a wine store without the stimulus of a television present, you should probably find better friends.
Angus: We're not big wine drinkers, so we started looking over the beer available while we waited. Mrs. Angus is expecting with our first child, so she asked our server what the non-alcoholic options would be. He smiled and told us that they had water in a glass, water in a bottle, and sparkling water (also in a bottle). She was fine with that, and it certainly isn't surprising considering the focus of the restaurant, but might be a barrier for some people.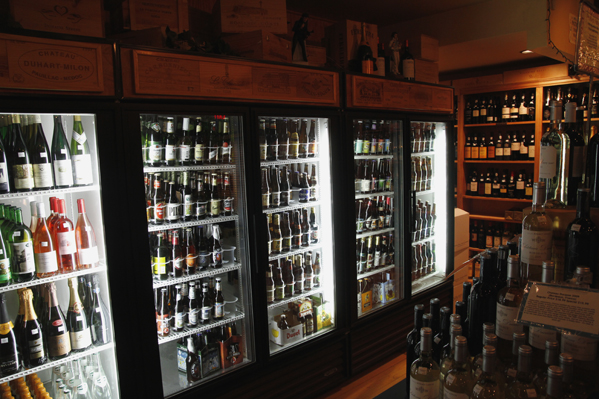 Hereford: We were impressed with their beer selection. Not only do they have no beer from the Big 3 (Bud, Miller, and Coors), but we didn't even see any selections from any of the other major distributors. They had no Sam Adams, no Guinness, no Yuengling—everything they stock is craft beer. You have no choice but to be adventurous. We like that.
Angus: And, while they have no taps available when we visited, we were assured they would be getting some soon, and that they would feature all local breweries. That always impresses us.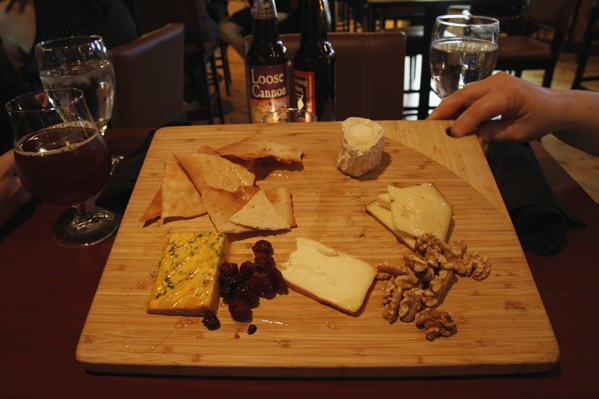 Hereford: Along with our beer, we ordered an appetizer plate of various cheeses. I'm sure that they are very high quality and that people with a refined taste for cheese (you know, like people who normally shop at a wine store would have) would go crazy over these. I'm not going to lie, we probably would have been just as happy with a can Cheez Wiz, but we still ate it.
Angus: Well, I'm a big guy. If you sit food in front of me, I'm probably going to eat it. But it wasn't bad—just different than what I'm used to.
Hereford: When Brent arrived we talked to him about what he does for a living (while shooting each other looks back and forth, saying "Geez, this guy is awesome.") He told us a little bit of how he works, and some of the issues involved with his job. We were spellbound.
Angus: He also told us that he is going to be doing some modifications here at The Wine Shop. He said he was going to make it more bistro-like, which we agree will make this place even better.
Hereford: Since Brent knew some people there, he arranged for the chef, Zack Gadberry, to come out and talk to us.
Gadberry has only been with the Wine Shop for a few months, and before his arrival they only served sandwiches and hors d'œuvres. He has changed all that, now serving steak, pasta, a gourmet hamburger, and other options. Gadberry studied at Johnson and Wales, and is putting his culinary degree to good use here.
Angus: As we said earlier, everything here is hand-made. They grind their own steak; they bake their own bread. All of their ingredients are fresh, and of the highest quality. And since he does everything himself, he can be really creative and amazingly unique. One week you might come in to find the burger on Bavarian pretzel bread, next week it might be a home-made onion roll.
Hereford: And the beef is ground from hanger steak, which has less fat and a great flavor.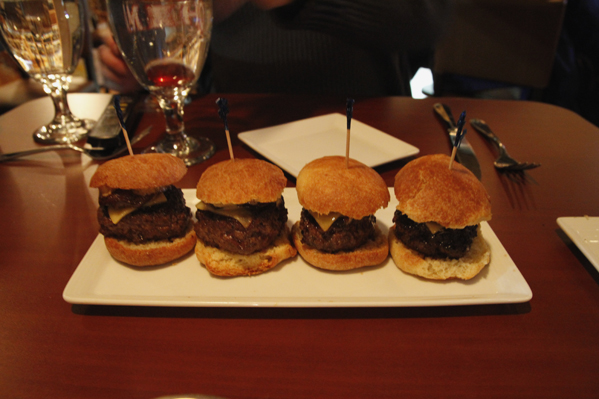 Angus: To start us off, Gadberry sent out some sliders for us. They had mushrooms, grilled onions, and marrownaise—that's mayonnaise infused with bone marrow. It gave the sliders a wonderful beefy flavor. And I couldn't believe at how red he was able to get the meat. That's always hard with a slider anyway, but it's definitely as rare as is legally possible in this state.
Hereford: For our main burgers we put ourselves into his hands. We told him of our normal procedure—Angus gets a bacon cheeseburger and I get a specialty burger—but we gave him no other limitations. He could make us whatever he wanted. He smiled and went back to the kitchen to create our burgers for us.
I normally would be somewhat worried in that situation. I always allow our server to order for me, but I usually at least know what I'm getting before I see it on my plate. But the sliders were so incredibly delicious, I knew that whatever I would get would be wonderful.
Angus: We also put ourselves into our server's hands for our beer selection. He did a beer pairing for us based on the food we were ordering. All night we were blown away by how much he knew about the beer they had, (most of which we had never even heard of). It took a lot of training to know as much as he does.
Hereford: Or a lot of drinking.
Angus: Or a lot of both.
Here's the tale of the tape:
EXHIBIT A: BACON CHEESEBURGER
Official Weight: 12.2 ounces
Official Diameter: 3.5 inches
Official Height: 3.75 inches
Cost: $10
Angus: First, the beer our server chose for me was called Helles' Schlenferla Lagerbrier (no, I do not know how to pronounce this), and he said he chose it for me because it was infused with smoke flavor, which should work well with the bacon and the cheese.
The burger that Chef Gadberry sent out to me had smoked gouda, short rib aioli, fried prosciutto, pea shoots, and red onion on a Bavarian pretzel bun. And it was an amazing burger. Without a doubt, it was the best burger I've had reviewed for this blog so far. I have a hard time imagining something better. It was cooked to perfection, just as the sliders were, and the beef was as flavorful as anything I've ever eaten. It tasted like a steak. And the bread was awesome.
I was nervous about the pea shoots, but they turned out to be awesome too. Gadberry said he likes to use those because they add crunch, just like lettuce, but they never wilt and they add more flavor. I have to say, he was right. And the beer was a great match for it. They tasted great together.
I was somewhat sick that day, and I didn't have the stomach to eat the entire burger that night. However, I had the rest of it the next day and it was still as amazing as it was the night before.
EXHIBIT B: HOUSE BURGER
Official Weight: 11.9 ounces
Official Diameter: 3.5 inches
Official Height: 4 inches
Cost: $10
Hereford: The beer that was selected for me was called St. Peter's, and was completely organic, which worked well with the garnishes on my burger. My burger had smoked gouda, pea shoots, red onion, roma tomatoes, and short rib aioli, also on a Bavarian pretzel bun.
I can't say anything that Angus didn't about the beef, so I want to focus on the pretzel roll. I could have eaten a dozen of these for the meal. They were firm on the outside, and soft and doughy on the inside—just like a pretzel. They had a little bit of salt and butter on the top. I flipped my burger soon after I bit into it, part out of necessity and part out the fact that I wanted to focus on the pretzel bun's flavor.
I felt the burger and the beer were just about perfect. They didn't even seem like the other burgers we've been trying. This was gourmet food, with the flavor impact of Superman, disguised in the humble Clark Kent form of a burger. From my experience, it is peerless.
Angus: And the fries that came out were amazing too. They were crunchy, perfectly spiced, fried in truffle oil.
So, here's our final analysis:
Food: 5— We tried to hold out as long as we could before we gave away a "5" rating. But this place deserved it. These were the best burgers we've had. As Stan Lee put it, "Nuff said."
Service: 5— The service here was amazing. Our server was not only attentive, witty, and nice, but was incredibly knowledgeable of the beer and wine they serve. You are treated here like you are part of the elite class, even if you come in wearing a Doug shirt like Angus did. This was probably the best service we've had anywhere as well.
Theme: 2—The dining room didn't have a very specific theme when we got there, so we have to rate this low. But when they infuse their French bistro look, this should be higher, and we think it will really add to the dining experience.
Atmosphere: 4.5— This seemed like a great place to hang out, or to take someone on a date (and it's not that expensive, for such high quality food). After the improvements are made it will be even better.
Beer Selection: 4.5— They have an amazing beer selection, but right now it all comes out of the cooler and in the bottle. When they get the local beer in on draft this will easily be a 5 as well.
Angus: Well, I think we've run out of words that we can use to talk about how awesome we think this place is.
We'd like to thank Brent again for telling us about this place, and for visiting it with us.
Hereford: If you stop by there, we encourage you to do as we did and put yourself in Chef Gadberry's hands. You won't be sorry.
Signed,