Location: 2224 Park Road 28203
Website: http://www.cometgrillcharlotte.com
Hereford: Lately, we've not been the only people obsessing about burgers here in the Queen City. The Charlotte Observer, led by food critic extraordinaire, Helen Schwab, is hosting their own version of March Madness—a tournament to decide the best burger in Charlotte.
Angus: They pitted 16 different burger joints against each other, with the winners decided by a combination of reader votes and a committee of experts. (Somehow, we were overlooked by the people who organized that committee. It was probably just an oversight.)
You can read the updates for the tournament in chronological by going here).
Hereford: One of the contestants in that tournament was the Comet Grill, which is a place that is no stranger to burger awards. In 2005 they were said to have the "Best Burger in Charlotte" by the Observer, in addition to many other awards they've received as a restaurant and a music venue.
They invited us to come by via Facebook, so we decided to drive over to Dilworth on a Monday night and test their burgers for ourselves.
Angus: Of course, when we got to Park Road we drove right past the place. It's tucked away in a strip mall next to a grocery store and was very easily missed in the dark. If we weren't looking for it, we would never have noticed that it even existed.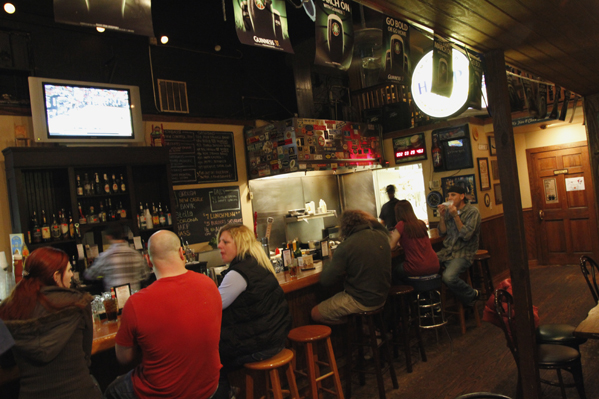 Hereford: Inside, it has a small tavern-like atmosphere. There's a bar with a few tables that serve as a dining area on the first level, but they also have an upstairs area. I'm not exactly sure why, but any time I have the option to eat upstairs I want to. Maybe it's a child-like affinity for playhouses, but I always enjoy it.
So, we walked up there to see what it was like, but the only tables they had were some card tables at the very back. We figured that if we sat there it would be a pain-in-the-ass for the server to check on us, so we retreated back downstairs.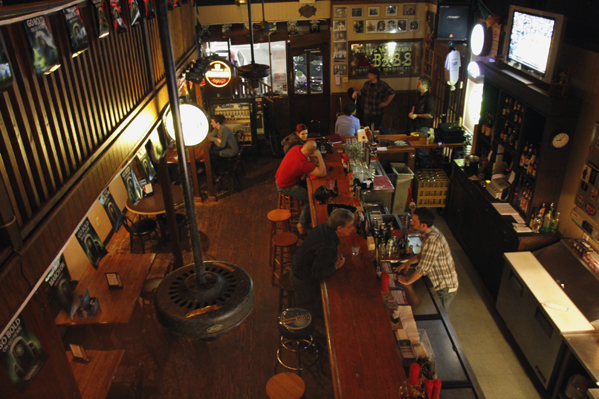 Angus: I did like how they had a ledge upstairs overlooking the bar area where you could sit and drink and look over at what's going on. It would be an awesome place to sit and drink and watch a band.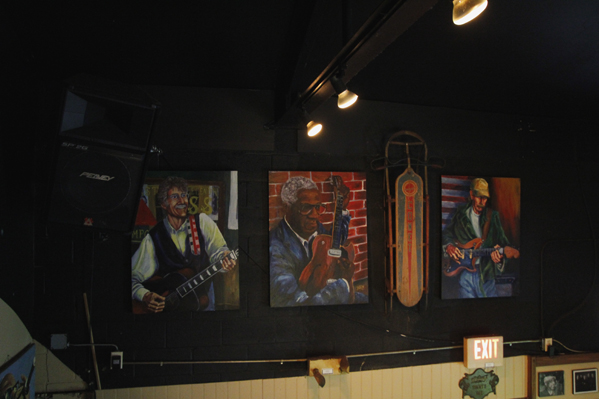 Hereford: In fact, music is very important to The Comet Grill's identity. They have live music there pretty much every day of the week. On the wall they have paintings (which appeared to be original) of several guitarists that I should probably know, but don't. (Is that Bo Diddley?)
As we took our seats underneath the staircase, a band started to haul its equipment in. As much as I love music, and live music at that, I was happy that we finished eating before they began to play. (I was even happier that we left before the soundcheck.) In such a small place I think that it would have been impossible for us to discuss burgers, or anything else, over the music.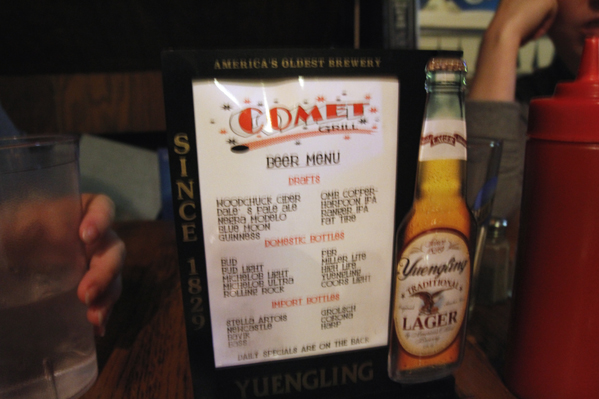 Angus: We ordered some beer (they had Olde Mecklenburg on draft, which is always a plus) and started looking over the menu. As we discussed what we should get, I heard a man at the table next to us call the server over to him. I know you're not supposed to eavesdrop, but that didn't stop me from doing it anyway. He told the server that his burger was the best he had ever eaten. Wow.
Hereford: That's high praise, even for a place as lauded as this. That set our expectations very high.
Angus: They don't have a lot of different burger options here. They have an All-American burger with the standard toppings: mayo, lettuce, tomato, onion, mustard, and ketchup. That was obviously what I would get, minus the tomato and onion, add cheese and bacon (at 50 cents each).
Otherwise, they had only two specialty burgers on the menu. They had a Panther burger, served similar to other Panther burgers in town, blackened with bleu cheese. They also had a Patty Melt burger, with Swiss cheese, grilled onions, and horseradish mustard on rye.
Hereford: Of the two, I was more intrigued by the Patty Melt burger, largely because I've never really seen something like it in the specialty burgers I've had elsewhere. But, I don't decide what I eat when I review for the Charlotte Burger Blog, so I left it up to the server. I asked what they did better, and he said the Panther burger, so that's what I ordered.
Then the server surprised me by asking "How about mayonnaise, lettuce, tomato, onions, mustard, and ketchup on it?"
Those were the items that came with the All-American burger, and I hadn't even considered them for the Panther burger.
"What do you think should go on it?" I asked.
"Everything," he said.
"Alright, I guess," I said. That seemed like a lot of toppings to compete with the flavor of the bleu cheese, and I was immediately skeptical of how it would turn out. But, I nervously left it in his hands.
After about 25 minutes, our food came out.
Here's the tale of the tape:
EXHIBIT A: ALL-AMERICAN BURGER, WITH CHEESE AND BACON
Official Weight: 10.7 ounces
Official Diameter: 4.25 inches
Official Height: 3 inches
Cost: $8 (with additions)
Angus: When I ordered cheese on my burger, I had a choice between several cheeses, including provolone, Swiss, white American, pepper-jack, and pimiento cheese. I've had some really great pimento cheese recently at restaurants around town (most notably from Pinky's as pimiento cheese fries), so I chose that thinking it would be good.
I was right, it was. It was spicy and thick. But I had a hard time tasting it. The flavors on the burger seemed somewhat out of balance—perhaps because there were too many condiments. I could barely taste the bacon.
But, unfortunately, the beef wasn't very good at all. I thought it was very dry and without much flavor. I was expecting a great burger from this place—after all, I had heard wonderful things. However, I was disappointed.
And I didn't really care for the fries. I thought they were too greasy and not crisp enough.
EXHIBIT B: PANTHER BURGER
Official Weight: 10.2 ounces
Official Diameter: 4.25 inches
Official Height: 3 inches
Cost: $8
Hereford: Angus didn't like his burger. Honestly, I hated mine. I was right to worry about the extra toppings. Because of them, I could barely taste the bleu cheese. But that was really my secondary complaint—the beef was awful. It was dry and flavorless and had a bad texture, like it had been frozen for too long. And the blackening spices added to the burger tasted too strong.
I didn't even finish my burger, which was a first for my time at the Charlotte Burger Blog. It was a huge let down.
Here's our final analysis:
Food: 2— The Comet Grill has a great reputation, and we're sure they've earned it. That guy at the other table loved his burger. But, unfortunately, we didn't.
Service: 4— Our server made sure that we had everything that we needed, and checked on us several time. He did an admirable job.
Theme: 2—Even though they have a name that is ripe for creating a great theme with, they do very little with it. The exception being that they have a mural of the galaxy upstairs that we didn't even notice at first.
Atmosphere: 4— We came on a relatively down night early in the week, but we liked hanging out at this place. It seemed like a cool place to go and get a drink and see a show.
Beer Selection: 3.75— They had a decent beer selection on draft (including Fat Tire, Harpoon, and Old Meck) and they had even more in bottles. The major selections from the Big 3 were not on draft, and we always appreciate that.
Hereford: In the Burger Bracket, the Comet Grill beat out Snoop's (the place I get burgers from more than any other—they're great) in the first round, but lost in the second to Brooks' Sandwich Shop (which we are incredibly eager to check out). In Helen Schwab's notes on the match-up between it and Brooks', she remarked that the Comet Grill gave her an "uncharacteristically dryish burger for the matchup." Our experience was similar.
Angus: I'm sure that they have made some great burgers here—they couldn't have received the reviews and accolades they have without doing so—but it wasn't as good as it could have been when we were in for our review. Hopefully, it was just an anomaly. We still liked this place and would recommend people to check it out.
Hereford: You can look for the final results of the Burger Bracket in the paper Friday, April 1st in the CLT section. We can't wait to see who won.
Signed,