Location: 3116 N. Davidson St. 28205
Website: http://www.crepecellar.com
Hereford: Here at the Charlotte Burger Blog, we're proud to write about food here in the Queen City. But, we're not alone. There are many great food blogs here in Charlotte, and among our favorites is a great site called The Food Baby.
Angus: The Food Baby is run by two ladies, Brianna and Lauren, who describe themselves as people who "dedicate a shocking number of our waking hours to the pursuit of all things food and booze related."
I think we might have been separated at birth.
Hereford: Their reviews are funny and very informative, and their concept is centered on the idea that sometimes after you eat your mid-section swells to the point that it feels like you might be pregnant. Even as men, we can empathize.
Angus: But they didn't just leave the concept at that. They have written an exhaustive analysis of what a food baby is, and detailed library of food baby varieties.
Hereford: After reading that, you'll start obsessing over your different types of food babies.
Angus: Since we liked their blog so much, we thought it would be really awesome to meet them and do a dual review of a restaurant. We thought that would be a cool way to capture our different perspectives on one place. So, on a Friday night we decided to go to NoDa to try out a restaurant that had a lot to offer (not just burgers), the Crêpe Cellar.
(You can check out The Food Baby review of the Crêpe Cellar here)
Hereford: The Crêpe Cellar had invited us to come by and try out their burgers, so we were happy to come by and oblige them. Plus, we always think it's fun to go to NoDa. It was the night of a gallery crawl, and there were a lot of people out on the street. It reminded me again that we do live in a metropolitan area.
Brianna and her husband Elliott met us outside (they recognized us based on the pictures from our site), and Lauren and her husband Sean joined us when we got our table. After we all introduced each other and got settled in, we asked them how they got started with their blog.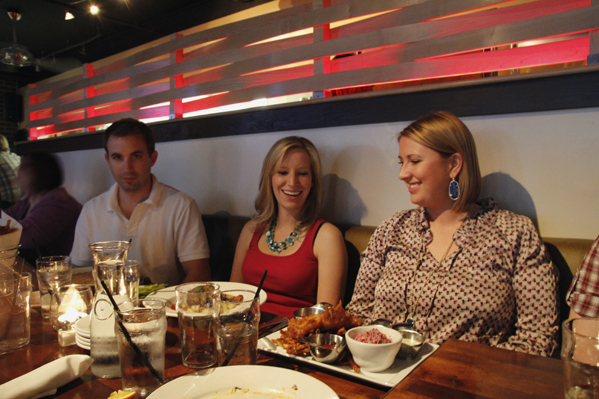 It seems that it all started as an inside joke with the both of them after they saw the movie Juno. It spiraled out of control with both of them making up their own variations of food babies and emailing them to each other. Soon after that, while Brianna and Elliot were out for dinner (at The Crêpe Cellar no less), Elliot convinced Brianna to just go ahead and tell Lauren to make a website out of their shenanigans. And the rest is history.
Angus: They were definitely a lot of fun to hang out with—and both couples are very smart and very funny. I'm sure having such good company helped our impression of the Crêpe Cellar.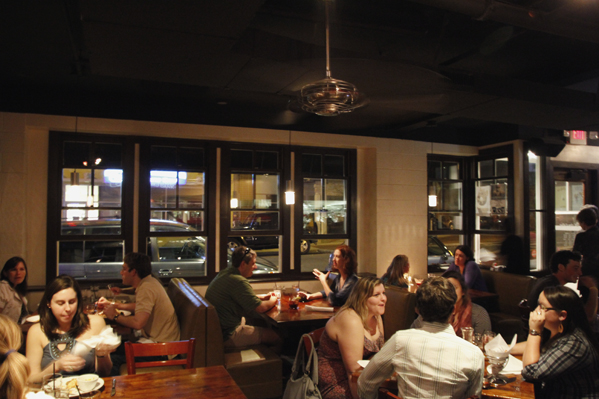 Hereford: The Crêpe Cellar is a bit of a misnomer. Sure, they sell crêpes, but their facilities are conspicuously above ground. The restaurant is one main dining area and a bar in a fairly small, intimate space right on Davidson Street. On the night that we went it was fairly busy, with a typical eclectic NoDa crowd that we always enjoy.
Angus: Would you count us as the eclectic part of that crowd?
Hereford: Well, we bring equipment to measure our food, so I think we probably qualify.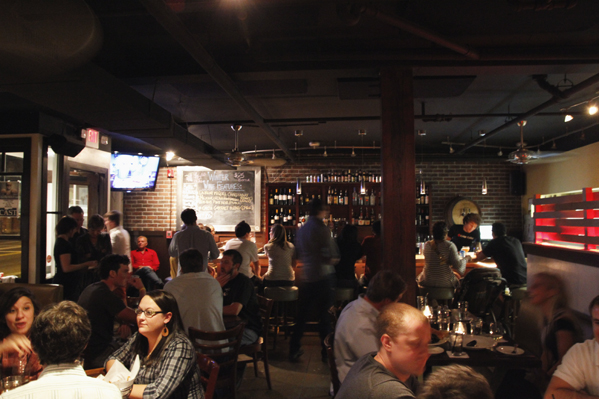 Angus: Inside, the restaurant is fairly subdued. There were a couple of mirrors, but not many decorations. The front windows open to the street, and since it was a nice evening they were open. That added to a cool, urban feel.
Hereford: It was a relaxed, intimate space to hang out with friends. And they had a decent amount of beer on draft and also a large selection of wine. We were too busy talking to take adequate notes on the beer, but their beer selection is affected positively by their relationship with Growler's Pourhouse next door. They are owned by the same people and apparently they share their beer supply.
I know this because at one point a person in our party asked our server to surprise him with a draft beer. Our server then proceeded to go next door to get something special for him. A) That's great service. B) Growler's has a great beer selection, so that means at the Crêpe Cellar you have access to a lot of craft beers on tap.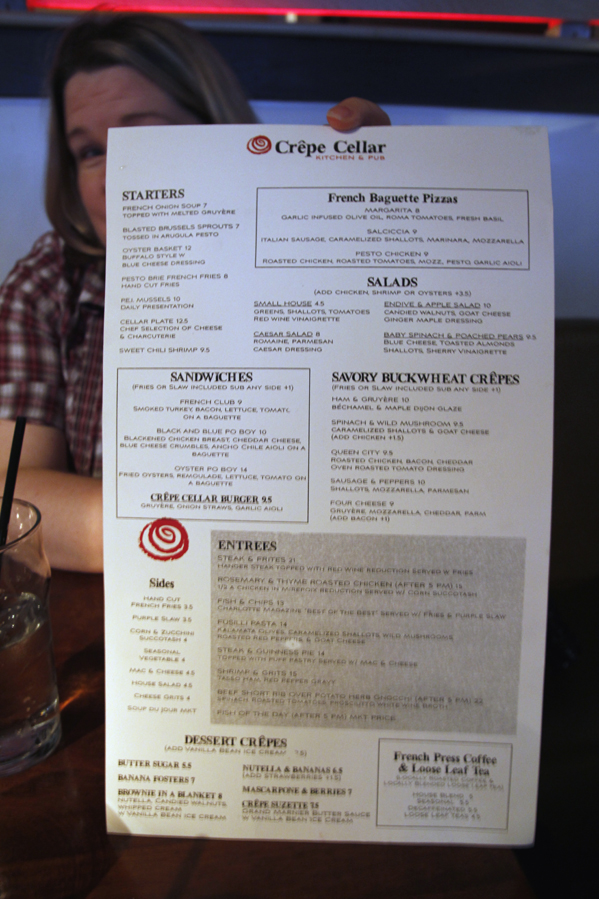 Angus: As everyone else spent time mulling over the menu, deciding what to get, we knew our choice would be simple. They only have one burger on the menu, The Crêpe Cellar Burger. It is a specialty of theirs, and is topped with gruyere cheese, onion straws, and garlic aioli.
Since that's the only burger they have on the menu, and since my job here is to eat a bacon cheeseburger, I asked if they could modify the burger slightly. I ordered mine without the onion straws or aioli, with bacon and mayonnaise, and I changed my cheese to mozzarella. They were very accommodating, which I appreciated.
Hereford: After about 30 minutes, which flew by because we were so busy talking, our food came out.
Here's the tale of the tape:
EXHIBIT A: CRÊPE CELLAR BURGER WITH ANGUS SPECIFICATIONS
Official Weight: 11.7 ounces
Official Diameter: 4 inches
Official Height: 3.5 inches4 inches
Cost: $9.50
Angus: The first thing I took note of when I bit into my burger was that it was cooked perfectly to order. That's always a good sign that someone knows what they're doing in the kitchen. That carried over to the rest of the burger. The bacon was prepared perfectly (floppy!) and bun was made with good bread, thick and substantial and I'm sure baked somewhere in town. (We asked, but we were told that exactly where was confidential. So maybe we're wrong; it could just be really high quality Wonder Bread).
I had a hard time tasting the mozzarella on the burger, but everything else was great. I was very happy with it.
EXHIBIT B: CRÊPE CELLAR BURGER
Official Weight: 9.9 ounces
Official Diameter: 4 inches
Official Height: 3.75 inches
Cost: $9.50
Hereford: I had the as-advertised version of the Crêpe Cellar burger, and I was very impressed with the chef who designed it. Everything worked really well together. The onion straws added a great crunch, and a nice flavor to the burger, and also complimented the garlic aioli and the gruyere very well.
And I agree with Angus about the bread and the beef. Both were excellent.
Angus: The fries were also amazing. They were crisp and seasoned perfectly. But we especially liked the little metal baseball hats that the ketchup came in, even if they were a little unnecessary.
So, here's our final analysis:
Food: 4.6— We were definitely impressed by the Crêpe Cellar's burgers. It's too bad that they did not go further in the Burger Bracket . They were knocked off by Lulu's, which has a great reputation for their burger.
Service: 4.75— Anytime a server goes next door to get a special beer for you, and she does so just to surprise you with a really good beer, you know you have great service.
Theme: 2—Perhaps if they were housed in an actual cellar, we would have rated their theme higher. One member of our group pointed out that they seem to be going for a French-style restaurant, but in a more casual style. I think that's probably true; we certainly used our insert symbol button a lot on this review to get the accent marks right. But we didn't think it counted enough to rate them higher.
Atmosphere: 4— The Crêpe Cellar reflects a lot of the qualities of NoDa. It has an artsy and urban vibe, and is a relaxed place to spend time. We definitely enjoyed being there.
Beer Selection: 4.5— This rating was definitely inflated by our server's willingness to go next door to get a special beer. As long as they remain willing to do that, they'll have access to a large amount of very good beer on tap as Growler's has a great selection.
Hereford: If you want to find out what Brianna and Lauren thought of their food selections (which included sweet chili shrimp, fish and chips, short ribs, and actual crêpes) check out their review here. While you're there, take a look at their other reviews. You'll enjoy them.
Angus: We'd like to thank them and their husbands for the opportunity to go out and do a review with them. They were as fun to hang out with in real life (as opposed to me dreaming about it when I read their blog). We hope to be able to do it again sometime.
Signed,