Location: 5349 Ballantyne Commons Parkway 28277 (Promenade on Providence)
In our relentless quest to eat burgers everywhere in Charlotte NC, we come across a lot of people (followers, fans, admirers, groupies 1) that ask us to review certain burger joints. They loved these joints so much that they wanted to hear our take on the place. We do our best to head to as many of these places as possible. (And you can keep sending those requests by going to our contact page!).
BT's Burger Joint was suggested to us by two separate readers (Ron and Chris 2). They had lots of good things to say, so I figured it was high time to visit this place. I rallied Mrs. Angus and Small Fry and headed over to Promenade on Providence and I was not really prepared for what I found there.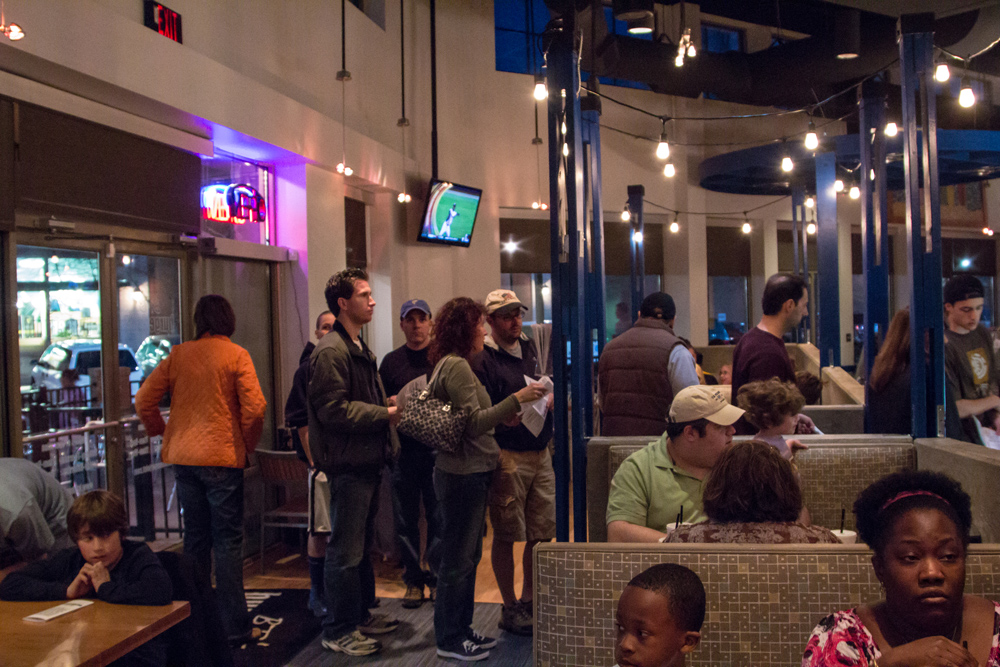 Someone in this picture is not impressed…
Trying to walk in we were stopped at the door, not by a bouncer 3, but by the massive line that formed at the counter. It felt like there was a glitch in the Matrix because I was standing in a line to order food, in a place that uses plates and utensils (a la Smashburger and Burger Company). My better half (and my smaller half) grabbed a table by the window and I stood in line. And stood. And stood. The line moved slowly but it gave me a chance to look over the menu and other interesting signage.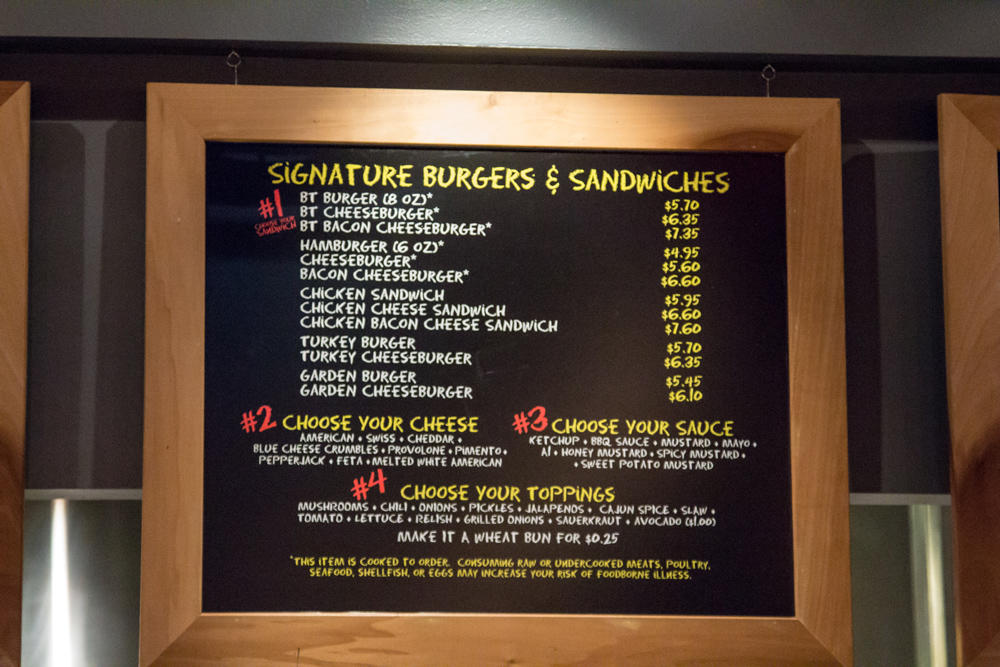 Man, someone has really neat handwriting!
BT's menu offers a wide variety of sandwiches ranging from small and large burgers to chicken, turkey and even veggie options. After you pick what sandwich you want, you choose from a variety of cheeses, sauces, and toppings.
But what really caught my eye, and came as a surprise, was the sign that awaited me when I walked up to the counter. It was an informational asking me how I wanted my burger cooked.
Wait, what? I will take my patty with that cool red centered goodness of course! We here at The Charlotte Burger Blog hope that all restaurants in NC follow this example.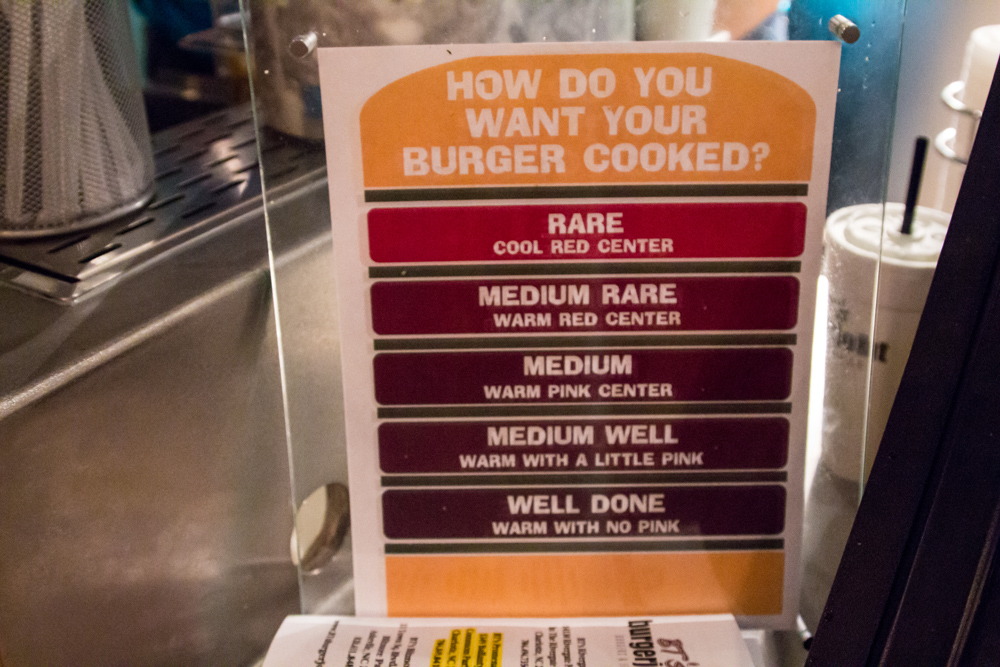 After waiting in line for ten minutes, and then waiting ten more at the table, the burger finally came out.
Here's the tale of the tape:
EXHIBIT A: BT'S BACON CHEESEBURGER
(with melted white American, 1000 island dressing, and lettuce)
Official Diameter: 5 inches
Official Height: 3.25 inches
Cost:  $7.35 (does not include sides)
Cooked to order: Yes, served Rare
If you looked at the picture of the menu above, two things might have come to your mind, 1.) what's the difference between all the other cheeses and the "melted white American"? Are the other cheeses cold and hard? And 2.) 1000 island dressing was not listed. Well you see for the latter I have been granted with the super power of "being awesome" and I just asked for it and the waitress ran to the nearest grocery store and bought some 4. And for the former the "melted white American" was just as it described, liquid cheese (think chips and queso).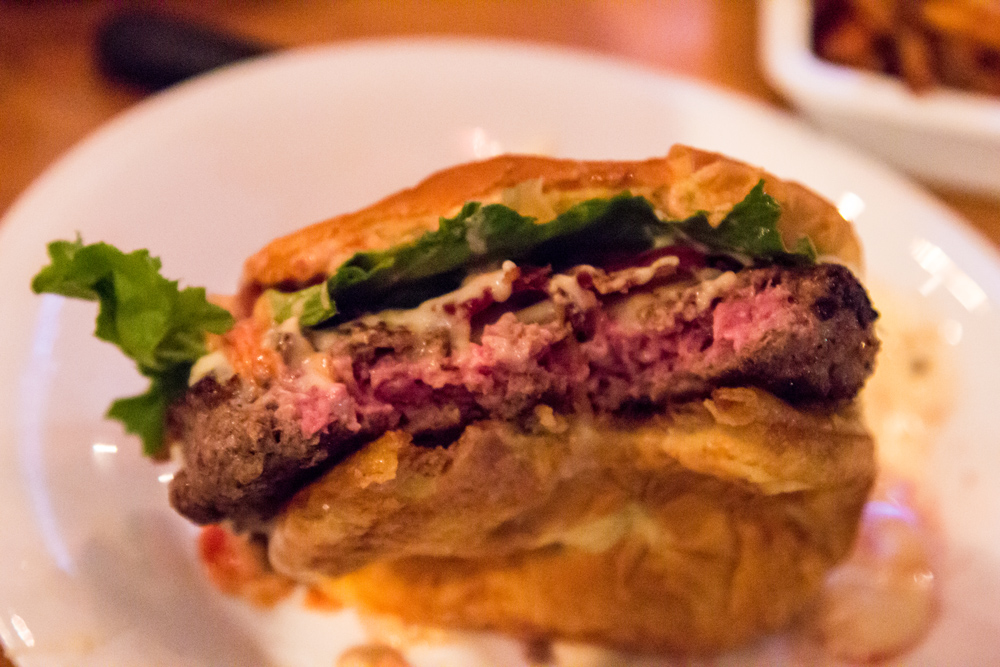 Beautiful ain't she?
Super excited about this burger, I bit straight in hoping to see that nice cold pink center. And to my surprise….it was! It was cooked perfectly. Honestly I had my doubts, I kept telling Mrs. Angus, "You know they're going to get it wrong…" But like most statements I make to her, I was wrong.
The patty had the usual salt and pepper seasoning and the bacon was nice, thick, and floppy. There was a lovely amount of cheese (it was everywhere) and the bun held up great. My only complaint 5 is about the lettuce. Again it was a garnish lettuce which didn't have much taste or crunch to it.
I was pleasantly surprised that the burger came out the way it did and tasted the way it did considering this is a "corporatetized" version of a burger.
Burger Rating: 4

Other Food
The only part of my meal I was disappointed in was the the way the fries tasted when they came out. They were really greasy and the only flavor that came with them was the flavor of burnt grease. I should have guessed that they would have came out that way since I literally ran my shin into the stacked boxes of potatoes and oil. Actually now that I think of it they tasted very similar to the fries we had at Brazwell's.
Beer Rating: 3.5

Now if the burger was a surprise to me their beer selection was a freakn' static shock. They had four taps with one of them being Fat Tire. They had an enormous selection of bottled beer, including Sea Dog, Rogue, Wychwood, Duck-Rabbit, and Franziskaner. I would love to see some local brews featured though such as Olde Mecklenburg, Noda, and Birdsong.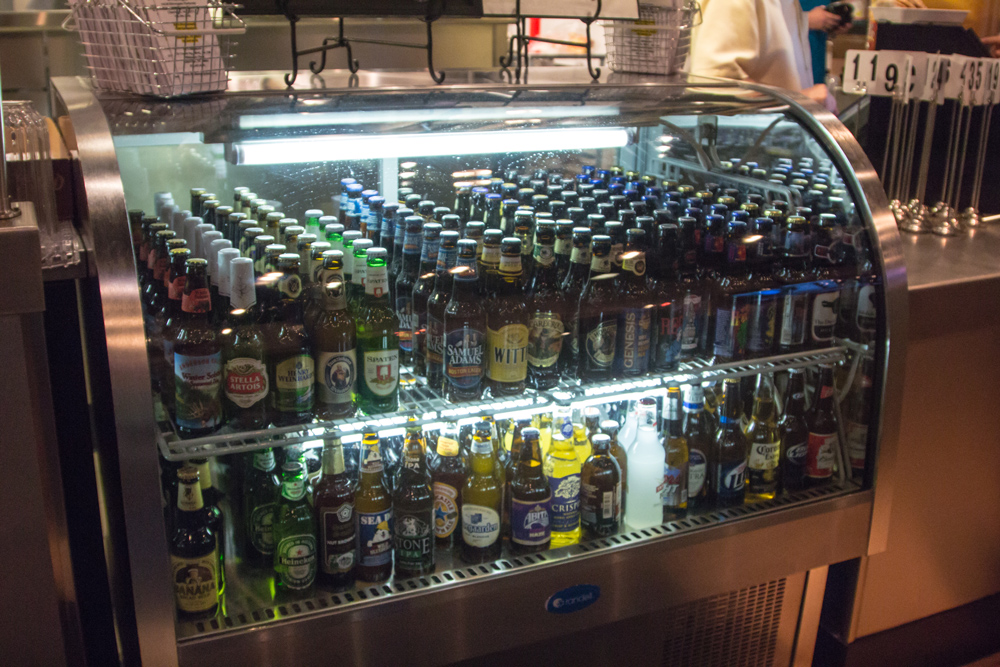 I don't know how to pronounce it, but I'll take the beer with Friar Tuck on the label.
Atmosphere Rating: 3

Now it seems that some witch doctor decided to put a curse on me and I will forever be haunted in my waking hours by the font called IMPACT. Since I encountered it used heavily at Smashburger, I didn't expect to see this font again on a burger joint's logo. But there it is, used to emphasize the word…uh…burger joint.
For the interiors, they are trying to go for more of an urban beach industrial shack look from California, but ultimately made everything look like it was a Hawaiian themed restaurant at an amusement park. It seemed like after they put up a couple of murals they said to themselves, "Eh, this is enough."
I do have to make a note again that all of the servers were wonderful and amazing. They were on the ball with everything and anything we needed. (Almost to the point of annoying or having psychic abilities).
Conclusion
What was your favorite thing (non-food) about BT's Burger Joint?
I would have to say the awesome sign that asked me how I wanted to my burger cooked. This was the high point of the whole meal for me.
Would you eat here again?
Most definitely.
Next time you come by, what will you order?
I would like to try one of their salad options, honestly. Doing a burger blog can be taxing on your health and weight sometimes, so you got to fill your other meals with healthy stuff. Like salads!
Does BT's Burger Joint earn the Charlotte Burger Blog Seal of Approval?
Even though I really loved the taste of my burger and I was ultimately impressed that they gave you cooking options for your patty, BT's does not earn the Seal of Approval. The Seal is really for those places that are doing something different and unique with their burgers and/or have a rich story behind their restaurant. BT's Burger Joint does an awesome burger, but that alone does not push it over the edge.
Signed,