When we go out for an official burger review, we usually bring our equipment: tape measure, scale, bat shark repellent, etc. But we don't just stick to our quest to eat every burger in Charlotte when we go out for reviews. Sometimes we want to write a quick review of a burger that we just happened upon. We call these Short Orders.
Location: 1001 N. Marietta St. Gastonia, NC 28054
Website: www.gastoniagrizzlies.com
Who plays at Sims Legion Park?
Sims Legion Park is home to the Gastonia Grizzlies, a baseball team in the Coastal Plain League. They're not a minor league team; they're not affiliated with Major League Baseball 1. Rather, the players in the league are college students on summer break. Instead of using the aluminum bats associated with the college game, the kids use the wooden bats normally associated with professional baseball. Thus, sometimes these leagues are called wooden-bat leagues.
They may not be professional players, but Grizzlies games are a lot of fun to go to. Although the quality of play is not anywhere close to, say, the Knights, the college guys are still fun to watch. And maybe it's because they feel they have to try harder since they aren't affiliated with the majors, but the Grizzlies may have the most innovative promotions department I've ever seen. Here are some of the promotional events for this year:
World's Largest Pillow Fight. You must provide your own pillow, of course.
Grandpa Beauty Pageant
Ladies Night & Win a Date with a Grizzlies Player
Midnight Madness, where first pitch is at midnight.
The promotion that brought me out on this night, though, was a classic baseball promotion: Bobblehead Night. They were giving away Russell Wilson bobbleheads. You may know him as the plucky rookie Seattle Seahawks quarterback, but he played baseball in college too, and spent one season with the Grizzlies. 2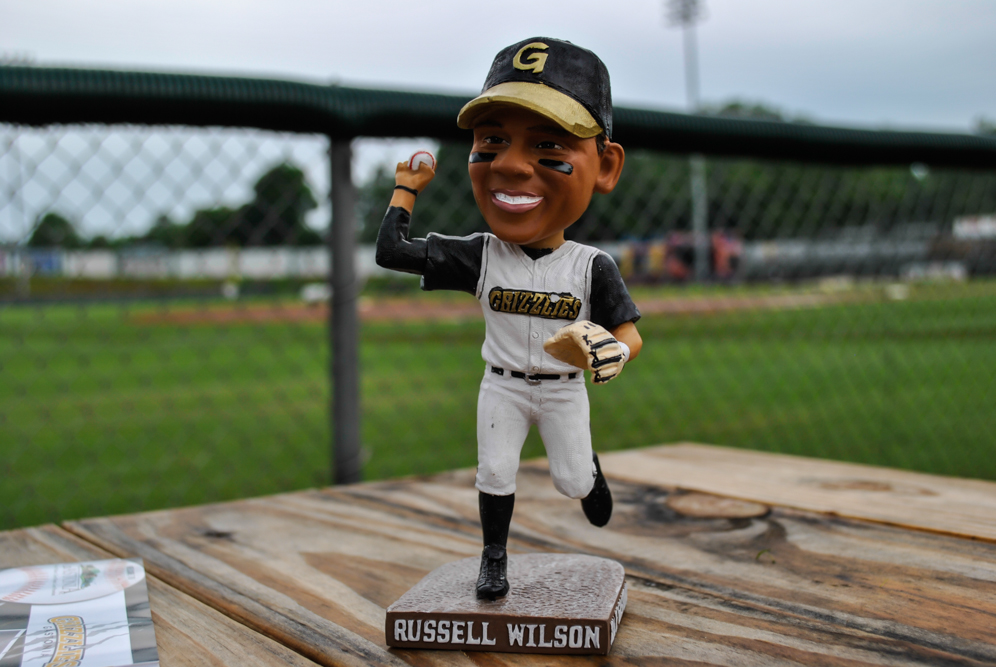 What type of burgers do they have at the park?
The Gastonia Grizzlies see their burgers as a part of their promotions. They've come up with three burgers that are a part of the attraction of coming to the park; three burgers that will make you say, "You won't believe what they're serving at the Grizzlies games!"
They are the Donut Burger, the Pizza Burger, and the Waffle Burger.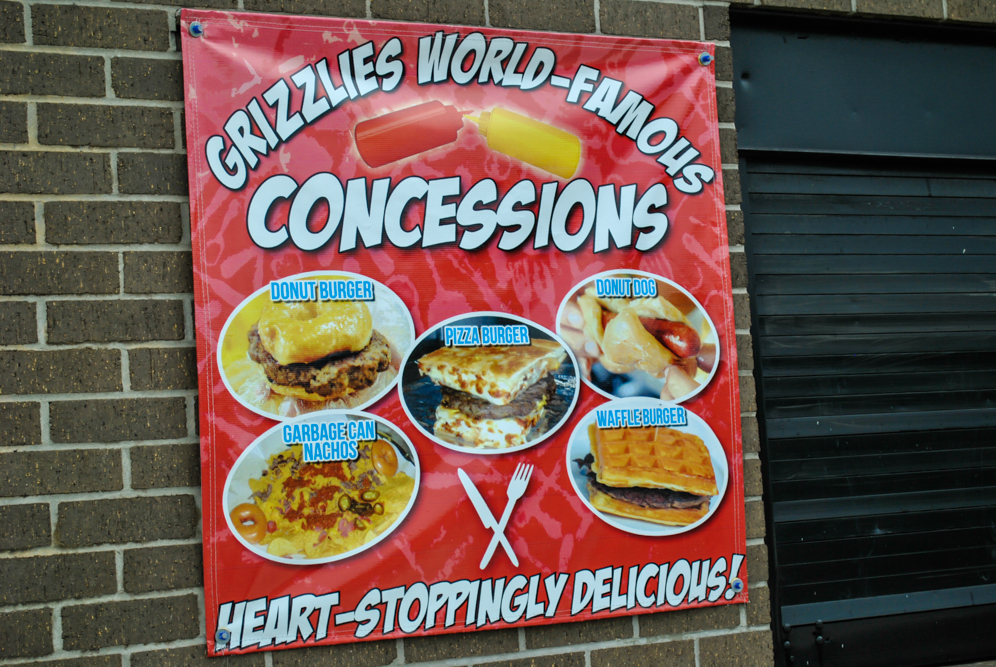 The tagline there says it all.
Which of these burgers did you choose?
I would love to have tried all three, but I'd hate to tie up the EMTs in case a player got injured or something, so I decided I would narrow it down to two. Since there are two sweet options (the waffle and the donut burgers) I figured I would choose one of those and get a pizza burger too.
I had actually ordered the donut burger last year at a game, but it wasn't an experience that went well. I went up to the counter and asked for it, and the girl turned to get one of the workers to bring her one. He showed up and said, "Here, this one is from earlier." And by earlier, I'm fairly sure he meant the Clinton Administration. It was terrible. I tried to eat it, but nearly vomited.
But, I'm optimistic, and maybe if I got one that was fresher it might be good, so I went with the Donut Burger and a Pizza Burger.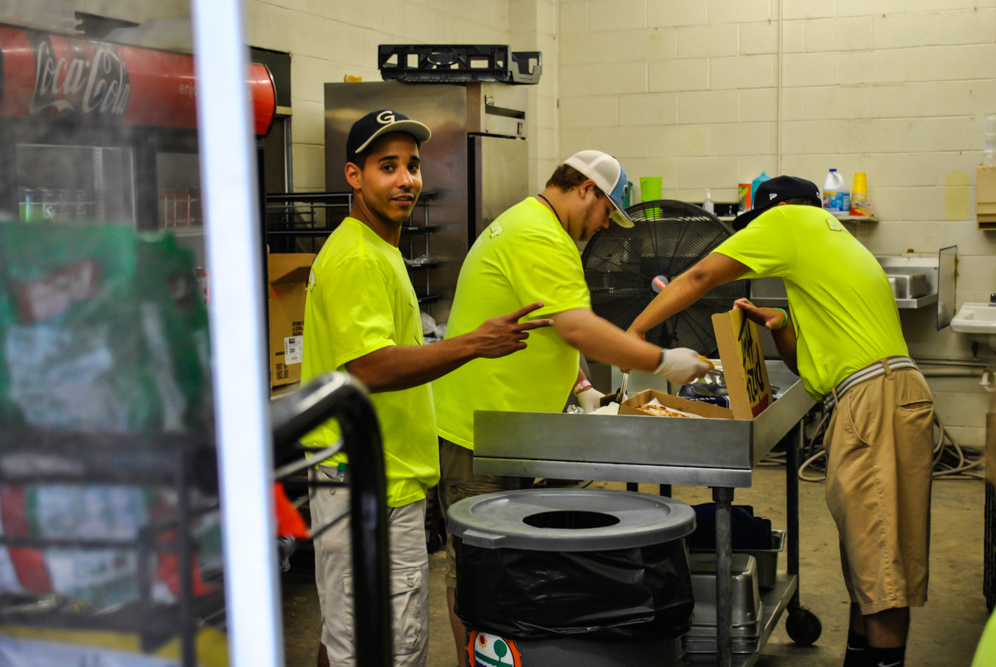 I won because I threw rock.
How was the Donut Burger?
I lied. I'm not optimistic at all. I ordered this and immediately started to dread it. I kept thinking about how horrible it was the first time. Before I bit into it I mentally checked where the nearest trash can was.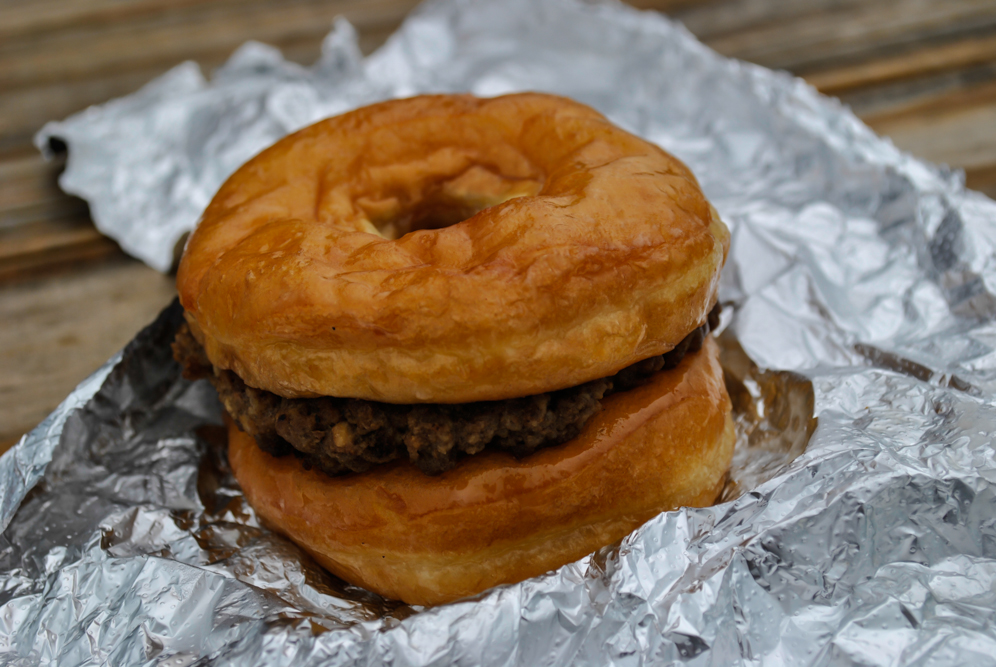 But, it turned out not to be half bad. You couldn't taste the meat at all; it was a formerly frozen flavorless cafeteria patty. It was like eating a Krispy Kreme donut with a protein boost. Not awful, but also unnecessary. All things considered, I think I would rather just eat a donut.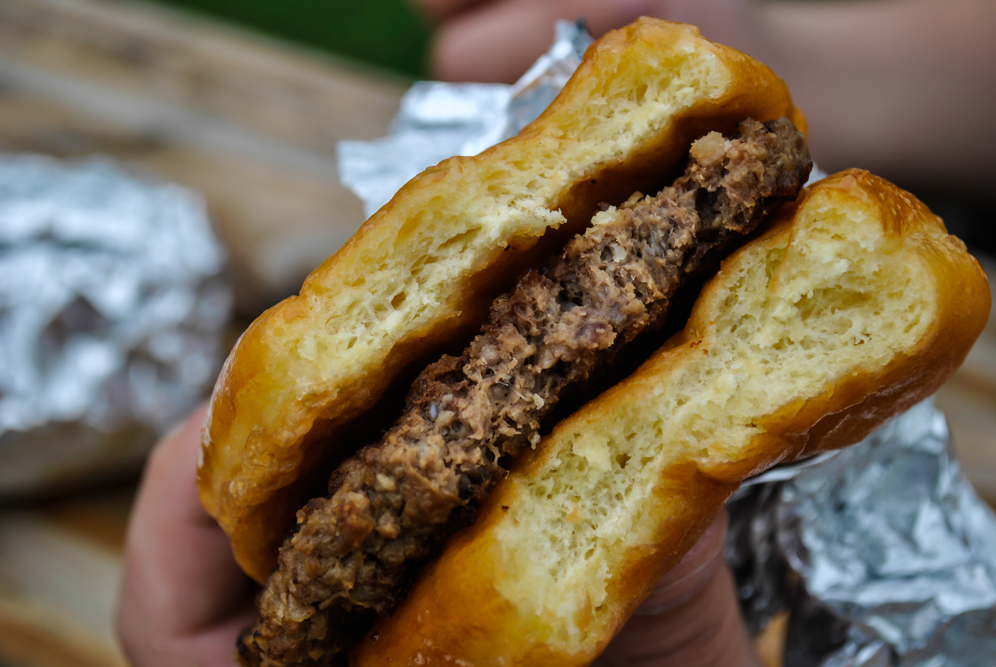 How was the Pizza Burger?
The Pizza Burger is another tasteless cafeteria patty between two square slices of Pizza Hut cheese pizza. I know it was Pizza Hut because I saw them pull the box out to prepare it.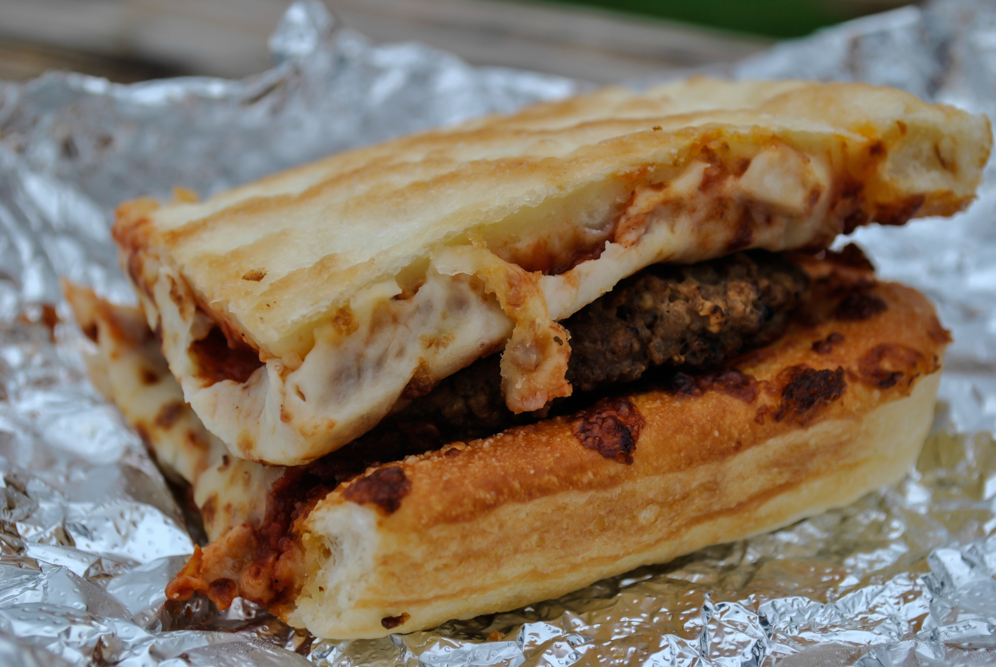 The Pizza Burger tastes more, I guess, natural than the Donut Burger, because meat 3 goes on a pizza. It still wasn't very good. The pizza wasn't fresh; they must have ordered it hours before the game. I might have liked it somewhat more if the pizza had some toppings. Pepperoni would have been great, if for other reason, than to give me something I could actually taste on the burger.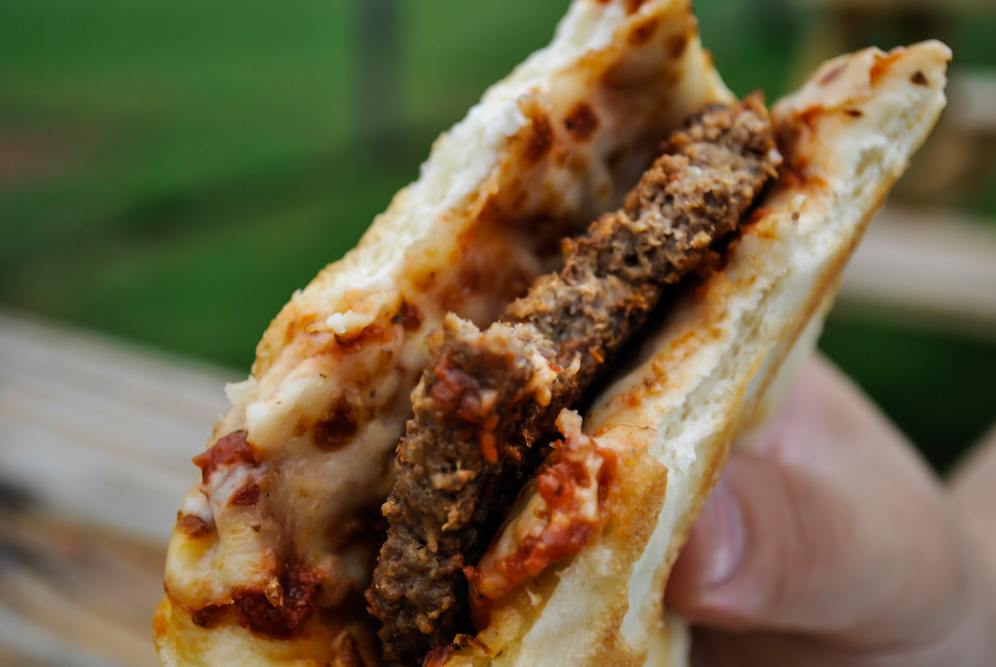 How would you rate the burgers?
I would give them a 1. I didn't love the burgers at Knights Stadium, but if I had to choose, I would order that before I had another pizza burger or donut burger. But, you don't order a donut burger because it's going to be good. You order it so you can say later, "Guess what, I had a donut burger!" In that way, these were a success. They're a gimmick, and I don't think that's a bad thing for a ballpark burger.
I do wonder what I would have thought of these if they had actually used decent, non-frozen beef.
How was the beer?
The Grizzlies have a beer garden down the third base line, and they have a decent beer selection. It's certainly better than what the Knights have, and it's cheaper. A cup of beer is only $4. And it's nice to see Charlotte beers such as Olde Mecklenburg, NoDa Brewing, and Triple C available. They also have some choices in bottles, including Highland.
One word of warning, though, the taps don't always signal what they actually have in the keg that's attached to it. I asked for a Ramble on Red, and the bartender told me that it was actually Coco Loco 4 That was fine, I quite enjoy Coco Loco, so I had that. But my friend Matt went with me, and he ordered a Buckshot from Natty Green. It's supposed to be an amber, but it came out a suspicious golden color. So be careful.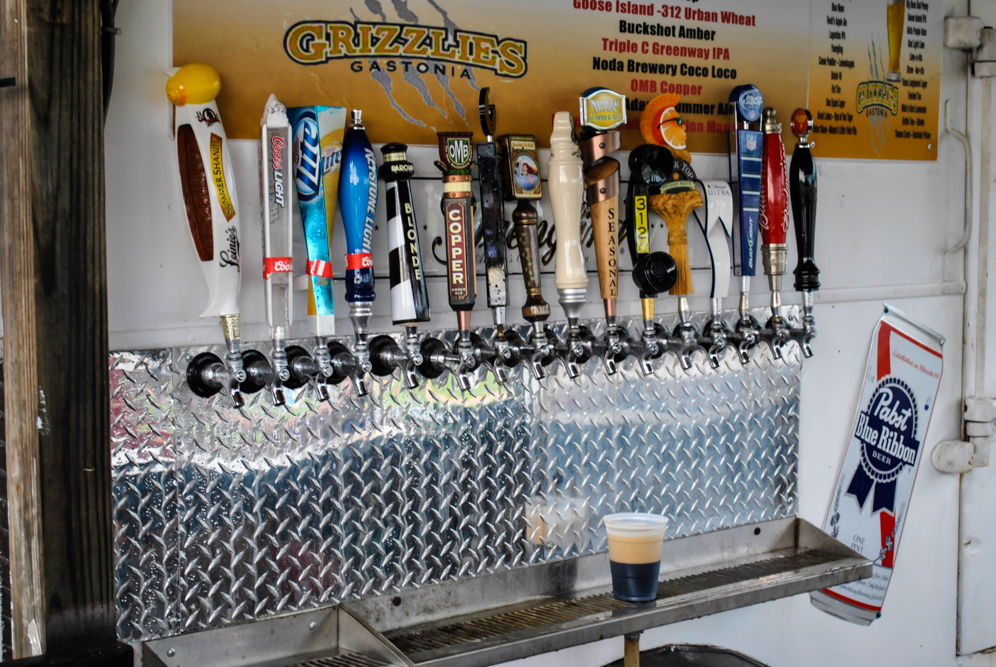 Did the Grizzlies win?
Yes they did. It wasn't a pretty game; it had rained before and the grounds crew hadn't done a great job of keeping the field dry. Third base was a swamp. But, the Grizzlies were able to pull it out, even after trailing by three runs, to beat the Thomasville Hi-Toms 4-3.
Signed,