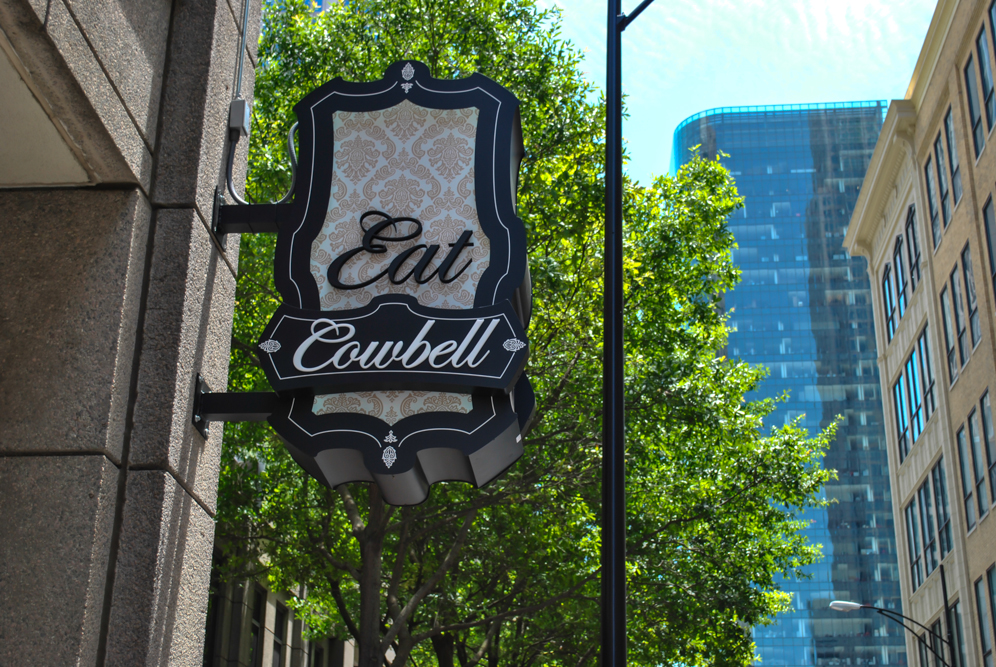 Location: 201 N Tryon St Suite 1010 28202
Website: eatmorecowbell.com
Back in March, The Charlotte Burger Blog was invited to the Gulp and Graze Pre-Opening Event for Cowbell Burger & Bar. It was a limited menu and was meant to be a preview of this new burger joint in Uptown Charlotte. Since this event was more like a testing group in a science experiment 1, I am not going to comment on our experience there but I do have to point out a couple of things. 1.) Everything we tasted at that event was amazing and fantastic, except 2.) our burgers were way overcooked. So we decided that we would return when they got a few weeks under their grill 2 and then come back for a full review.
Cowbell caters to the more Uptown savvy crowd, which we are clearly not a part of, so we opted to go to lunch on a Saturday instead of our usual "we'll hit a place after work on a Friday" routine.
When we arrived to Uptown it took a few minutes to find parking. It was no surprise, because it wasn't their peak hours, but we were the only customers there for lunch. As we walked in we were greeted politely by the waiters and waitresses, and even the bartender gave me "The Nod" 3. We were shown to our seats and handed our menus.
Cowbell offers a lot of different burger options ranging from The Big Bell (an upscale play on the Big Mac), The Big Will (a breakfast burger with an egg), The Gambler (think cowboy burger with BBQ sauce), and The Elvis (which really just has regular burger toppings 4).
I ordered The Big Bell since that's what I had at the Gulp and Graze, and I wanted to see how it might be different. After about 20 minutes it came out. Here's the Tale of the Tape:
EXHIBIT A:  THE BIG BELL
(Two Beef Patties, Onion Kaiser Roll, Three Layers, Shredded Lettuce, American Cheese, Cowbell Sauce)
Official Diameter:  4 inches
Official Height:  3.75 inches
Cost: $11.00
Cooked to order: Supposedly
When the waitress took my order I got the usual "How would you like it cooked?" and I gave my usual "As rare as possible!" answer. She was kind and told me that the lowest they can go is medium rare. That's cool. I understand that every restaurant hasn't adopted the new rules since they changed. Although, it is strange that a superior burger place 5 isn't cooking burgers at all available temperatures, especially since many meat lovers prefer rare burgers 6. The burger came with a choice of a side so I ordered the House Fries, but they also offered other choices such as onion rings, mac and cheese, sweet potato tots, and pan fried corn.
Biting into the burger, I was hit with amazing spices, fresh ingredients, a homemade bun and….. a well-done patty. The server came back around and asked how everything was and I kindly told her that my burger was not prepared medium-rare as I ordered. She was apologetic and took it back to get me another one. The manager on duty came over to our table and apologized also and said he will comp the burger. We really appreciate the Cowbell's motivation to fix a mistake and try to make it better. The second burger came out in about half the time as the first, and when I bit into this Big Bell I was hit with amazing spices, fresh ingredients, a homemade bun and….. a medium-well patty.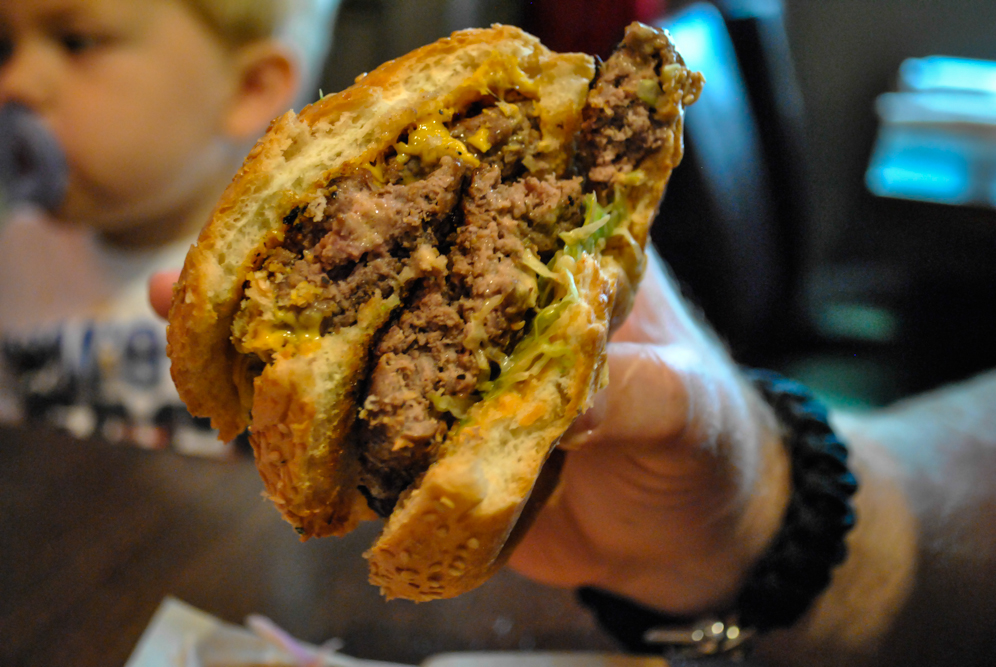 So this is a little frustrating. Being more-than-hungry at this point (and having the rest of my party with me being almost done with their meals), I just ate the burger and didn't complain. 7 But I still did not get the medium-rare patty I was told I could get. Everything else on the burger was fantastic. Even the spices on the patty, I thought, were top notch. But the patty was just not cooked properly. On Cowbell's website they state that Cowbell's beef patties are 100% USDA choice cuts of chuck and beef brisket, hand ground by a 4th generation butcher. That may be the case, but it looks like they got a 1st generation chef out of high school the way these patties are being cooked.
Again, the burger wasn't bad. But it's about expectations.
Burger Rating:  2.5
Other Food
In addition to their many burger options, Cowbell offers a nice list of salads, wings, chicken, and dogs. We ordered the Hot Pretzels as our appetizer and they came out exactly as awesome as they did at Leroy Fox 8. I also have to mention that we previously had the Sweet Potato Croquettes at the Gulp and Graze event. And they should just call them what they are: glorified donut holes. I would take these over Krispy Kreme any day. 9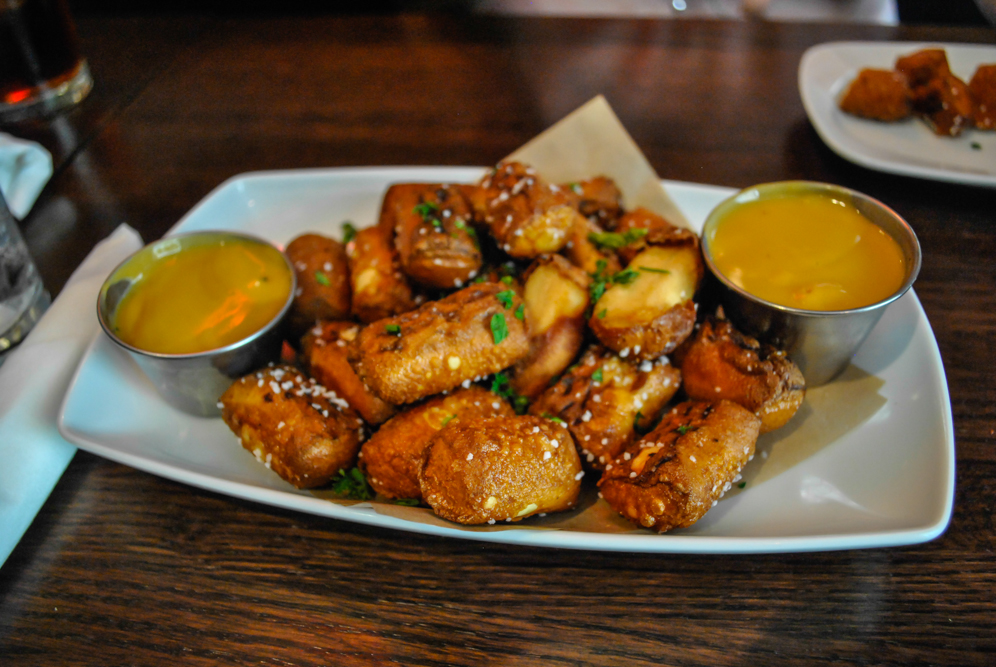 Beer
Cowbell offers a nice selection of draft beer with a pretty good range of locals (three of them being from Olde Meck!). But they really pride themselves being a full service cocktail bar serving signature cocktail styles, great martinis, and even spiked milkshakes! 10
Atmosphere
For many of you that read this blog, you will notice that Cowbell has taken place where NIX Burger Bar was previously located. It has been given a complete facelift from what it looked like and even the layout is totally different.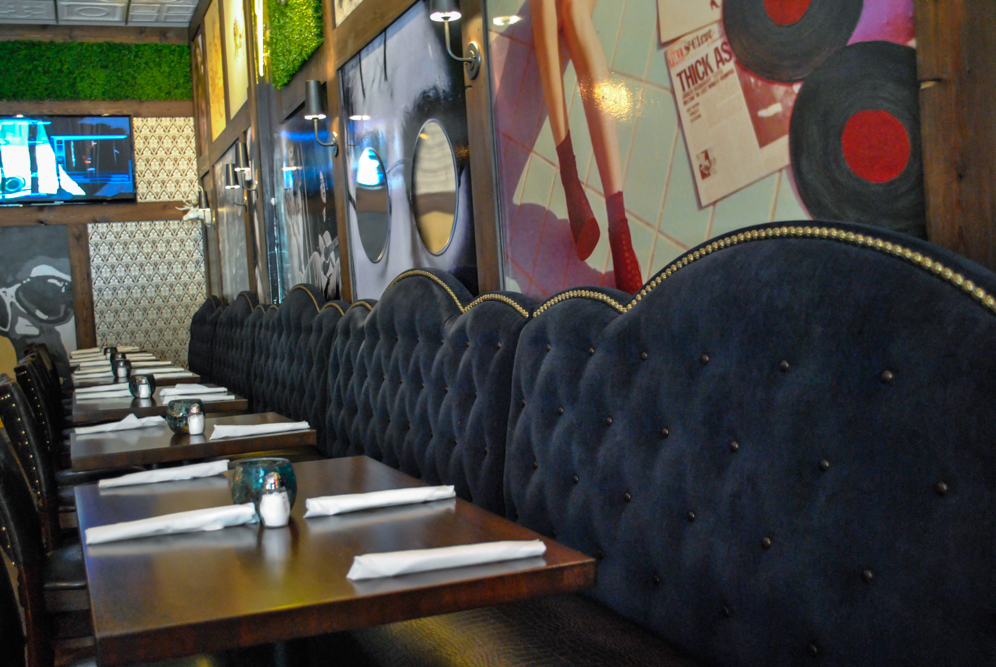 It has a very upscale-look inside (compared to the industrial look of NIX) with leather studded seats and bar chairs and velvet covered booths. Almost every inch of the walls within Cowbell are covered with art, with mixed media pieces made with astro turf, records, chalk, cow skulls, neon lighting, and fancy wallpaper.
They also have a music theme, especially classic rock. They have LPs on the wall, and portraits of movie stars, rock legends, and also Amy Winehouse.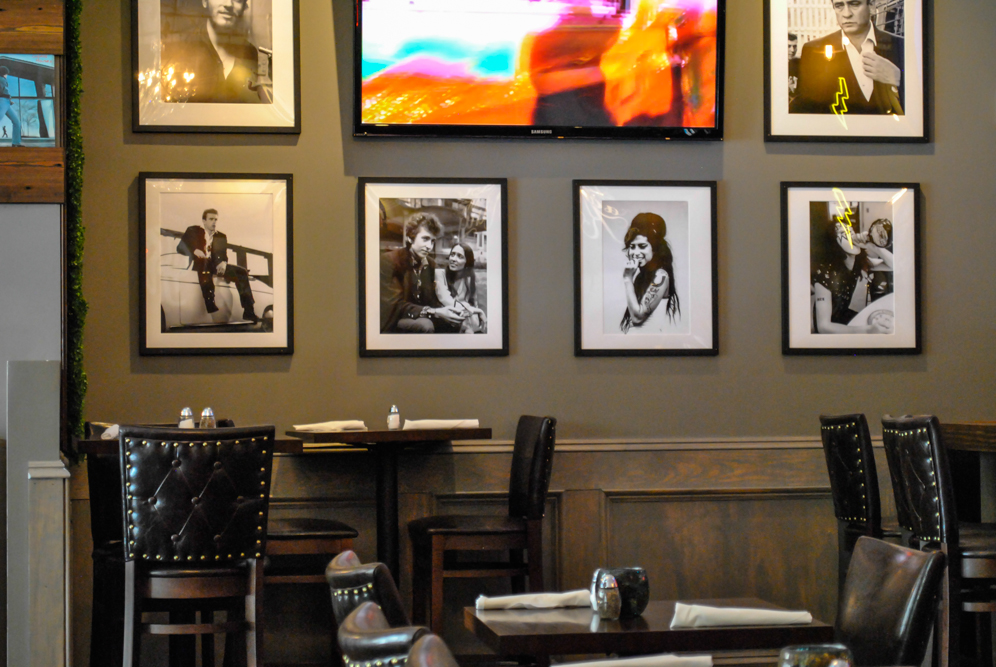 Even though I feel the interior works by itself and does not need the distraction of tv's, Cowbell has cleverly hidden the intrusive aspect of televisions by building them within the walls with a nice wooden frame around them. They're not in your face and you can still keep up with both classic and latest music videos 11.
Atmosphere Rating: 4

Conclusion
What was your favorite thing (non-food) about Cowbell Burger & Bar?
It was definitely the the art piece that included the neon lighting spelling out in pictogram form "Straighten Up and Fly Right".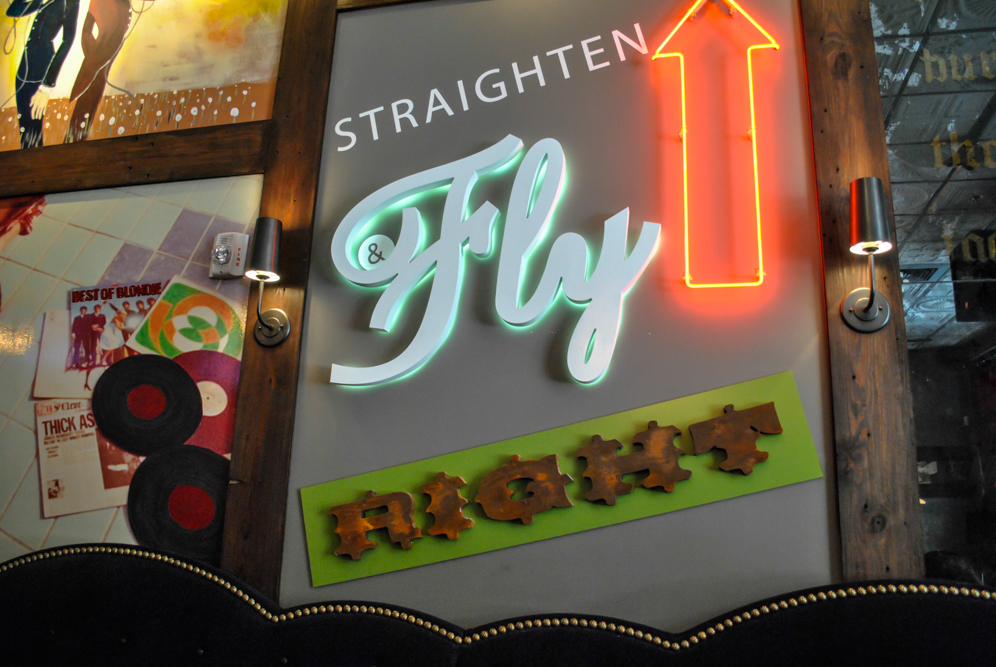 Would you eat here again?
Yes. Like I said earlier, most of the food was fantastic and we want to try more. Maybe on our third visit our burgers will be cooked correctly.
Next time you come by, what will you order?
They have a burger called The Pilgrim. It is actually a turkey patty with a honey wheat bun, brie cheese, apple and bourbon BBQ sauce, and bourbon-candied bacon! They also have their Cowbell Dog that is a ¼ Lb. all beef dog that is deep fried and bacon wrapped on a pretzel bun with mustard and sauerkraut 12.
You actually found parking in Uptown?
Parking is always difficult. But we have found a place we like to park, which is usually cheap and not full; the underground parking deck under the Hearst Building. Only $5!
Does Cowbell Burger & Bar earn the Charlotte Burger Blog Seal of Approval?
They don't. Not to beat a dead horse, but when you offer to cook a burger a certain way, it needs to be cooked that certain way. If you know your chef can't cook it any less than medium well, then don't offer it. Then again you would probably have to charge less for your burger.
Signed,