Location: 3213 N Davidson St 28205
Website: www.jackbeagles.com
Jack Beagle's has been another one of those restaurants that has been showing up in our inboxes and on our Twitter and Facebook pages for awhile now. Readers of our blog have given praises and shouts to this joint, touting that the burgers are "cooked right every time". Well, we are not ones to turn down the maniacal screams of people proclaiming perfectly cooked rare ground beef, so recently we headed down to NoDa to check this place out.
As we were driving there I asked Hereford if he knew where exactly this place was, and he replied to back to me "In NoDa." 1. Somehow parking got even worse in this small artistic suburb, so we parked down past the YMCA. We walked into the little town and soon found ourselves at the end near Salud's Beer Shop 2, which means we must have walked right past it. Walking back and paying more attention this time, it is easy to see how we missed it. Because there is no sign out front…and it is a plain old grey building. Remembering back, I actually thought that it was closed. Yes in the picture you can see lights on inside and an open sign flashing, but it still didn't give us a clue to what it was. Only when you walk up to the door you see a door sticker with Jack Beagle's logo (which is of course a beagle).
We took a table at the first corner by the door and our waitress handed us our menus.
Here's the Tale of the Tape:
EXHIBIT A:  BIG BEAR BURGER
(2 patties, 3 beggin strips 3, 2 slices American cheese, and chipolte aioli)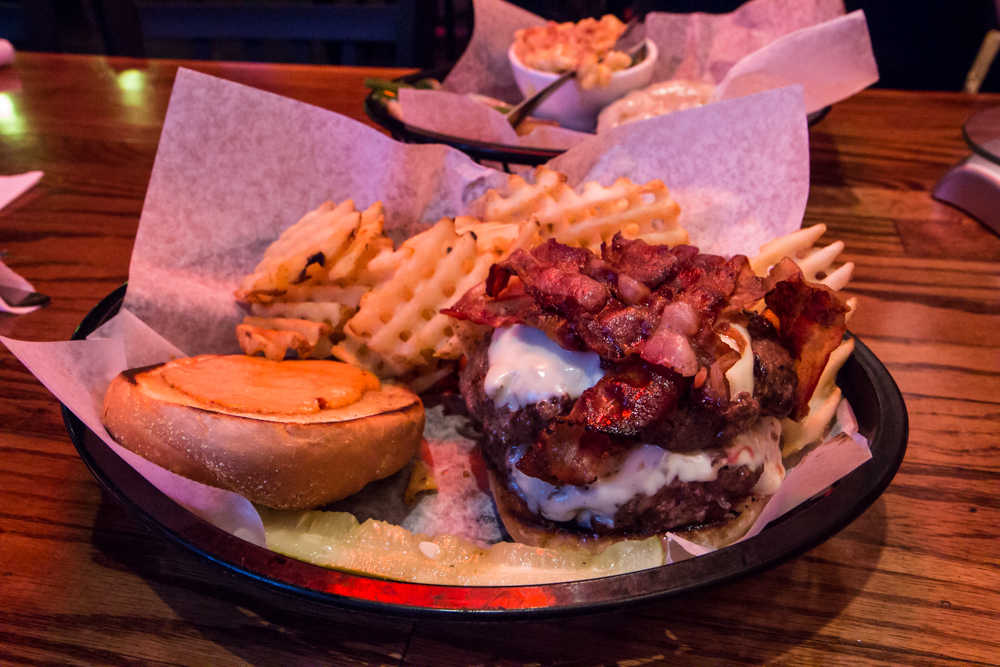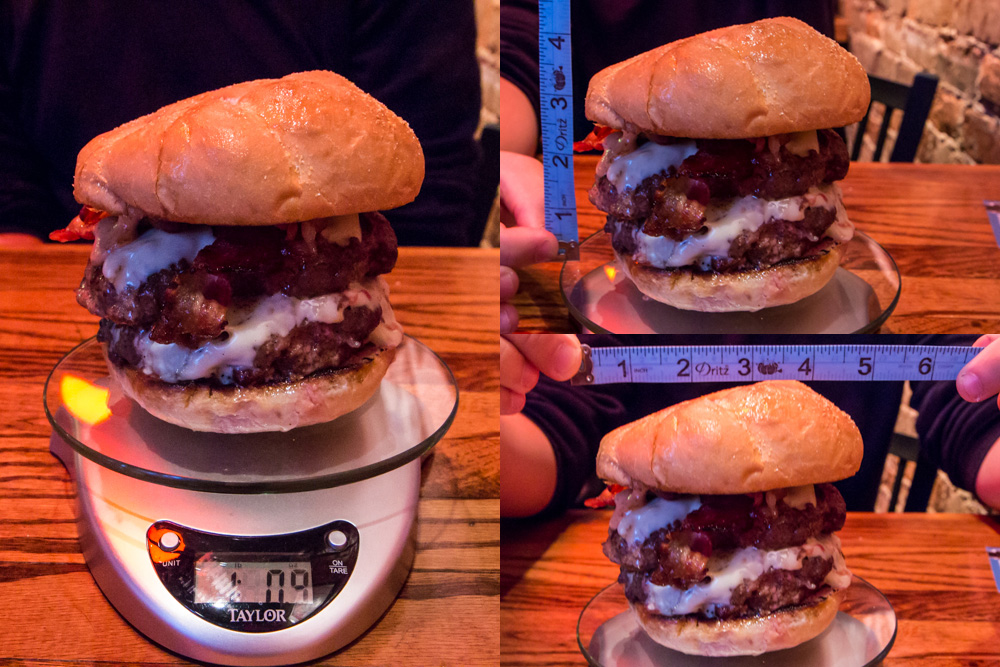 Official Weight:  1 pound .9 ounces
Official Diameter:  5 inches
Official Height:   4.5 inches
Cost: $ 8.99 ($1 more for add-on side)
Cooked to order: IT WAS STILL MOVING.
So if you have been reading the Charlotte Burger Blog since the beginning 4 you might remember me always getting a burger that was a double. Double patty this, double patty that. And if you look through the many photos and videos you can see the progression of me gaining weight. So lately this year I have been getting just a single patty every time we go out 5. But when I saw the description of this burger, I just had to order it. I mean, it felt like they were daring me to eat it. And I am not one to back down from a fight 6. Little did I know, that this was going to be a bout of the season for me.
Round 1: Before I ordered my burger I noticed the disclaimer warning me about consuming undercooked or raw meat. That's good sign number one. Number two came in the form of the waitress not skipping a beat when I told her I wanted mine "as rare as possible" and she even threw this back at me: "the only way to eat it". I think I am in love.
Round 2: The burger came out looking amazing. It was huge with 2 patties and had two nice slices of white American cheese that covered all of the meat. The bread was artisonal and looked like it was freshly baked that morning. The bacon was super thick and had the right amount of floppiness to it. Now all there was to do was to take a bite.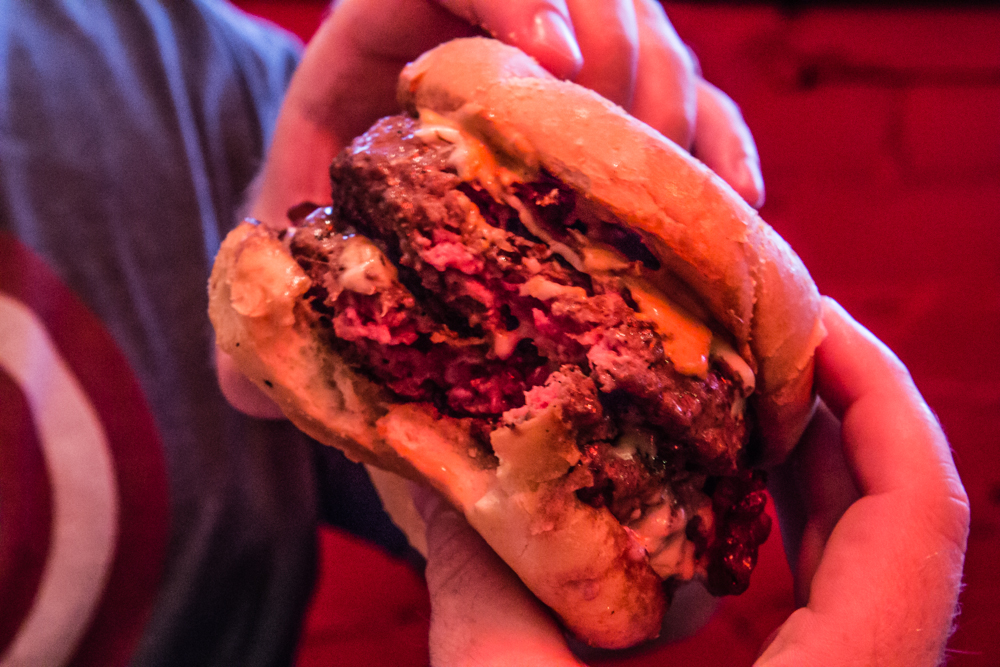 Round 3: Well you ladies and gents were right. This burger was perfectly cooked. This burger must have had the rarest patty I ever had 7. And there wasn't just one of them. There were two. It had an amazing taste to it that was accented with lots of pepper. The bacon and cheese just added that extra bite that this burger didn't really need, but was welcome. The artisonal bun didn't quite hold up to the blood pouring out of the patty, but it made do. There was a lot going on in this fantastically-made burger.
Round 4: Did I mention the weight of this burger? No? Oh, well… this burger weighed in at 1 pound .9 ounces.
Let me say that again. 1 POUND .9 OUNCES!
Yes, this is the biggest burger to date on the Charlotte Burger Blog. It was so big that I, Angus, could not finish it. And believe me, that's saying something. Now excuse me while I lower my head in shame.
Burger Rating: 4.6
Other Food
Jack Beagle's had plenty of other food for you to try. Such as wings, hotdogs, steaks, and sandwiches. I always love it when a restaurant goes with their theme and makes cool little menu names for different things. They called theirs apps Beagle Bites and their hot dogs Jack Rippers (probably the coolest name you can give a hot dog 8). They even had a whole section devoted to different types of mac and cheese. Awesome.
Oh and their fries were waffle. We like those.
Beer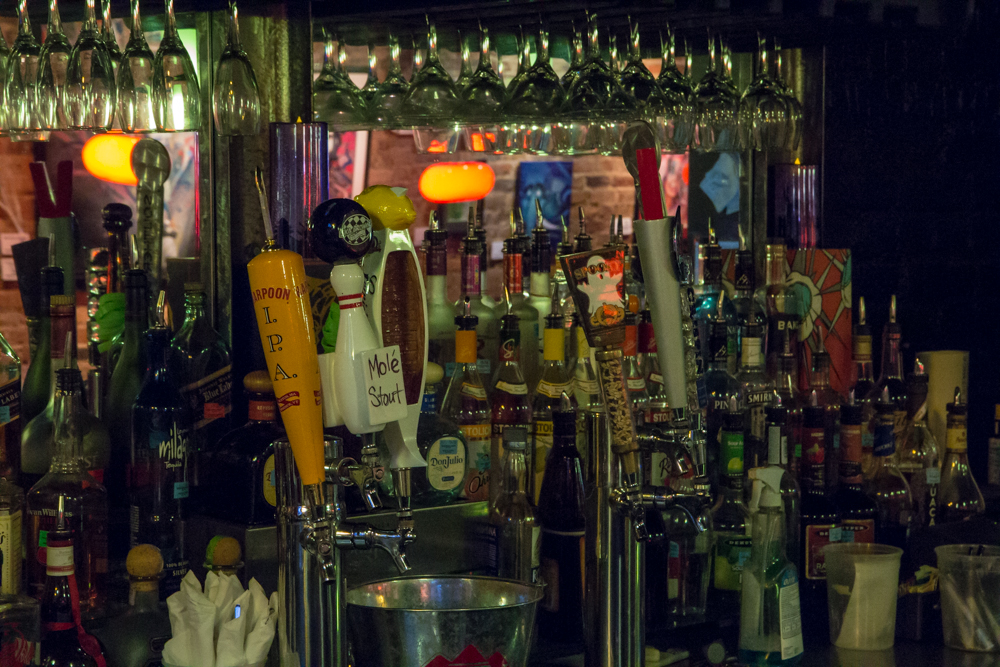 Jack's has an extensive bottled beer list ranging from local and regionals to lesser known nationals. They had a limited draft selection (looked like they only had seven) but they filled them with less known craft breweries like Ska Brewing's Mole Stout and Blue Mountain's Spooky.
I wonder why they didn't have any locals on draft, especially being so close to three of them. Maybe it was for that exact reason. People can just go straight to the brewery if they wanted to since they are so close.
Beer Rating: 4

Atmosphere
Like I said before, the outside was totally lacking in style and identity, but that was a full 180 from what was inside.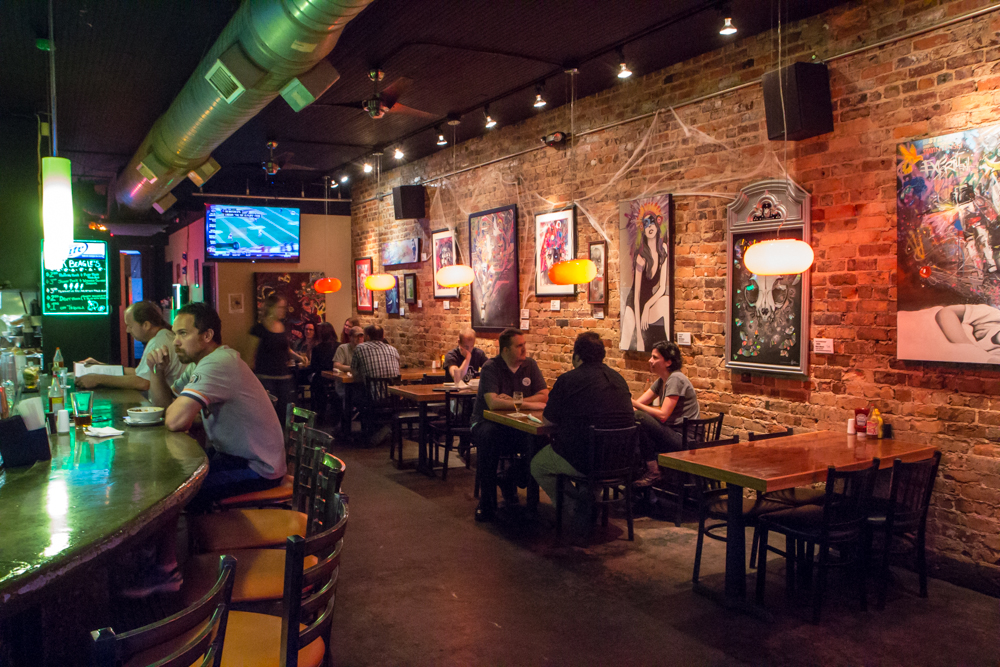 Jack Beagle's had a nice industrial look that you find in posh uptown spaces (with the exposed brick and duct work), which even moved into the bar itself being made fully out of poured concrete (freakn cool by the way). There was local art hanging on every free space of the wall, which gave a place for artists to showcase and sell their work. I felt that the few televisions they did have took away from the aesthetics a bit, but it is a bar after all.
We were about to leave when I noticed a waitress walk out the back door with a tray full of food. Either they do car hop service or they have a back patio. We went to investigate, and this is what we found: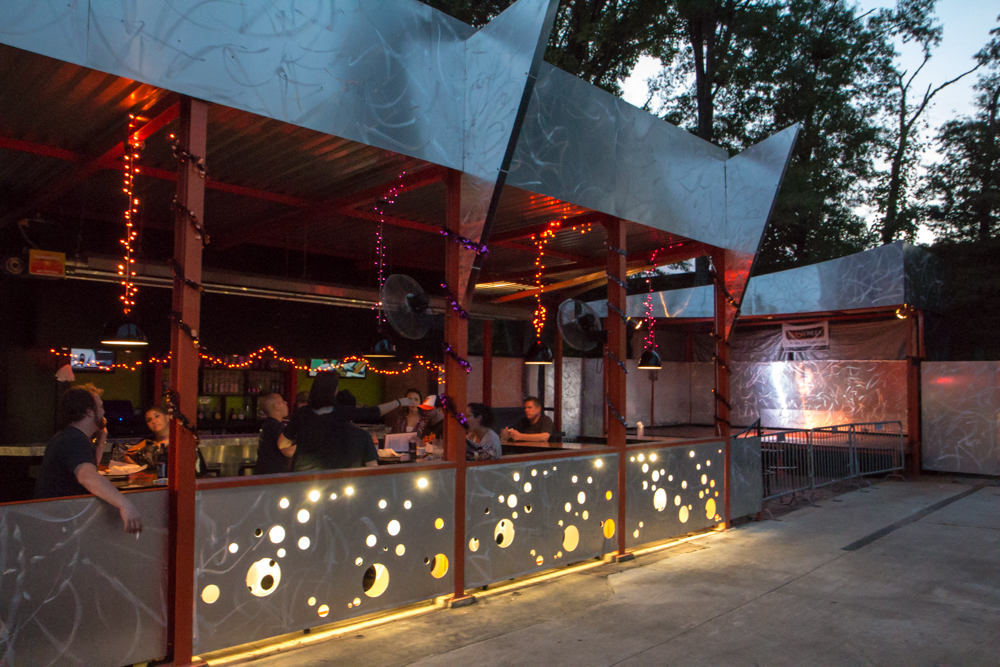 There was a full outdoor dining area/amazing place! Included was a fully stocked bar with taps and an awesome outdoor stage.  It was a covered patio with fans, heaters and lights, so it was good all year round. There wasn't a band playing there that night, but we could tell that that staged had been rocked and rolled! 9
Oh and we saw this little mural (that happened to be painted on Jack Beagle's) that you might remember making a cameo in one of our magazine articles.
Conclusion
What was your favorite thing (non-food) about Jack Beagle's?
Probably this painting by Matt Moore.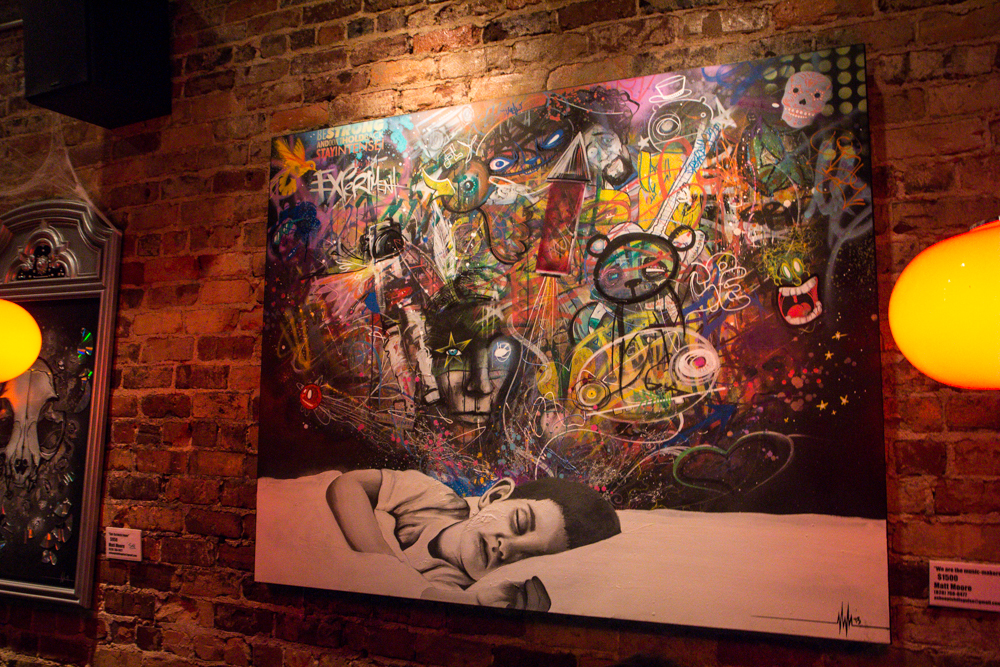 Would you eat here again?
 Yes. Totally.
Next time you come by, what will you order?
Big Bear Burger. I might even finish it next time.
Does Jack Beagle's earn the Charlotte Burger Blog Seal of Approval?
Jack Beagle's has been touted that they cook a burger right every time. Well, with their excellent ingredients and toppings as well as a very cool place to hang out, they only had to cook my burger right one time to earn their reserved spot on our Seal of Approval.
Signed,