Location: 2000 South Blvd, Charlotte, NC 28203
Website: www.bigbenpub.com
On February 14, 2010 Big Ben's Pub on Providence road received a cruel Valentine's day gift. It burnt to the ground due to an electrical fire. I had been there a few times before, for both trivia and dinner, and always found it charming. After all, you see a Irish pubs everywhere, but there are few British pubs in the Queen City 1.
Big Ben's reopened later that same year, but for whatever reason I had never made it out to the new location. Recently I decided to stop by and see how things were going for them. One of the key questions I had was the extent to which the place would be British, so I didn't remember from my previous visits. Also, is the British theme used as kitsch, or does it seem authentic? And how would I know anyway, I've never been across the pond.
There was only one burger option, the Palace Burger, named after, one assumes, Buckingham Palace 2, so that's what I asked for. A short while later it arrived with a Union Jack staked through the patty.
Here's the Tale of the Tape:
EXHIBIT A: PALACE BURGER
(with lettuce, tomato, onion, cheddar cheese, English bacon, and a wally)
Official Diameter: 4.75 inches
Official Height: 3.8 inches
Cost: $9.25 (English bacon and cheddar cheese were an extra $1.75 and $1.00 respectively) Bringing the grand total to $12.00
Cooked to order: Not for me, at least
When the server asked if I wanted English Bacon or American Bacon, I didn't hesitate. I'm at a British pub, I want the English bacon. Of course, I had no clue what the difference was, but I asked him as he dropped by burger off. He said he's less fat and more meat. Okie dokie. I think that means it's basically ham. That's fine. Also, I didn't know what a wally was. I'm fairly sure that was the pickle. Everything else on it was standard fare. The cheese was the most remarkable aspect, as it was thick and melted across the bun and delicious.
The burger itself was fine, but lacked distinction. I'm sure it's on the menu to seem more safe to people who might otherwise be reticent to order bangers and mash. It was cooked too well done, but I've been assured that's the way they do it in England anyway due to the fear of Mad Cow Disease. So, even if it wasn't a tasty culinary choice, it was perhaps authentic.
Other Food
Big Ben's has plenty of traditional English food, from the previously referenced Bangers and Mash to Scottish Meat Pies, to the Welsh Rarebit 3. I'll admit, I've not been nearly adventurous enough when I've eaten here before. The next time I stop by I vow to not get a burger, which I suppose is strange for a burger reviewer to say, but I'm sure they take more pride in their other options 4
Beer
Naturally, they have several British options for beer. On tap you can get Boddington's, Smithwick's, and Old Speckled Hen (which are all uncommon to find on tap). In the bottle, you can get several options from Samuel Smith's brewery out of North Yorkshire or, my choice that day, St. Peter's Organic English Ale, out of Suffolk.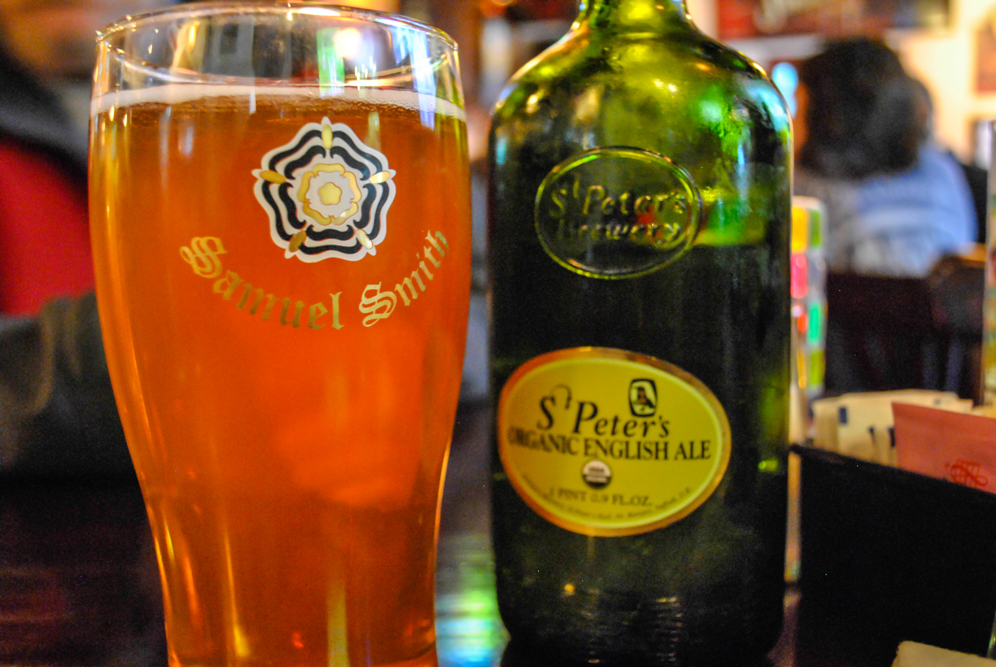 Of course, they had other options with decidedly less stiff upper lip, such as Delirium Tremens, Fat Tire, and OMB's Copper.
Beer Rating: 4

Atmosphere
I liked the new space, although it seemed less intimate than their previous location. They had some interesting British things here and there, including flags and pictures of the Queen. I really liked the outdoor space at the old location, which has not been replicated here. But, at least they still have a British phone booth outside. 5
Conclusion
What was the most British thing about Big Ben's Pub?
The Beefeater, pictured here. As opposed to the beef-eater taking the picture. 6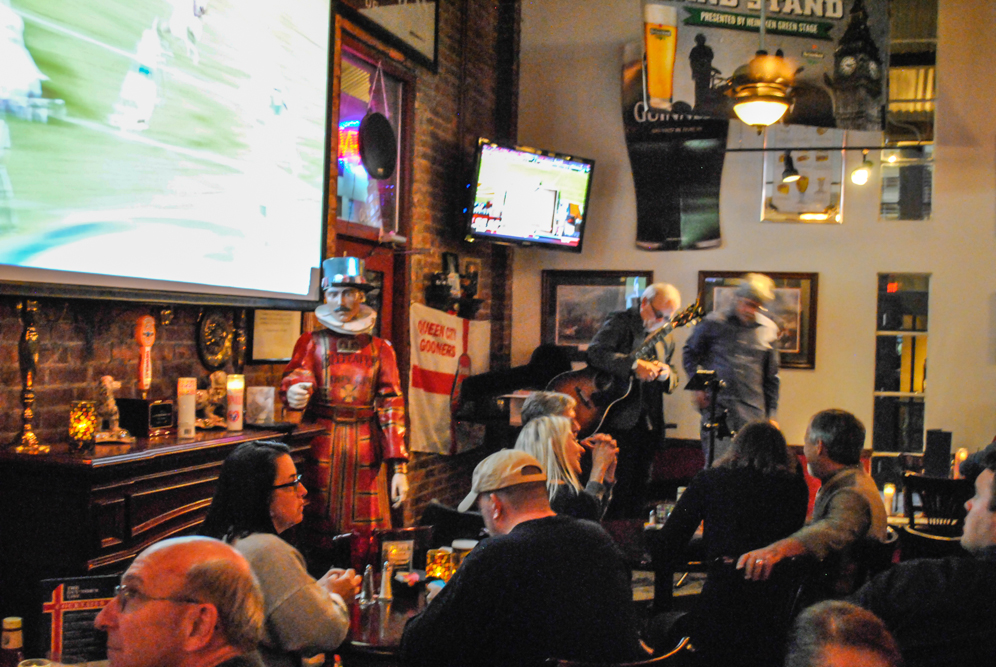 What was the least British thing?
The fact that they were showing American college football on the telly.
Will you come back here again?
Absolutely. Actually, I want to come back for trivia, since they host that once a week.
Does Big Ben's earn the Charlotte Burger Blog Seal of Approval?
The burger wasn't high enough quality to warrant the seal of approval, yet we would certainly recommend this restaurant. Other food we've had here has been quite good, and we appreciate the British theme.
Signed,