Location: NODA BREWING 1,  2229 N Davidson St  282051
Earlier this week we ran an interview with Andrew Lackey, one of the owners of Auto Burger and Fry Guys. To read that click here.
Hereford: When I think of food trucks, I think of the opening intro to the A-Team.
If you're hungry….

If no one else can help….

And if you can find them…

Maybe you can eat at: A Food Truck. 2
Food trucks are more than just someone delivering food–they are full kitchens on wheels–and they have become quite popular in the Charlotte region lately. Apparently, we're just now catching up with some of the other big cities in the country. If you've never eaten at one, they might not be what you expect.
Angus: I grew up eating from food trucks in California.. Well, okay "food trucks" might not be the right phrase. They were more like taco shacks on bicycle wheels. Nonetheless, it was really awesome having a roaming food distributor that you would see all over the city. I would find tacos outside my school, burgers and hotdogs by the baseball park, and Santa Maria Style BBQ 3 at every corner on Broadway.
I know what some of you are thinking. What type of food is going to come out of a truck? Could it possibly be good? Can I trust it? I mean, I don't normally trust people trying to give me food from the back of a van.
Hereford: We're here to tell, yes, it is good. Yes, you can trust it. Just don't let them lure you inside.
Angus: Charlotte has now more than 15 food trucks roaming the city providing different types of cuisine. These trucks include The Tin Kitchen which provides creative forms of tacos, The Herban Legend 4 which puts their spin on American style food, and Cupcake Delirium, which creates awesome gourmet cupcakes.
"Nothing better to cure a hangover with than a fried egg on a burger." – Something Hereford would never say.
Hereford: Obviously, there's a lot of great things going on in the food truck industry. But, the one we were excited about, was the one dedicated  to burgers–the Auto Burger and Fry Guys. (You can find out more about guys behind Auto Burger by reading our interview with one of the owners, Andrew Lackey, that we ran earlier this week.)
We caught on their Facebook page that they were going to be at NoDa brewing on a Wednesday night and we realized what a great opportunity this was. We could get a great burger, and at the same time get a pint from both NoDa Brewing and Birdsong Brewing (since they're right next door to each other).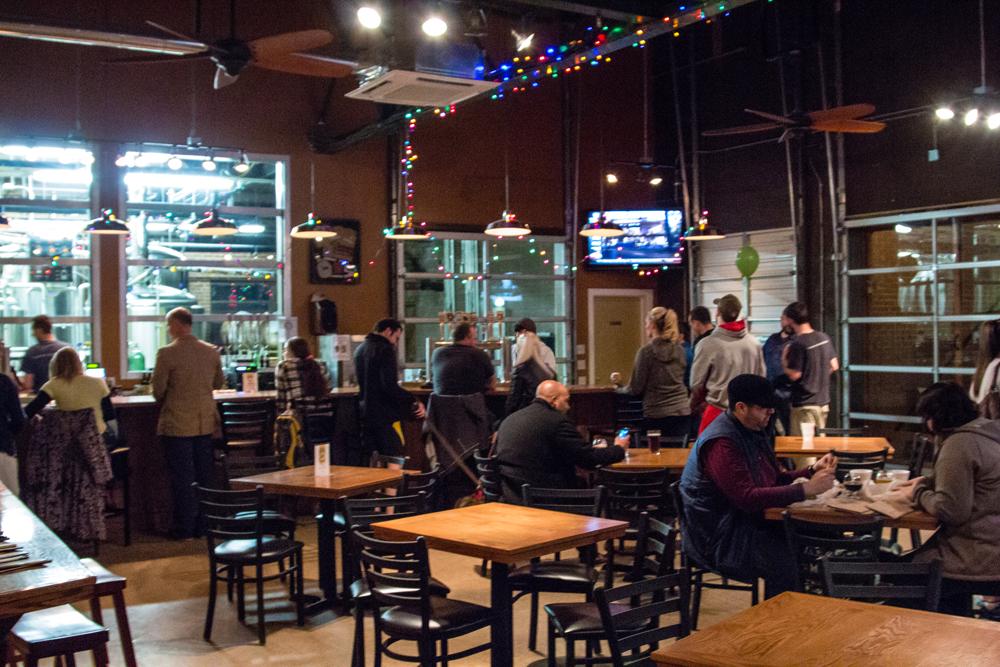 Awesome place to hang out but a little early on the Christmas lights…..or a little late?
Angus: We were super pumped since this would be our first time at either brewery. I was particularly excited to stop by NoDa Brewing so I could get a Hope's Stout.
If you don't know about this beer, it is brewed in memory of Hope Stout, a girl who inspired so many around her by giving up her wish from The Make a Wish Foundation. Before she lost her courageous battle with cancer, she saw that the wishes of 155 children behind her were granted.
In August 1, 2012 NoDa Brewing debuted Hope's Stout in what would have been Hope's 21st birthday. Now we don't know if she would have enjoyed a craft beer on her birthday, but I for one would have bought the first round and given a toast to her.  To find out more about Hope and her story please visit http://marchforthwithhope.com/.
Hereford: So, here's the tale of the tape:
EXHIBIT A: BYOB (Chef's Choice)
(with Custom 5 Cheese Blend, Bacon, and Raspberry Aioli)
Official Diameter: 4.5  inches
Official Height:  2.5 inches
Cost:  $6.50 (Plus $2.75 for bacon and cheese)
Cooked to order: Yes, ordered medium
Angus: Food Trucks as you can imagine are built so that you can just walk up, give your order, pay, and walk away with an awesome meal. But, we came at a busy time. On Wednesday night the brewery hosts the NoDa run club, so they were preparing for dozens of runners who would also be ordering. Also, they cook everything fresh, so it takes a little longer than some other food trucks. But, it was no problem. We went inside, got a pint, and it wasn't too long (around ten minutes) and our burgers were ready.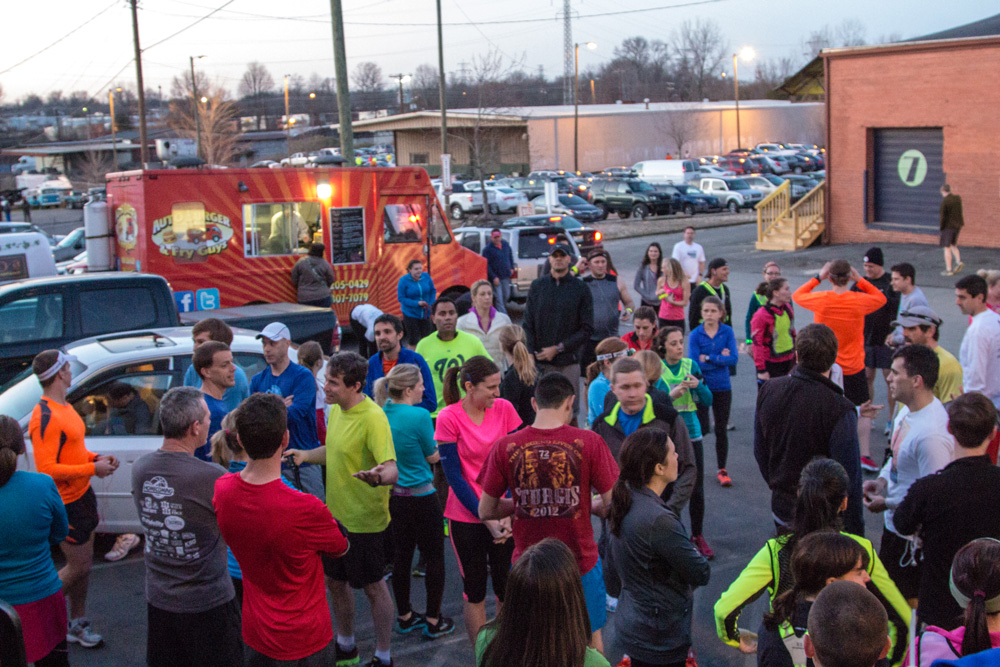 "I know, lets all go for a run!" – Something Angus would never say.
I ordered my normal bacon cheeseburger, but I left it up to Erik, the chef, to choose the toppings. He suggested the 5 cheese blend (which includes goat cheese, blue cheese, Monterrey jack, parmesan, and cream cheese), applewood smoked bacon, and raspberry aioli.
Now, about that aioli. I'm  not going to lie, I was scared. Like, girl-answering-the-phone "what's your favorite scary movie" scared. I'm a traditionalist when it comes to bacon cheeseburgers, so having something raspberry on it seemed on. Raspberry on a, say, salad, okay. Raspberry in yogurt, I'm all for it. But I wasn't sure about it on the burger.
When I first got the burger, I noticed the abundance of cheese from the 5 cheese blend and the amazing looking bacon. This bacon seemed straight from the butcher, and was cooked to the perfect consistency of floppy. And was extra thick. The cheese blend was a little overpowered by the bleu cheese. But I guess, bleu cheese is going to overpower anything. While it was the strongest flavor, I did catch hints of the cream cheese and Monterey Jack.
Now, that raspberry aioli. Because of the bleu cheese, it wasn't that strong of a presence. It was an aftertaste of sweet that you don't normally get from a cheeseburger, and it was pleasantly, surprisingly, good.
EXHIBIT B:  Californication Burger
Official Diameter: 4.5 inches
Official Height: 3 inches
Cost:  $8.75
Cooked to order: Yes, ordered medium-well
Hereford: This was one of the most innovative burgers I've ever had. The burger was seasoned perfectly. They just started grinding their own beef this week, and you can taste the difference. It's amazingly fresh and juicy. The Californication has an interesting mix of ingredients: the burger was spicy from the Monterey Jack cheese, but was offset by the sweetness of the pineapple. The pineapple was a great compliment to the extra savory-ness of the Canadian bacon 5. Everything worked so well together. Sometimes I try special burgers that seem to be thrown together at random, but everything on this burger was chosen with intention and worked harmoniously..
This was a gourmet burger, one of the best I've had in town. I didn't necessarily expect that from a food truck, but there you go.
Burger Rating: 4.8
Other Food
Hereford: After our interview, Andrew told us that he feels that the best thing for a food truck to do is to specialize. As such, all they do is burgers. Their menu board listed six burgers (as well as the Build Your Own option), and they also have specials. They can pretty much make you whatever you want. My girlfriend came with us and when she ordered her burger, she asked Erik if they had any pepper jack cheese. He said no, but that he could make some if she wanted it.
Angus: That's like a superhero power in my book. They pretty much make everything they can. The fries are made in-house, as well as other menu options such as the homemade pickles and the homemade spicy ketchup (which you have to try).
Beer Rating: N/A They're a food truck not brewery but Noda (as well as Birdsong) does have some awesome brews on tap.
Atmosphere Rating: 4 This rating applies to NoDa's Taproom, not Auto Burger. Obviously.
Angus: One of the things I liked about NoDa's taproom was the local art. I know it was local because Angus knows several of the artists. They have a nice, chill taproom with local magazines and books for your peruse as you drink, say, a Ramble on Red (which I had). I
Hereford: It was quiet when we got there, but it didn't stay that way long. Besides the runners, which we mentioned earlier, there were a lot of people there with dogs. (There was some overlap in between the two groups.) They all seemed like great dogs. Even though we were food right there next to them, none bothered us. Although I'm glad I don't have allergies. 6
Conclusion
What was your favorite thing (non-food) about Auto Burger and Fry Guys?
Angus:I love the mobility. I felt like I could call them and get a great burger right there at my house.
Hereford: Well, they're not that mobile. But, most of the week they're all over town. If they are not at place near you today, they might be tomorrow. And that's pretty cool.
Would you eat here again?
Angus: Absolutely. I also want to try some of the other food trucks in town, possibly on Food Truck Friday. If you don't know about Food Truck Friday, you can head to Historic South End from 5-9 on Fridays 7  where five or six trucks set up (including Auto Burger). You can also buy local beer from the Common Market and a great, interesting dinner.
Next time you come by, what will you order?
Hereford: I definitely want to try one of their specials like Andrew mentioned in the interview. These guys are trying some interesting things with burgers. Possibly, the Latin. Or, really, anything else he designed for that day.
Does Auto Burger and Fry Guys earn the Charlotte Burger Blog Seal of Approval?
Hereford: We're proud to say that yes, they do. Not only are they nice guys, but their burgers are fantastic. Be on the look out for them. You never know where they'll be 8.
Signed,