If you follow any local food blogs on Twitter, you probably saw something on Saturday about Macy's and/or grilling and/or celebrity chef Cat Cora. That's because the marketing company Everywhere contacted several local bloggers and offered a small amount of money to cover their Great American Grilling Guru Sizzle Showdown event which happened last weekend at Macy's at SouthPark Mall. It's a live cooking competition between three home chefs as they pit their best grilling recipes against each other. It would have been the perfect thing for us to cover, if they were grilling burgers. But, they weren't going to be doing that. Still, I like money and had a free afternoon and it honestly sounded like it would be fun. All I had to do was tweet about it multiple times on Saturday and post this review, which is allowed to contain my own opinions.
So here I am, posting this, meeting my contractual obligation.
Actually, I have an official FTC disclaimer which I must include with my post, so here that is:
I am a member of the Everywhere Society and Everywhere has provided me with compensation for this post about Macy's Culinary Council. However, all thoughts and opinions expressed herein are my own 1.
According to Macy's, their Culinary Council, "serves to inspire the way Macy's customers shop, cook and eat at home. The chefs are both ambassadors and instructors, providing expert culinary advice and leading cooking demonstrations at Macy's stores, with the aim of teaching customers how to cook and shop like a master chef."
That's a bunch of corporate claptrap and I'm not 100% sure what it means, but I'm fairly certain if you don't buy something from Macy's kitchenwares department then they haven't done their job.
The Culinary Council has some renowned members, including Rick Bayless, from Mexico: One Plate at a Time, Marc Forgione from Iron Chef America, Stephanie Izard from Top Chef, and Wolfgang Puck from being Wolfgang Puck. Cat Cora, also from Iron Chef America, is a member and was the judge of the regional competition in Charlotte last Saturday.
Seeing Cat Cora in person was definitely one of the selling points of the event. She was the first female Iron Chef 2, and if you watch the show you know how competent and driven she comes across.
Chef Sam Talbot hosted the event. Talbot is a Charlotte native, a contestant on Top Chef, and a restaurateur now living in Brooklyn. He's also a Type 1 Diabetic and has written a cookbook with recipes specifically for a diabetic diet.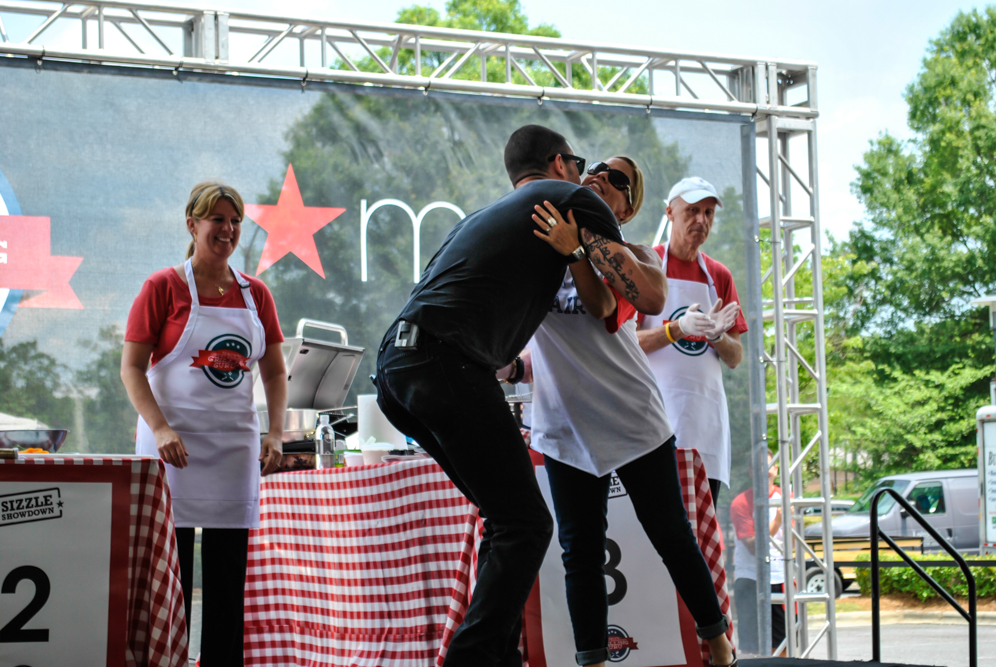 The "Macy's Great American Grilling Guru Sizzle Showdown" 3 is a "national search to find the country's ultimate master of the grill." Contestants submitted recipes and the best were chosen to compete in 6 regional competitions. The winner of each of these competitions goes to New York to compete for a $10,000 prize.
Contestants had one hour to prepare their food. Chef Cat Cora would be the final judge and contestants could bring their food to her for tasting at any time.
Our three competitors on Saturday were Sherri Williams, Josee Lanzi, and Andre Alban, all from Florida. They would be making, respectively, Grilled Thai Lamb Loin Chops, Shrimp & Apricot Stuffed Grilled Pork Tenderloin with Spicy Apricot, and Steak and Potato Sliders, all of which sounded delicious 4.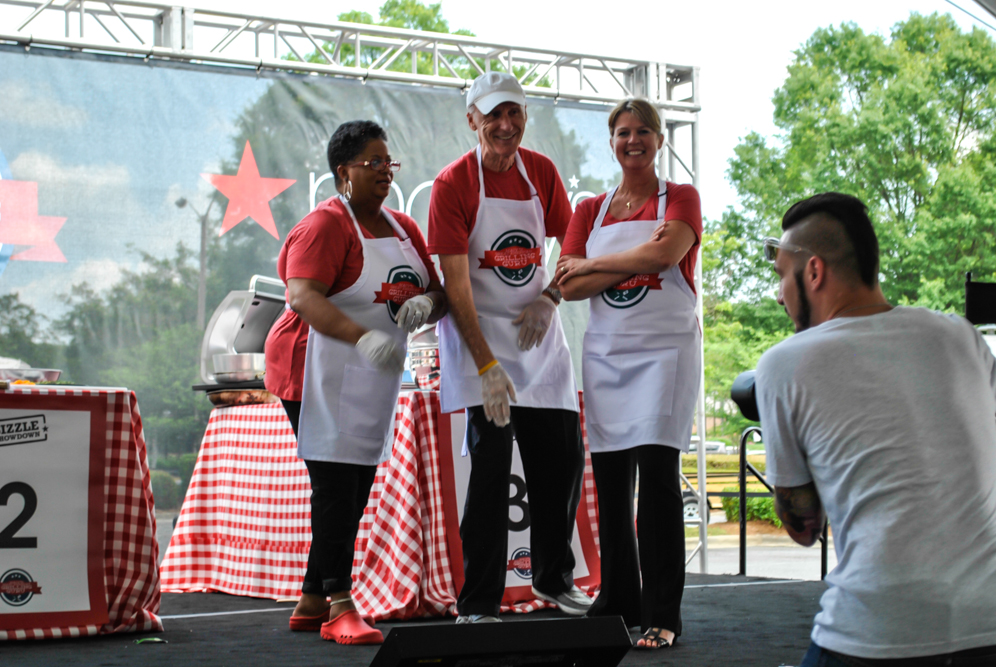 Because of the way the event was staged, you couldn't really see what was happening. The grills were above the viewers and towards the back. Since you had no clue what was going on, it really wasn't like watching a cooking show. Instead, we spent the hour of the show listening to Sam Talbot and Cat Cora talk cooking. That sounds like a disappointment, and it is, but they are extremely knowledgeable and have had interesting culinary experiences. Actually, their conversation would have been worth the price of admission 5.
We were lucky enough to get some food while we watched. Two dishes were served to us, a chicken chimichurri and a taco with pineapple salsa. Cat Cora claimed she made it herself, and maybe she did, but the chance is slim. I don't think that she would have had the time to prepare that amount of food. I'm sure at least it was from her recipe.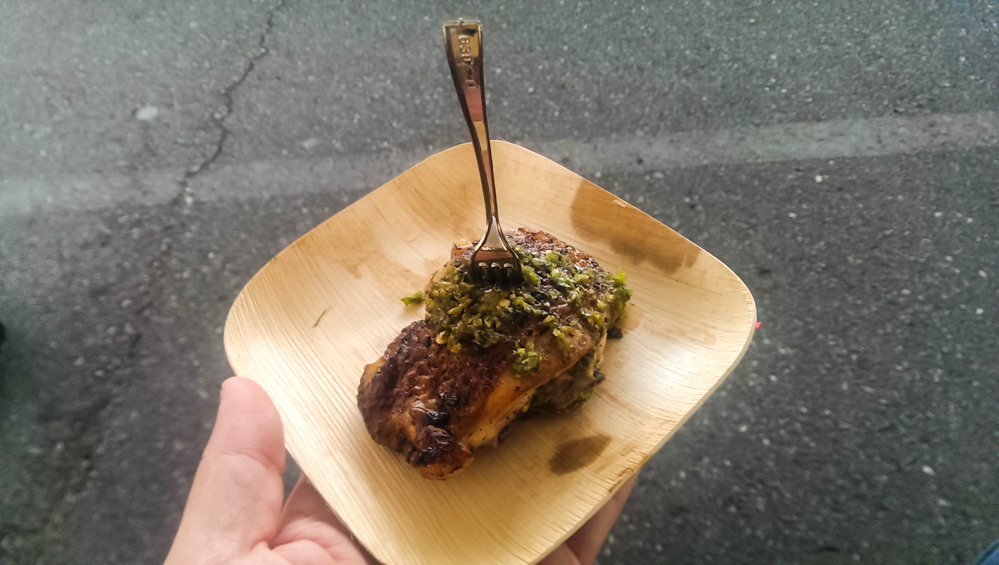 We did not get to taste anything prepared by the competitors. That makes sense—they only had time to prepare one dish. I would like to say more about what they made, but it's hard to write about food I didn't eat 6.
Because the contestants were on stage, you couldn't see their preparations or plating. Once they were done they quickly handed the dish to Chef Cora. She talked about it, but I didn't get to taste it. I always love hearing an expert talk about food, but you lose an essential frame of reference when you can't see it. It was like hearing someone report about a magic trick on the radio.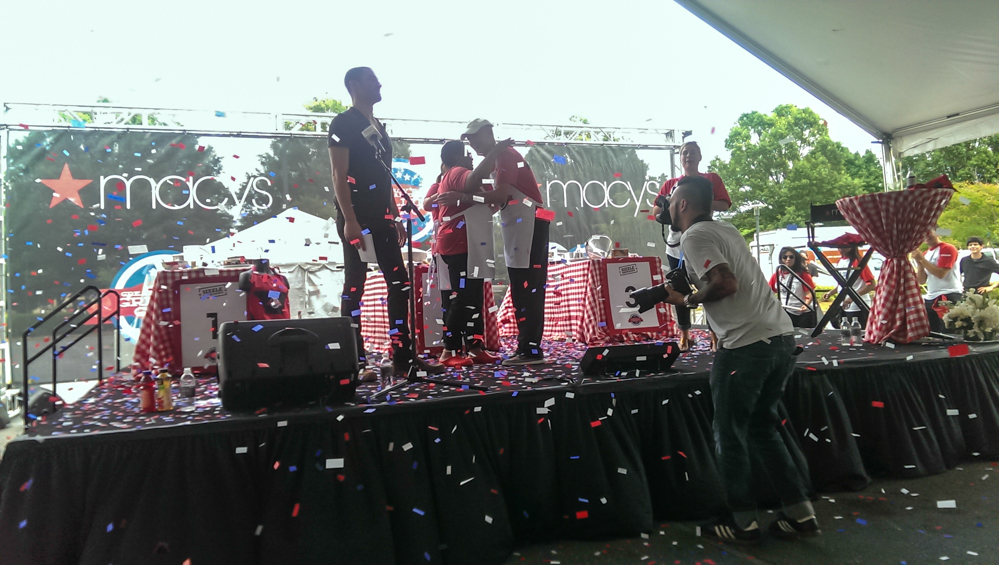 Sherri Williams and her Grilled Thai Lamb Loin Chops won. Chef Cora specifically noted how perfect her meat was cooked and the excitement of the Thai flavor. Williams now heads to New York City to pit her recipe against the other semi-finals winners for the chance at $10,000.
Overall, I had a great time this weekend. While I would have loved a more immersive experience with the competition (even if that just meant seeing more of the actual cooking), it was a wonderful opportunity to hear (actual) experts talk about food. I would like to thank Macy's, their Culinary Council, and Everywhere for this experience.
Signed,

****UPDATE: Sherri Williams, the winner of the competition, posted the recipe for her Grilled Thai Lamb Loin Chops on our Facebook page. It looks delicious. You can check that out here.