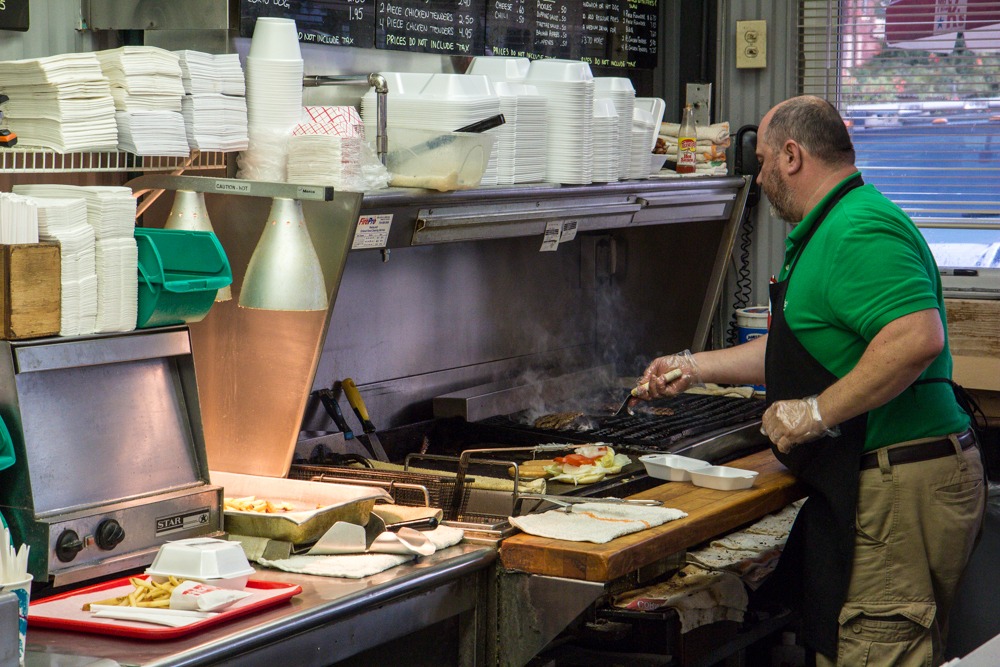 There are few burger joints here in town where you can walk in and grab a great classic burger at an establishment that has been around for close to fifty years. There a even fewer places where the owner and chef greet you by name, know what you want before you order it, and are genuinely happy to see you. That is what you get from George Dizes  at Mr. K's Soft Ice Cream.
We have frequented Mr. K's for burgers even before doing our own review there (just in case you are wondering, yes, they are amazing) and we excited to be able to sit down and talk to George about the history of Mr. K's.
_______________________________________________________________________________________________________
Charlotte Burger Blog: Can you tell us a little bit about yourself?
George Dizes: My name is George Dizes, I'm the proprietor of Mr. K's along with my wife Pamela. Her dad is Mr. K, and he started the business in 1967. Here we are several decades later and we're still going at it. We took the business over in '97, that's when he retired. So he did the first 30 years, and we're working on the next 30. This is as basic as it gets, we're as no frills as it gets. You know, we're referred to as a "Mom and Pop" establishment. The first generation of Mom and Pops have retired, the second generation is in place, and we go from there.
Charlotte Burger Blog: Take us back to the beginning. I've read a little bit about it on your website, but what was Mr. K's, or Zesto's, like back then?
George Dizes: At the very beginning in 1967, not in this location but where our street sign is, stood a 10 ft. round structure called Zesto's and all they served was soft serve ice cream. My father-in-law had moved from Chicago to Charlotte and he was looking for a place to start a business. He left the dry-cleaning business and got into the restaurant business. He found Zesto's on the corner, it was for sale. He took it over and he left it like that until 1971. The first thing he did, though, after he took over was he added Coca-Cola and hot dogs. And then this building that we're in right now went up in 1971 and little has changed, in or out, since then. He changed the name to Mr. K's and he put the hamburgers and the onion rings and all of that on the menu.
He kept it going through thick and thin. The first few years were very, very rough. There was nothing in this area. And what there was, from what I hear, it wasn't a very pleasant neighborhood. It was a rough neighborhood. This was the seedy side of town. A lot has changed since then. So it was a struggle at first, but they persevered and I think it hit full throttle just around the time that Hugo hit, n 1989. Believe it or not, I've been told this story many times, it's a part of Mr. K's lore, we were the only restaurant within miles and miles and miles to not lose power. Call it a blessing from God, I don't know, but people were just coming in droves. My wife at the time was living in Raleigh. She had finished school at NC State and she was still living there and my father-in-law would call her to bring supplies. So she would make the trip from Raleigh to Charlotte every day.
Charlotte Burger Blog: Wow.
George Dizes: Her car was crammed full of produce, milk, whatever she could get her hands on at the supermarket. She would make the trip down, unload, help out, go back, and do it all over again. This went on for a period of close to a month before things were back to normal. I guess by then people just got to know us and said, "they're good and they were there when we needed them." That took us through the 80's and we just moved on into the 90's.
The last ten years in this neighborhood we've seen a major transition. We've gone from that seedy neighborhood to a little better neighborhood and now I think we're known as an upscale neighborhood. The good side to that is the refurbishing and the upkeeping of the neighborhood has been great. There is much more housing and it's been freshened up. The down side for that is that right behind us, all these little 1400 square foot homes that were there have been replaced by these small little mansions. We've lost touched with those families that grew up back there. They knew us, we knew them. We knew their children, we knew their grandchildren, their aunts, their uncles. It was like a family thing. And with those families that lived there from all those years, let's be honest, the plus side is they were mortgage free and they had a lot of disposable income. They grew up around Mr. K's, it was home, and we saw a lot of revenue from them. They left, the new people came in and it's a long process to learn these people and for them to learn us and to get to know them on an individual basis.
Charlotte Burger Blog: So, clearly you came into the Mr. K's family through marriage, but how did you get involved in the actual business side of things?
George: I'm originally from Toronto, Canada. My wife and I met up there when we were both in our teens. So we've known each other for a very long time. We got married in 1997 and her father just retired and she had taken it over with her brother. The two of them were operating it, and then I came onto the scene. We had to decide, should we stay here or should we move to Toronto. I ended up coming here. My brother-in-law had always dabbled in real estate. As time went on, that passion just grew in him and he decided would pursue that full time. That just left Pam and myself here, and we've been running it ever since.
Charlotte Burger Blog: Are you the main reason for the Panthers memorabilia in here?
George: Oh yeah, big time. That's about the only major change that we've made. I came to Charlotte at basically the same time the Panthers came to Charlotte, so I felt a connection. I grew up with the CFL [Canadian Football League] and the closest team that I had was the Buffalo Bills. I was a Bills fan the years that they went to the four straight Super Bowls. But when I came here, there was an instant attraction to the Panthers, especially with the stadium being so close. It was so accessible. You can be at the stadium in 15, 20 minutes so I got to go see a lot of the games. I became a big fan. And Mr. Richardson used to come here an awful lot. We got to know him and he's a wonderful person. Ever since he's had his heart transplant, he hasn't come around much more.
Charlotte Burger Blog: I guess he doesn't need to be eating too many burgers now.
George: Exactly.
It was funny, the first time he came by here, the first time I met him, I was in the back making onion rings because we do those by hand. He just walked back there like he owned the place. I'm there, working at my work station, and I look up and I see this giant man and I'm like, "Holy crap, that's Jerry Richardson!" He came in as if he'd known me his entire life, said hello, and I said hello. And he said, "I used to be in the restaurant business, you know."
I said, "oh yeah, I heard something about that."
We started talking about the restaurant business, and this and that. I never talked football with him. I figured he gets enough of that, you know. We became friends and he's been a friend ever since. We see a lot of his front office staff and they're wonderful people, they treat us very good. Some players have been by, Coach Rivera is another one who frequents us and he's another wonderful human being. He's a great guy. John Fox used to come in, so it's been a little hang out for the Panthers. This is my dedication to them.
Charlotte Burger Blog: That's fantastic. Can you talk to us about your menu?
George: The menu kind of grew with the business and with the change in clientele. When I got here 16 years ago the menu was still pretty basic. You know, the burgers, the fries, the barbecue sandwiches, etc. They had just introduced a garden burger. It's still one of our most popular sandwiches today. We added a grilled chicken club, the homestyle burger, and a few more items. We took some items down that weren't selling. We had salads before, and they started off very popular. But, I guess it was a fad. We some plate, but people just don't ask for it. We had gyros, which people took to at the beginning and then afterwards kind of lost interest in after that. You have to carry products that sell. Especially with the salads, because we'd make them fresh every morning. It got to the point where we were wasting more product than we were selling.
We introduced a homestyle burger about 5 or 6 years ago, which is another very, very, very popular item. That was me, just fooling around in the kitchen one time when we were making burgers in our back yard. You know, you get creative and you put a little bit of this, a little bit of that, and I said, "you know, I'm going to try this at 'the office' and see how it goes." And it took. And it took and it took and it took. We have this construction crew, they're working just down the street. There's a lot of construction going on in the neighborhood. They come in about 2 or 3 times a week and they'll get like 8, 12, 14 homestyle burgers to feed the crew. And it's like, wow, incredible.
Charlotte Burger Blog: It is very good. We had one when we did our review and really enjoyed it.
George: You see, the patty that we sell here that Mr. K started out with is the same patty that we sell today. It's a 4 oz, wide and narrow patty. Like a Whopper. When people come in and ask me to describe our burger, I say it looks like a Whopper, but that's where the similarities end. But I'm from up north, I just love a nice fat juicy burger. It gave me a chance to get something in there that I could literally sink my teeth into, and it's been a mainstay.
Charlotte Burger Blog: What kind of plans do you have for the future?
George: I will be honest with you, totally honest and frank, we are here and we have no plans for expansion, we have no plans for franchising or anything like that. It just takes a lot of time, a lot of energy, and it takes a lot of capital to do something like that. Guys, not a day goes by where somebody doesn't walk in and say, man I wish you were in Fort Mill, I wish you were up at the Lake. You should be in Matthews, you should be in Monroe, you should be here, there, and everywhere. And it's not that we don't want to do it, but part of what separates us from everybody else is the service, the personal attention. For 90% of the people who walk in the door, I know them. Usually, if I see them pull up, I've got it going. It used to be, in the day, Mr. K told his customers if you come in and you don't want your usual, flash your lights. My thing, what I'm telling people is if you ever sell your car, the first person you call is your insurance company and the second person you call is me.
It's a lot of fun. It's a challenge, and you have to be devoted. Because there's a lot of hours that go into it. A lot of people think all you got to do is come in the morning and turn on the cookers and the warmers and there you go. A typical day for me is I get here between 7 and 7:30 am and I don't leave here 9:30, 10 o'clock at night. And that's Monday through Saturday. And even on Sundays, if there's something that needs doing, I'm here.
_______________________________________________________________________________________________________
We would like to thank George for taking the time to sit down with us and to Stephanie Nelson from SBN Marketing for making this awesome interview happen!