Location: 8008 Providence Road 28277
Website: www.cinebarre.com
Being a burger blogger you might not believe me when I tell you that eating burgers is not my first most favorite thing to do 1. It is actually my second most favorite thing to do. The first would be going to see a new flick at the movie theater.
Going to see the latest moving pictures at the cinema has been a burden to many people recently. They complain about the rising cost of tickets, popcorn and concession prices, and the rude people who talk or text throughout a movie 2 In today's world, people would rather download it (illegally) and watch it on their laptops or flatscreens in the comfort of their own homes.
As for myself, I have to respectfully disagree. I think going to the movies is fantastic. It has a lot to do with the communal experience. I love the way the people around you all laugh at a comedic moment or jump at a frightening scene. Movies, I believe, are meant to be a shared and explored with others 3.
So when I found out that there was a place in Charlotte that combined my two favorite things, movies and burgers, I HAD TO GO THERE.
Cinebarre is an establishment that refurbishes out-of-operation movie theaters into a new movie experience where you "EAT great food, DRINK real drinks (the alcoholic kind) and WATCH MOVIES from the comfort of your seat while someone else waits on you".  They have a total of six locations across the country (and a seventh to open soon) with three being in the Carolinas.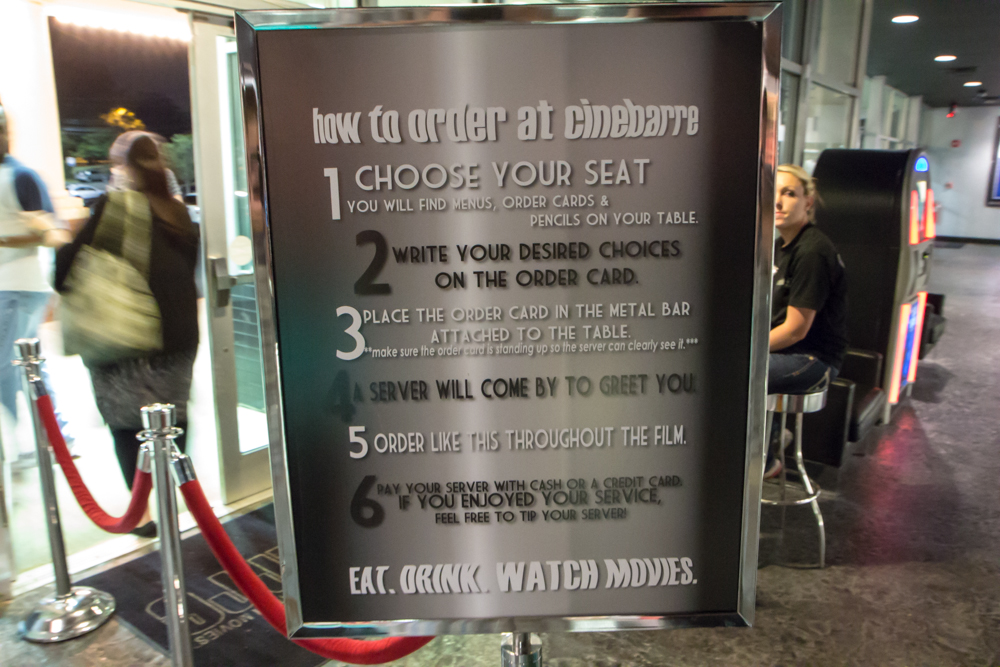 Ordering is a little different here at Cinebarre (where you have a full menu of food and drinks and can order anytime during the movie). But luckily they had signs everywhere that broke the process down for us:
Choose Your Seat
Write Your Desired Choices on the Order Card
Place The Order Card in the Metal Bar Attached to the Table
A Server Will Come By and Greet You
Order Like This Throughout The Film
Pay Your Server With Cash Or Credit Card
Sounds pretty simple. I think we can follow those pretty well.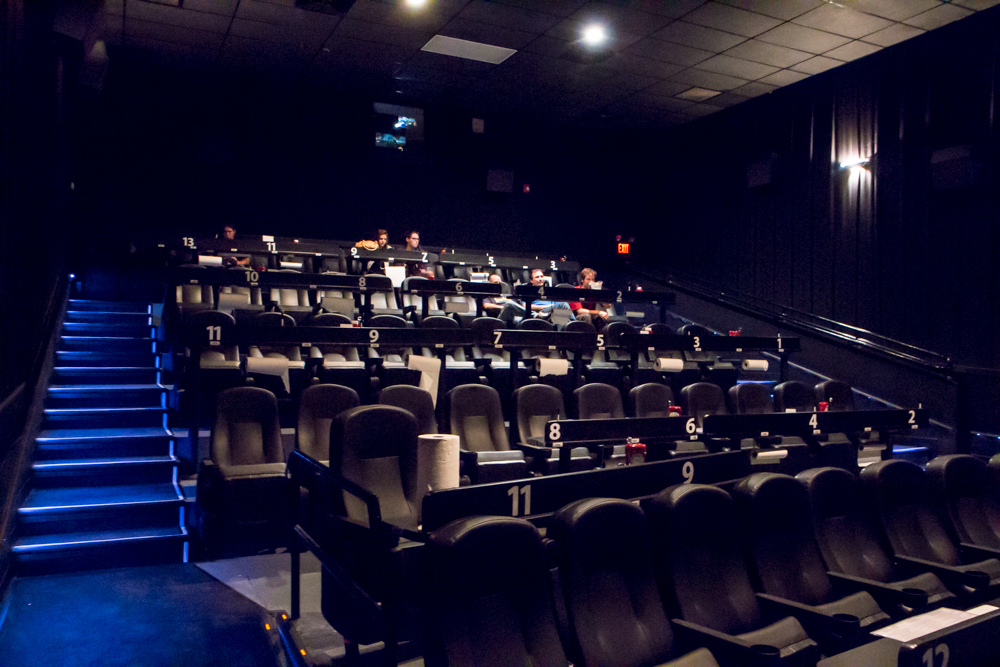 Walking in to the actual theater you notice that the rows a fairly spread out from one another. I think they removed a row in-between each of the existing rows. They did this to give a walk way for the wait staff and to build tables in front of your seat. I was actually expecting "real restaurant" seating, like regular tables and chairs. I think it was awesome that they went with sweet comfortable theater chairs instead. We walked up to the top and found our seats (check) and placed our order card with our desired choice on the metal bar attached to the table (double check).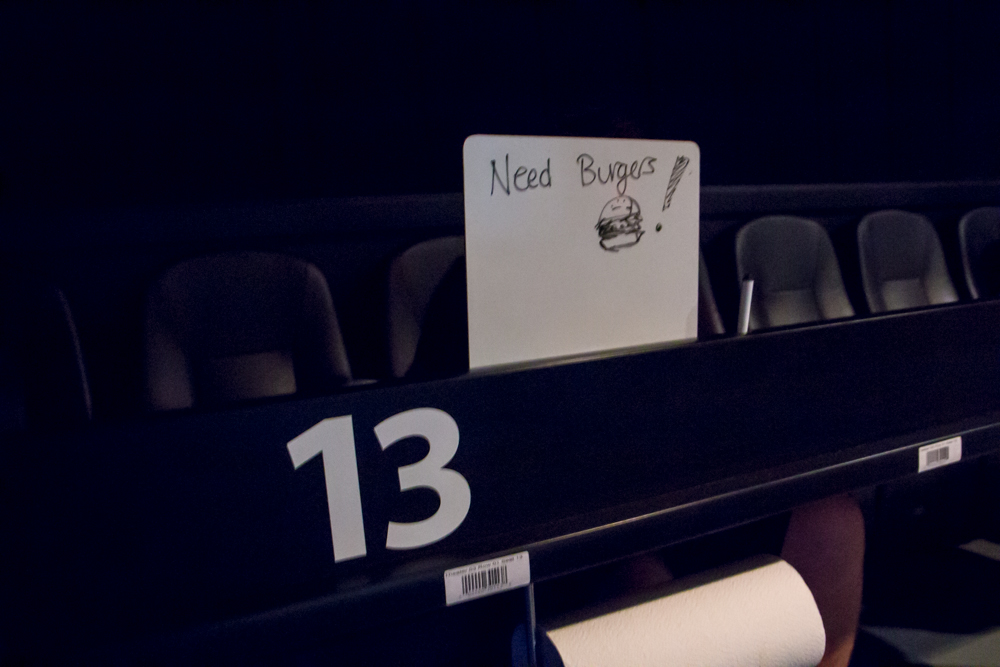 Right now I want you to think of the best server that you ever had. Ok, got it? Now make them have blue hair and tattoos. Good? Now add a little more awesome to that and you will have our server Gretchen. We say this all the time, but we feel that servers get a little freaked when they see us with our scale, tape measure, burgometer, and camera 4. Not this girl Gretchen. She asked what we were all about. We told her. She was pumped. We expressed our concerns about lighting and the camera. She said it wouldn't be a problem. She saw our order card. Wrote it down got our drink order. She was off so she can put our food in before the movie started. Awesome. Kind. Fast. Awesome. Gretchen.
Here's the Tale of the Tape:
EXHIBIT A:  CINEBURGER
(Lettuce, pickles, onions, tomato, chipotle mayo, American cheese)
Official Diameter: 4.5 inches
Official Height: 2.75 inches
Cost: $11 (includes sides)
Cooked to order: Nope
The burger came to us really fast (which makes us believe that it was either pre-made or a frozen patty). There was not much to this burger, except for the sizeable patty. Biting into it it tasted very much just like a "regular" burger. There was a lot of cheese (which I always enjoy) and they used iceburg lettuce (yes!). The bun was store bought, but held up really well. The burger patty itself was well done and didn't have that much way of spices (maybe except for a little bit of salt and pepper). The chipotle mayo was almost non-existent and I could have mistaken it for regular mayo (if I didn't read that it was different).
Overall it was fine burger. Definitely not the best we have had, but also definitely not the worst. I have said this before in my review of Rivers Edge Bar and Grill at the U.S National White Water Center, that these places are what they are first (in this case, a movie theater) and they happen to be a restaurant second. I mean, I still ate every bite of the burger. 5
Burger Rating: 2.75
Other Food
Cinebarre offers other options besides burgers such as sandwiches, salads, lots of different types of pizza, and a nice list of appetizers. What I thought was an awesome touch was the naming convention they gave to their menu. Each item of food was named after a movie (even the components of the menu followed this). For example you can order one of their Mystic Pizzas like the Bull Durham, the Gladiator, or the Italian Job. Or maybe you are in the mood for one of The Replacements (appetizers) such as the Body Snatchers, Goldfingers, or Blade Runners. The only disappointment in this is that the food itself didn't really have anything to do with the movie it was named after.
But what was really cool other than a whole restaurant menu is that they had the regular movie theater fare. They had a nice list of candies, popcorn, and other treats that you can still enjoy while watching your movie, and they'll bring it up to you like any other food. The nachos were very very tasty as well.
Beer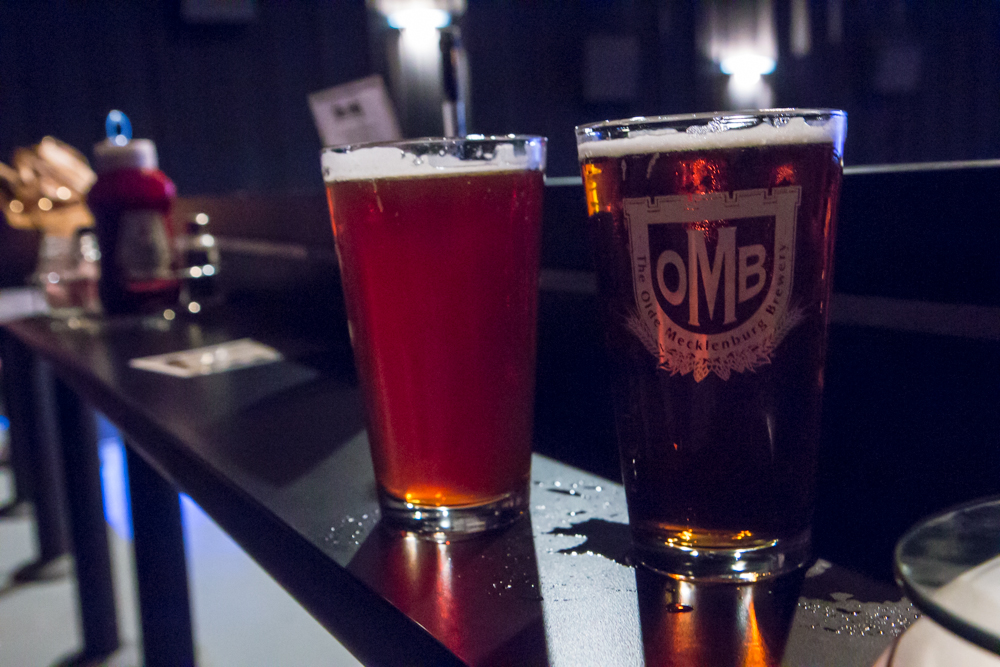 Cinebarre has a lot of local beer on tap as well as in bottles. I especially like it when I see the good ole White Zombie from Catawba Brewing on the list of local beer. I of course got the Olde Meck Copper for my first beer. What ws really cool was that the Cinebarre had its own beer named the Cinebrew. This was created by Big E Ales (Ellersick Brewing Co.). It is a brown ale with a hoppy taste with notes of chocolate and caramel. In my eyes, you definitely make it as a brand when you have a beer named after you. 6
Beer Rating: 3.75

Atmosphere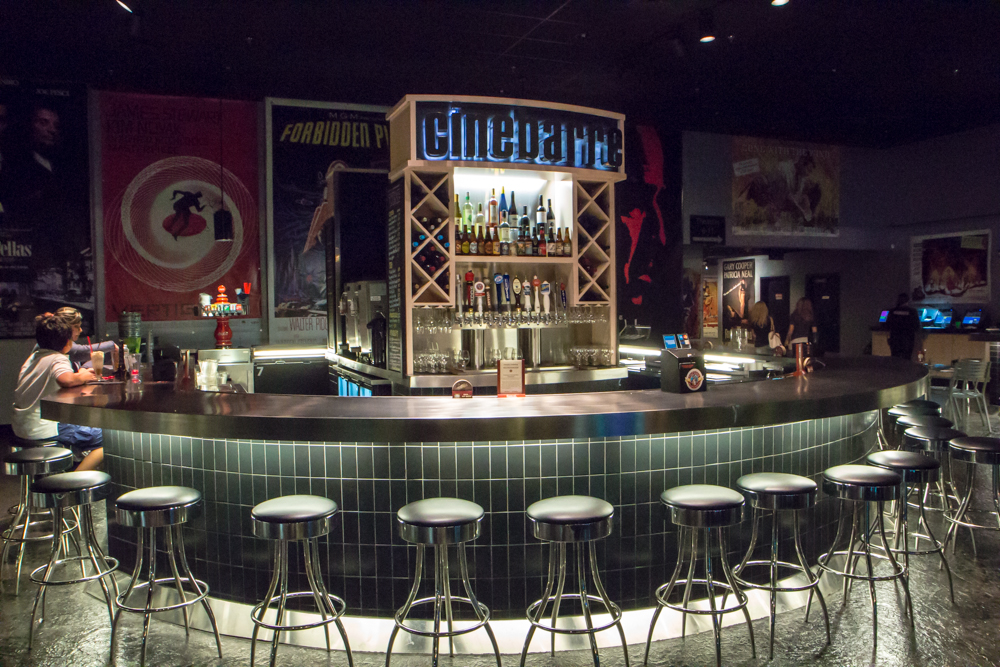 Cinebarre's atmosphere was really cool and different. Being built from an old movie theater gave Cinebarre all the room it needed. They had a large bar in the middle where the concession stand used to be and there were pool tables flanking each side. They even had an arcade for you to mess around in. What I thought was a nice touch were the over-sized movie posters they had hanging on every available wall space. They have the first Superman movie, Ghostbusters, and Reservoir Dogs. On closer inspection we saw that most of these posters were foreign reprints (with words not being in English and some of the titles were changed). Another nice touch were the flat screens behind the bar that were playing silent films (specifically Harold Lloyd films). Freakn perfect.
Oh yeah and Gretchen. She is still Awesome.
Atmosphere Rating: 4.5
Conclusion
Since you didn't like the movie title names for the food, what would you have come up with?
Well, the Bull Durham should have been a steak, not a pizza. I will say, the Mystic Pizzas were properly named.
What was your favorite thing (non-food) about Cinebarre?
My favorite part had to be the short films that were played before each showing of a major movie.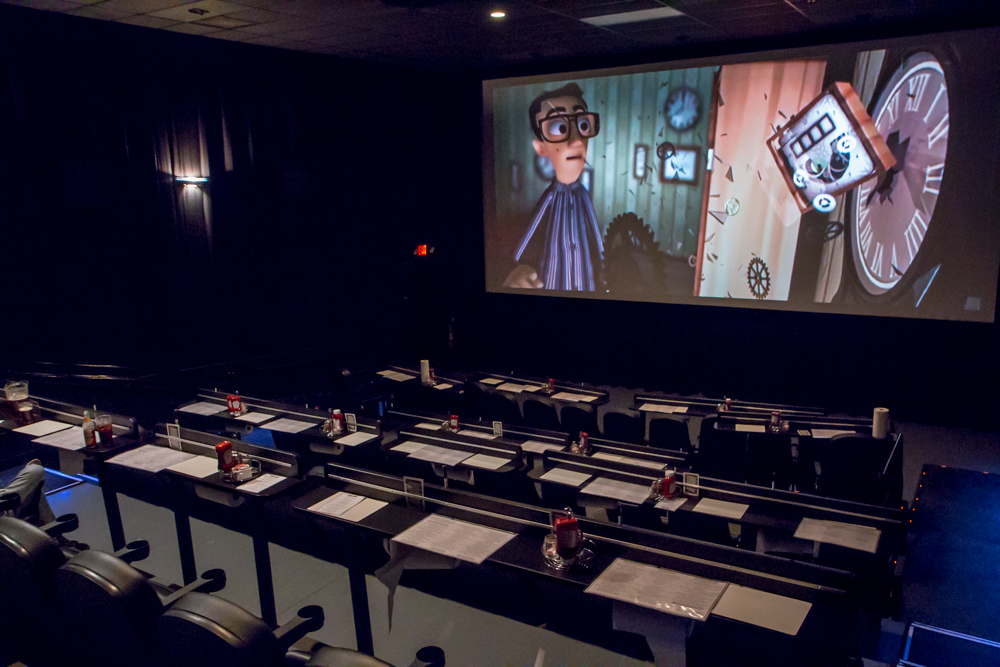 Looking into it further I found on Cinebarre's website that they invite filmmakers to submit their short films for their Preshow. If your film is selected it will be shown across all of Cinebarre's seven locations across the country. This is an amazing way to showcase filmmakers who might have not had a chance to see their actual work on the big screen.
What movie did you see?
We saw the film Elysium. It had awesome special effects and flawless computer graphics (the androids themselves are piece of art). But, that is all I have to comment on that movie. Nothing else impressed me 7.
Would you eat here again?
I most definitely will. The experience alone is a reason to come back to this new variation on the concept of a dinner and a movie.
Next time you come by, what will you order?
I would probably try out one of their Mystic Pizza's.
Does Cinebarre earn the Charlotte Burger Blog Seal of Approval?
Even though I love the whole idea of merging your whole dinner experience with your movie going experience, the burger did not quite match up to earn itself a Seal of Approval. But if we had a Seal of Approval for waitresses, our blue haired tattooed, wonder-girl Gretchen would have totally earned that. But we don't. Sorry Gretchen.
Signed,