Location: 2710 N Brevard St. 28205
Hereford: Brooks Sandwich House is legendary among Charlotte restaurants. It's earned a reputation since it opened in 1973 for high quality burgers at jaw-droppingly low prices. It's been called the best burger in Charlotte on many occasions, including tying for 1st in the Charlotte Observer's 2011 Burger Bracket 1.
Like all legends (Bigfoot, the Loch Ness Monster, a winning season by a Charlotte sports team), Brooks can be elusive. At least it is if you have a regular 9-5 job. Brooks is only open on weekdays from 7:00 am to 3:00 pm 2, which has made it hard for us to get out there for a review.
Not having the time during the day to review Brooks has been killing us, because I'm pretty sure that everyone who has ever read our blog has told us we need to stop by and try Brooks. Luckily, we recently had a couple of vacation days off work, and we made it a point to visit this Charlotte institution.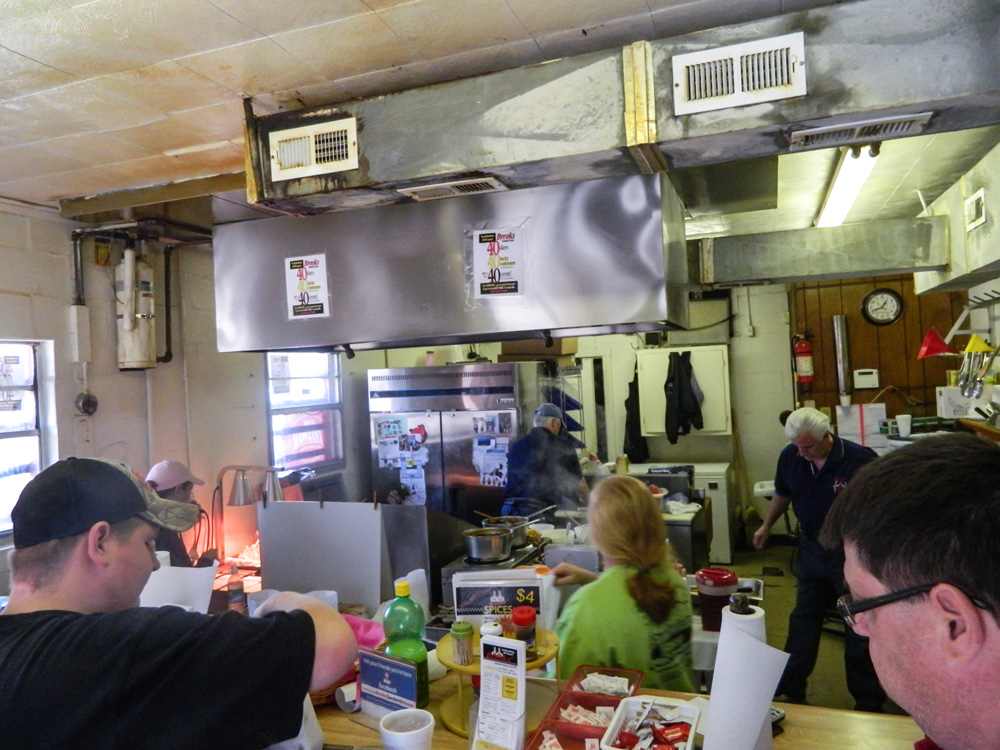 Angus: We went early on a Tuesday morning (around 11:30) and there was already people out the door waiting. Even though it's kind of out of the way, the line made it hard to miss. We got in line, but it was one of those situations where everyone around you seems to know what to do, but we were somewhat lost 3.  All of the other people there were regulars, probably on their lunch break, and in a hurry.
Hereford: Since we didn't know how things worked, we were just going to stand there outside until the line died down. Then a guy got behind us in line, and was like, "Are you going to go in and order? Because if you don't, I will." I can't hold it against the guy; I'm sure he only has so much time to get his food before he had to be back at work, and we were, essentially, tourists. But, to save some trouble if you go, here are some basic rules:
Angus: 1: Know what you want before you get in line. There's a menu outside if you need a moment to figure it out. 2: As soon as you know, go inside to order. The line is to pick the food up. And 3: Bring cash. They don't have a card machine.
After figuring all that out, and a short wait, we got our burgers. Here's the tale of the tape:
EXHIBIT A: HAMBURGER, "ALL THE WAY"
(with mustard, onions, and homemade chili)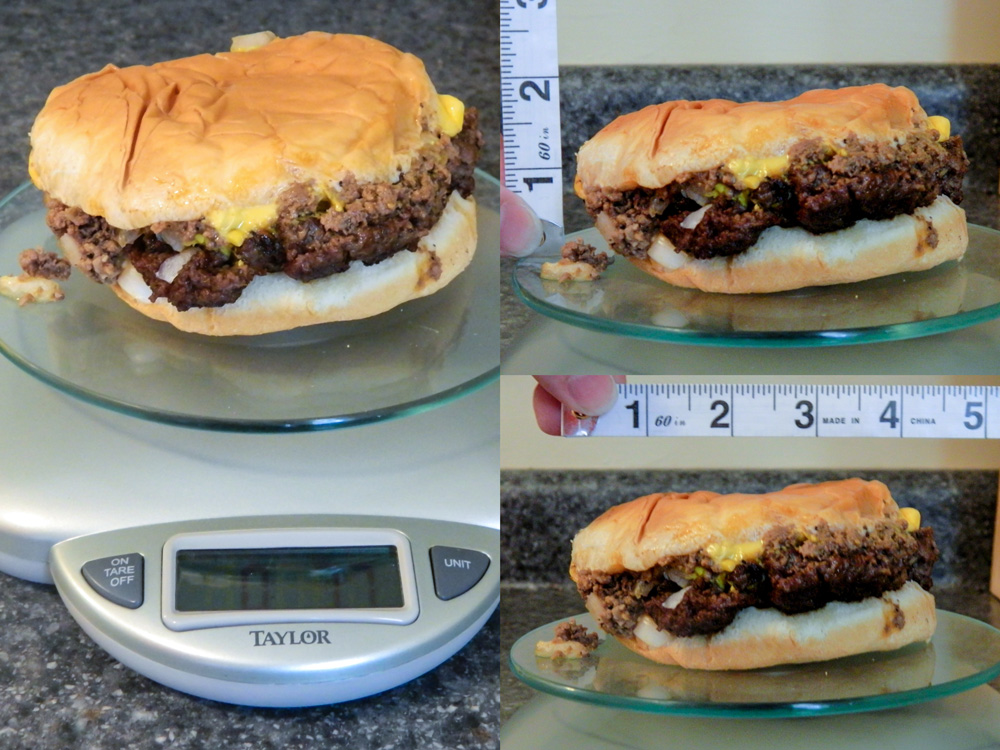 Official Weight:  7.7 ounces
Official Diameter: 4.25 inches
Official Height: 1.75 inches (somewhat smush on the ride home)
Cost:  $3.50 (sides not included)
Cooked to order: No
Hereford: Even though it's won awards & has been the subject of acclaim, I'm sure some people will not get why others love Brooks. After all, it's a basic burger on a store-bought bun. But, they use fresh, well-seasoned meat. When you go in you can see the balls of ground beef, ready to be pressed and cooked on the grill. If you get it all the way, it's topped with a fantastic tasting chili. And you can't beat the price.
Angus: These burgers are the type that would be piled up high on Wimpy's plate. They are small, compact and thick—the perfect size to hold in one hand. Now that I think about it, you probably want to order two.
Burger Rating: 3.5
Other Food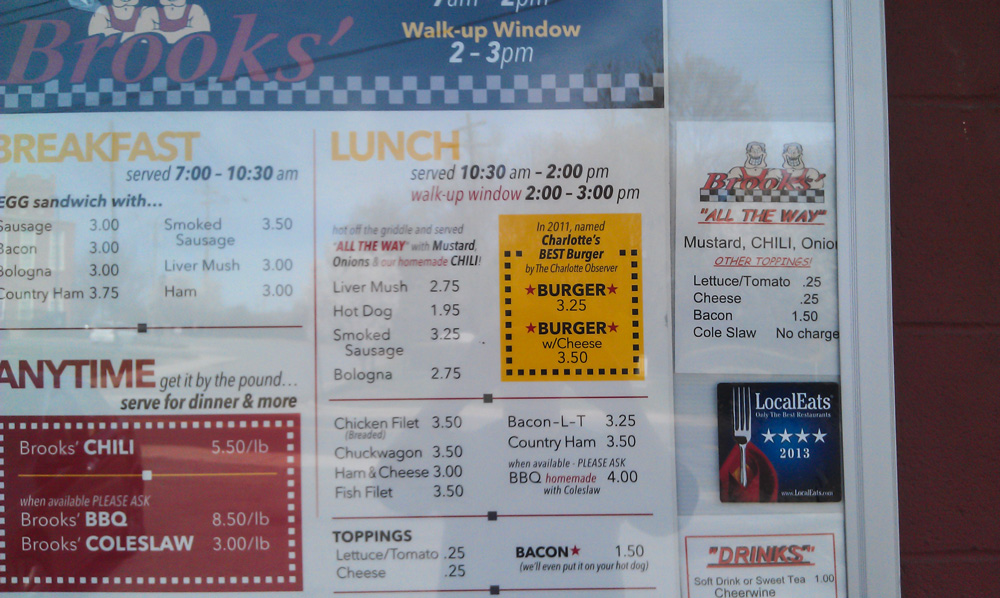 Hereford: Besides their famous burgers, Brooks serves hot dogs and sandwiches & some very affordable breakfast food. A day or so after we came by to review their burgers, my girlfriend and I needed to get some breakfast before we left to go out of town for vacation. I suggested Brooks. Their breakfast was fantastic, and in the morning before it got busy you can really see why people love this place. The family that runs it is extremely nice. They chatted us up with what we were doing that day, and they even offered my girlfriend a complementary Brooks Sandwich Shop golf tee since she had never been there before. Make sure you pick one up when you go by.
Beer Rating: N/A
Angus: No beer. Come on, you'll probably be stopped by at like 10:30. Do you need a beer that early? 4
Atmosphere Rating: N/A
Angus: Brooks mostly caters to the take-out crowd. When we stopped by most of the line was full of people who were there on their lunch break. But, there was a couple of people eating outside. They have these sweet wooden lunch tables that you can stand at and eat burger. And because of the awnings they have you can even eat it in the rain.
What was your favorite thing (non-food) about Brooks Sandwich Shop?
The persistence of the old way of doing things. It's hard to imagine a new entrepreneur starting a restaurant like Brooks, or being successful if they were to try. That makes Brooks a bit of an artifact, because of its rich history.
Would you eat here again?
Absolutely, as long as I get a weekday off, or if I get fired.
Next time you come by, what will you order?
I'll definitely get the burger next time, unless it's breakfast time. Then I'll get the smoked sausage sandwich.
Does Brooks Sandwich Shop earn the Charlotte Burger Blog Seal of Approval?
Absolutely. You have to love these types of places that still do things the way they always have.
Signed,