We call ourselves the Charlotte Burger Blog, but never wanted to only focus on the city of Charlotte. There are a lot of great burgers everywhere. We knew, though that before we started hitting burger joints elsewhere, we first had to cover enough places in the Queen City. We needed to earn our name. Now when we are traveling and we see an amazing burger, we will discuss it here on our On The Road reviews.
Location: 280 S Mangum St #100, Durham, NC 27701
Website:  www.tobaccoroadsportscafe.com
Neither rain nor sleet nor dark of night may deter the postal service 1, but to me those seemed like damned good reasons to go into a blogging hibernation.
However, the weather is finally getting warm, the trees are starting to bloom, Bell's Oberon is on the shelves, and the Orioles have a losing record. Must be spring. That means it's time for me to take in my first minor league baseball game of the year.
Where did you go?
The Charlotte Knights played eight away games before their home opener (presumably to ensure they have enough time to finish their new Uptown stadium) but I didn't want to wait that long to see a ball game 2. My best friend, Matt, and I drove down to see the Durham Bulls for our first game of the season.
I'm sure you remember the Durham Bulls from the 1988 film, Bull Durham starring Kevin Costner 3. At that time they were but another small town team in the Single A Carolina League 4, but aided by the popularity of the film they were able to make the jump to AAA, just one step below the major leagues. They built a new ballpark and even incorporated the sign from the film in the outfield that says "Hit Bull Win Steak." 5
Did you eat at the park?

Yes and no. There is a restaurant called Tobacco Road Sports Cafe that sits in an office building connected to the Durham Bulls Athletic Park and whose back balcony overlooks left field. Here's a picture that shows the aforementioned balcony, with a helpful yellow arrow in case your screen resolution is too small.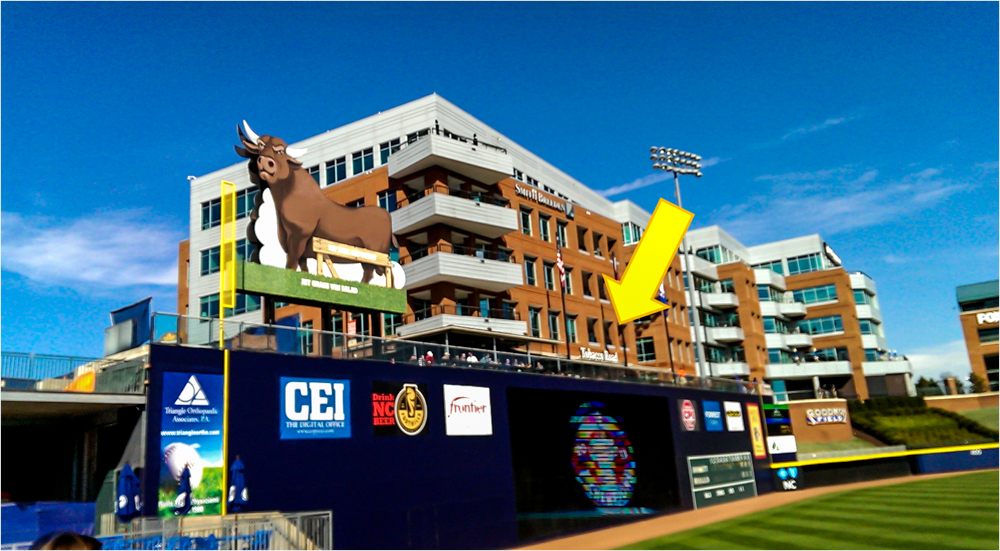 The large left field wall is known as the Blue Monster. It's inspired by the Green Monster at Fenway Park, which has nothing whatsoever to do with the Durham Bulls. This is me griping.
What's awesome about this location is that, if you show up a couple hours before game time, you can watch players take batting practice. More accurately, you can dodge the balls hit towards you during batting practice. This is great for people who want to snag a souvenir, but don't want to the competition of trying to catch a foul ball during a game.
Because it was early in the season and it was beautiful outside, a lot of other people had the same idea and, although it was fairly empty inside the restaurant, there was a waiting list to get on the balcony. They gave us a coaster/pager, and we took a seat at the bar.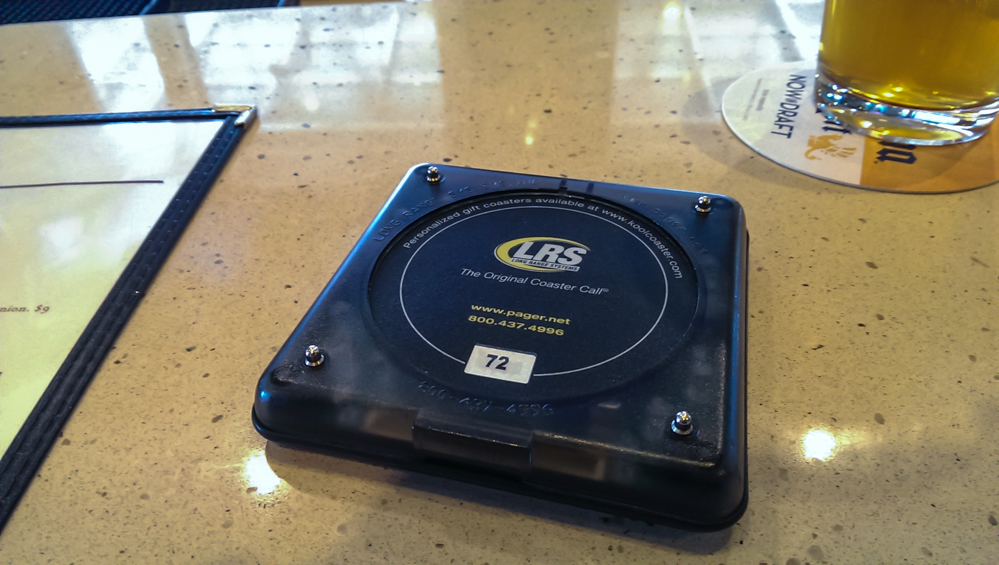 Wait, why the hell are these pagers coasters? What type of idiot would sit their drink on this?
How would you describe their selection?
Satisfactory. They have many options, with some great national craft beers and a lot of North Carolina options. On tap they had Foothills, Highland, and Lone Rider beers. I had a Golden Belgian Ale from Triangle Brewing Company, which I was unfamiliar with. I very much enjoyed it, and would recommend it. It had an 8% ABV, so be careful not to overdo it. 6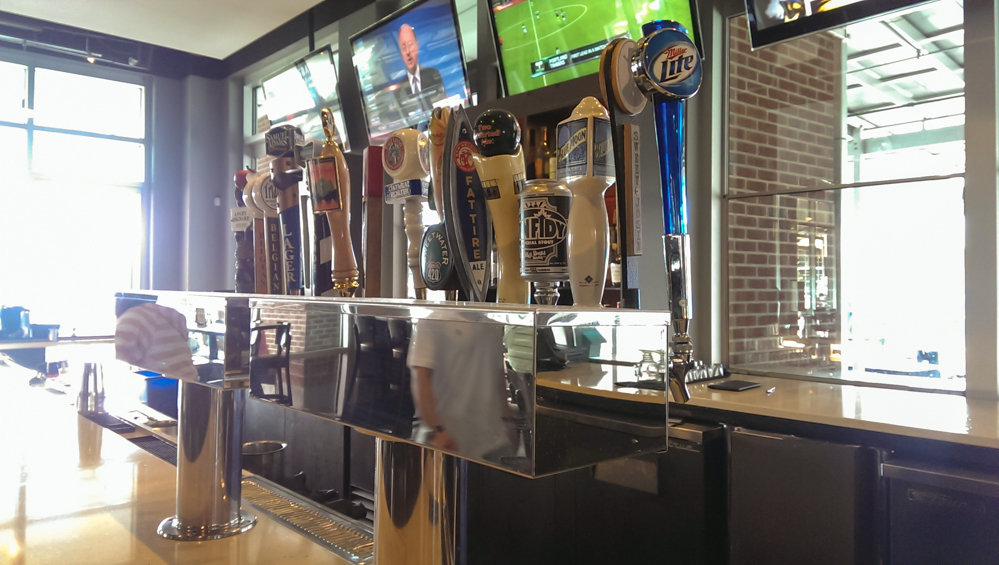 They had some Dale's too, but I don't count that as a NC beer even though they have a brewery here. Because that doesn't make sense. With that logic, Coor's would be an NC beer. It seems I'm reserving picture captions for angry rants.
We sat at the bar for about 20 minutes 7 before our coaster/pager buzzed, indicating we could head outside.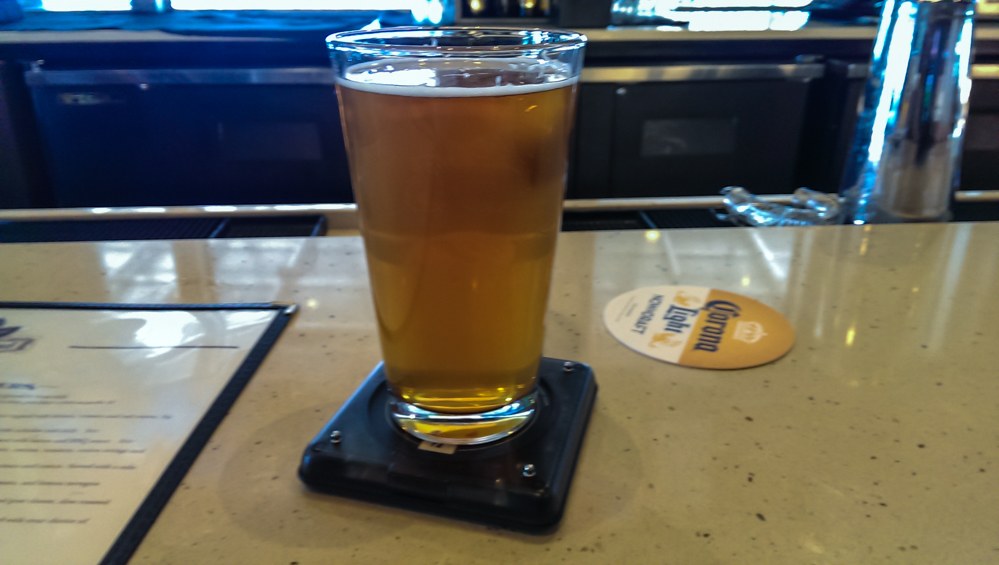 It doesn't shake your beer up like you would expect it to.
What did you order?
They have several burger options on their menu, including a Durham Bull Burger (with BBQ and bacon) and an "Arrogant" Burger (served with a mustard made with Arrogant Bastard Ale). However, my eyes lit up when I saw that they had a "Daily Burger Special" which is "served according to the Chef's inspiration of the day."
That day the server was inspired to make a Bruschetta Burger, with arugula, pesto, mozzarella, and vinaigrette. This sounded very close to a burger I had at Harry's Grill, which is one of my favorite burgers I've had yet.
Our food came as the players started to head back to the dugout to get ready for the game. The combination of a gourmet burger and a baseball game is nearly perfect for me. I'm fairly sure this is what heaven's like, only if they're playing Dylan music and the servers all look like Christina Hendricks.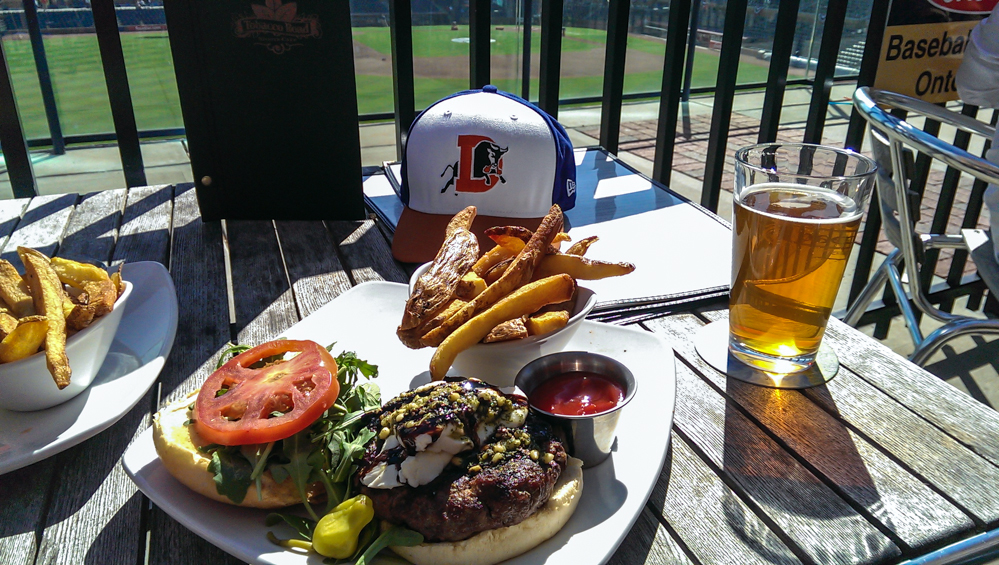 I made Matt put his hat in the picture to complete my tableau.
So, how was the burger?
I'm not a chef, so I feel like a jerk giving suggestions for the design of this burger 8, but it seems to me that if it's a bruschetta burger the bun should probably have been toasted and the sliced tomato should have been replaced with some diced, seasoned tomatoes. That said, I enjoyed the tangy vinaigrette and the spices in the pesto were flavorful and delicious.  I've become a proponent of arugula on all sandwiches 9, because it adds the crunchy texture of lettuce while also being flavorful.  It worked well with the pesto and the vinaigrette to create an Italian vibe for the burger, even if it didn't conjure the concept of bruschetta itself.
Unfortunately, the burger patty was not as good as the toppings that were sitting on it. It was extremely overcooked. I ordered it medium; I received it nearly charred. Sometimes I feel like we're cursed. We're the guys who care the most about having our burgers cooked to order, and more often than not, it isn't done correctly. 10
In fact, this burger was so dry I'm not sure I can even blame the chef. Surely for it to be this off the server must have wrote down the wrong temperature when he asked me. Nevertheless, I was extremely disappointed and I didn't even finish it.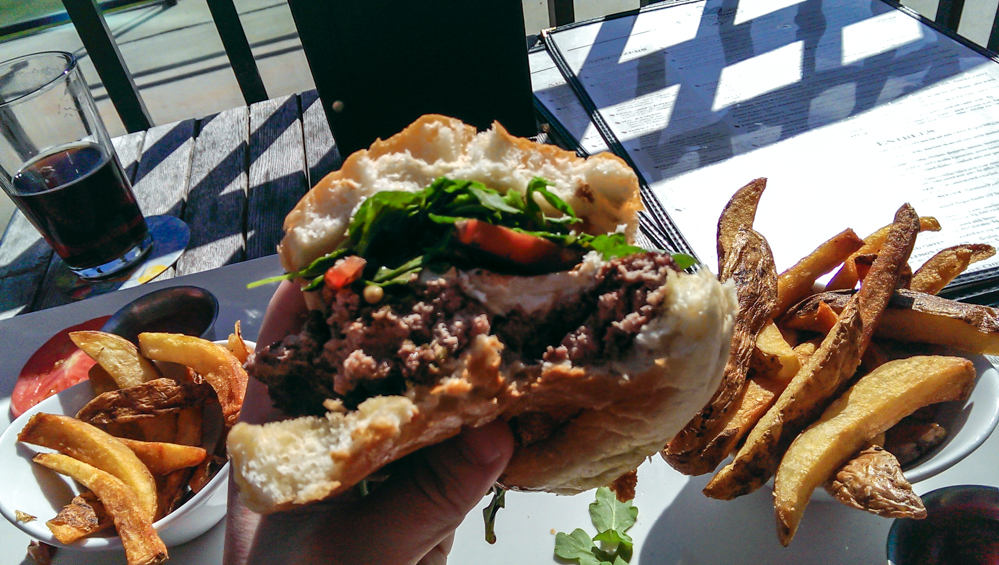 This is why I shouldn't take pictures with my phone.  The fries are in focus; the burger is not.
So, would you come back?
I would absolutely give them another chance, if for no other reason than this one of the few places where the public can watch batting practice in the minor leagues, since normally parks don't open early enough. Every time I come to a Bulls game, I eat here. Also, the burger certainly had promise. I could imagine other burgers here being fantastic (Matt liked his). It's really too bad that the one I had this day wasn't 11.
Signed,