Restaurants are always changing. A review that we do is a snapshot in time, but sometimes we think it is instructive to go back and revisit a restaurant to see what has changed.
Location: 7824 Fairview Road 28226
Website: www.thewineshopatfoxcroft.com
How exactly is the Wine Shop not in the Charlotte Burger Blog Hall of Fame?
I know what you're thinking, we spoke more favorably of the Wine Shop than of any other burger place in Charlotte. On our first visit, we considered it an absolute top-notch gourmet burger. In fact, we had never had a gourmet burger that was so good.
But, we felt that the excellence of the Wine Shop was in large part based on the chef who developed the menu and was responsible for making all of the food in-house, Zack Gadberry. Since we reviewed the Wine Shop in 2011, Zack has moved on, first to Smalls on Elizabeth and now he's the head chef at Vivace.
The question, for us, was if the Wine Shop was able to continue to prepare fantastic burgers without his guidance.
Besides the head chef leaving, have there been any other major changes?
Not much. The biggest change I saw was with their beer selection. They've always had interesting craft beer in bottles, but now they also have 6 taps. Among those taps they have a few local options. In this trip they had Noda Brewing Company's Nojito and Birdsong Brewery's Red House Wheat 1.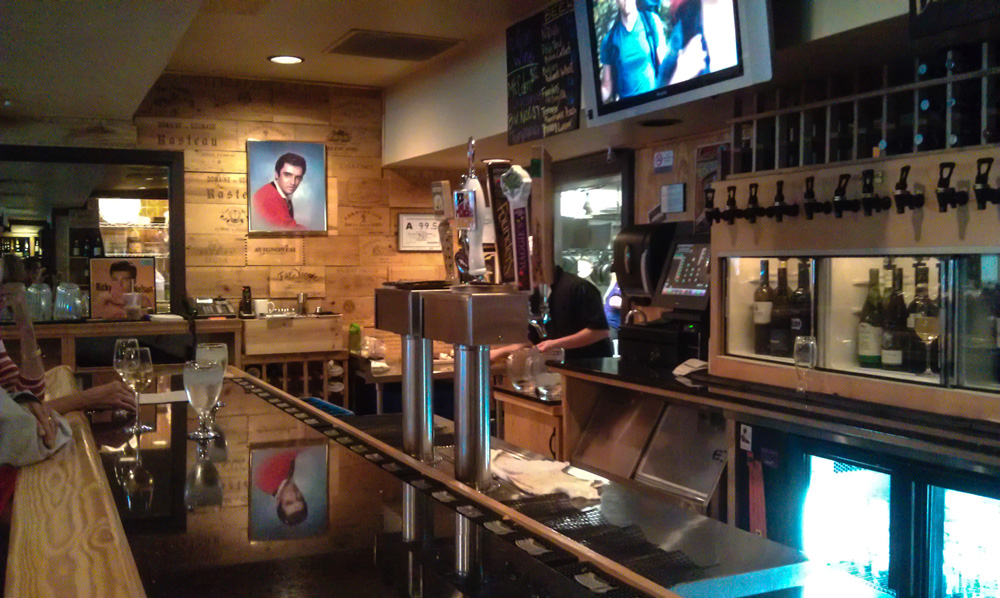 Wait, wait, wait, wait. What is that on the wall in the background?
Oh yeah, they also now have a painting of a sweaty, creepy Elvis. That'll haunt your dreams.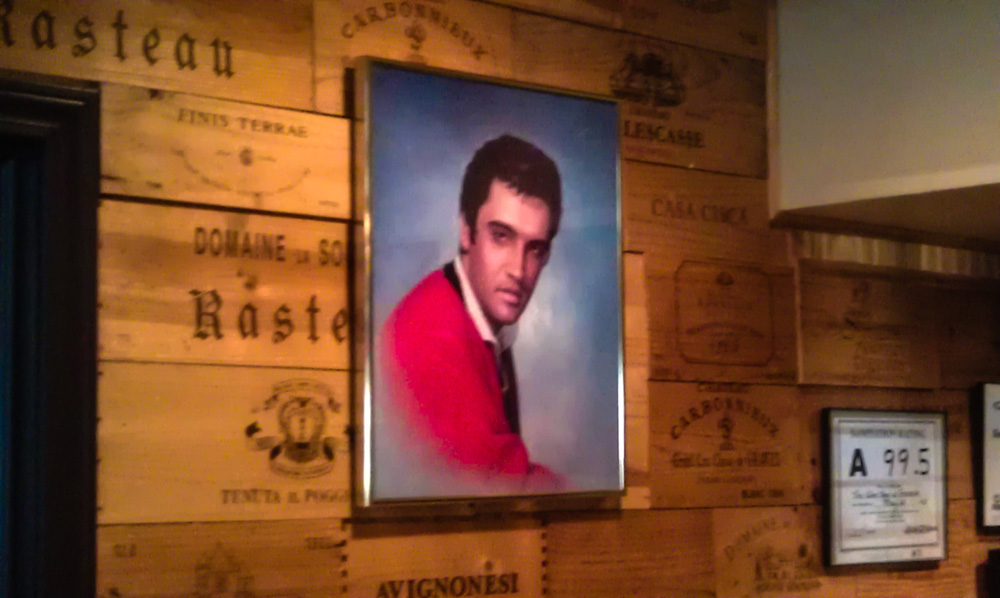 So what did you order?
The Wine Shop Burger, for $10. They don't have multiple burger options. It's just the one, listed under Primi 2. When Gadberry was here, he would change the burger based on whatever new design he came up with, and I assume that's probably what they still do. I was feeling somewhat socially awkward this time, so I didn't ask. The only choices I had in regards to the burger was the cheese I wanted (cheddar or bleu cheese, I went with cheddar) and how I wanted it prepared (I asked for medium).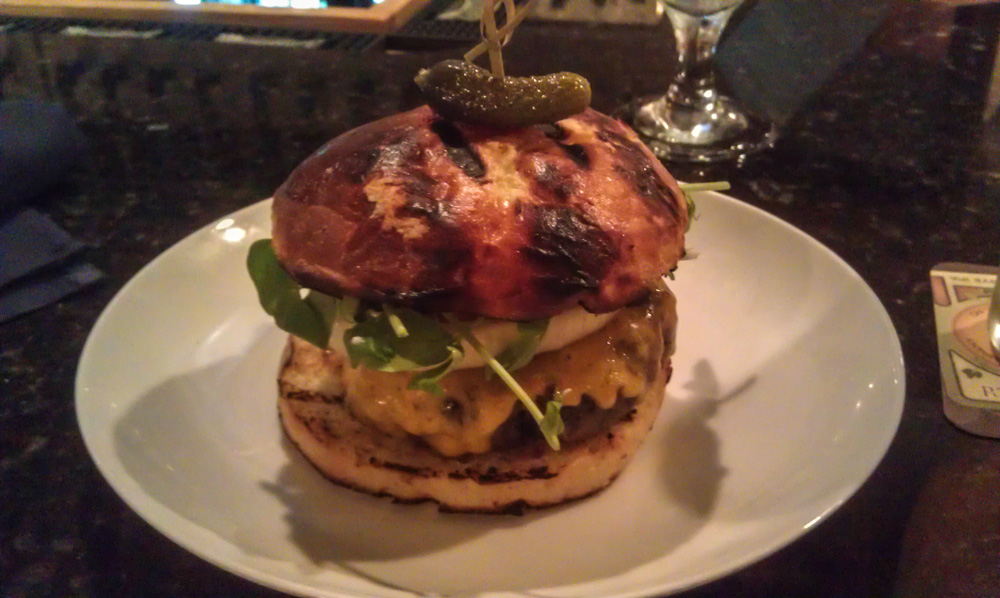 How was the burger?
When I came in I had the assumption that the burger would be almost as good as it was the first time we came by. I definitely felt that way after I ate it, although I don't know how much of that is colored by my preconceived notions.
The beef was slightly overcooked—it was medium-well—and I wish that if it was off it they would have erred on the other side of medium.But it was still juicy and rich like it was before. It was topped with fresh tomato, onions, and sprouts as well as a tasty aioli spread. It was excellent, and I could tell they still hand-make everything there.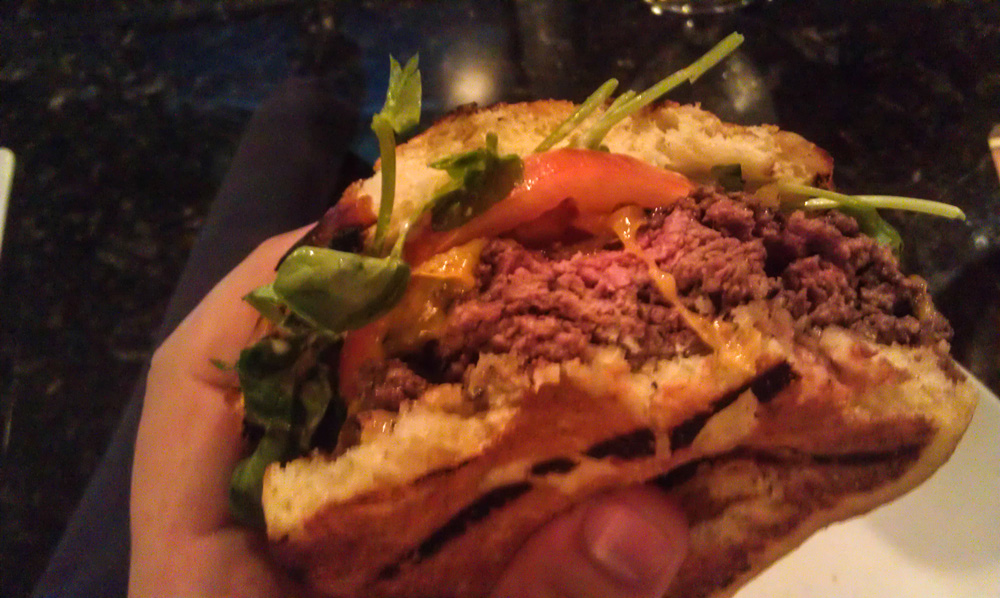 There was a pink center, but it wasn't consistent all the way through.
Even at "almost as good" as before, this is a can't-miss burger that we'll continue to recommend.
Are you going to put them in your Hall of Fame now?
Definitely.
Signed,

Notes:
One other change: the window image with their logo is now gone. I figure that's expensive to change randomly, so I choose to think it was because of a bar fight between two women in their 50's who've had too much Shiraz. ↩
Which I'm fairly sure is Italian for "the part of the menu you actually want to eat from. ↩