Location: 1901 Commonwealth Ave. 28204
Website: http://diamondcharlotte.com
Angus: Late last year Creative Loafing published an article examining the events of "the Charlotte food scene" in 2010. You can read it here.
Of that piece, one paragraph in particular offended us. It read:
The "big" restaurant news of 2010 that seemed to concern the most people was the changing of the guard at the Penguin. I'm sure every restaurateur who had to close the doors of a restaurant during the past two years, putting Charlotteans out of work, was as puzzled as me over this brouhaha. But given the rise of the popularity of guy food (and yes, this is a Guy Fieri pun) and the dark art of the fryer, this outpouring is less surprising. Of course, the pickles are still available.
Hereford: In that paragraph there are four main assumptions. They are:
The Penguin was only popular because it served fried food.
Those of us who were upset at "changing of the guard" are unconcerned with the overall economic plight of restaurants in Charlotte.
The ownership change at the Penguin matters very little.
Puns are funny.
We disagree with each of these assumptions.
Angus: The Penguin was popular for a lot of reasons, but it wasn't just about the food. Lots of places serve their greasy-spoon variety of food and didn't gain the attachment people had for the Penguin.
I think what people really loved about the Penguin was its attitude and aesthetic. People thought it was cool. They loved how Brian and Jimmy took over this 50's diner and created a mash-up of punk, rock n' roll, and the 50's. It was fun and it was different, and it stood out. You wanted other people to go there with you.
Hereford: When I moved to Plaza-Midwood the first thing a lot of people said to me was, "Wow, you can walk to the Penguin?" It was an important part of the community's identity.
So, when I first heard on Facebook about what happened, I immediately clicked the Like button for BOYCOTT THE PENGUIN STARTING OCTOBER 24TH, even before I had knew any of the details.
That reaction, the thought of "They can't do that!" is largely born of emotion, and isn't necessarily logical. After all, I know that it's a complicated story. But the narrative I gained was that the place that Brian and Jimmy (and the others that helped them) had made popular was being wrestled away from them.
I may be wrong, but it seemed unfair to me, even as people told us "It's just business."
Angus: That may be, but I don't identify myself as just a consumer. I'm a part of a community, and what I loved about the Penguin was that Brian and Jimmy were such good citizens of the area. Brian in particular I used to see walking around at night on his community watch after a man fired a gun in Snug Harbor.
But, I'm biased. I was in the Marine Corps at the same time as Brian, and we were both stationed at Camp Lejeune. I spoke with him whenever I came into the Penguin and I found him to be a genuine and nice guy. When I had heard what had happened, I felt for him as a person.
We made sure we were there on the last night that the Penguin was under their watch.
Hereford: That's where we got these awesome posters, which each of us have up in our houses to remind us of what we loved about the Penguin.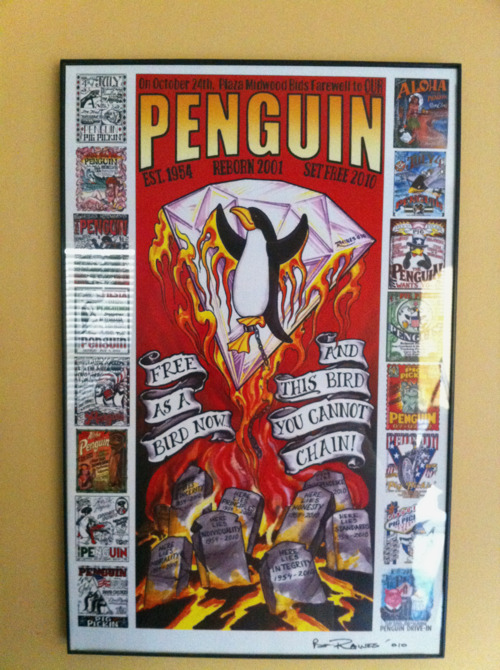 Angus: That last night of Brian's and Jimmy's ownership I asked Brian when he thought the Diamond would be open. They had bought the Diamond before any of the Penguin-ownership scandal had happened, intending to run them as sister operations. With that dream dead, it became a replacement, of sorts.
He told me he thought he expected it would be open in about a month. That was October 24th, so that would have made right after Thanksgiving. We kept driving by as December began, but they were still working on it, and it didn't seem like they would be open any time soon. Our goal was to be there on opening night, to do a burger review. We were filled with the anxiety that we might miss the opening.
Hereford: We started following their twitter feed , constantly looking to see when they would finally be open. Their tweets kept us on edge and seemed to be a constant tease.
– December 23rd: Best Christmas present ever? Getting to welcome all of our fans to the new Diamond in Jan. 2011. We love you! Merry Christmas

– January 3rd: "No pressure, no diamonds" ~ Thomas Carlyle. Jan. 2011 fans, the countdown begins.

– Jan. 12th: Historic Diamond Restaurant neon sign is now fully operational! Lightin' up the Midwood 'hood!

– Jan. 14th: Date's not solid yet; stay tuned

– Jan. 22nd: So it takes 3 billion years to make a real diamond… we're not too terribly off schedule, right?

– On February 1st someone noticed that inspectors were at the Diamond, and speculated that their opening was thus going to be soon. The Diamond replied that day, "That's right!"

– February 2nd: We feel your desperation, feelin' it as well. But we're SO close now.

– Feb. 5th: Lookin' forward to welcoming all of you and all of our patient fans.

– Feb. 11th: taps our foot and waits on a piece of paper from the great state of [NC]. Then we can make an announcement.

– Feb. 12th: Opening day announcement coming soon!

– Feb. 14th: Happy Valentine's Day Diamond fans! We've got a feelin' that this is going to be a 4 carat week!

– Feb. 17th: Opens tomorrow…Thx for all your support! Let's eat!
I found out about the last tweet when I took a break from work and noticed I had eight messages from Angus. I knew that the Diamond had to be open—either that, or his wife had gone into premature labor.
We only had a 24 hour notice after we read the announcement. We wish we could have been the first people in line, but I naturally had plans I couldn't blow off. That's what happens when things happen on short notice. We weren't able to make it there until about 10:00 p.m.
Angus: Waiting all day to go there was killing me, but I knew we would have to wait longer when we go there because there would be a line. We went in and put our names on the list, and we were told it would be a 45 minute wait. So, we hung out in the parking lot and talked.
We noticed a couple of guys with a camera walking and around and shooting some video, so we introduced ourselves. That's when we got a chance to meet the guys from The Bird, a documentary they're making about the Penguin.
Those guys are Adam Fraser, Tim Grant, and Adam Hobbs. They told us that when they heard about what was happening with the Penguin they felt there was a story there that needed to be told, so they're gathering as many stories as they can about it. They've talked to a lot of people who loved the Penguin (more than us, even) and feel a hole now that it's changed.
Hereford: They've even talked to both sides, to try to understand the behind the scenes story. They're going continue to shoot for several months, but we can't wait until it's released. (We're not just saying that because they shot video of us doing our review).
Angus: We recommend you follow them on Facebook here. We wish them luck with the documentary; maybe we'll vary from our normal procedures and do a movie review when it comes out.
Hereford: After all of the build-up regarding the opening of the Diamond, I can only imagine what we looked like when they finally called our name. We were the last people in the parking lot when we walked in, and we were told we were the last people they would be serving food to. We got there just in time. We would have been crestfallen to have to wait until the next day.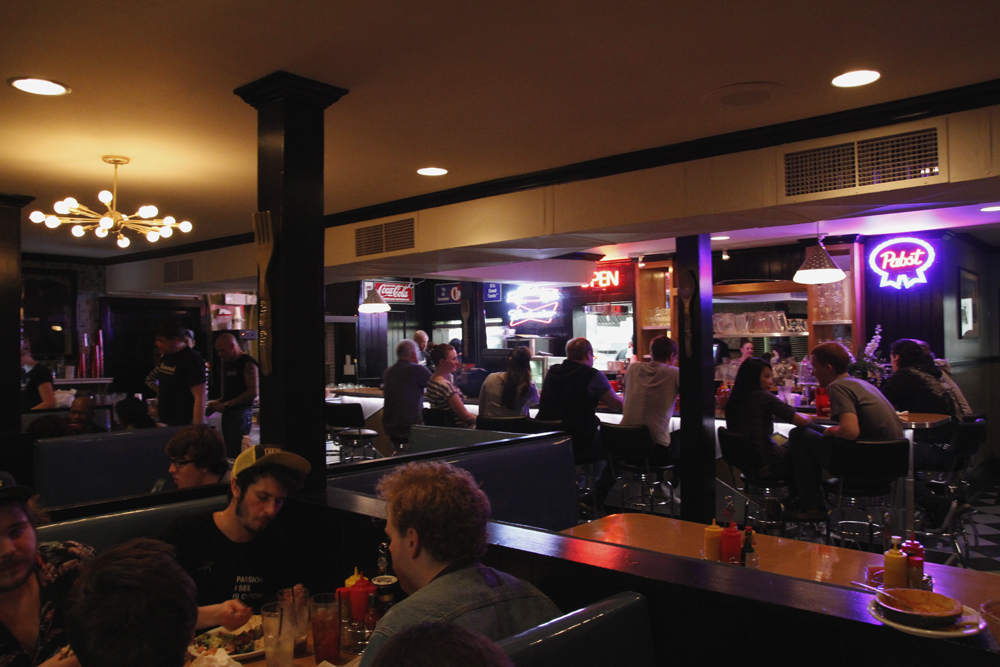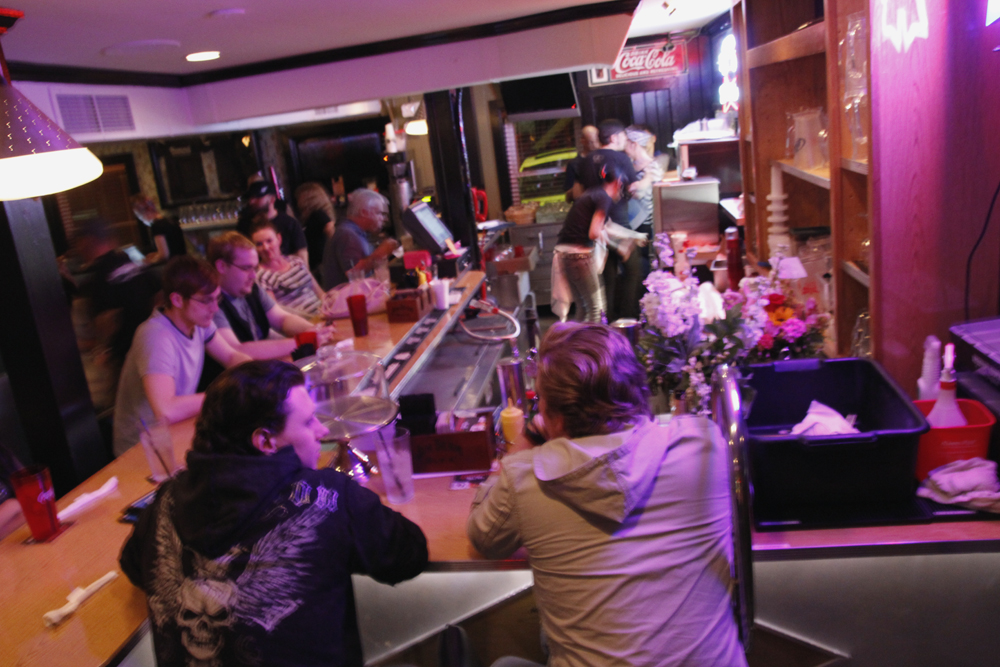 I was impressed when I walked in. They have done some amazing work inside the place. I had gone there once, before they renovated it and it would be charitable to say that it needed a lot of work. It's no wonder it took so long for it to open. It doesn't even look like the same place inside.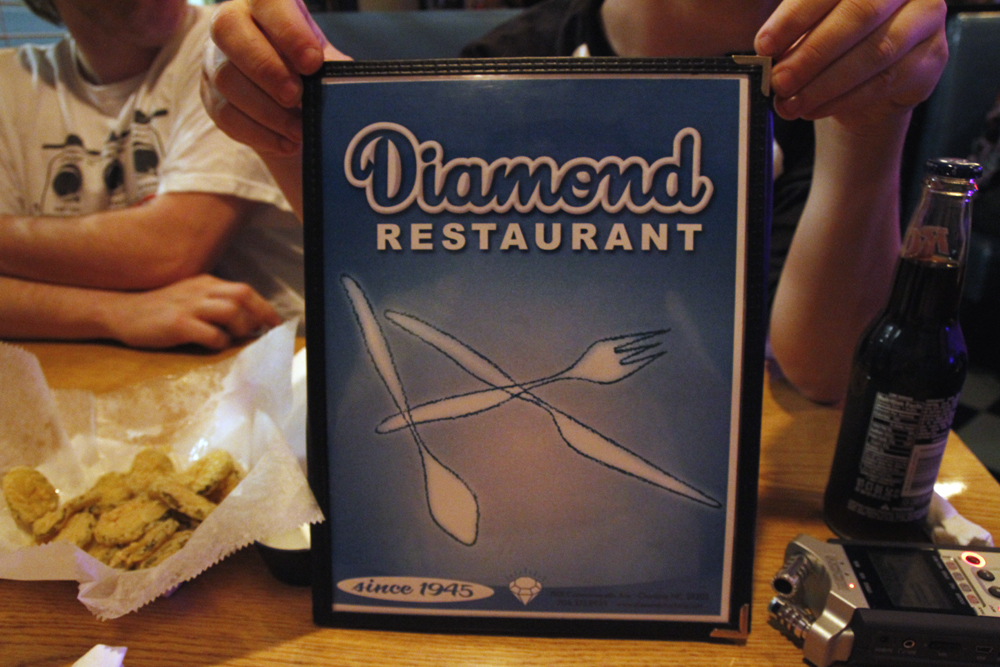 Angus: It was nice opening up the menu (which a lot of great design work had gone into) and seeing some of the old items back again, in particular the Small Block, the Big Block, and the Full-Blown Hemi. It was odd to think that the Penguin as we knew it had only been gone a few months, but because it felt like it had been forever. A weird feeling of nostalgia came over us when we looked at the burgers, even though it's really too soon to feel nostalgic. It's probably because we talked about it so often, and had such great anticipation over this opening.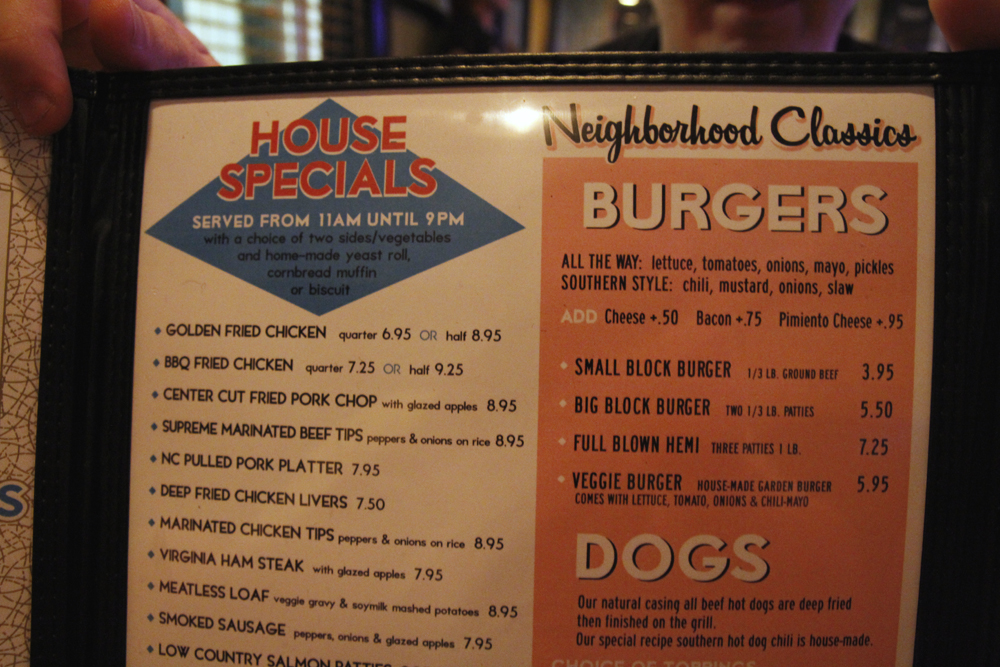 We've been to a lot of burger places now, and we view them with a critical and comparative eye. But the old Penguin/Diamond has a different burger aesthetic than the other places we've been. They make a simple burger, as simple as possible.
Hereford: It's like the Platonic Form of a burger. Everything else is a variation. I couldn't wait to get one.
I hadn't eaten a proper meal all day, and we sat in the parking lot for a long time, so when they finally let us in I ordered two burgers. I didn't ask what style I should get—I got both available styles: one Southern Style (with chili, mustard, onions, & slaw), and one All The Way (with lettuce, tomatoes, onions, pickles, and mayo)—both Small Blocks.
Angus: And I got a Big Block, with bacon and cheese.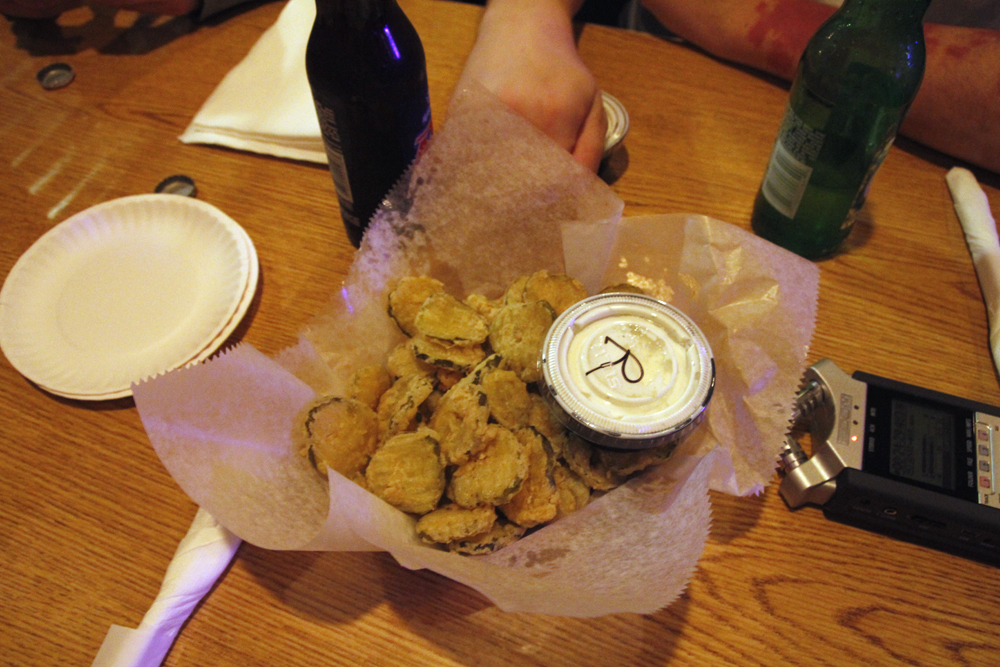 And, of course, we got fried pickles. We couldn't get fries, though, because they were running out of some ingredients. They had been busy all day.
So, here it is, the tale of the tape:
EXHIBIT A: BIG BLOCK, ALL THE WAY with CHEESE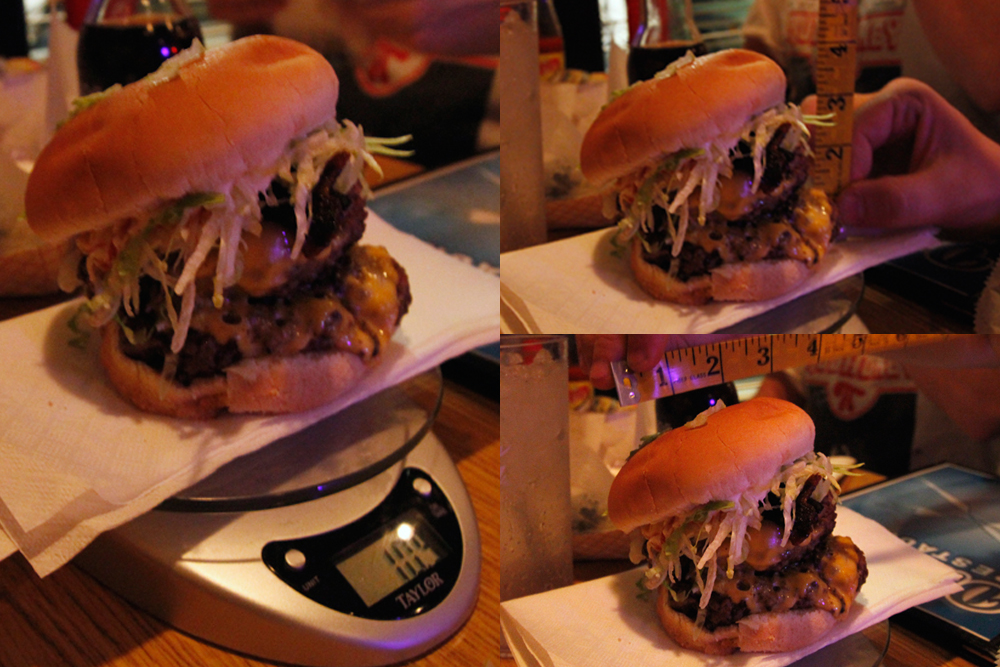 Official Weight: 10.4
Official Diameter: 3 inches
Official Height: 4 inches
Cost: $6.75
Angus: Now, I don't know if this is the hype talking or not, but this burger tasted even better than the big block I once ordered at the old Penguin. And, believe me; I ate a lot of Big Blocks from there.
I thought the cheese and the bacon were as good as any I've had from any other restaurant we've eaten. I loved how the cheese is so huge and is melted all over the burger. The burger was substantial and very tasty. The burgers at the old Penguin/Diamond are thick and juicy, and it just felt good to eat it again—I think it might have been juicier than what I remembered.
This was an awesome burger. It wasn't fancy—but it was awesome.
EXHIBIT B: SMALL BLOCK, ALL THE WAY with CHEESE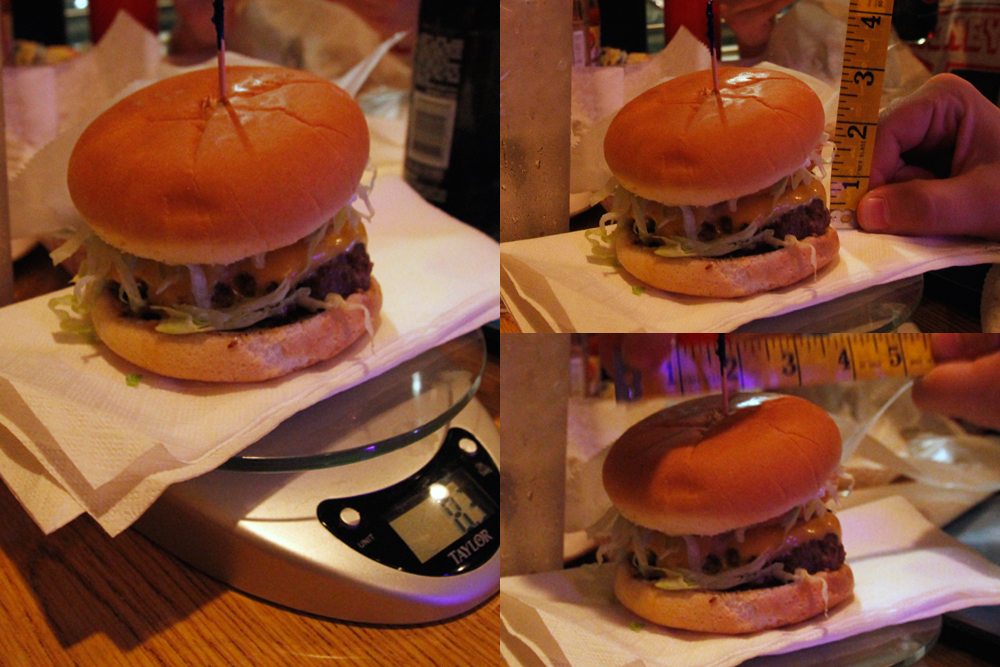 Official Weight: 8.3 ounces
Official Diameter: 3 inches
Official Height: 3 inches
Cost: $4.45
EXHIBIT C: SMALL BLOCK, SOUTHERN STYLE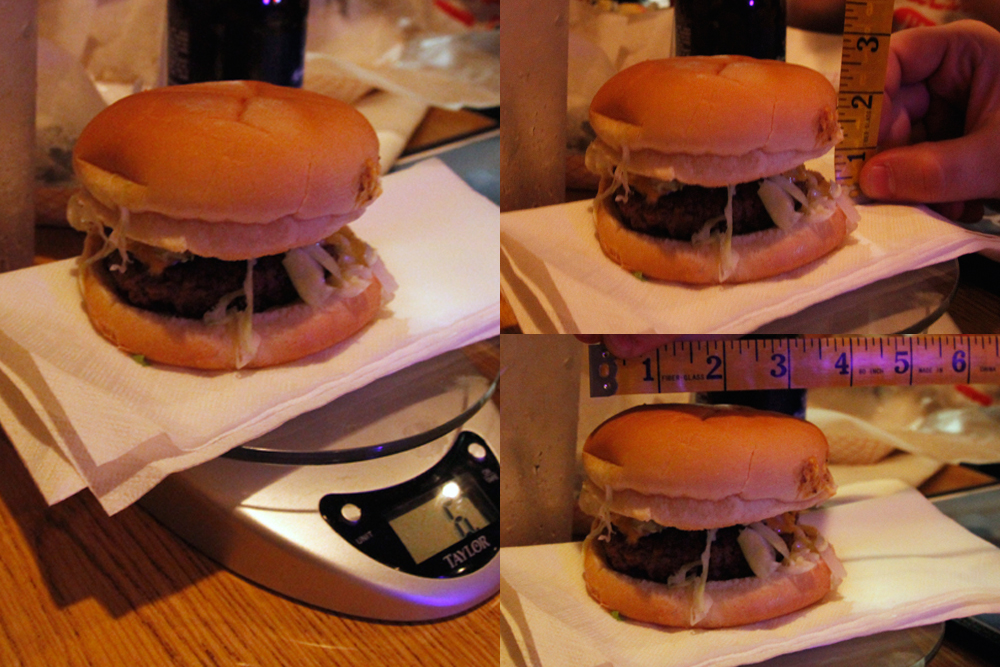 Official Weight: 6.7 ounces
Official Diameter: 3 inches
Official Height: 2.5 inches
Cost: $3.95
Hereford: My southern style burger wasn't really "southern style," because when they brought it out I looked and there was no chili. Apparently they had run out of that too. I tried not to hold it against it, but that burger's really not the same with just slaw and mustard.
But the All-The-Way Small Block was fantastic. It was that familiar taste of something that I had always loved. In a way, this was comfort food.
The lettuce was perfect and crisp, and the tomato was just right. And I agree with Angus (since we essentially had the same burger) that the burger was juicy and flavorful and overall fantastic.
So, here's our final analysis:
Food: 3.75 — Normally we have no problem reaching an agreement on what a place's rating should be for food. But, we disagreed this time. According to Hereford, the rating should be a 3.5 because the ingredients are substantially the same as Pinky's, to which we also gave that rating. Angus disagrees, and feels it should have a rating of 4, because even though the ingredients might be the same, there was a slight difference in taste that might come with the way it was cooked or who it was cooked by.
Thus, the 3.75 rating is a compromise between the two.
Service: 5 — They were running out of food, and they had been super busy all day. And the kitchen was running on a delay. Our server looked exhausted. But all of that is understandable—it was the first day of operations, and we were the last people they were serving food to. And demand exceeded expectations. Everyone there seemed so excited that everyone was behind them, and they were nice and apologetic about everything. They were upfront with any problems they might have, and we appreciated that.
Theme: 3.5— The Diamond uses a lot of diamonds everywhere, so that establishes a sort of theme. But also, there is a nostalgic sense to the place, with the retro wallpaper and menu design.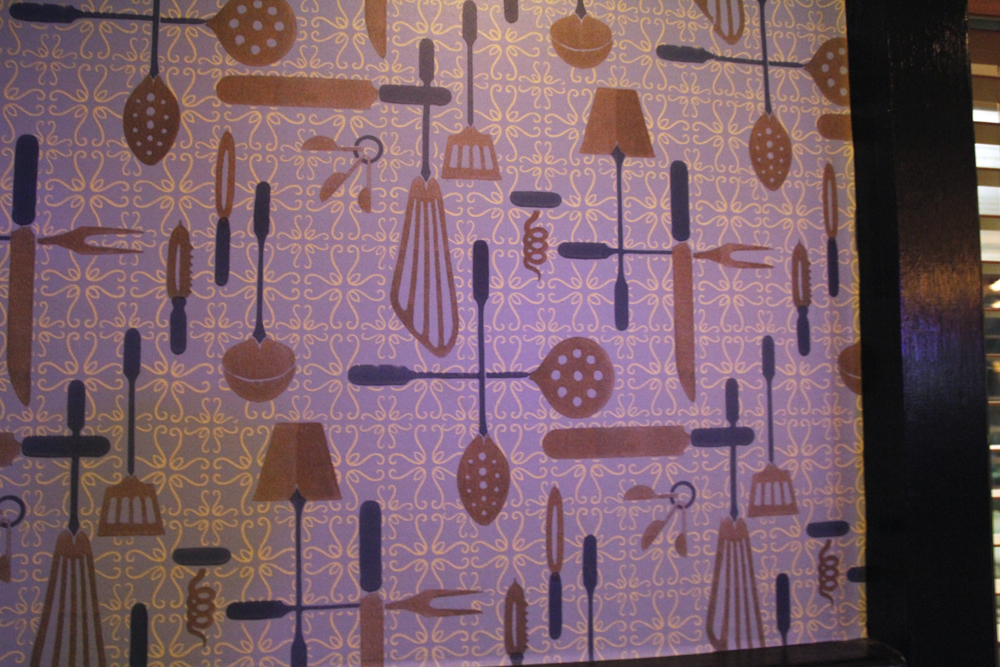 Atmosphere: 5 — It was the first night, and there was a huge buzz there. It wasn't a manufactured event; it came from the feelings of the people in the community and the work of the people who put the restaurant together.
We don't really know what the atmosphere will be like going into the future—we don't feel like it will be a retread of the old Penguin. It might not be that same destination spot—it seems very different. But it's a cool place, and we think people embrace, just in a different way.
Beer Selection: N/A— They didn't have a license there on their first night, so we couldn't get beer. We had to settle for RC Cola, Cheerwine and Sundrop in glass bottles—although we probably would have gotten some of that anyway.
Hereford: When we started our blog, we did so with anticipation of being able to review the Diamond. We're glad to say that now we have. Everything feels right with the world again, or at least mostly so. The Penguin may not ever be the same, but what we loved about it lives on at the Diamond.
Angus: We're really happy for Brian and Jimmy, and wish them a lot of luck with it. We think that it will be great for the neighborhood, and we can't wait for it to be open 24 hours a day.
Signed,