Location: 3221 North Davidson St. 28205
Website: http://www.solsticetavern.com
Hereford: Twice before in our relentless quest (here and here) we've encountered restaurants making the claim that they serve the "best burger in Charlotte." Here at the Charlotte Burger Blog, we bristle at that boast and denounce as disingenuous anyone who would make that assertion without the necessary credentials.
Angus: After all, we've eaten some fantastic burgers, and anyone who says they have prepared something with fresher, juicier, or more flavorful than those is making a bold statement.
Hereford: Now, if a publication such as Creative Loafing has awarded you plaque to put on the wall that says you have the "best burger in Charlotte," that's a different story. You should have that hanging where everyone can see it. If the Charlotte Observer has made a list of the best burgers in this city and your restaurant's name at the top of it, then by all means, reprint that on every menu and every sign.
But, if you say such a thing on your website or menu only as a cheap marketing gimmick, well sir, I think that is bad form.
Angus: Bad form, indeed, my good man.
Which brings us to our visit to Solstice Tavern. You will find on their website, under their menu tab, the following statement:
We have an extensive menu that has everything from great appetizers, to wraps, to the best burgers in town. (Emphasis mine)
In response, we have the following to say: Gentlemen, you have some stiff competition. We hope you can live up to them.
Hereford: So, with that on our minds, last Monday we headed to NoDa to the Solstice Tavern to decide for ourselves.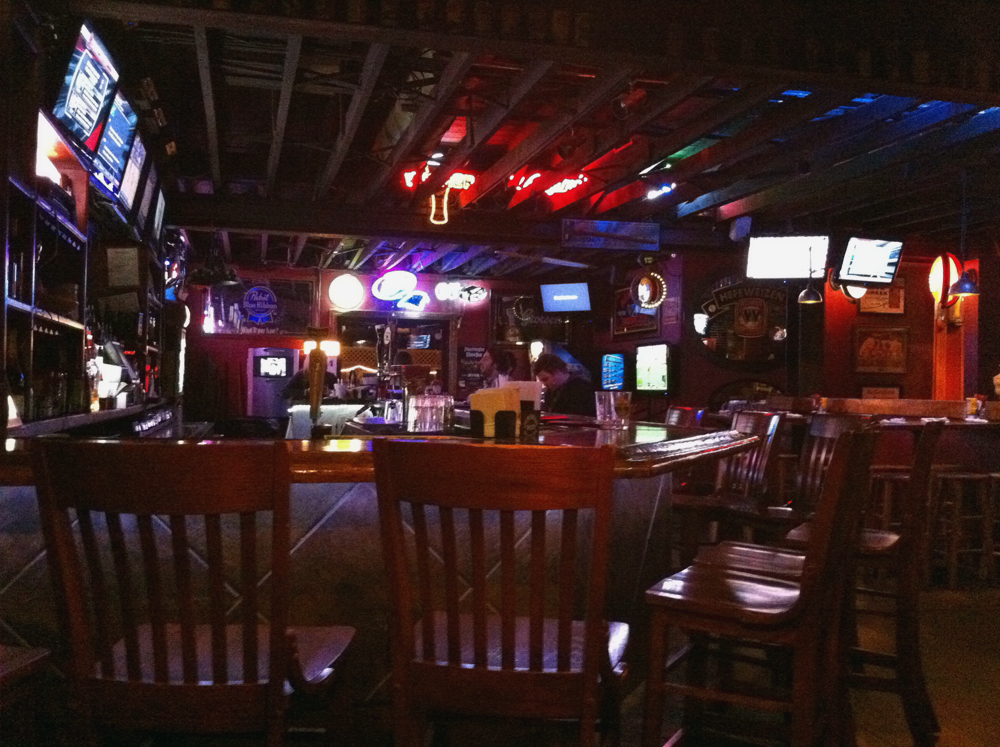 Angus: Solstice is, first and foremost, a neighborhood bar. It doesn't seem to aspire to much more than that. I found it cozy and comfortable, but also indistinguishable. There's really nothing about the design or décor that stood out or seemed unique. They had all the normal beer signs that you would find everywhere else. There seemed to be little else up on the wall besides those and TVs, and a ledge that had several old cans of beer that I didn't recognize. I probably would have thought the old cans were cooler if I could see them better, but they were high up and it was dark and I couldn't really make them out.
Inside they have the large bar area, and a small additional dining area, but they have a very large outside patio that is very nice when the weather is agreeable. Unfortunately, when we were there, it wasn't.
Hereford: Probably because of the weather, and also because it was a Monday, there were very few people there at all. There were, maybe, half a dozen customers there. We were told that business picks up on the weekends and during gallery crawls.
Angus: We asked our server for a beer list as we settled down to make our dining decisions, but were told they didn't have one. We thought that was strange and, potentially, a problem. You have to be a good listener to catch everything. Honestly, I can be flighty sometimes. It would be a shame if you were to miss something interesting and new—more so if your server forgot to mention it. I'd rather have it in front of me.
We did notice, though, that they do not have any selections from the big three companies on draft. That meant a lot to me. You can find those beers just about anywhere and I respect any place that gives that space to something more uncommon and interesting. And it's even better if they have something local.
Hereford: As we decided what we were going to eat, we noticed that the menu was dominated more by their sandwich menu than their burgers. They have a great selection of hot and cold sandwiches—they even had a make your own section, but they only had a few specialty burgers. (And absolutely no make-your-own options.)
Angus went with his regular, ordering a Tavern burger, which is described as, "Grilled; served with lettuce, tomato & red onion with Cheese (Swiss, provolone or cheddar ) and/or bacon each .50."
I followed our procedure and asked our server what set them apart from everyone else. She recommended the Sunscape Burger. It's described as a "grilled burger—coastal style with Salvador Deli's salsa and guacamole."
I asked if "coastal style" meant it was prepared differently, but I was told that only meant it came with salsa and guacamole. I guess that's fair enough. I keep expecting menu descriptions to have more meaning than they do. Maybe I was just thrown off by the placement of the dash.
After a little over 15 minutes, our burgers came out.
Here's the tale of the tape:
EXHIBIT A: TAVERN BURGER
Official Weight: 8.3 ounces
Official Diameter: 4.75 inches
Official Height: 3 inches
Cost: $7.50
Angus: I had a bad feeling about my burger as soon as it came out. It was covered by the same over-bearing, decorative, floppy lettuce that Hereford disliked at Bad Daddy's . Just like him, I really dislike that type of lettuce. Lettuce is supposed to add texture to a burger and that type, while it looks better, ends up sticking in your teeth more than anything.
But, I gave the burger a fair chance. I still bit into it expecting it to be good. It wasn't. I thought the burger was very dry, and severely lacking in flavor. Of all the places we've visited to do reviews, it was the most bland. I was reminded of going to cookouts in which the host, knowing he was going to have to feed a lot of people, bought the pre-formed patties rather than making something himself. It just tasted like they didn't care.
The cheese was really thin. It was supposed to be cheddar, but I couldn't necessarily tell that. It didn't have any flavor, and had the texture of Kraft American cheese. So I'm not sure what it actually was.
The only good parts of the burger were the bun, which was actually pretty good, and the bacon (which was properly floppy). But that was it.
I didn't even finish the burger. I mean, I'm a guy who likes to eat—that doesn't normally happen. But it was just such a letdown. I had also ordered some hot dogs, so after a certain point I was just ready to move on to them. I really needed something to make me forget the burger I had just tried to eat.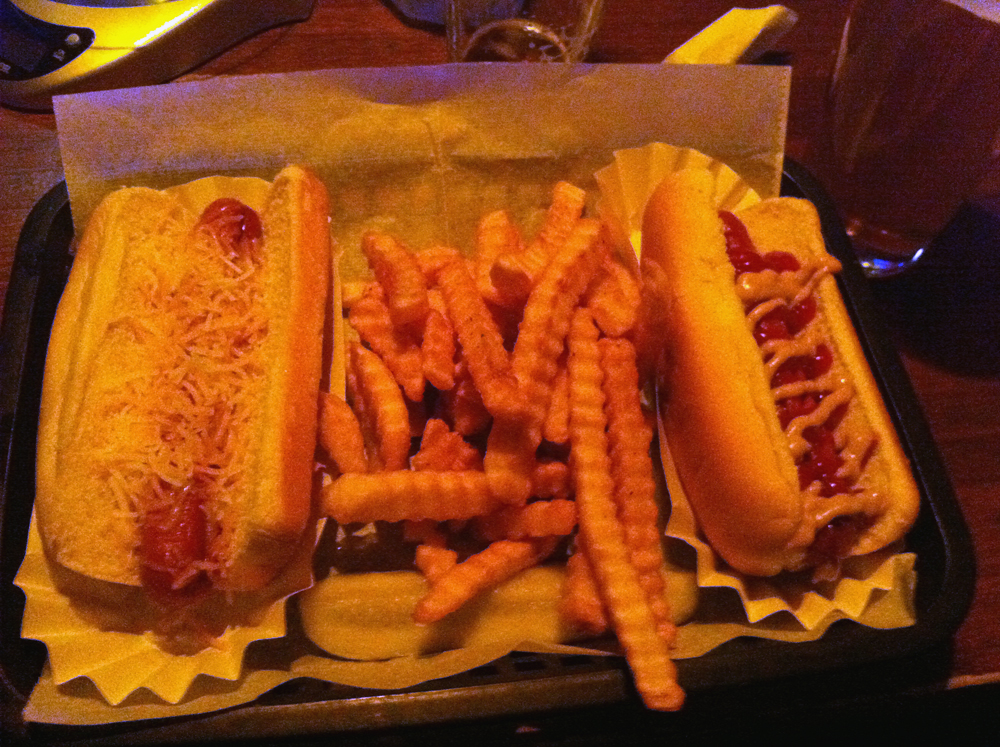 The hot dogs weren't bad. I did like the fries. They were normal crinkle-cut fries, which are hard to ruin.
EXHIBIT B: SUNSCAPE BURGER
Official Weight: 9.2 ounces
Official Diameter: 4.75 inches
Official Height: 3 inches
Cost: $6.50
Hereford: I'm normally more negative than Angus is about the burgers we review, but this time I actually liked my burger more than he did. That isn't to say that I thought it was great. I was disappointed too. But, at least I did finish mine.
Oddly, I actually thought that everything about it was good about the burger, except for the burger. Unfortunately, that's kind of a key ingredient.
The salsa was very good, with great large chunks of fresh tomato. It was more like thick pico de gallo, and was only a little spicy. The guacamole was nice—although I could used more if it. I'm a guacamole hog—to me it always seems that you have to use enormous scoops to get all of the flavor. I believe that's even more true on a burger when it is competing with other flavors.
And, as Angus said, the bread was great. It was a sesame seed Kaiser roll, which was different, and was obviously very high quality.
But the meat itself was bland and boring. Just as his was, mine was also dry and had no flavor. It's hard to get past that.
So, here's our final analysis:
Food: 2 — Obviously, we were really disappointed by our burgers. Neither of us were fans. This might have been lower if not for the other ingredients on Hereford's Sunscape Burger. This has been our biggest disappointment so far.
Service: 4 — Servers are kind of like referees. It's usually a good thing if you simply have nothing bad to say about them.
Theme: 2.5— Solstice is trying to be a neighborhood bar—they don't have much going on otherwise for a theme. They certainly don't have anything unique theme-wise to offer. They mostly just seem average.
Atmosphere: 3.75 — We did think that their set up was nice. If you came when it was busy it would be a cool little bar, especially if you could hang out outside.
Beer Selection: 3.5— This might have been higher, but we didn't have a beer list to review, so it was hard to know for sure how we should have rated it. As we recall, they had interesting stuff. (We ordered the Bad Penny when we were there, and we certainly like that.) They did get a half-point bump for relegating the big 3 beers to bottles-only status. Good call.
Angus: So, in conclusion, we implore you, Solstice, to change your website. You don't have the best burgers in Charlotte. To be frank, you wouldn't get a nomination. At least not now.
Hereford: That's not to say that you don't have potential—who knows, maybe we came on a bad day for the meat. You have a good start with some of the ingredients. And We thought it was a nice place, we'll certainly come back. It seems like a great place to drink.
Angus: But, to be honest, if we were here to eat we'd probably be getting sandwiches.
Signed,