Location: 409 West 9th St. 28202
Website: http://almikestavern.com
Hereford: One of the great things about writing this blog is that we get a chance to visit places that we probably never would go to otherwise. Quite often, these places are turning out to be wonderful surprises. Our latest example of this is Alexander Michael's (or Al Mike's. I guess we should avoid Al Michael's ). It's tucked away on 9th street amongst houses and condos. Since I don't live in that neighborhood I doubt I would ever have come across it. But someone told me that they have a reputation for fantastic burgers, and we'll go anywhere in town that has fantastic burgers
Angus: We were hoping they would live up to that reputation too, because we had been fairly disappointed with our last several reviews. Maybe it's just that we've been to so many good places that our standards have become pretty high, but we've missed going in to a place and being blown away. We were hoping to find that experience again there on 9th street in an old re-purposed grocery store building.
Hereford: We stopped by fairly early on a Friday night, and when we came in just about every seat was occupied. This is obviously a popular place, even though it isn't on a busy street. It seemed, to us, to be a quintessential neighborhood pub, and that probably most people who were there lived nearby. It seemed very comfortable, and very friendly.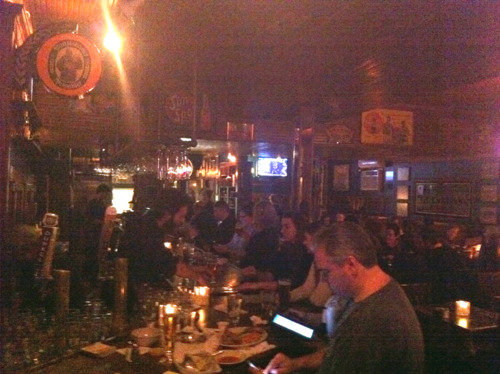 Angus: I loved the wood paneling and everything inside. Their freezer seemed ancient, and was made out of wood. They had a bunch of old soda signs on the wall and, although I'm sure it's not true, I like to think that they've been here since this place sold those sodas.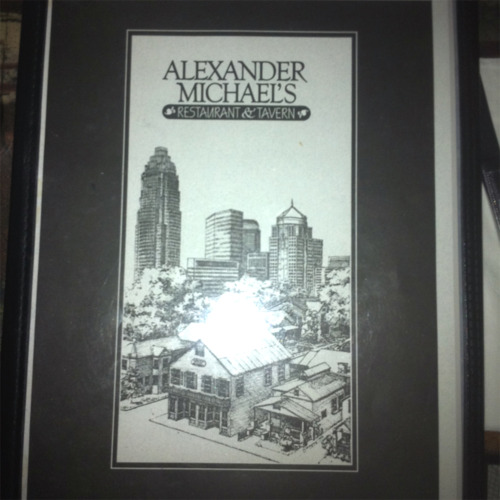 Hereford: Because it was so busy, it took a few moments for our server to get our drink orders. That gave us plenty of time to check out the menu. But, before I even looked at the food I read every word on the back page, which they left dedicated to information about the restaurant.
First, they included some information about the history of the building (which is where we learned that it was a grocery store in its past).
Second, it informed you about the pole in the women's restroom. Apparently it is unknown why the pole is there, but the owners of the building find it amusing. Also, apparently people bother them about this pole constantly or they wouldn't bother to print anything about it on the menu.
Mrs. Angus visited the restroom and, thankfully, returns with pictures on her phone so we could see this pole for ourselves.
Angus: I, for one, was disappointed that it A) didn't seem like more of an obstruction and B) wasn't shiny.
Hereford: I'm not going to lie—I pictured it as shiny too.
Third, the menu listed the house rules. Here they are:
Rule #1: If you can't have a good time here—check your pulse!
Now, I interpreted that as a threat. If you're the type of apathetic jerk who think it's cool to be bored , then they might go so far as to kill you, to which I say, "good riddance."
Rule #2: We stock many different types of beer, so stop being a creature of habit. Experiment and enjoy
Angus: I'd like to propose that they re-order the rules and make that #1. Actually, with a few modifications, I think it would make a fine state motto. I love a place that shows pride in their beer. Also, this is the second place in a row that does not have any beer from the big 3 breweries on tap.
Hereford: And, I'll drink to that.
And, finally:
Rule#3: A sense of humor is appreciated. We'd love to see yours!
Now, I see that more as a corollary to rule #1, but it got me thinking—how many humorless jerks had to come in and refuse to have a good time before they saw the need to put these rules on the menu?
Angus: So, trying to follow rule #2, we started off with the Dunkel , from the Old Mecklenburg Brewery. We're big Old Meck fans, but we had actually never tried this winter seasonal before, and Al Mike's had it on tap. We were also excited to see that they had another seasonal we wanted to try, Hopslam beer from Bells Brewery (in bottles). People have been going crazy about this beer. It's a 10%, though, so we decided to at least wait until we got our food to order it.
Hereford: I had a dilemma when I was deciding what I would order. Normally I get a "specialty burger," a burger prepared in some unique way, and I usually allow our server to choose it, but that's not the way things are arranged at Al Mike's. They just list a burger as an option on the menu, followed by a list of toppings.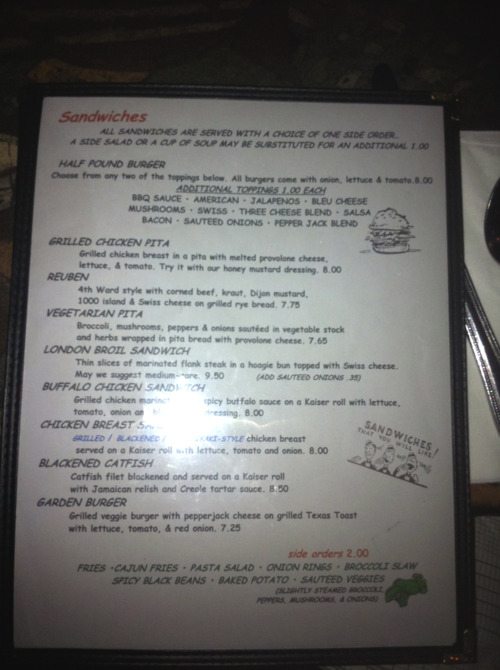 We discussed if I should ask our server to choose my toppings, but I was afraid that she would just choose cheese and bacon, and I didn't want to do that. So I decided to get toppings that would make my burger sufficiently different from Angus's. So I decided to make my own version of a salsa burger. I got the fresh salsa, jalapenos, and pepper jack cheese.
Angus: And I got my normal—a burger with bacon and cheese. Specifically, I got the three cheese blend, which was a mixture of Pepper Jack, Monterrey Jack, and a mild cheddar.
Some of the other options available were bleu cheese, mushrooms, swiss, sautéed onions, and a pepper jack blend.
Hereford also made the point to ask if you could get some of the other toppings that are only listed on their sandwiches, such as the buffalo sauce and the Jamaican relish (whatever that is). We were told that wouldn't be a problem, if you wanted those.
So, after 20 minutes, our food came out. We ordered those Hopslams and pulled out our measuring equipment, and got ready to eat.
Here's the tale of the tape:
EXHIBIT A: Half Pound Burger with Bacon and Three Cheese Blend
Official Weight: 12.6 ounces
Official Diameter: 4.5 inches
Official Height: 4 inches
Cost: $8.00
Angus: These are definitely some hefty burgers—Hereford's even more so than mine. When I first looked at my fries I was disappointed at the portion size (I think you should always get a ton of fries), but as I ate my burger I realized I probably couldn't have had any more fries anyway.
And, man, was that burger tasty. Everything on it worked great together. The cheese was melty and amazing. The bacon was floppy and perfect. And the burger itself was juicy and flavorful. This was the best burger I've had so far in our quest.
And the bread! This is the type of bread I could eat on its own. We were told that it came from Nova, in Plaza Midwood. It was perfect for this burger. Since the burger was so large, it was nice to have a bun that held up. Take a look at how huge the bottom bun is—it's made to handle a burger this substantial.
And I loved how everything was balanced—every flavor held up on its own. This was pretty close to a perfect burger.
EXHIBIT B: Half Pound Burger with Salsa, Jalapeños, and a Pepper Jack Blend
Official Weight: 15.1 ounces
Official Diameter: 4.5 inches
Official Height: 4.5 inches
Cost: $9.00
Hereford: I couldn't believe I got a burger that was over 15 ounces. That's ridiculously huge. I struggled to finish this burger, but, because it was awesome, I was able to eat every bit of it.
As you can see, the jalapeños were actually melted into the cheese, which was a nice touch. The flavors worked great together that way, and it kept them from sliding off. The salsa they brought was actually salsa, not just a pico de gallo. That meant it was actually somewhat runny, so I used a fork to only get the thick chunks out and onto the burger. Together with the cheese and the jalapeños it was amazing. And, it was actually quite hot. Unlike some of the other burgers I've had that advertised themselves as fiery, I actually needed to drink water constantly.
I had to take off the tomato from my sandwich, because otherwise it was just too much to have on one burger, but I considered that okay—I had enough to eat on the sandwich as it was.
And I have to agree with Angus about the bread—it was awesome. It can really make the difference between an average burger and an amazing burger.
So, here's our final analysis:
Food: 4.9 — We still are trying to hold back from giving a full 5, but honestly, this was really close. These were really great burgers—the meat had a lot of flavor and the ingredients were fresh and tasty. It's hard to ask for more. Furthermore, they were super-huge, so you got a lot for your money.
Service: 4 — When we came by it was super busy, and we had to wait a little bit longer than we've had to at other places, but that was understandable. And our server was really nice and she wrote down the date and where the food came from (with a smiley face) on Mrs. Angus' to-go box, and that should count for something. Right?
Theme: 3.75—Alexander Michael's doesn't have a defined theme, but we felt they were going for a neighborhood pub feel, and as such it works really well. This is the type of place that, if you could walk there, you would love to be able to take your friends from out of town to so they could be jealous of where you lived.
Atmosphere: 4.25 — We thought the atmosphere was awesome. Even without the food, we thought this was the type of place that it would be fun to just go to and drink. And it seems like the type of place that probably has a lot of regulars, who likely know everyone fairly well. And, it's a mandate to have fun. It says so on the menu.
Beer Selection: 4.25— Alexander Michael's is not a big place, but for their size their beer selection is awesome. Not only do they have two Old Meck beers on tap, but they have a lot of other interesting selections and a lot of seasonal. (And no big 3 beers clogging up their draft selections.) And, we were told that they turn over their beer pretty quickly, so everything they have is always pretty fresh. And they encourage you to try new beer, which everyone should do more often.
Angus: Alexander Michael's definitely lived up to its reputation. They really do have some great burgers. It's worth it to take the time seek this place out, even if you just want to drink.
Hereford: Just remember, ladies, watch out for the pole.
Signed,