Location: 2107 South Blvd. 28203
Hereford: Hey, you remember us, right? You know, the Charlotte Burger Blog; two guys and their relentless quest to eat burgers at every place they're served in Charlotte and the surrounding area.
Angus: Alright, I'm going to go ahead and stop you right there. We haven't posted a review in two months. Can we still call ourselves relentless? Should we make it an "intermittent quest"?
Hereford: No, no, no. We're still relentless. After all, just because we haven't been writing about burgers doesn't mean we haven't been eating burgers.
Angus: Lame.
Hereford: Yeah, I know it's lame. But it can be tough to balance a blog with all the other stuff in life, especially since those other things are called "jobs" and actually pay us "money." In fact, I would bet that most bloggers that write for pleasure have lapses every once in a while. I don't know. Maybe we're just lazy. What I'm trying to say is that we're sorry.
Angus: Yeah. Well, are we just about done with the self-pity stuff or can we actually talk about burgers now?
Hereford: Yeah, I think I'm good now. We can go on.
Angus: Good, because we have a pretty awesome place to review this week. We actually visited a long time ago, but we're now finally ready to post our thoughts about it.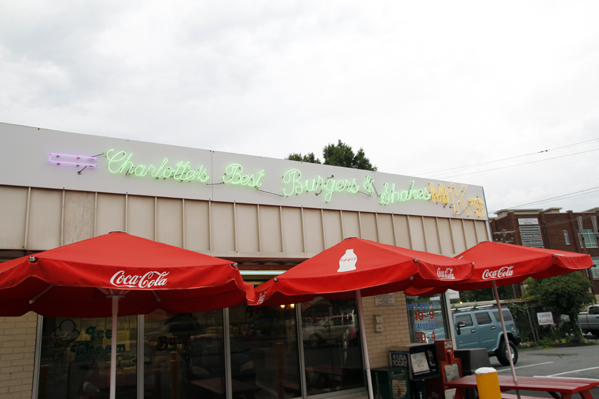 And for the Charlotte Burger Blog, this place is overdue. Mr. K's on South Blvd has been serving burgers for over 40 years and is a special place in this city. In fact, if I were to open a City of Charlotte Buildings Hall of Fame they would certainly be inducted in the inaugural class (along with, I think, South 21, Zack's, Snoop's, and the Penguin).
Hereford: If you're on a burger hunt on South Blvd & you didn't otherwise know about Mr. K's you could be forgiven for overlooking it. First, their sign gives more focus to the ice-cream part of the menu. It says ice cream in bigger letters and their mutant-humanoid-K-man is shown with a cone.
Angus: And second, and I'm almost remiss to mention it, but the building is nearly obscured as you head away from uptown by a certain adult-themed business venue.
Hereford: Leather & Lace.
Angus: Okay, if we're going to go ahead and talk about it—yeah, Leather & Lace. I don't really know the history between the two establishments, but if I had to guess (and, really, this is all conjecture) I doubt the family friendly burger place loves to be in the literal shadow of a strip club. If I owned it, I think I would probably hate it. I mean, you can't ignore it when you go in. You park your car and there you are, looking at some weird Roman inspired painting on the stucco of people in togas.
Hereford: After taking some pictures outside, we went inside to order. The inside of Mr. K's is an explosion of Carolina Panthers memorabilia. They have all types of helmets and signs. One entire wall is full of blueprints for Bank of America Stadium (or whatever it was called when it was being built), and they even have a building permit for the stadium being built. (Naturally, I like to imagine that the owner of the restaurant snuck in the stadium as construction progressed and stole it from the foreman's office.) It's all pretty awesome. And, I don't mean anything negative by this, it's nice to see a place that completely accepts the Panthers considering how many Steelers and Bills places that I see.
Angus: Otherwise, Mr. K's shows its history (since history is a nicer thing to say than age) with its antiquated wood paneling, fake plants, and mauve and gray fixtures. (And, really, why was mauve ever as popular as it obviously was.) Besides the Panthers stuff and maybe the ceiling fans, it seems nothing has changed here in my lifetime.
Hereford: Having said that , as much as the décor may clash with our modern design sensibilities, I always love seeing places that haven't changed much. I love that sense of walking into the past.
I do wonder, though what the place looked like pre-1993 when there was no NFL team here.
***Editor's Note: There are some pictures on the website where you can kind of see what Mr. K's once looked like. From what we can tell it was pretty much the same, but plainer.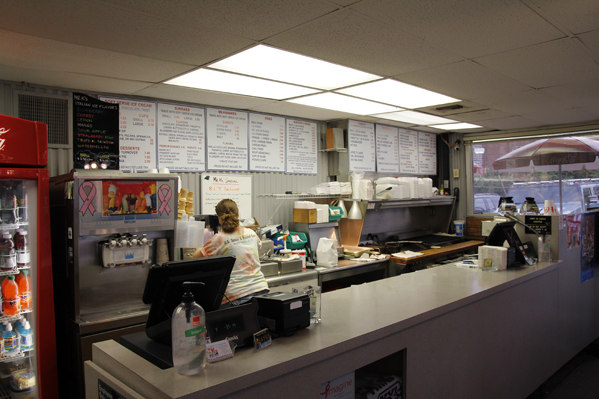 Angus: Among the things that haven't changed at Mr. K's is the ordering style. It's an old lunch-counter system where you go up to the register & tell them what you want and they bring it out to you. It's probably not much different than when the original owner operated out of a little circular building by the street.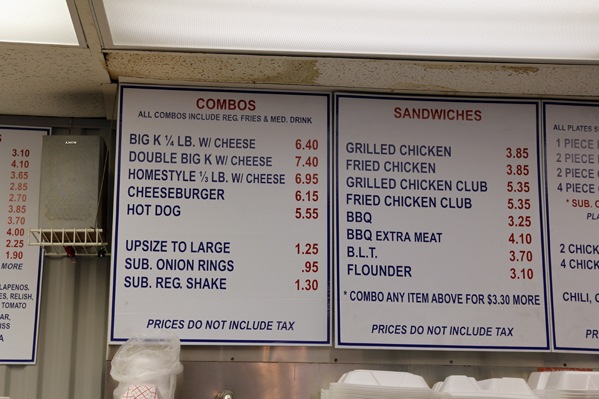 Hereford: Like most old burger places in Charlotte, they don't really have specialty burgers available, but they do have a ton of toppings. You can turn your burger into just about anything. They have A1 Sauce, banana peppers, grilled onions, jalapeños, pickles, relish, sauerkraut, slaw, Texas Pete, bacon, and chili. They also several different types of cheeses: America, Bleu, Cheddar, Provolone, Pepperjack, and Swiss. For an old-style lunch counter type of place, they have a ton of choices.
Of course, I always get specialty burgers when we do reviews, and lately my M.O. for places that don't have specific specialty burgers on the menu has been to ask our server to pick a certain number of toppings for me. So, I walked up to the young lady at the counter who was taking orders and asked, "Hey, if I asked would you pick 4 ingredients for my hamburger for me?"
To my chagrin, she replied, "probably not." I guess there are times when, in doing my job here for the blog, I come across as kind of weird.
Angus: Also, lots of other times.
Hereford: Thanks.
Anyway, she then made a suggestion that people often get slaw and chili and mustard and onions. Some quick math in my head told me that was four, so I said I would take that. She then asked me if I wanted cheese, so I a slice of American too (even though that made five toppings).
But, the choices don't end there. You also get to choose from two different styles of hamburger meat at Mr. K's. There's a regular style and a home-style, both of which are prepared on an open flame. The difference between the two was the additional ingredients for the home-style, which was a homemade recipe largely including garlic. That sounded good to me, so I got that.
Angus: And since my job is to evaluate basic double bacon cheeseburgers, that's what I got. I got a Double Big K with American, lettuce, ketchup, and bacon
So, here's the tale of the tape:
EXHIBIT A: DOUBLE BIG K w/AMERICAN AND BACON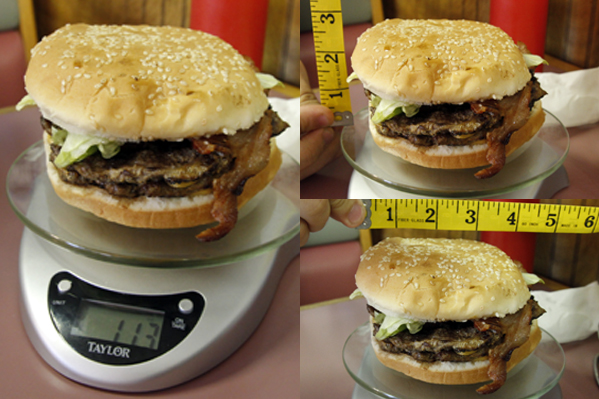 Official Weight: 11.3 ounces
Official Diameter: 4.5 inches
Official Height: 3 inches
Cost: $8.30
Angus: So, after you place your order at Mr. K's you go have a seat and wait for them to bring out your food. That's fine. But you also have to wait for your drink. They don't give that to you until your food is done. It's not really a big thing, but if you're not expecting it then it's easy to obsess about. We're sitting there, making comments about the place and all I can think about it is my root beer. "Why didn't I get it earlier?" "I hope they didn't forget it." "I am totally super thirsty right now." Of course, I didn't want to say anything. And there it was on the tray when the food came out. So I guess it's all okay in the end.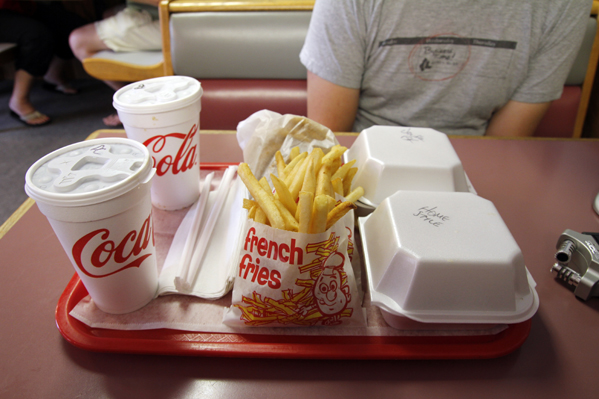 One of the things I really liked at Mr. K's was the food presentation. Sure, it wasn't some fancy restaurant with a sprig of parsley on the plate, but there was something I enjoyed about how everything was together on the plate. Maybe I was just charmed by the little potato guy on the French fry sleeve.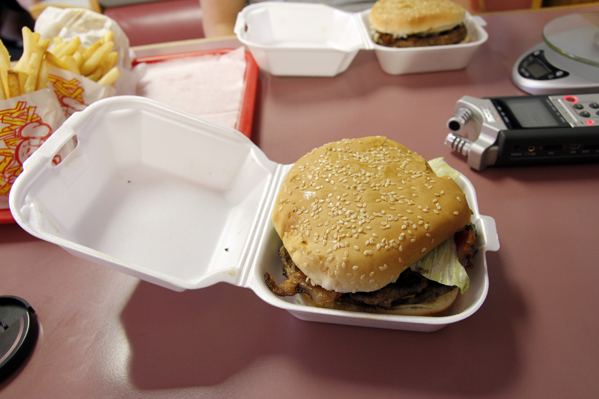 Hereford: Of course, maybe they could consider doing away with the Styrofoam container for the hamburgers, especially considering we were dining in. A simple paper plate might be more eco-friendly.
Angus: True.
The burgers themselves were really good. They reminded me a lot of Mueller's, which also featured char-grilled burgers. Although my burger didn't look like a lot, it was surprisingly substantial and had a lot of flavor. They make all of their patties in house, and you can tell. The bacon was really thick and I loved the cheese as well. I was really happy with my order.
EXHIBIT B: HOMESTYLE BURGER WITH CHILI, SLAW, MUSTARD, ONIONS, AND AMERICAN CHEESE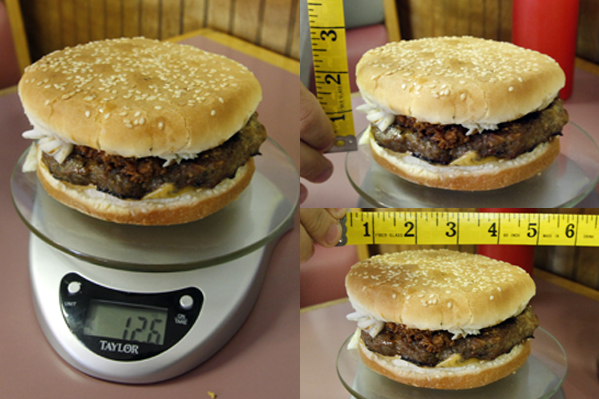 Official Weight: 12.6 ounces
Official Diameter: 4.5 inches
Official Height: 2.75 inches
Cost: $7.35
Hereford: The prominent feature of my burger was the garlic-y flavor of my home-style burger. If Spinal Tap's amps are turned to 11, the garlic on this burger was a 12. Maybe a 13. Angus told me he could smell it from across the table.
That's not necessarily a bad thing, but garlic is one of those foods that people have strong opinions about. Here's a pointless analogy that I'll stretch way too far: Garlic is like the Jack Black of foods. Some people hate Jack Black, and he'll ruin any movie that they watch him in. I get that. That's fine. Some people like Jack Black, but only in the measured doses. They think he's hilarious in High Fidelity, but only because he's a supporting character. I get that too.
But the garlic in my burger was like Jack Black in School of Rock. You have to like him to like the movie because he's in almost every scene. The garlic in my burger dominated almost every bite. It's actually quite good—that's the appeal of it. It's just not for everyone.
(And, to really go over the top with this, I'll say that eating 4 cloves of raw garlic is akin to watching Gulliver's Travels. Pretty much everyone hates it.)
So, while the garlic was pretty strong, the chili had a lot of flavor too. It added a little spice and a lot of substance. Of course, about a fourth of it fell out onto my plate, but you have to expect that with chili burgers.
Those two ingredients were so strong that if they forgot to put on my slaw, onions, mustard, or cheese I don't think I would have noticed. But, that was fine. I liked it as it was. And the bread held up quite well for what was, otherwise, a super-messy burger.
Here's the final analysis:
Food: 4.75— We've given all of the classic burger places in town the same rating. That's because they all have a lot of similarities, and it's hard to rate one higher than another. They're all great in their own way.
Service: 4— Mr. K's isn't a full service restaurant, and the drink thing is a little inconvenient (although I'm positive they would go ahead and give it to you if you ask), but they have very nice, friendly people who go out of their way to take care of you.
Theme: 3— There's no real outward theme of Mr. K's, besides I guess ice-cream, but that makes it like every other place of its time. Inside, the Panthers decorations dominates the theme.
Atmosphere: 3.5— If you like old places and/or the Panthers, you'll definitely enjoy sitting here and enjoying your burger, even though this isn't the type of place that was meant for you to lounge around in for hours.
Beer Selection: N/A— They don't serve beer here, but unconfirmed reports say you can pick up some over-priced tall boys next door.
Hereford: As we were getting up to leave, a couple stopped us and asked what we were up to. They had seen our equipment and had noticed us taking pictures. We explained who we were and what we do, and we sat and talked to them for 15 to 20 minutes.
The most rewarding thing about writing this blog, and the reason why we come back to it and put in all of the work for it, is the connection we've been able to make with other random people—whether it be people who we talk to in restaurants or people who send us emails. Yeah, we're just talking about burgers, but really what we love is pride in our city.
Angus: We would like to say thanks to everyone (especially those who have noticed that we've been gone for a while). It feels nice to be a small part of something like this.
Hereford: See you next week!
Signed,