Location: 200A West Woodlawn Road 28217
Website: www.chubzchiliburgers.com
The one thing that this blog has taught me 1 is that there are places in this great city that I pass by everyday, but never realize that they are there. It might be divine intervention to find these places, or maybe it's that we have such awesome readers that they write to us about these hidden joints (and if you have a place you think we should visit, please contact us!).
We were cued in to one such place from a reader, Ryan MacLatchie, who wrote to us saying that,
You guys need to try CHUBZ Famous Chiliburgers off of Woodlawn Road. I think Angus might like their In-n-Out reminiscent Deluxe Burger … Excellent California-style burgers.
Hmmm, well, that's a bold statement. To claim that a burger is similar to the fabled Double Double only found in the promised lands of In-N-Out, is either an unbelievable overstatement or they've found the last burger I'll need to review in Charlotte. It's a brazen statement, and one that I must investigate.
So I threw on my board shorts and grabbed my surf board 2 and headed down to CHUBZ.
CHUBZ is located off of West Woodlawn right next to I77. It is in the same store center as an adult boutique and a strip club. Not saying that that is a bad thing, heck, one of our favorite places in Southend shares a parking lot with a strip club. It just felt notable.
So, locking my doors and grabbing my one dollar bills, I headed in to grab a burger.
Here's the Tale of the Tape: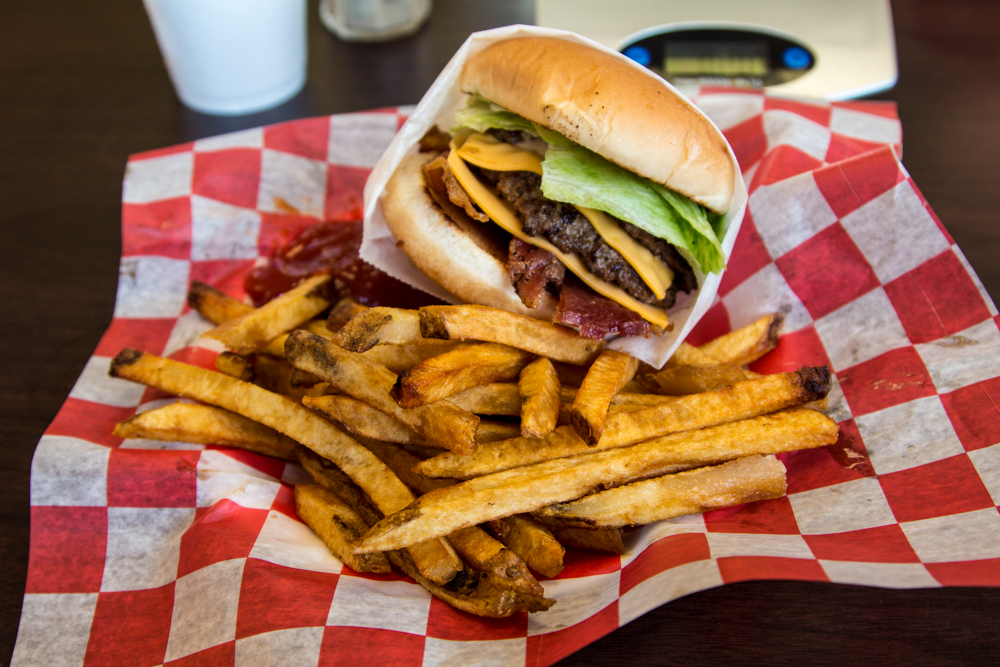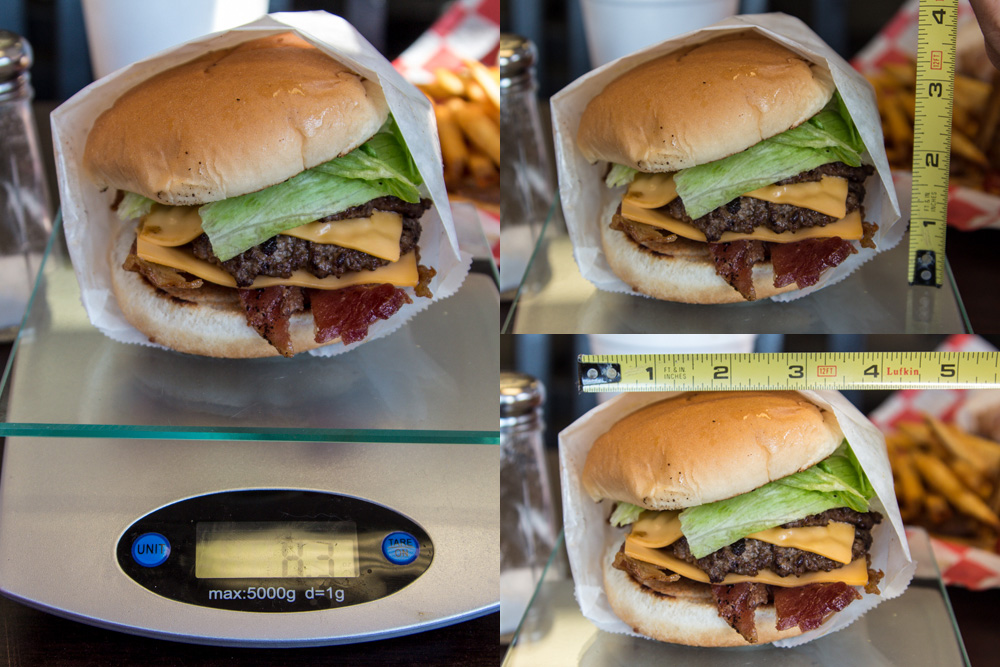 EXHIBIT A:  Deluxe Double Cheeseburger
(with cheese, lettuce, and CHUBZ sauce, with bacon)
Official Weight: 8.3 ounces

Official Diameter: 3.75 inches
Official Height: 3.75 inches
Cost: $8.00 (includes fries and a drink)
Cooked to order: NOT NEEDED.
Taking Ryan's advice I opted for the Deluxe Burger, but made it a double, and added bacon. CHUBZ states that they use the finest quality ingredients and that their certified USDA beef patties are hand-made fresh daily. So with all this in mind, as well as Ryan's statement that these burgers are reminiscent of the ones from In-N-Out, I took a bite.
And you know what… this didn't taste like a burger from In-N-Out. Let me explain.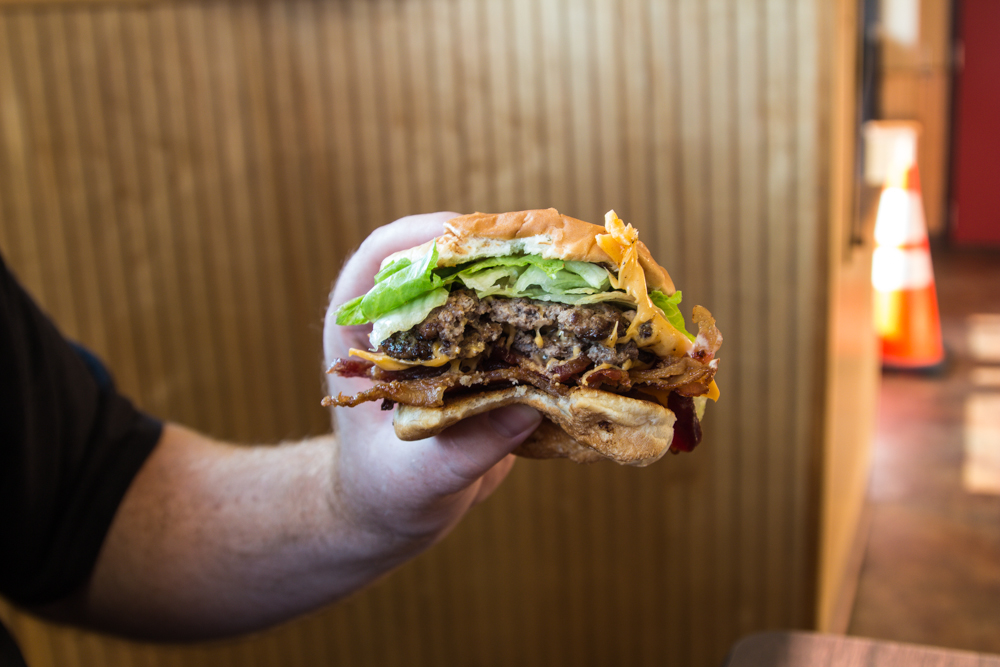 Biting into the burger you get the great taste of that fresh burger patty. It is seasoned perfectly and you can really tell that it was cooked and made fresh. It was a juicy well done patty 3. The lettuce was iceburg, and was crispy and cold which gave the burger a nice texture in every bite. The cheese was abundant and covered both patties right to the edge. The bacon was placed on the bottom, right before the bun (which I have never seen before) and I felt that it gave a great base to the whole burger helping the bun out on holding in all the juice. The buns were toasted and held up till the end, but I fear if I had chili on this burger they wouldn't have. Overall it was a very tasty burger that I enjoyed immensely.
So, my first thought that came into my head when I took that first bite, was that this burger tastes very similar to Zack's Hamburgers,which in turn themselves taste like In-N-Out. But thinking on that I quickly came to a realization that these burgers, although very similar, do not need the crutch of being like some other burger. They can and are able to stand on their own with each unique flavor that they provide.
And now back to my statement. This burgers didn't taste like an In-N-Out burger.
It tasted like a CHUBZ burger.
Burger Rating: 3.75

Other Food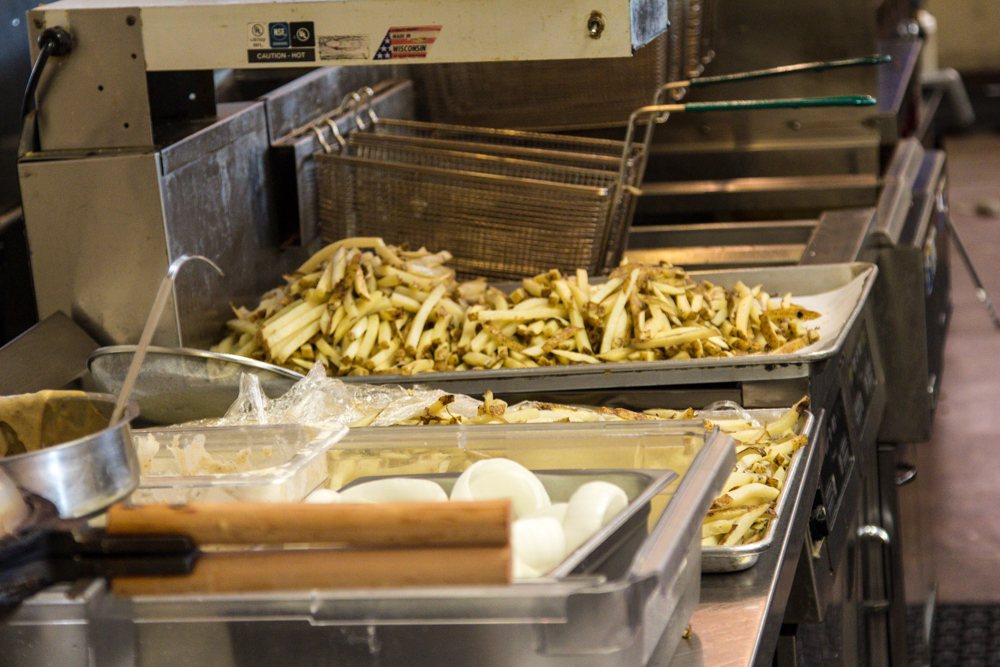 I had fries with my burger 4 and CHUBZ only uses the finest Idaho Russet potatoes to make their fries fresh daily. I know because that's what their website says 5 Usually joints that cut their fries fresh run the risk of the fries being way too greasy, but CHUBZ seems to have their fry cooking down with them being cooked just right and crispy.
The other items on the menu are the usual burger joint fare, but CHUBZ did have some California nods such as a trash burrito and a chili tamale 6. They had tons of combo variations with burgers and dogs and other sandwiches, but I was a little disappointed that I didn't see a burger burrito combo.
Beer
They did have some beer in bottles but it was all big three stuff and ….PBR. Nothing more to comment.
Beer Rating: 1

Atmosphere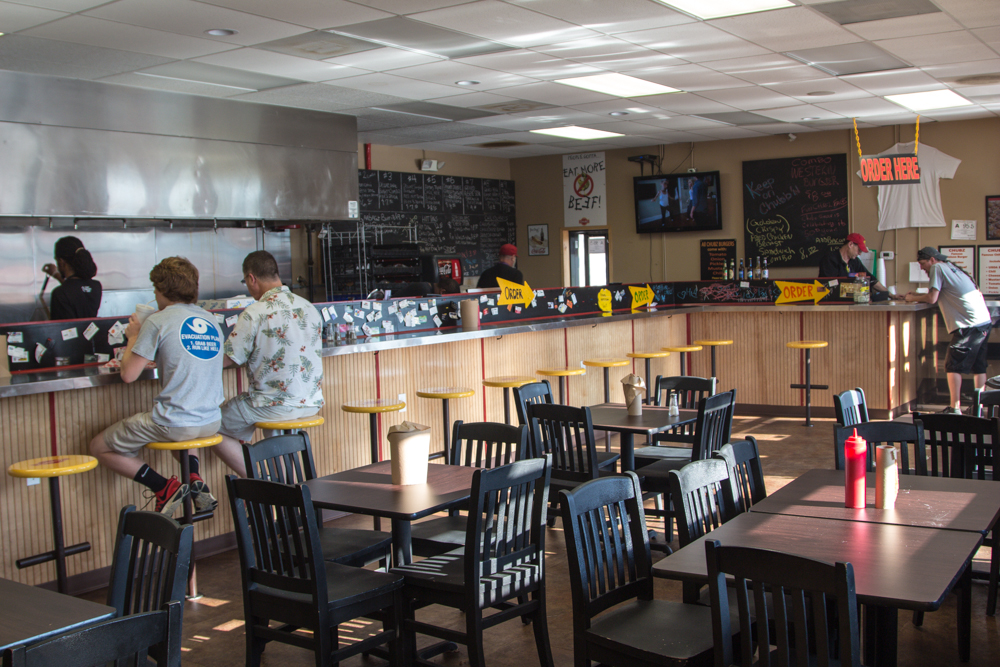 CHUBZ is set up just as the old time burger joints were, with walk up ordering and an open concept. We came just around 5pm so there weren't that many people in the dining area, but as we were leaving people started filling the seats. My favorite part of the inside was the bar and stool area that wrapped around the whole kitchen. It is way awesome that you can just grab up a stool and order from the counter. There is also something magical about watching your burger being cooked to order right in front of your eyes 7. And talk about no lag time from the grill to your plate!
Atmosphere Rating: 3.5

Conclusion
What was your favorite thing (non-food) about CHUBZ?
It totally was the make shift drive thru (I think this place used to be a bank?) on the side of the building.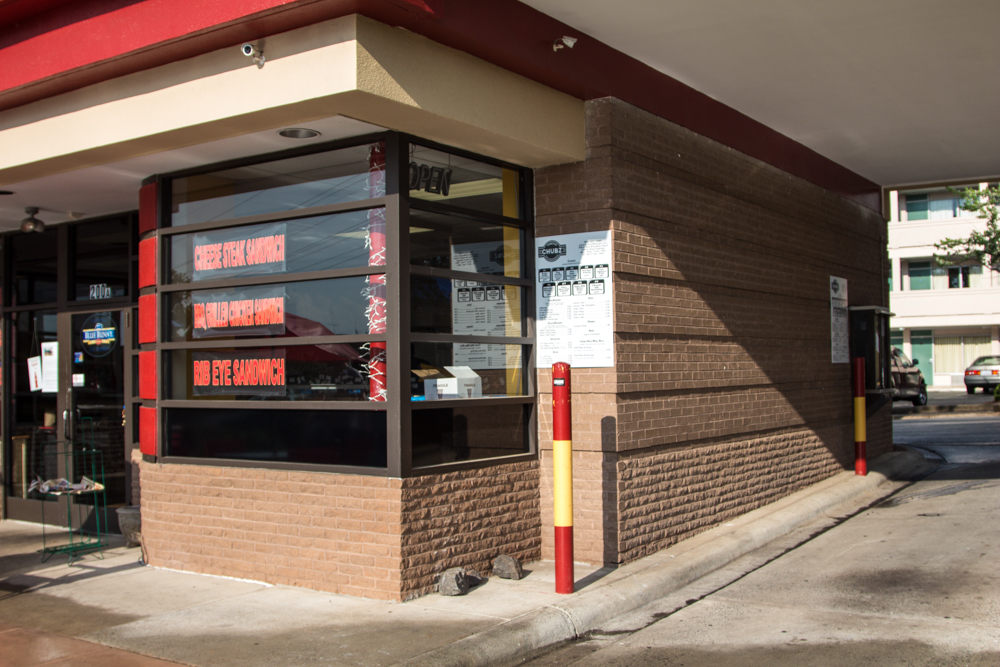 Did you have any dessert?
Yes! One of the owners suggested we try the CHUBZ Cake. The cake itself is derived from the popular "eggette" found at the street vendors in Hong Kong. It's very similar to a funnel cake with the powder sugar and a chocolate drizzle. It was amazingly tasty. The difference between the CHUBZ Cake and others like it was the zesty citrus something that they added, it gave it a nice tart flavor to accompany the sweet.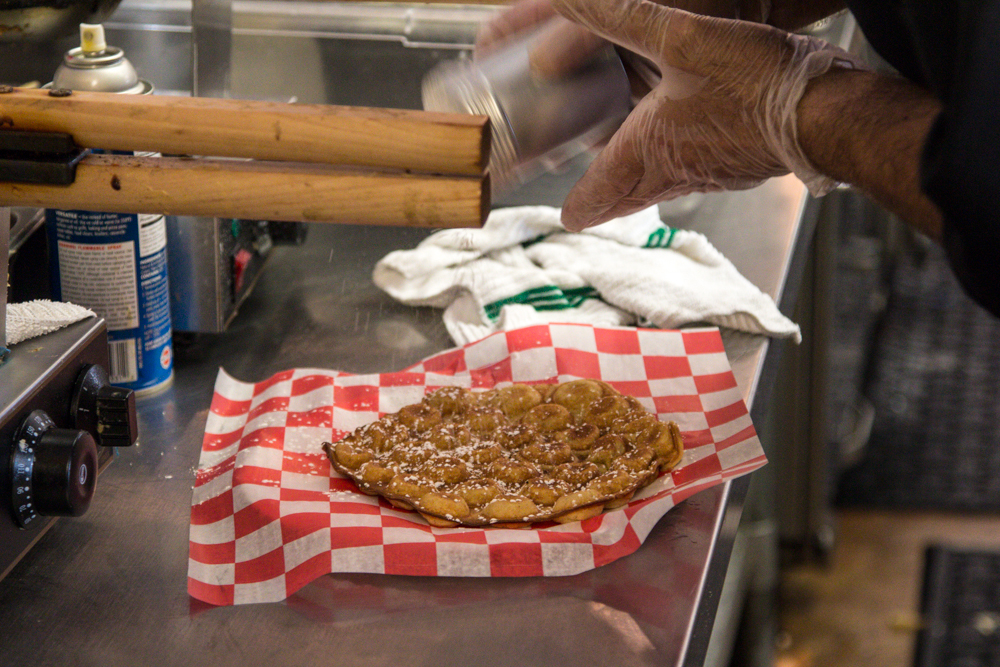 Would you eat here again?
Of course.
Next time you come by, what will you order?
Probably a Deluxe Triple Burger.
Does CHUBZ earn the Charlotte Burger Blog Seal of Approval?
This burger did not taste like a burger from In-N-Out. It tasted like a CHUBZ burger. That earned it the Seal of Approval.
Signed,