When we go out for an official burger review, we usually bring our equipment: tape measure, scale, reticulated splines, etc. But we don't just stick to our quest to eat every burger in Charlotte when we go out for reviews. Sometimes we want to write a quick review of a burger that we just happened upon. We call these Short Orders.
Location: 520 University Center Blvd  28262
Website:  www.bikinissportsbarandgrill.com
***Update: This location is no longer in business.
Why did you go to Bikini's?
For the record, this wasn't my idea 1 My friend John wanted to go to Bikini's one evening, and I thought it could be an interesting place to review.
Bikini's is a chain "breastaurant" out of Texas. In fact, there are only 2 locations not in the Lone Star state; this one and one in Oklahoma City. They appear to be trying to attract clientele who are concerned with Hooter's overall modesty. The tagline is "Sports with a View" 2, although, it must be noted, that Bikini's is actually guilty of false advertising. The girls, in fact, do not wear bikinis. From what I saw, they were jean cutoffs and colored bras 3. I don't know what the explanation for this is, but I would like to believe that serving food in a bikini would violate some sort of health code.
Before I start this review in earnest, though, I want to apologize for the quality of photographs. My phone doesn't do great in low-light, and I didn't bring my camera. Also, I was nervous every time I took a picture. They'd probably be fine with it, but it still felt like the kind of place where you should get in trouble for taking pictures.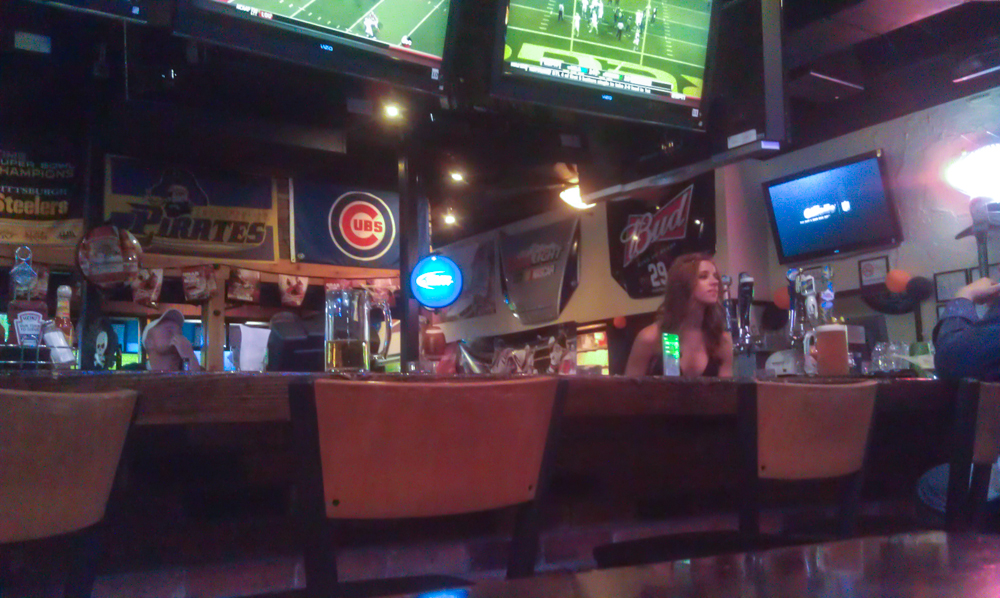 What did you order?  
Food-wise, I didn't go into this with very high expectations. I was surprised to note that they have multiple burger options, about 6, and at the very top of that section they announce that all burgers are "cooked to order."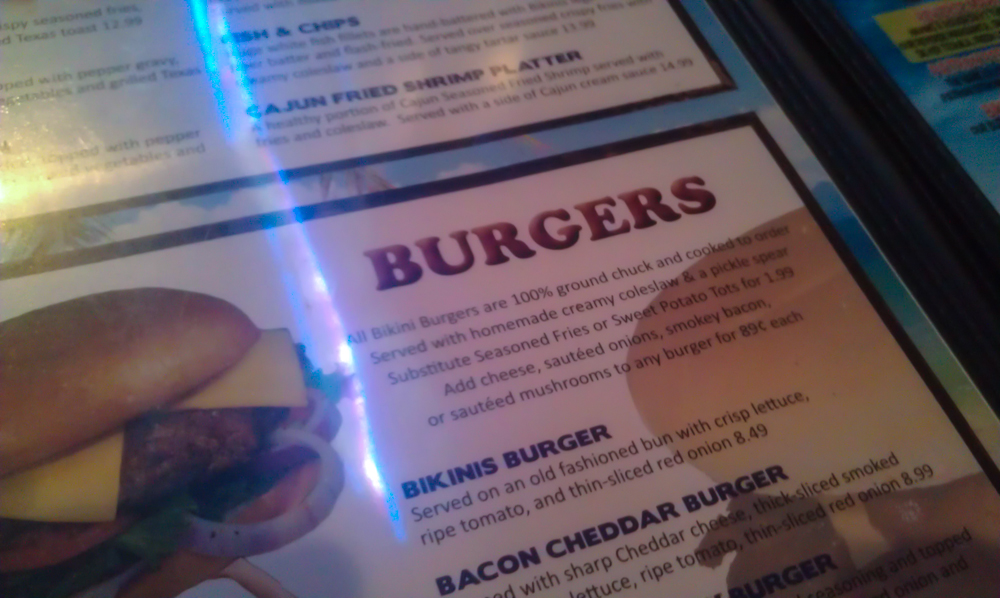 See, there's my proof right there.
I selected a Pittsburgher, which has a "juicy" patty topped with fries, coleslaw, tomato, cheddar cheese, and Thousand Island dressing. Since my expectations were low, I tried to pick a burger that would have a lot going on. I figured it might make up for possible burger shortcomings.
This priced out at nearly $10, but the side that comes with it is coleslaw. I don't really get that as a choice. If you want fries, you have to pay an extra $2. Even before I tasted the burger, I felt like I was getting ripped off.
Speaking of bad deals, they also have a burger challenge. It's a 5 lb burger. It costs $25, and if you eat it all by yourself, they give you….. a t-shirt. They note on the menu that the t-shirt is available in XXL, just to make you feel like more of a fat ass 4 .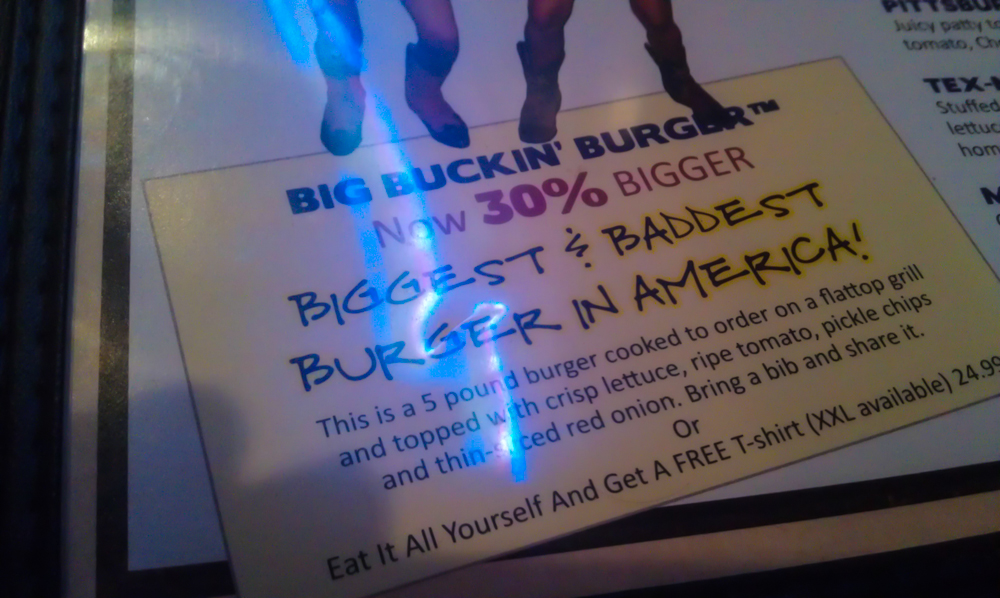 Buckin'. Oh yeah.
So, you know, how was the server?
I know what you mean by that question, and I won't dignify that with a response 5.
Anyway, when she came by the table I asked the burgers being cooked to order. She responded by saying that, "by law" the kitchen can only cook the burgers well-done.
I pushed up my glasses and said, "Well, actually since September of last year burgers can be prepared rare, so long as a proper notice is given on the menu." I barely refrained from pulling up the law on my phone 6. She then backtracked and said that she meant to say they can prepare it medium-well to well done 7. I asked for medium-well.
She then promptly avoided us as best she could. Ah, just kidding, she just didn't check on us too often because she was busy, but in the back of my mind I figured I came off as an ass 8.
She did however, put write our names on the napkin, along with hers. She drew a smiley face, but not a heart, and thus I knew what we had wasn't truly real.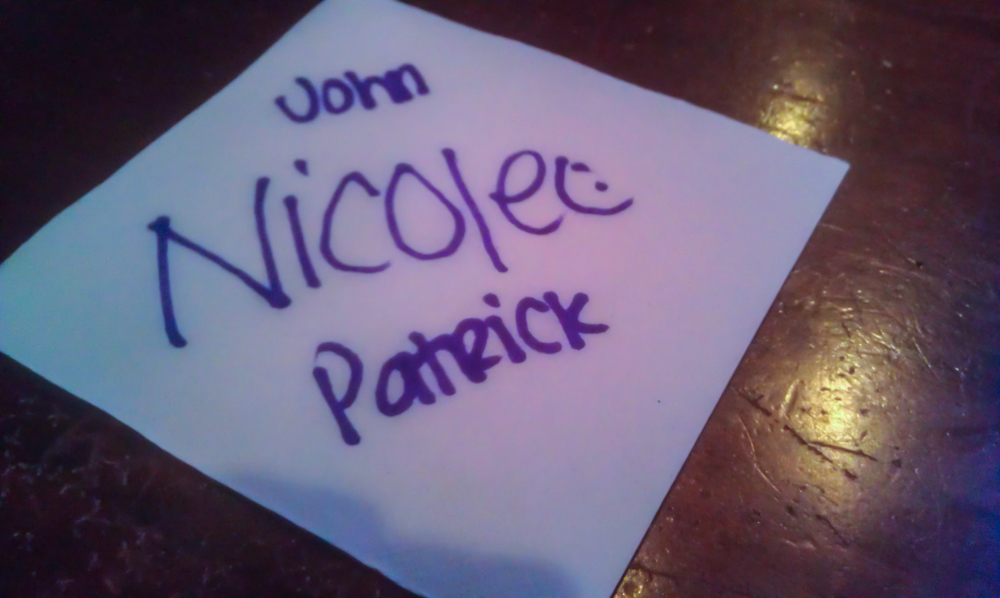 Later other servers would stop by and introduce themselves, which I suppose is nice, but made me feel like they were working too hard to give us attention. Hopefully they pool tips.
When Erica stopped by she drew a star, though. Or maybe a flower. Or maybe firework exploding in midair. Whatever it was, I liked it.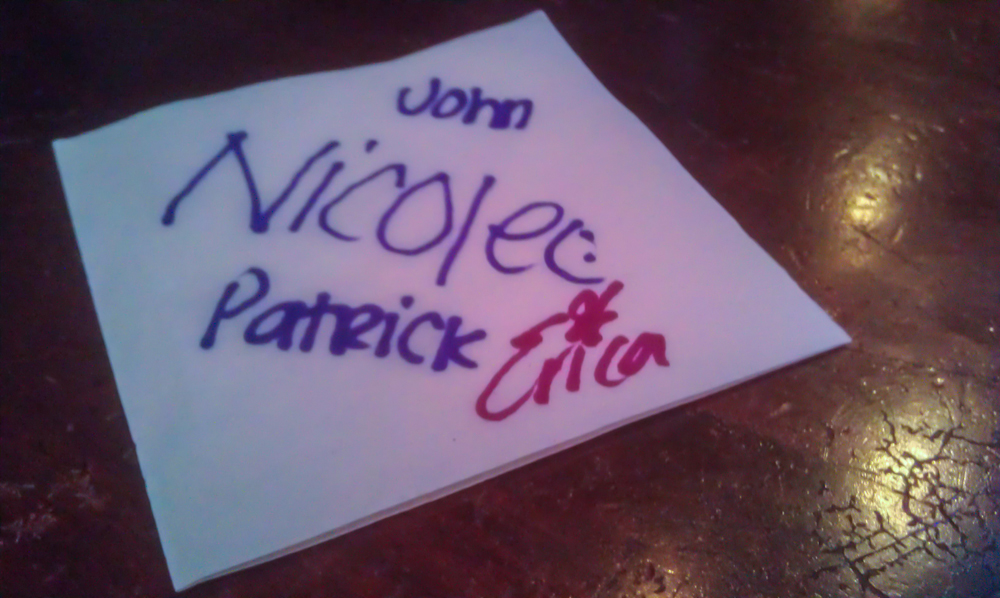 But then the last girl that stopped by, MeMe, finally drew us a heart, and the world felt like a slightly less cruel place for about 5 minutes.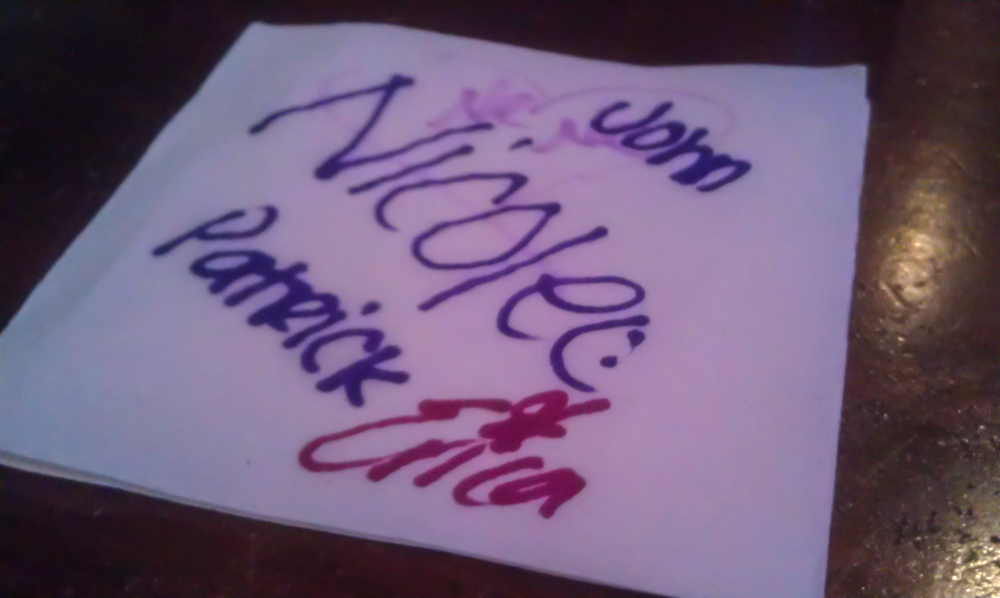 After she left, I realized I never got the beer I ordered. And then, having done their duty to go by and sign our napkin, none of them reappeared for about 10 minutes.
What beer did you order?
A Guinness. They had a couple of Sam Adams options, and Yuengling, but everything else was light-lager macro-brews.
Beer Rating: D
So, how was the burger?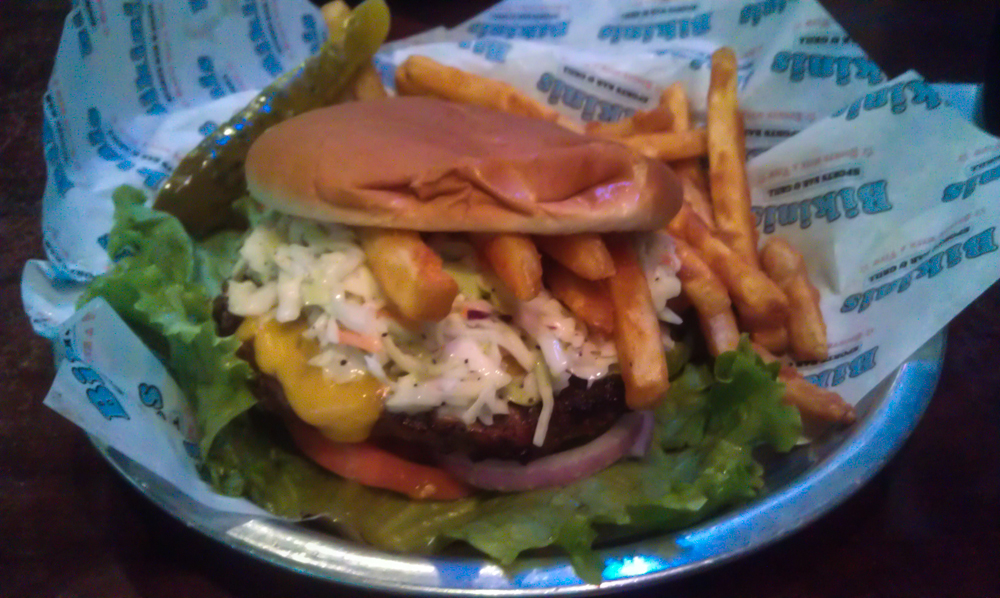 Let's start with the positives:
I like the cheese. It was melted over the burger, which was nice.
Ok, let's move on to the negatives.
First, the lettuce was the size of a sheet of paper.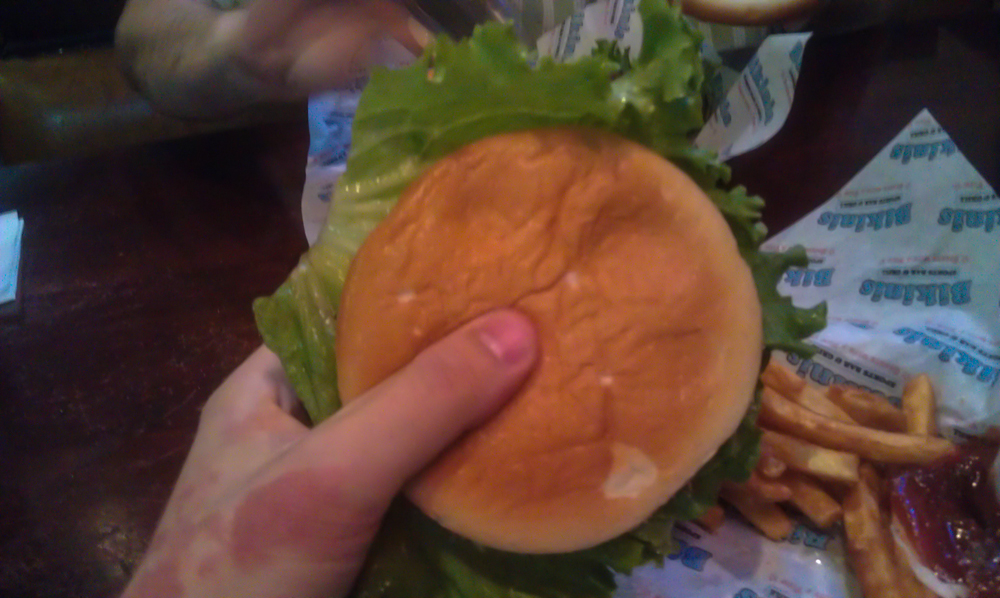 The coleslaw had little flavor to it, although it was somewhat sweet, and thus it wasn't all bad. That sweetness helped distract me somewhat from an extremely dry and bland burger. The more I ate the worst it got, until it finally seemed insulting. I would have been better off with just the bun and the toppings, forgoing the patty entirely. I've had worse burgers 9, but only because the toppings somewhat saved it.
So, would you come back?
The food was dreadful, the beer selection was disappointing, the prices were outrageous, and the service was inattentive. Having said that, yeah, you could convince to me to come back. Look, these places stay in business for a reason and it has nothing to do with what goes on in the kitchen. I'm a red-blooded American male; I'm not immune to that.
Signed,