Location: 1600 West Morehead St. 28204
Website: www.eatatpinkys.com
Hereford: Just a week after their official opening, Angus, Mrs. Angus, and I made our way past Bank of America Stadium to the converted garage that now houses Pinky's Westside Grill. This would be our inaugural meal for the blog, and we had high hopes for Pinky's—this place is part owned by the man who created the menu for the Penguin. And we once loved the Penguin.
Angus: For the most part, we'll try to stay away from the Penguin controversy in this article-although we do have strong feelings on the issue. When the Diamond opens (or the Penguin re-opens) we'll jump in those waters and try not to drown. Until then it will have to wait.
But, it is extremely hard to talk about Pinky's without referencing the Penguin, so we'll be doing that constantly.
Hereford: We showed up just past 7:00pm and couldn't find a space in the parking lot in from of the building. We parked across the street in the empty lot across from the bank turned tattoo parlor, which is one of the more interesting changes in venues I've seen.
We walked up and snapped a couple of photos. We were impressed with the Volkswagens outside—remnants of Pinky's own changes in venues—but we thought the concrete triceratops was particularly awesome. Still, what did this mean in terms of a theme? Would Pinky's have a vague garage theme, ala Fuel Pizza? Would it have a dinosaur theme, ala the Flintstones? We went in to find out.
Angus: There are two main rooms at Pinky's—the main bar area and a side room that was fashioned out of the old garage of the building. We were seated in the old garage, which had a Polynesian them. The main bar area had a race-car hood, a set of long horns, and a wrestling poster. Look like we got an identity crisis on our hands.
One thing that I think is exciting is the idea that they kept the garage door from the old Volkswagen shop, so in the summer they should be able to open it and enjoy the nice weather. That should be awesome. Especially since the garage overlooks Charlotte's skyline, which always looks cool.
Hereford: As we took our seat we had to make a decision. We had brought the instruments of our trade with us to document the meal. We had our kitchen scale with which to weigh the burgers, a tape measure to accurately document the girths of the burgers, and a tape recorder so we can remember our comments. What would the staff think of our instruments? Should we tell them our intentions?
Angus: I made the executive decision that we should. We didn't want our server to be weirded out by them.
But then again, we didn't really have just one server. The service style was classic Penguin. Instead of having one server, every server in the building operates together. Whoever is closest to you when you have a need helps you out.
That has some advantages and disadvantages. On the plus side, usually you get whatever you need in a timely manner. On the down side, you never really develop a relationship with your server. If you develop a rapport with someone, I like the thought that my tip went to that person and not to some shared pot.
Anyway, none of the staff seemed to have a problem with what we were doing, and in fact were happy to indulge us.
Hereford: Maybe we just liked them because they gave us free beer. Because they hadn't yet attained their liquor license, they said they couldn't legally sell us anything. But, it seems, we could have complimentary Yuengling.
Angus: I'd like to point out that the best beer is complimentary beer.
Hereford: Indeed. Unless it's Bud Light or something.
Angus: Which, of course, we would promptly pour down the closest drain.
Hereford: Exactly.
As we got settled in we began to examine the menu. This place isn't just a burger joint, and they had a lot of interesting items on the menu. (The shrimp tacos seemed like they could be pretty awesome.)
Angus: They even have the fried-pickles—an important carry over from the Penguin.
Hereford: Well, the last time I had fried pickles they wound up on my lawn….after I threw them up. So I'll pass.
Anyway, that wasn't what we were here for.
Angus: It took us a moment to become acclimated to the layout of the menu. As you can see in our photo, at the top of the burger section are three main styles of burgers—Everything(think Penguin's "All the Way" with mayo, lettuce, onion, and pickle), the Westside (think Penguin's "Carolina style" with mustard, chili, slaw & onion), and the Ding Dong Style.
I can't really tell you what to think about the Ding Dong style. It is described as having "crunchy peanut butter, honey-cilantro slaw, and hot sriracha sauce." At first look it seemed more like something you would eat on a dare than something that you would pay someone to make for you.
Then the next section of the menu begins with two separate sizes of burgers that you can get in any of those three styles—the Pterodactyl that has one patty and the Mammoth that has two.
Then the menu continues with different styles of burgers again, which I assume you can get in the two different sizes. I thought that was an odd layout, and that the styles should probably be together better.
Hereford: I agree. Please note the return of the dinosaur references in the sizes. But then a new theme is introduced in the menu art—skulls.
Angus: Seriously—cars, dinosaurs, hipster-trucker stuff, Polynesian, and cutesy skulls. I have no idea what they're going for.
Hereford: But I liked the crystals that covered the lamp at our table.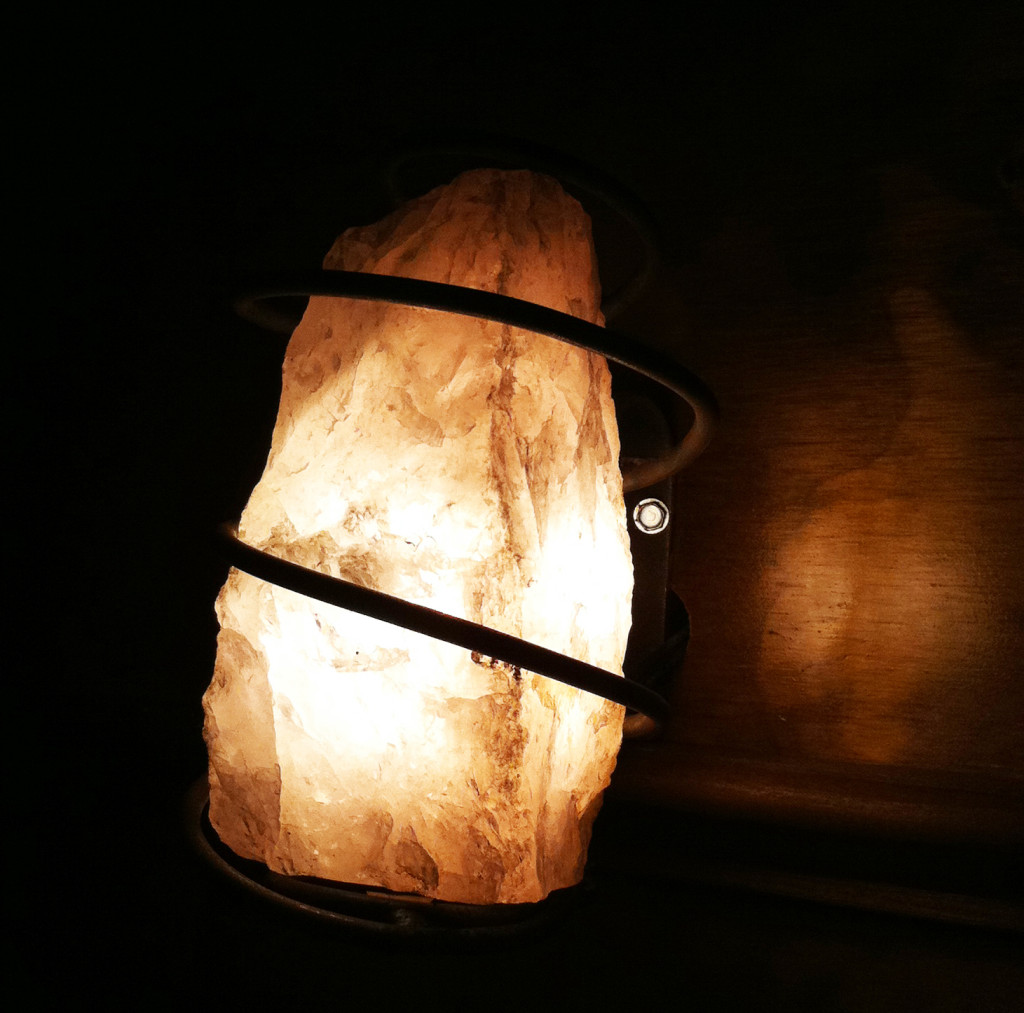 Angus: Yeah, that's top notch. We didn't even mention the cool Creature of the Black Lagoon poster that was in the Polynesian garage. That adds another theme element to the theme-cornucopia, but I liked it.
Hereford: So, here at The Charlotte Burger Blog we have the following rule when we order at a burger restaurant. To best gauge the versatility and strengths of a place, we will order a basic cheeseburger and the best specialty burger on the menu. We will let our server choose what the best specialty burger is, just in case it's something that may otherwise seem too daunting for us.
Angus: Like the Ding Dong style. Peanut Butter and hot sauce sounded seriously weird. So that's what Hereford got, Pterodactyl style.
Hereford: That sounds like a really strange sexual act.
Angus: I got a Mammoth cheeseburger with cheese and mayo. There were a lot of cheese options—American, Cheddar, Feta, Gorgonzola, Provolone, Pepper Jack, Swiss, & Pimento Cheese. I picked two cheeses-Cheddar & Pepper Jack. I was impressed with the types of cheese they chose to offer.
Hereford: It took exactly 20 minutes for our food to come out, which is what you expect from a place like Pinky's that uses all fresh ingredients.
So, with our mouths watering, it's now for the tale of the tape:
EXHIBIT A: Mammoth Double Cheeseburger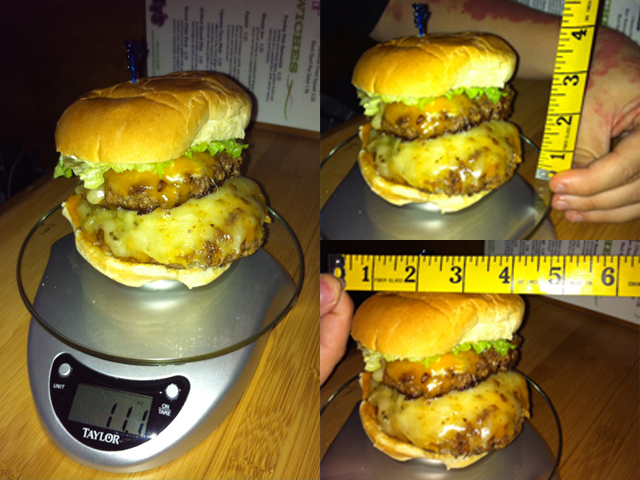 Official Weight: 11.1 ounces
Official Diameter: 5 inches (taking into account the bulge of meat)
Official Height: 4 inches
Cost: $5.50
Angus: So, my first impression is that it was really good. There wasn't much crispness to the lettuce, but I don't think I care about that too much. But, I got to say that I was a bit overpowered by the meat here. It was pretty massive 1.It was almost too much. Maybe it's because they use the cheap whitebread buns (again, like the classic Penguin) but there wasn't much balance of all the items on the burger.
That being said, I think that might be my fault. I could have ordered a smaller burger, and otherwise I enjoyed it. The original plan for The Charlotte Burger Blog was always to pair a specialty burger with a double cheeseburger—but the sheer size of this burger has convinced me to just get a regular cheese burger for now on.
The cheddar and pepper jack was fantastic.
EXHIBIT B: Pterodactyl Ding Dong Burger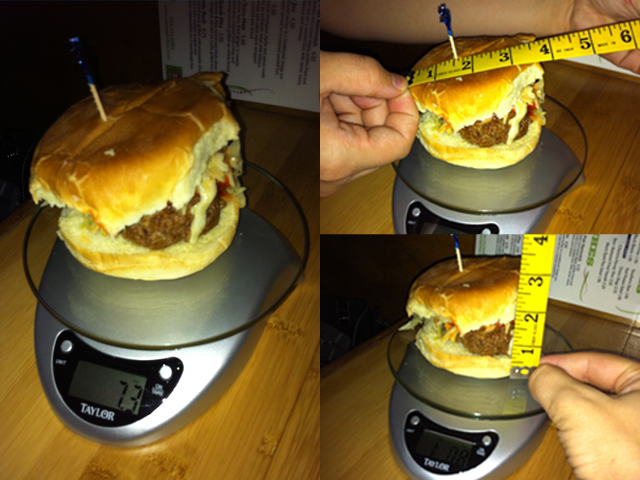 Official Weight: 7.3 ounces
Official Diameter: 4 inches
Official Height: 3 ½ inches
Cost: $3.75
Hereford: So, I was a little afraid of this burger. I don't usually mix peanut butter and spiciness. I like both, but together seems odd—like putting Reese's pieces in your General Tso's chicken. But the Ding Dong burger is nothing like that.
I'm not going to lie, when I first bit into my Pterodactyl Ding Dong I found it odd. The first thing you taste is the peanut butter. And you think, "wow, that's peanut butter and meat. Weird." Then the hot sauce comes sliding in.
I actually enjoyed it immensely. My server described it as a Tahiti flavor. I don't necessarily think that's true, but it's still something I would recommend people try. The sweet and the spicy played well off each other—I actually thought it could have been a bit spicier.
The disappointment of the burger was the honey-cilantro slaw. It added crunchiness to the burger, which was a welcome texture, but I couldn't really taste it. The other two ingredients were way more flavorful.
But you should try it.
Angus: The fries were waffles fries, which I think are always a welcome fry option. They're great for collecting condiments. But, ours came out lukewarm, which was a disappointment.
Mrs. Angus ordered the White Trash Burger. She felt it was a bit dry, but then that may be because she ordered it well done.
So, we liked the place. Andy, one of the owners, came over and talked with us for a while. He described the place as the "evolution of the Penguin." That's a good description. The food and the service are strongly reminiscent of the former drive-in on Thomas Avenue. If you find yourself missing it, there's a new place in town that you might feel at home at.
The people seemed nice and the food was pretty good. The style of the place is schizophrenic, but that's not something that actually matters. It's just one of those things we can't help ourselves but focus on.
And if you make it while they still have complimentary beer, count yourself lucky.
Here are our final scores, on a scale of 1 to 5:
Food: 3.5 – That isn't a slight—we really liked our food here. But, the fries were a little lukewarm, and we're tough graders overall.
Service: 4—Everyone seemed very friendly and helpful, and food was delivered on time. We can't really complain, but we'd still prefer a traditional waiter service style.
Theme: 1—There's nothing wrong with any of the potential themes presented at Pinky's—but they're all over the map. They get the lowest grade as a result.
Atmosphere: 4—The music was at a proper volume (and I actually liked a lot of what was played). It seemed like a cool place that wasn't pretentious—our type of place.
Beer Selection: N/A—This obviously doesn't apply, but we scoped out the tap situation over at the bar and they had room for 8 taps—a good sign. We'll have to come back later when they have their liquor license.
Signed,

Notes:
That's what she said. ↩