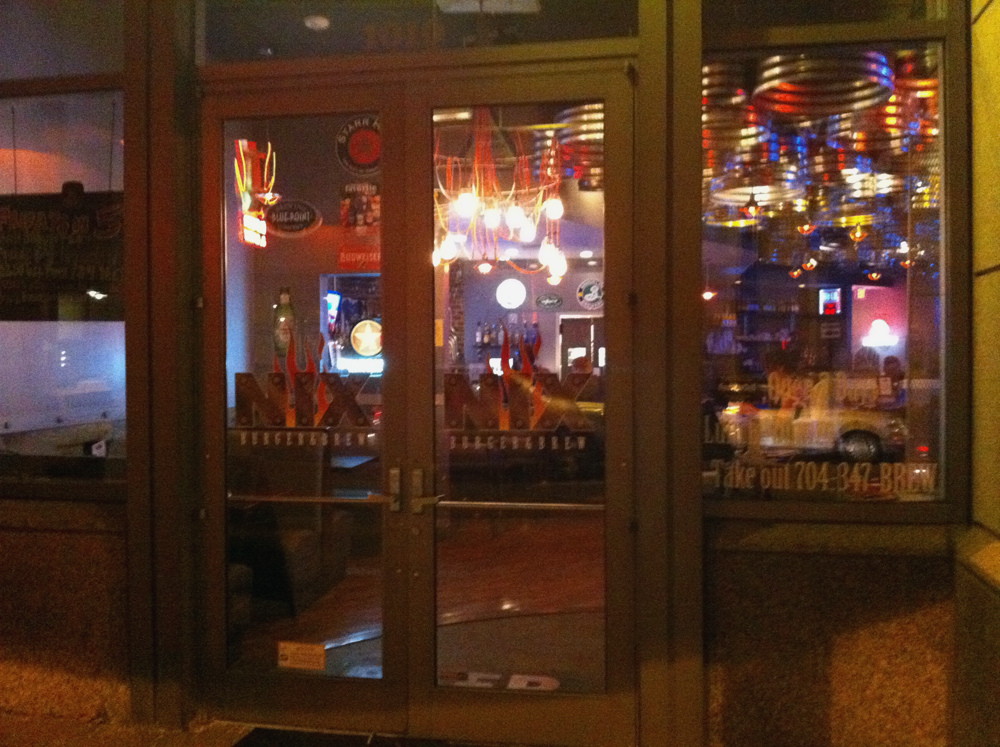 Note: This restaurant is no longer in business.
Location: 201 N. Tryon St. 28202
Angus: After our meeting with Constantine from www.cltbuzz.com to shoot our first ever interview about the Charlotte Burger Blog, we decided we were hungry. Maybe talking about yourself does that. Since, we had yet to visit Uptown for the site, so we headed over to Nix Burgers & Brew to test out what they offer.
Hereford: Nix is surprisingly small when you walk inside. It's just one room. They have a lot of tables for such a small space. In the middle they have a long wavy table where they can put multiple parties, which is where we sat. It's an intimate environment, which we liked.
Angus: I would describe the interior as an arty/industrial sports bar. They have a few interesting decorations that seem unique (see the chandelier), but mostly it was TVs and run-of-the-mill beer signs.
Hereford: The wall decoration that was my favorite was actually in the men's bathroom. They had a framed Charlotte Bobcats jersey hanging in there. It was from, I assume, their inaugural year since the jersey number was "04."
As a Bobcats fan, I have to admit I was A) insulted at the placement and B) tempted to take it out of frame and walk out wearing it. I'm sure that it cost a decent amount of money to buy and mount—be proud of it and show it to everyone.
(I have it on good authority that the ladies restroom did not have any jerseys. No, I did not go in there and look.)
Angus: Anyway, we asked the server some questions about Nix. She told us it was named after the owner, whose name is Nick. I guess "Nix" is cooler than "Nick's."
We asked if the flames on the sign had any particular significance—we wondered if the burgers were, for instance, flame broiled. She said no, he probably just thought they were cool. I guess that's fair enough—fire is pretty cool.
Hereford: Nix has some interesting beers on tap. It's not just the normal big three beers. They have a couple of options from Blue Point, out of New York—a Rasta Rye, and their Toasted Lager. They also have some Big Boss, which is from Raleigh.
But, unfortunately, they didn't have any Old Meckenburg.
Angus: We are definitely big fans of Old Meck, and would like to see it featured at as many Charlotte restaurants as possible. If the management for Nix is reading this (or, perhaps, Nick), we hope you consider the suggestion to add that to your draft list. It's awesome.
Hereford: And, no, we are not paid to shill for Old Meck.
Angus: So, instead, we ordered a couple of cans of Lion's Head, because was on special for $1.50.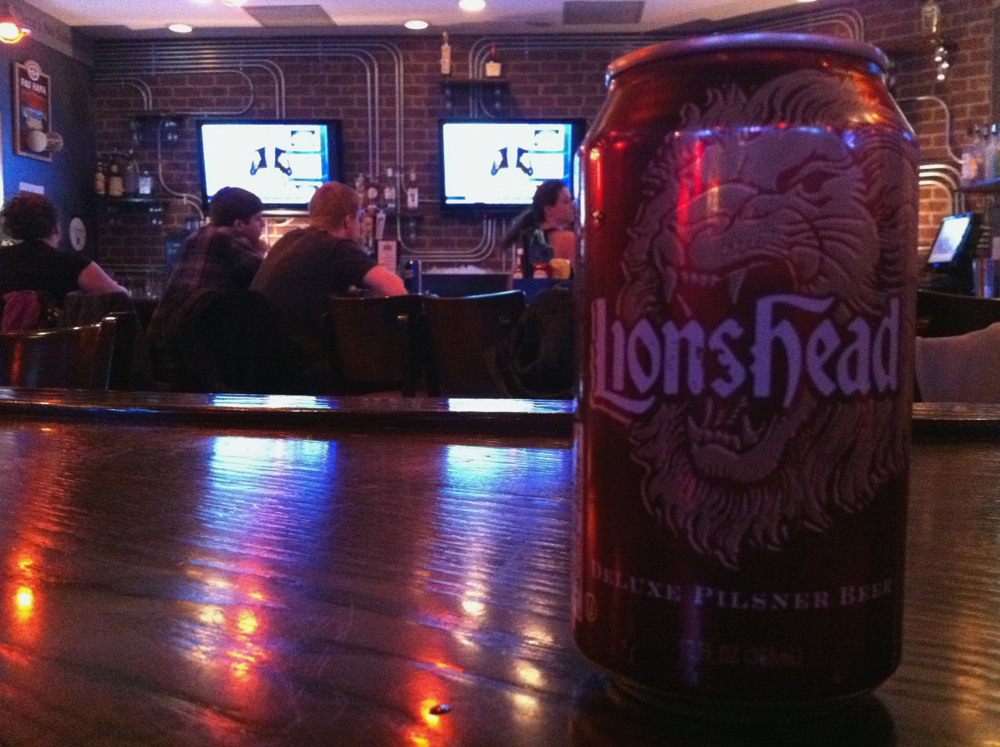 As we looked at the menu, we were blown away by the sheer number of burger options available at Nix. They had well over a dozen options for burgers, all with some very interesting recipes. They also had a ton of options for hot dogs.
I wanted to get some close to my regular order of cheeseburger with bacon, but I wanted a slight variation. So I chose the Northern Pittsburger, which features cheddar cheese, crisp bacon, coleslaw, French fries (!), Thousand Island dressing, and lettuce and tomato. (I had them hold the tomato).
I almost always eat French fries with burgers, so I liked the idea of making the entire process simpler and putting them directly on the bun. I couldn't wait to find out what that would be like.
Hereford: I again asked our intrepid server to make a suggestion for my burger that would be something that she thinks that makes Nix stand out and is unique. I told her to take her time and think about it—there are a lot of options. But she knew immediately what she thought made Nix special: The Fiery Orgasmic Burger. She said she recommends it all the time and people love it.
The name alone creates an incredible expectation of impending erotic doom. And the description sounded like the burger should be served with a side of tissues, because you will be crying after you try it. It said:
8 oz Angus Patty, Habanera Jack Cheese, Fresh Jalapeño Peppers, Creamy Buffalo Sauce, Shredded Lettuce, Sliced Tomato, Jalapeño Onion Jam, Three Pepper Cheese Spread
Holy crap. That sounds awesome. I wondered though, what was jalapeño onion jam? I asked our server to bring out a small cup so I could try it isolated from the other flavors. It seemed like it could be interesting by itself.
So, after a short 15 minute wait, the burgers came out and we were ready to try them. We knew, at the very least, they would be something we couldn't order anywhere else.
So, for the tale of the tape:
EXHIBIT A: NORTHERN PITTSBURGER
Official Diameter: 4.5 inches
Official Height: 4 inches
Cost: $8.95
Angus: As you can see from the pictures, these are some massive burgers. We couldn't believe how enormous both of these were. I truly believe that getting a double might destroy you.
Now when we ordered our burgers we were told that we can have them at any temperature (like steak) since they grind their own beef in house. That is something I always look forward to in a burger, having it as fresh as possible and if I wanted to have a ground beef patty more on the rare side I could. So that's the way I ordered it—red.
But when the burger came out it was not cooked per instruction, and actually didn't even seem very pink. That's a huge disappointment.
The first thing I could tell when I bit into the Pittsburger was the coleslaw. It was cold and sweet and had a lot of texture to it. I have to say it was pretty weird having something that sweet on a burger. But coming from a guy who doesn't really like his coleslaw, it was enjoyable.
Now, if you are going to advertise that you are going to put fries on your burger, I think it needs to overflowing with fries. I mean, it should be to the point where you are like, "I know this is supposed to have fries on it but come on. That's too many fries."
This was definitely not the case with this burger. I thought the fries that were on it were wonderful, but there were only about six fries on it. That's it—six. As I ate through the burger I had to stop to add more fries between each bite.
The bacon and the Thousand Island dressing wasn't that all special and I could barely even tell it was there. Like I have said in all our other reviews, I like my bacon more on the floppy side.
Overall I liked the burger as a concept but thought it was sold to short of what it was supposed to be.
EXHIBIT B: FIERY ORGASMIC DEATH BURGER
Official Diameter: 4.5 inches
Official Height: 4 inches
Cost: $8.95
Hereford: So, after weighing my burger and examining it (and doing some deep breathing exercises in nervous anticipation) I bit into it—fully expecting my mouth to explode.
That turned out not to happen. At all.
Despite the name, the Fiery Orgasmic Death burger was far less spicy than the Steve-O's from Mattie'S. As I was eating it, I was highly puzzled as to why that would be. The entire bottom bun was coated with fresh, uncooked jalapeños—I thought that would be super-hot. But there weren't a lot of seeds with them, and it really only added their flavor (which is not a bad thing—I'll explain more momentarily.)
The "jam" the server brought out was just some pickled jalapeños and grilled onions—nothing jam-like at all. I was expecting a jelly-like spread. They added very little heat.
Then I began to consider the buffalo sauce the menu mentioned. I couldn't taste any buffalo sauce at all. Instead, I tasted something kind sweet, which was definitely unexpected. I started going back over menu, trying to figure out what was wrong. I asked the waitress, but she (in a separate conversation) indicated she wasn't there often and she thought that what the menu said should be on there. She offered to bring some "extra" out, but I told her it would be okay.
So, I was perplexed. I figured that the cook had left off the buffalo sauce, thus causing the burger to be, well, inadequate. It wasn't that it was bad—I enjoyed it. It had a great flavor and was unlike anything I've had here in town. The cheese and everything was great, but it didn't seem like it tasted the way I thought it was supposed to.
But, I literally just now as I was typing, figured out what the issue was. I took a look at the online menu to double-check something and I saw that the description was different. It read:
8oz Angus Patty, Pepper Jack Cheese, Fresh Jalapeño Peppers, Chipotle Honey, Three Pepper Cheese Spread, Shredded Lettuce, Sliced Tomato & Caramelized Red Onions
There it is—that's exactly the burger had! There's no creamy buffalo sauce there—and now the sweet taste was explained: chipotle honey. Again, here is what I was expecting:
8 oz Angus Patty, Habanera Jack Cheese, Fresh Jalapeño Peppers, Creamy Buffalo Sauce, Shredded Lettuce, Sliced Tomato, Jalapeño Onion Jam, Three Pepper Cheese Spread
They're very similar, but the differences are very distinct. It was kind of like taking a sip of Dr. Pepper when you were expecting Pepsi. It's jarring.
Since I thought this burger was misconstructed, I was going to rate this burger kind of low. Instead, I was simply mis-informed.
Furthermore, I think the burger is mis-named. It wasn't fiery—it was a bit warm. It was pleasurable, but it wasn't orgasmic. And I certainly didn't die.
But it's still a good burger, and if you like food only a little bit spicy so that you can focus on the flavor, you would probably like this burger. Don't let the name scare you off.
Angus: On a last note, I'll add that I wouldn't recommend the onion rings. Mrs. Angus ordered a stack of them, which looked awesome, but they were battered in a sponge-y, cake-like substance. We thought they were unimpressive.
So, for the final analysis:
Food: 3.5— We would argue that the food is actually pretty good, and this rating should actually be higher. But, they are guilty of over promising. If you say you're going to put fries on a burger, you should include an adequate amount. If you're going to call a burger fiery, it should be really hot. It creates a disappointment that otherwise wouldn't exist.
Service: 5— We thought the service was actually really good. Before we got settled in, our server had already taken our drink orders and explained the specials. And, she put up with our stupid questions.
Theme: 3— Nix has a very strong visual theme—the fire. It looks awesome, and their logos and signs are great. But, it doesn't carry over in any other way. Even though it begins strong, it ends up average.
Atmosphere: 4— We came in at 8:00 on a Sunday before a holiday, in the middle of a football game, and we were surprised at how many families were there. We thought that it would have had a more club atmosphere. It might have turned to that later. We still thought it was pleasant. It's the type of place that it is cool to bring some friends to.
Beer Selection: 3.25— They had a pretty good beer selection, with some interesting options on draft. But we're docking them points for not having Old Meck. We may not have taking that into consideration at other places, but we're doing it anyway. It's our blog and we can be arbitrary.
Signed,