Location: 915 Hamilton St. 28206
Website: http://about.me/mattiesdiner
Note: Since publishing this review we have revisited Mattie'S and tried some burgers off their "secret" menu. You can read more about that here. We also conducted a two part interview with Matt King about the diner, and you can read those here and here.
Angus: After being out of town for an extended time for the holidays, I was anxious to get back to reviewing burgers. But, the more time you have to think about where to go, the harder the choice can be. Hereford and I messaged each other a dozen or so options back and forth, each time coming up with a place that sounded better than the last.
But Hereford found Mattie'S Diner on Twitter, and after he showed it to me we knew we wanted to go there. It's an actual diner from 1948 that has been moved here and renovated. It looked awesome on the outside—we were excited to be finally going in and eating.
Hereford: Mattie'S is right across from the Fillmore, which is a part of the NC Music Factory. We had both seen it before at shows we had attended, but it had always been closed. It turns out that it's been open since August, but we haven't been by there in that time, and didn't know.
We agreed to meet there at 7:00 on a Monday, and I was a little early. I went in, grabbed a Creative Loafing, and prepared to sit down and wait and do the crossword puzzle. As it turns out, I didn't even look at the first clue.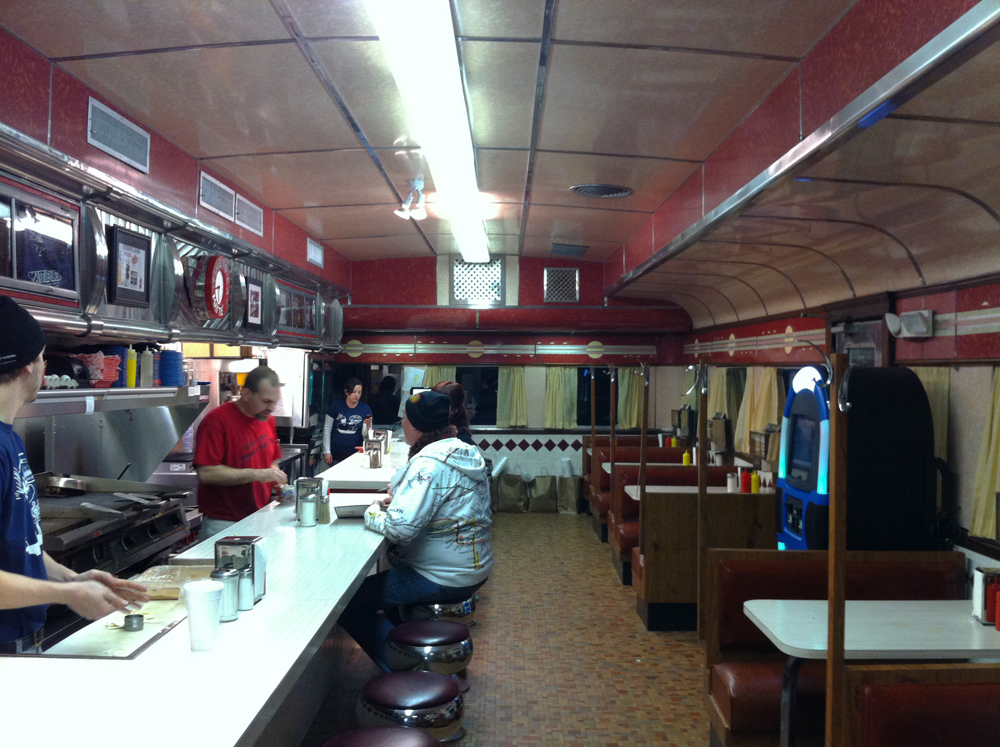 When I came in I was enthralled with the design of the place. It was beautiful. They have wonderful deco panels above the grill, and a really cool clock that looks period. Even the air grates have been carefully crafted.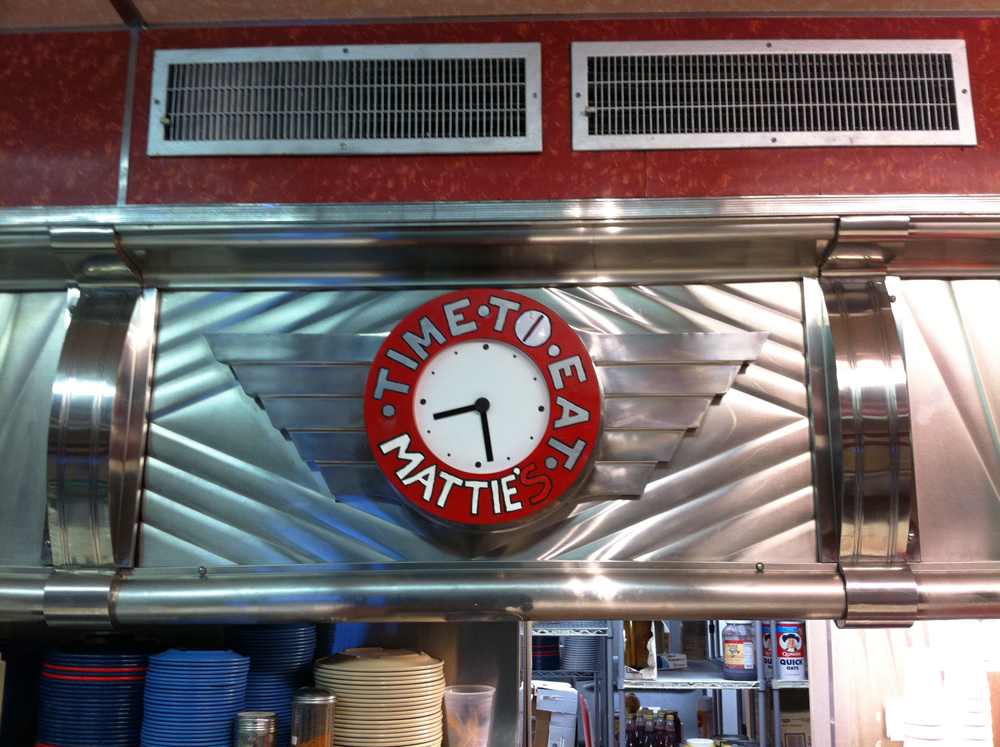 I keep looking around and seeing cool little details. I thought it was amazing.
Angus: And it's all original. We spent some time talking with one of the owners, Matt King, who was there that night in the kitchen. He told us about the origins of the diner. Here's what he said:
I've been here [Charlotte] since 2000. I 'm originally from Jersey…I've always wanted to do my own place. It was between a diner and an Italian joint. I grew up working at Italian joints up north.… I was working for Einstein's Bagels for a while, and I would meet so many people from Jersey and they would always ask me, "where's a good diner?" And I was like, "I don't know."…So we were thinking of building a new one…, but we decided "nah, let's see if we can find one of these old ones."

And, we [him and his business partner, Steve Estes] were doing a lot of research, and I came across a book called Jersey Diners. And this diner is on the cover of that book. A picture of the interior shot was shot right there…

Through the credits of the book I knew it was the Bound Brook Diner. And just from growing up in Jersey I knew the Bound Brook Diner was out of existence from Hurricane Floyd—put it out of commission. We looked for six months, man, on the internet trying to find the thing. I couldn't find where the heck it was.

Finally I smartened up and I tracked down the author of the book. His name is Peter Genovese, he's a food critic for the Star Ledger up north. I called him up and I said, "Peter, do you know where this diner is or who owns it?" He said, "Yeah, a guy by the name of Frank Bruno owns it." I said "great, give me his number, I want to see if it's for sale" cause he's owned it for 5 years and never opened it up. He said, "Well, I don't have his number, but," he goes, "I know he lives in south Jersey."

And I was like, "Alright, that's a start."

But "Bruno" in south Jersey is like "Smith" in the rest of the world. So, I got on the internet and I found forty two Bruno families in that area. And I just called everyone one of them—all forty two of them, man. [It turns out] he was the first one [I called]—he wasn't home. Not that I care, but it was funny that he was the first one…

That was in February of '05 on a Thursday. That Saturday me and my business partner Steve, we drove up to Jersey, took a look at it, on Monday we bought it, and the next month we moved it down and had it up the street, had a tarp around it, had a fence around it. We'd get off work, spend 3 hours a night [renovating it].

We had it up the street for about 5 years, 5 and a half years actually while we were renovating it…

Basically we started on the outside, took it all apart, gutted it, re-framed it, put it back together, came on the inside and did the same thing. It was me and a lot of friends and a lot of family. …We learned a lot. I have a little bit of a construction background, and that enabled us to do it ourselves.

We didn't try to make it look new, it's [already] got character.
We thought that whole story was awesome. You can see some of the renovation work in progress on this site: http://www.agilitynut.com/diners/nc.html
Hereford: It's a sharp contrast to the Midnight Diner, which is not authentic to the period. If I'm not mistaken, it was built in the 90's, and it has a lot of charm. But it's nowhere near as nice as Mattie'S. The craftsmanship of the time period is obvious when you walk in.
Angus: Unlike the Midnight Diner, which is open 24 hours all the time, it should be pointed out that Mattie'S is only 24 hours from Thursday to Saturday. I think that's largely a matter of location. Unless you're seeing a show, or going specifically to Mattie'S, you're not going to drive by. Still, apparently it's doing well.
Hereford: As you can see in the pictures, the diner has just one room. The grill is on one side, and there are booths on the other side. Each booth has a small (inoperable, as far as I can tell) personal jukebox that was install, or at least last updated, in the 80s. Ours had selections from Madonna, Bruce Springsteen, Bon Jovi, Hank Williams, and the Screaming Trees (!).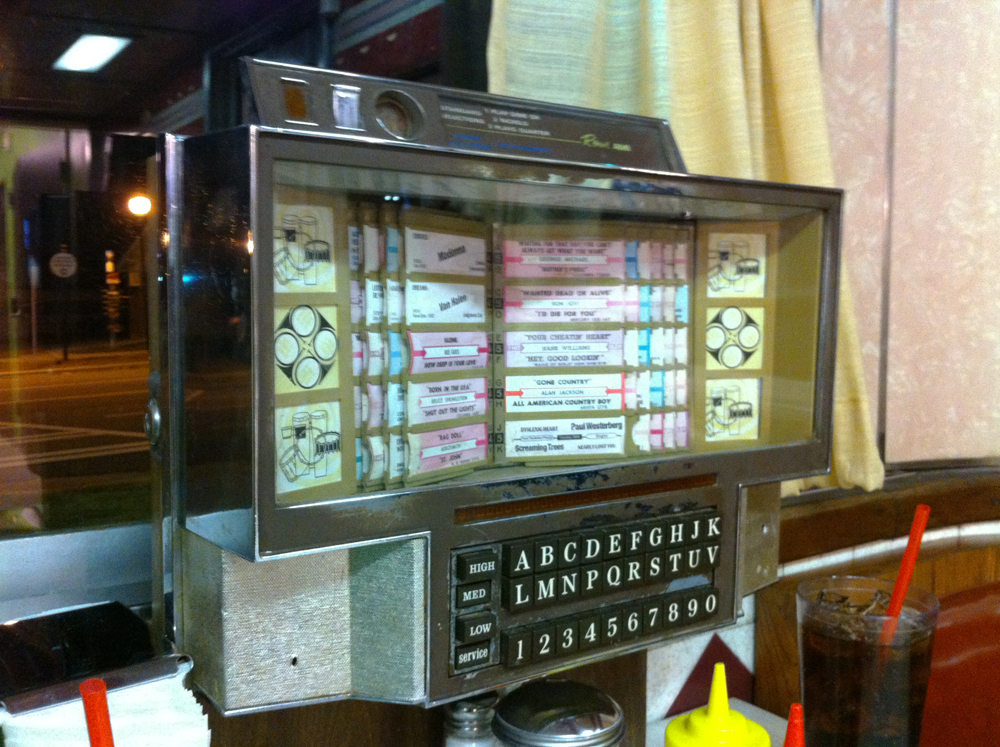 Angus: So, before we even ate anything, we loved this place. People yearn for a place like this—something with real history that is owned by nice people who put a lot of work into it not just to make money, but because they love it.
It does kind of suck that Charlotte has to import something like this—I wish we still had a diner here from that time. But I know that the people of Bound Brook, New Jersey are happy that this diner is at least now open, renovated, and still in use.
Hereford: After geeking out about the interior, we started looking at the menu. Most items are straight forward, but the owners have some amusing names mixed in—Giganto Disco Fries, You Might Be a Redneck Breakfast Platter, Hunka Hunka of Burnin' Toast, Drunken Onion Rings and Drunken Sombreros (beer battered jalapeños, and a Beat Up Burger (which is, of course, their version of a Black and Bleu burger).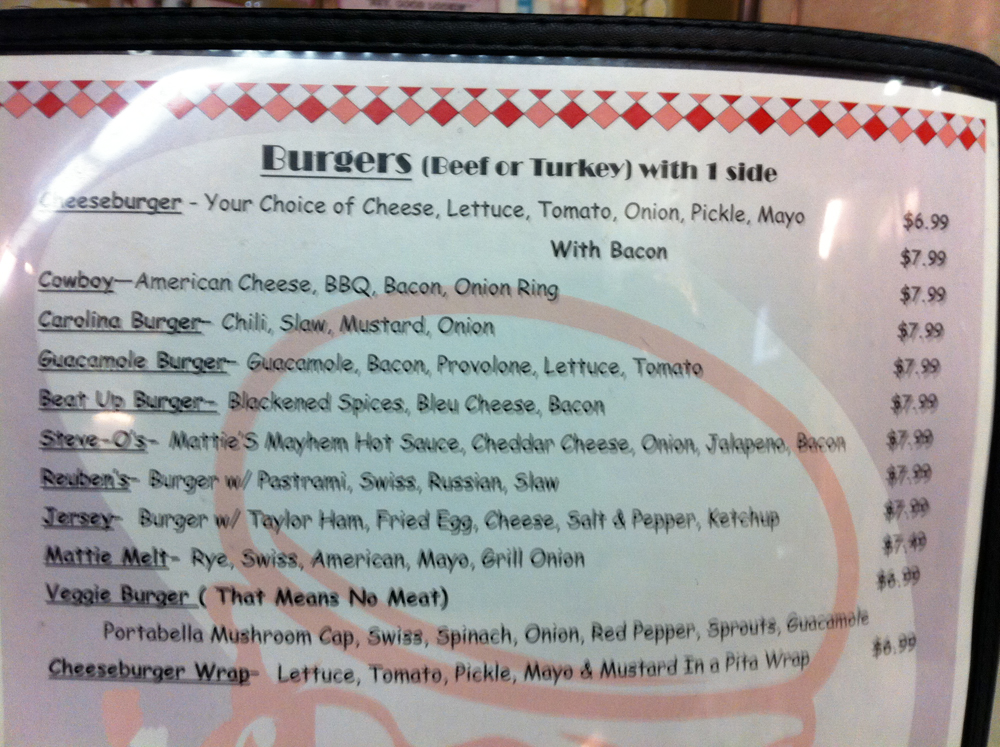 There wasn't really a theme there, other than the owners' sensibilities of humor, which we still liked.
Angus: So, my niche has been on this blog to rate the basic cheeseburgers—the essential hamburger that would give us a baseline comparison for all restaurants.
There's one small problem with that—it gets kind of boring, and after a while, it gets hard to write about.
So, first, I added bacon to my burgers to rate that. That helped, but I think I'm going to branch out a little bit more. At Mattie's I ordered a Cowboy Burger. It had American cheese, BBQ sauce, bacon, and an onion ring. It's close to what I normally do, but just a little bit different.
Hereford: For myself, I ordered the Steve-O—a burger with Mattie's special hot sauce, cheddar, grilled onions, jalapeños, and bacon. My initial thought was that the burger was named after Steve-O from Jackass, who is remembered fondly for all the insane and dangerous stuff he'd do. This burger, then, was a dare to eat something so spicy it could also be considered insane and/or dangerous. I was definitely up for it.
It turns out the burger is actually named after part owner, Steve Estes. But, I've been told that he's also "nuts" and he's nicknamed Steve-O after the Jackass guy, so I guess that still works.
So, here's the tale of the tape:
EXHIBIT A: Cowboy Burger
Official Diameter: 4 inches
Official Height: 3.5 inches
Cost: $6.99
Angus: The buns at Mattie's are very interesting. They were sesame seed buns, but they seemed flakier and better made than normal. The bottom bun seemed thin, but it wasn't light-weight. After eating my entire burger (which was delayed by our normal weighing and measuring process, as well as our discussion) it held up remarkably. The hamburger was juicy and there was a lot of sauce, but it hadn't soaked through. That was impressive.
We asked Matt about them and he told us they were local made at Arto's Bakery, delivered several times a week. They apparently get a lot of their baked goods from there. He brought out a slice of the challah bread they use to make the French Toast. It was massive!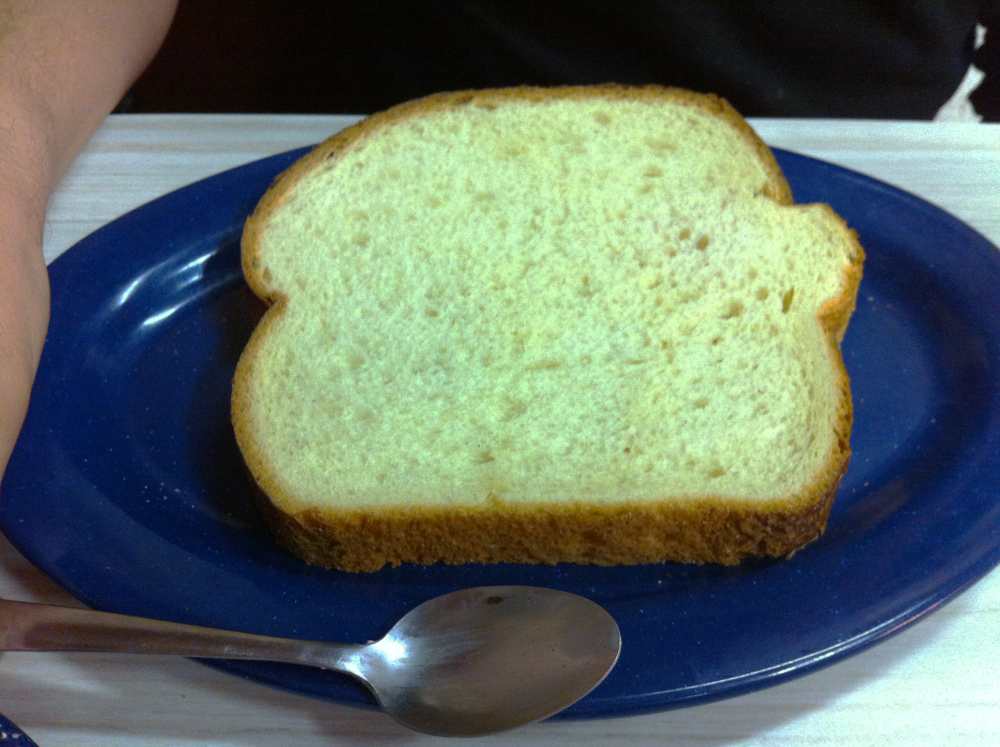 The burger was very juicy, even though it was well done. It was juicier than a lot of burger's I've had that were medium rare. The grill's flavor and juices were picked up, yet it didn't feel overly greasy.
As for the bacon, I must say that we here at the Charlotte Burger Blog have a strong preference for floppy bacon. This bacon was crispy, but not so crispy that I didn't enjoy it. In the continuum between floppiest bacon and crispiest bacon it was a close to the crispy side it could get that I would still like it.
The onion rings themselves were a bit big for my liking and what I come to find with big onion rings is that the onion just comes right out of the fried batter when bit into. This was not the case with the onion rings here. They were crispy and you are able to bite right through them. They were wonderful.
I am not sure if they make their BBQ sauce in-house or not but this is the closest sauce I was able to get to the kind you only find in my hometown in California. I felt like they kidnapped my dad and had him chained to the kitchen making this sauce against his will. It is amazing to taste this sauce here on the east coast and it felt right at home on this burger.
The fries that came with the order were good, if not anything otherwise notable. They were a little thick, and non-greasy. We like our fries to be a little bit thinner but they were good fries none the less.
EXHIBIT B: The Steve-O Burger
Official Diameter: 4 inches
Official Height: 3 inches
Cost: 7.99*
*Note: There is a discrepancy with their online menu, which, as of this writing, lists this as $6.99.
Hereford: All opinions on food are subjective, obviously, but there may not be any two people who have the same tolerance for spicy foods. If you had to rate that tolerance on a scale of one to ten, with one being someone for whom a bell pepper makes them cry, and ten being someone who would be happy to use pepper spray as a condiment, I'm at maybe a 7.
I felt like the Steve-O's Burger was fairly spicy—my face felt a little hot, but it could have been even more spicy. At the level it was, I could taste the flavor, which was awesome, and still feel the spicy tingle. I loved it. It was kind of like a buffalo sauce, but mixed with something else. I thought it was original.
I should have bought some of the sauce, which they sell for about $5. I probably will next time I go.
The jalapeños were pickled and delicious, and the onions were perfectly grilled. And I agree with everything Angus said about the buns. The Mattie's sauce was a bit thinner, so it could have easily soaked through the thin bottom bun of the burger. But to the last bite it held strong and still tasted like bread (as opposed to sopping wet sponge).
Overall, I felt like this was a great burger.
Angus: And I agree—mine was too.
We also got some milk-shakes. Hereford got a Pumpkin Pie malt that he liked a lot. It was topped with graham cracker crumbles on the whipped cream, which is a nice touch.
But the real star was the S'mores milkshake I ordered. I couldn't believe it when I got it—it tasted exactly like a S'more. It still freaks me out when I think about it, but I could clearly make out the chocolate, marshmallow and graham cracker. Each flavor was perfectly distinct, even in milkshake form. It was amazing.
They say they have the "Best Milkshake in Charlotte." I don't know if that's true—I haven't had all the milkshakes here. But, I would say that they have to at least be in the running.
Hereford: And Matt was nice enough to give us a Mattie's Famous Fried Oreo Sundae, which was also incredible, and really topped off a great experience there.
So, with that said, here's the final analysis:
Food: 4.8— We really liked the food here. Hereford again felt that his burger was a perfect 5. Angus liked his burger even more than he did at Kickstand. But, we're very reluctant to hand out a 5—we don't want to be boxed in if we find some place that finds a way to out-do this one. So we're giving it a 4.8—still the highest rating we've given out so far.
Service: 5— The service seemed really laid back here, which we like. It wasn't busy, and we were taken care of well.
Theme: 4—The only real theme at Mattie's is the owners' sensibilities, but we liked their sensibilities enough that we gave them a high mark. Mattie's doesn't rely on trading in on nostalgia. Oddly, we never felt the nostalgia invoked by places like the Midnight Diner—even though this place is more authentic. Maybe that's why.
Atmosphere: 4.5— The diner itself lends a great atmosphere to this restaurant. It's the type of place that you go to, then tell everyone else you know that they have to stop by too. I imagine it can also be a lot of fun after a show at the Fillmore filled with people with the same musical tastes as you that you can start conversation with. But really, any time that you want to go you'll probably have a good time.
Beer Selection: N/A— You can't get a beer at Mattie's, because they don't sell it there. So we can't rate the selection. I'm sure that this diner never had alcohol originally, anyway, so it's not really a big deal.
Signed,