When we go out for an official burger review, we usually bring our equipment: tape measure, scale, proton pack, etc. But we don't just stick to our quest to eat every burger in Charlotte when we go out for reviews. Sometimes we want to write a quick review of a burger that we just happened upon. We call these Short Orders.
Location: 2280 Deerfield Drive Fort Mill, SC 29715
Sometimes people find this strange, but I love minor league baseball.
Sure, I love major league baseball too 1, but there's something special to me about a minor league stadium. These small teams represent the city they're in, and I love the small parks in out-of-the-way places. I love how each are different and I love the hometown support the teams get. I've made it a point in recent years to go to as many minor league parks as possible. I've been to every one in North and South Carolina, as well as many others.
As much as I love burgers and baseball, I usually don't get them at the park. Clearly, baseball is a hot dog sport. It helps that we all have lower standards for dogs than we do burgers. Ballpark food is usually cheap (not in a monetary sense, just in a quality sense), and a hot dog is almost low-quality by definition 2. I usually don't want to take a chance on a low-quality burger.
But, I went to a Thirsty Thursday game last week in which the Knights took on the Norfolk Tides, and it seemed time to give the burgers there a chance. After all, this is the last season at Knight's Stadium (formerly Knights Castle—I don't know why they changed that) and who knows what's in store burger-wise at the new BB&T Ballpark.
Where did you get this burger?
I got it from the grill on the third base side, near the patios. There are other burgers available, both from the concession stands and from the former Home Run Cafe 3, but I figured this would be the one that was most likely to be decent. Also, there are a couple of different burger options that I thought sounded intriguing.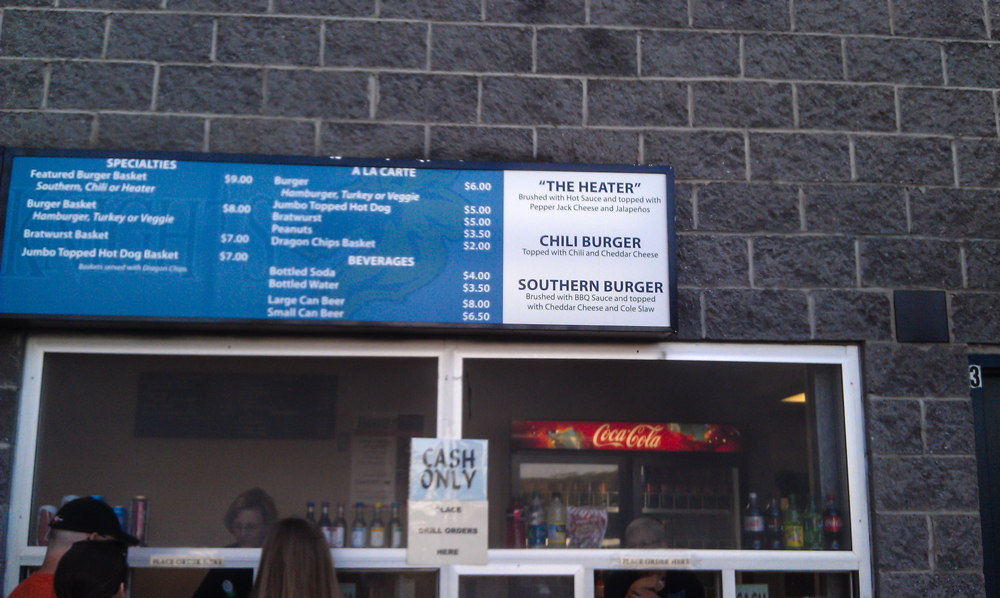 They're the Knights; there should be a Medieval Burger. It should have, like, bears in it or something.
The one bad thing about getting a burger from this grill is that this is one of the few concessions that is cash only. I'm not exactly sure why they can't take cards. I can pay with my card upstairs in the Home Run Cafe. I can pay with my card just one concession stand over to get nachos and cracker jacks. But not here.
What type of burger did you get?
The Chili Burger, which was a double-take inducing $9. Those are ballpark prices, though, and it includes "dragon" chips. You can get a single burger from the grill for $6, but apparently they don't offer the specialty burgers without the chips. I tried, because I don't really like those kind of chips.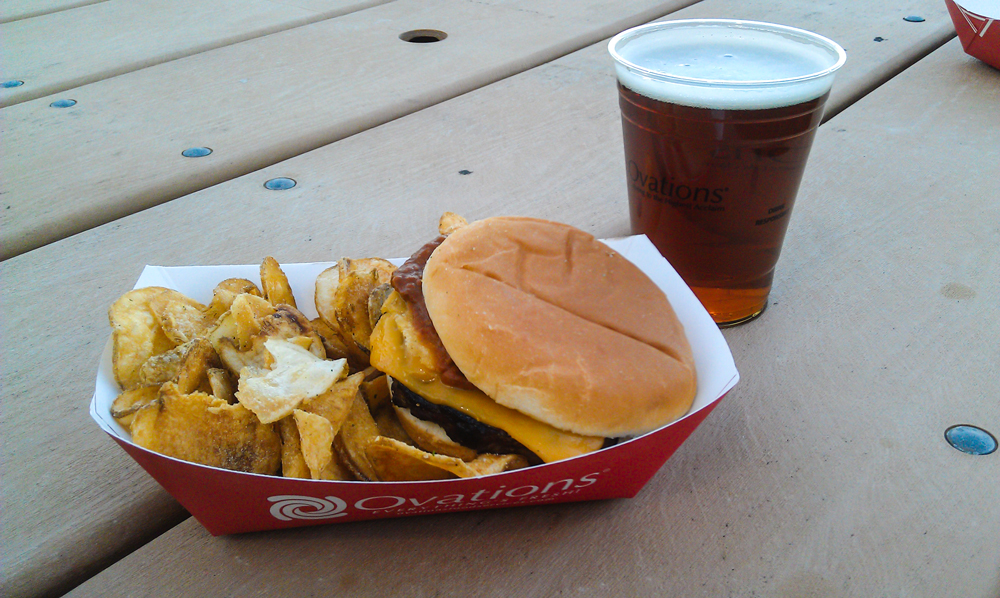 Maybe it's the kind of dragon they use.
How was it?
Not very good. It's basically a cafeteria burger. The meat is preformed, frozen, and bland. As poor as the meat is, they do the best they possibly can to make this edible. First, it's char-grilled. That was the only way that the burger had any flavor at all. And they didn't just stick an off-brand slice of American cheese on there. That's a thick slice of cheddar. The chili was heavy on the sauce, but strong. It needed it.
I didn't like this burger, but I'm not saying that I hated it. I ate every bite. But I was happy I got a dog too.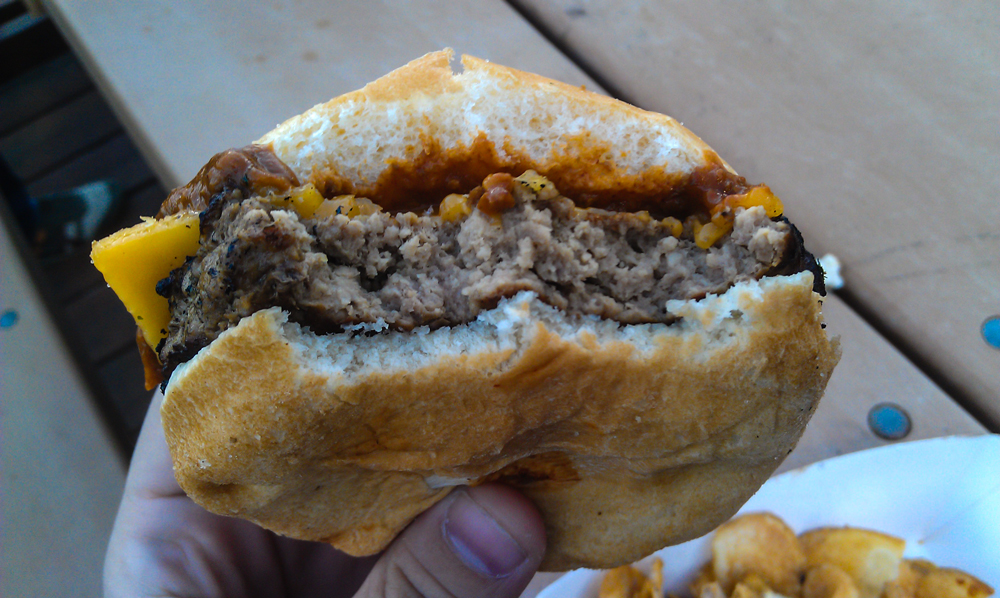 Also, I'm not entirely convinced that this is 100% beef.
What about the beer?
I can say a lot nicer things about the beer. One of the great trends of minor league baseball these days is how teams embrace the local beer selections. Sports teams are about local pride, and craft beer certainly adds to that. In Greensboro they have Natty Green on tap everywhere. In Winston-Salem, it's Foothills Brewing.
Although Olde Mecklenburg doesn't have as large of a presence as those beers do at those parks, there is a stand right by the grill on the third base side. They had, on this visit, the Captain Jack and Copper on tap (I got the Copper). They also have some other decent beer in bottles there. (Fat Tire, for instance). If you go anywhere else in the park, you'll have to settle for Budweiser or Miller Lite.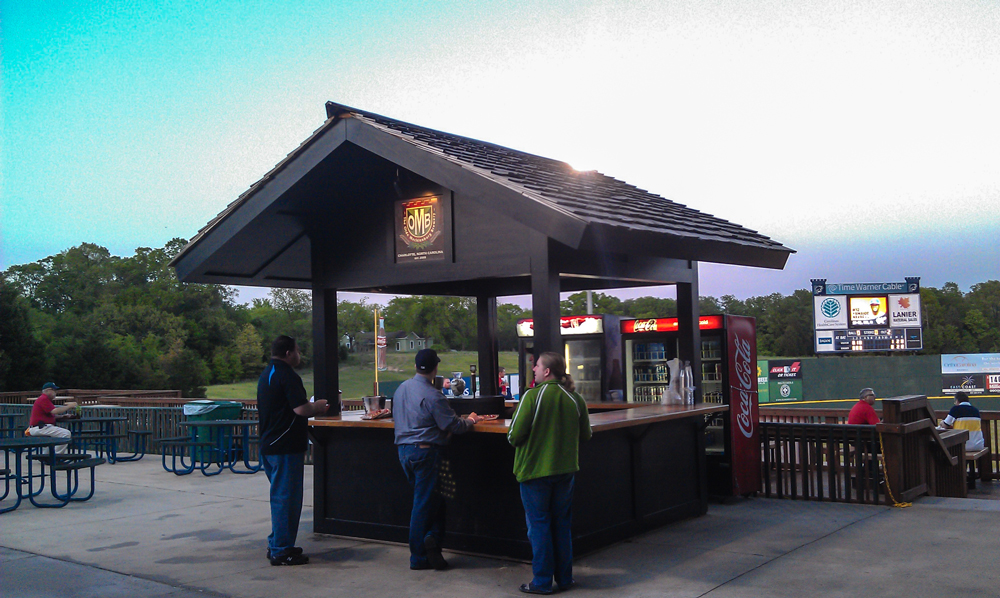 This is the reason why you'll want to be seated on the third base side. That, and it's easy to sneak around and pick up home run balls. You're not supposed to, but it's still easy to do so.
Are you excited about the Knights moving uptown?
Very much so. I understand there are people who have opposed this move, and I can't speak as to whether it's a wise part of public policy. I'm not informed enough to know if there are better ways to use tax dollars. But, as a baseball fan, I can't think of anything better for this team.
I love the Knights and I love coming to games, but this franchise has seemed like it's spinning its wheels for a while now,  and compared to other teams (especially on the AAA level) there is a lack of support. I would love for us to have an atmosphere similar to what Durham has with the Bulls. Even if that's too much to ask, it'll be nice if it's just somewhat better.
To illustrate my point, here is a picture I took of the first pitch of the game.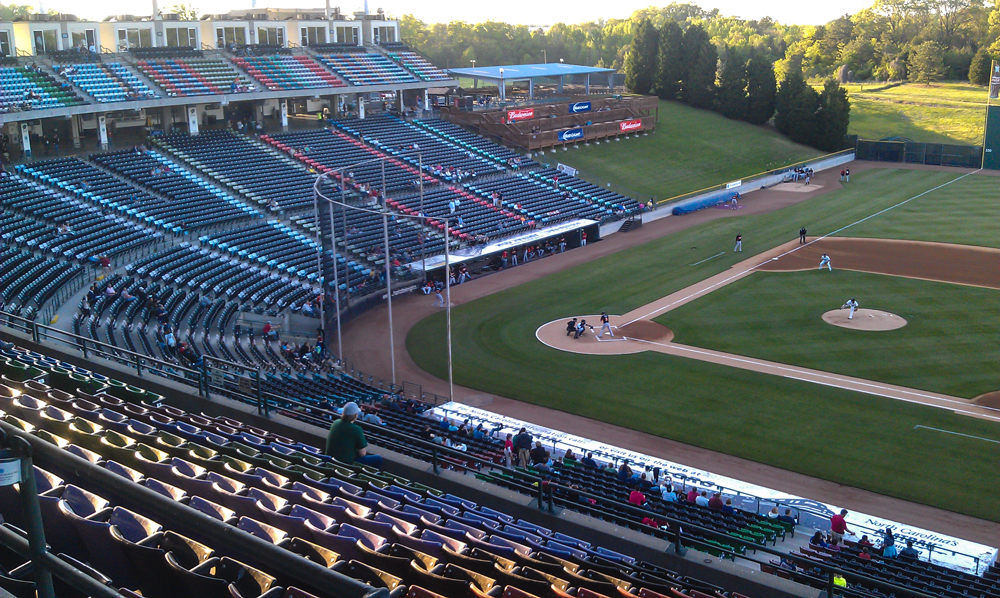 On the plus side, this is great situation for heckling.
According to the official attendance statistics, there were 2,886 people at that game. Go ahead. Look for them. Maybe they're all in the bathroom.
Did the Knights win?
No, they got shut out by the Tides, 2-0. It was exciting down the stretch, though. Josh Phegley represented the go ahead run at the plate, and he seems to be a pretty good hitter. On a 1-2 count he hit two long foul balls down the third base side that looked for a moment like they could be over the fence. Of course, since I'm a sports pessimist, after that close play, I was sure he would strike out. Which, naturally, happened.
Burger Rating: 1.5
I'd get it again, because there aren't any better options here at the park, but this is the worst burger I've rated here for the Charlotte Burger Blog. Is it that hard to to get fresh meat at the park? It's really the only thing they're missing.
Signed,

Notes:
Go Orioles! ↩
The exception to this rule is

JJ's Red Hots

, which we freakin' love. Stop by next week for our signature hot dog, the…..well, we don't know what we're calling it yet. But it'll be great. ↩
Now the "Budweiser Brewhouse." Ugh. ↩