Location: 6300 Carmel Rd 28226
So Hereford and I have this ongoing list that we constantly add to (which we aptly dubbed "The List") where we keep track of all the burger joints that we still need to try. Not to give away the classified secrets of our burger choosing process 1 but they are broken down by name, location, submitters, and any comments worth mentioning about the place before we arrive there.
CharBar No. 7 (or CharBar aka Char7Bar) had a comment attached to it that read: This looks like an awesome place! 14 different burgers! (and, yes, since that sentence had the word awesome in it, it was obviously written by me.) So as you can tell, I was pretty excited to try this place out.
CharBar is located in a business park of sorts and is, strangely, attached to the same building as a dry cleaners and the U.S. Post Office 2. The facade of the restaurant was nothing much to look at, but walking in you are immersed in an English pub meets western saloon vibe. There was cow stuff everywhere. A cowhide. Bull horns. And the usual stuffed animal heads 3.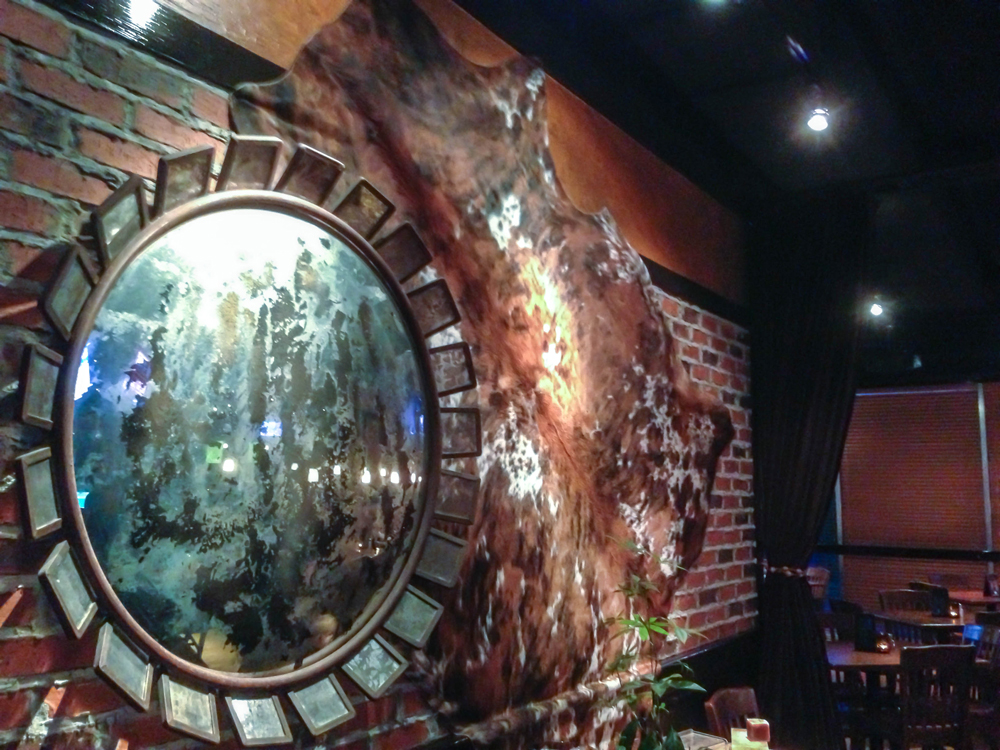 We were greeted and asked where we wanted to sit. This became an unexpectedly crucial decision that maybe changed this whole review. We could have sat outside; it was a nice day and there were a lot of people out there enjoying themselves. But, there was a guy outside smoking near enough to the outside section that I wanted to sit inside. Inside, there are two areas. A bar area that was fairly full, but it was all high tops. We had my son, Small Fry, with us, and we needed to sit at a table that would accommodate a high chair. So we were seated in the back room. More on how this affected our visit in the Atmosphere section.
Walking to our seats I spied a sign displaying their  "Craft Burger of the Week" the Steakhouse Burger. Well now. I love steak, I love houses, I love craft, and I definitely love burgers 4!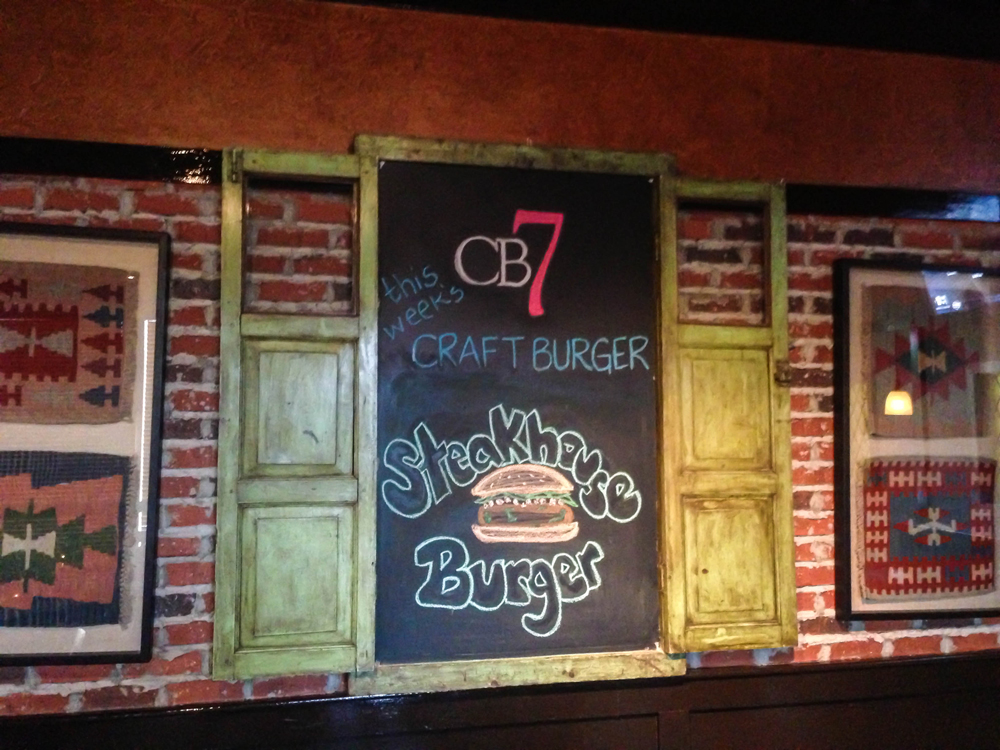 Our waitress arrived to take our drink orders and while getting out our equipment 5 I excitedly asked about the Craft Burger. Maybe too excitedly. She plainly replied, "We are out." OK. So we ordered some beers and when they came a totally different waitress brought them and asked to take our order. Obviously confused we asked, "Where's our other server?" In reply we got "She is busy". 6
So in having a new waitress I asked about the Steakhouse Burger again, she said that they had plenty. OK. Confused still, I just ordered that and in 15 minutes it arrived to our table.
Here's the tale of the tape:
EXHIBIT A: THE STEAKHOUSE BURGER
Official Diameter: 4 inches
Official Height:  3 inches
Cost: I don't remember 7
Cooked to order: Kind of, asked for rare, said they could do medium rare, got medium
The burger was described as having a patty that was ground with 3 types of meat; steak, pork shoulder, and bacon. This, coupled with the fact of "if they had any left" alerted me to two things. 1) They were premade but not precooked and 2) this seems like a very difficult burger patty to make since the varying times that each type of meat takes to cook.
When the burger came out you can definitely tell that they ground the meat and made the patty in-house. It did not have that perfectly round patty look that most pre-bought burgers tend to look like. The lettuce was something new that we have not tried before. It wasn't our favorite crunchy lettuce or the dreadful garnish lettuce. It looked more like the spinach salad you get as a side at a fancy restaurant 8.
Of course, being myself, I asked for a rare burger. We got the same answer that "they cannot do a rare burger" but that they can do medium rare. Biting into the burger, I found that it was cooked medium. Now I am not going to fault them for this because like I said earlier it is probably really hard to cook a patty that has 3 different types of meat in it.
The overall taste was pretty good. The patty itself was a little dry but did have a unique textured mix which you don't see in most patties. But it did have a steak salad type of taste to it which was in part of using a vinaigrette dressing on the burger. I almost wished it had croutons.
Burger Rating: 2.75 (.25 bump for trying something new with the patty)
Other Food
I opted for onion rings instead fries for my meal. Onion rings are another one of those foods that should always be crunchy. You should bite all the way through. It should have a snap to it. You should not bite into an onion ring and have all of the onion just slide right on out. When they came out I thought they might be too big but they had a nice crunch to it and were, as I might say, awesome.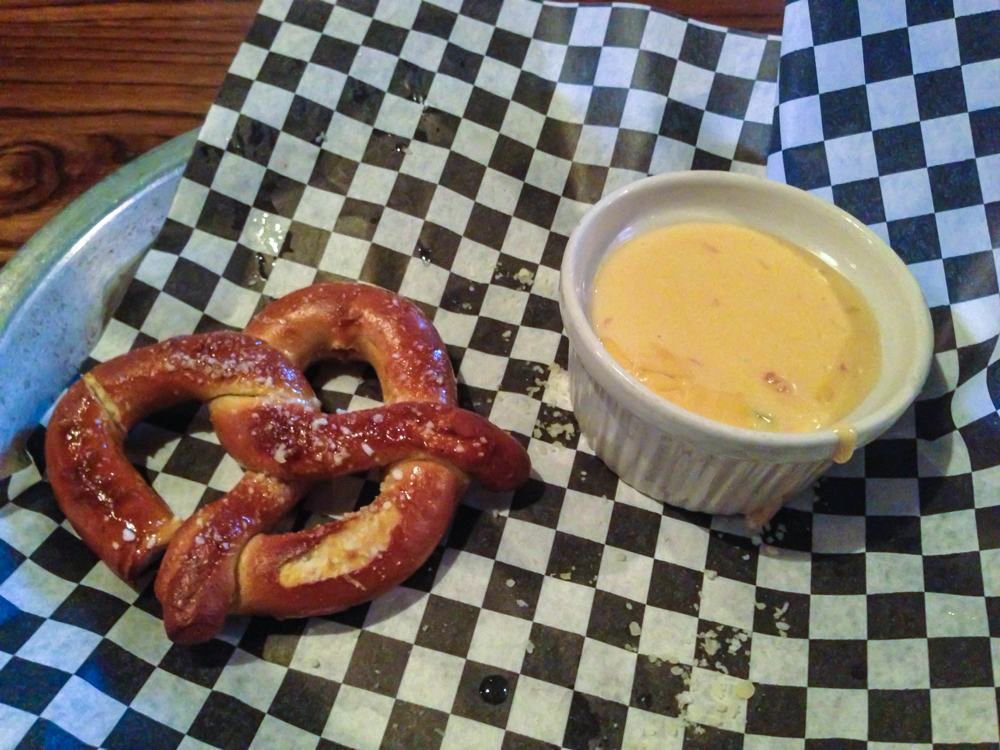 Pretzels are becoming one of those appetizers for me that if it is on your menu and it is paired with cheese, I have no choice but to order and devour them. I am not sure if I ever had a bad pretzel, bad dipping cheeses, yes, but never a bad pretzel. They were so good we almost forgot to take a picture of all of them.
Beer
They have a pretty large list of beers that breaks it down to where the beer came from, its style, and ABV. They even had six from North Carolina. Excited, I ordered the Shotgun Betty from Lone Rider Brewing. When it arrived though, it was in a bottle. What the menu didn't tell us was that these were all bottles. They have no taps. I should have known that since they didn't carry any Olde Mecklenburg or NoDa Brewing.
Beer Rating: 3
Atmosphere
There were three distinct rooms; the patio, the bar area, and a side sitting area. The latter felt like it was really reserved for people with kids (which includes Mrs. Angus and I for the past two years), since there was no one there but us. It literally felt like we were at the little kids table away from the adults. Nothing was going on around us. We heard laughter and cheers from the other rooms and we kinda felt like we were in time out. I don't want to hold that against CharBar, because this was the seating that we asked for. But I felt that I would have enjoyed myself more in one of the other two rooms.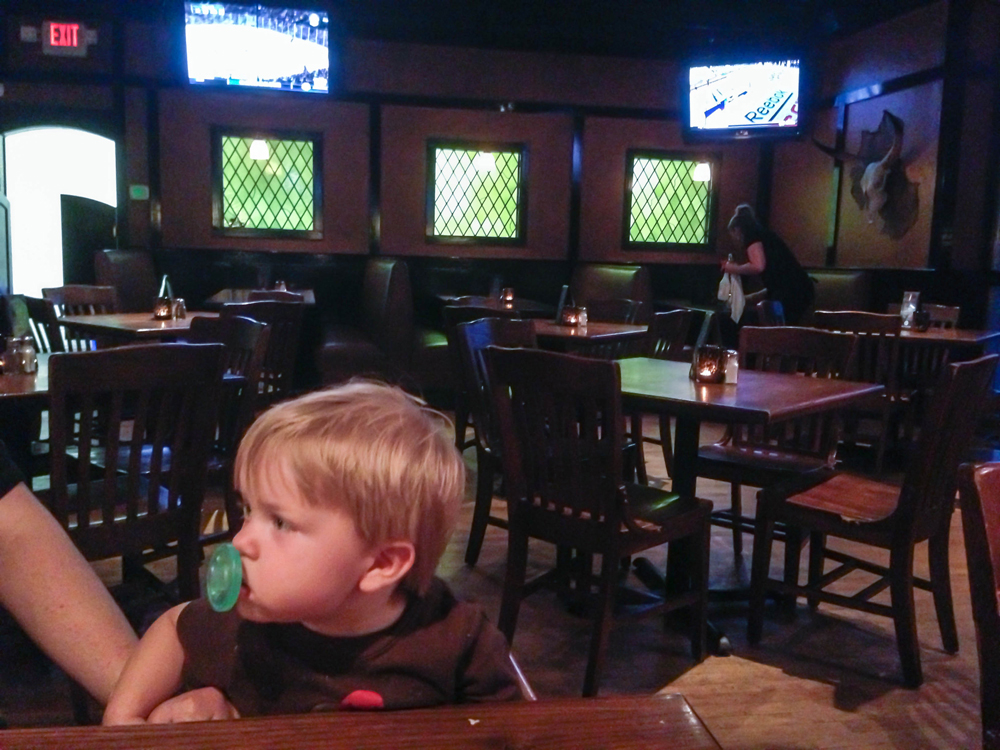 Our non-existent 1st server and our un-attentive 2nd server didn't help this out much. Our server would come fill our glasses and leave. Maybe it is not a requirement to chit-chat to your customers but you can still kind of acknowledge our presence.
Atmosphere Rating: 2.25
Conclusion
How many Char Bars are there?
I know what you're thinking. There's got to be 7, right? Nope. There's 2. We asked. They didn't seem amused.
What was your favorite thing (non-food) about CharBar No. 7?
Probably the cow hooved coatrack. It was near the service door for all the waiters and waitresses so it wasn't really for customer use 9.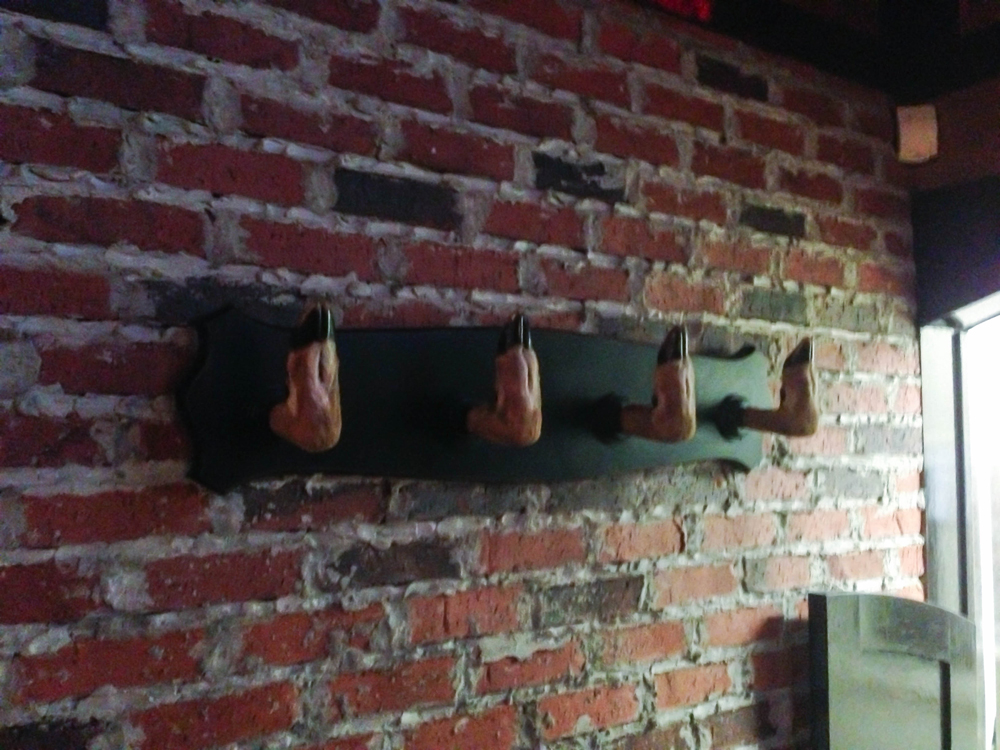 Would you eat here again?
I might try out their other location in Matthews, if I ever find myself in Matthews.
Next time you come by, what will you order?
One of the 14 other (primary) burger options they have or the Old World German Beer Brat. Maybe both.
Does CharBar No. 7 earn the Charlotte Burger Blog Seal of Approval?
Not this time. I do appreciate the experimentation with the three types of meat in one burger patty, but I think they might need to hit the drawing board again with that one.
Signed,