Location: 201 S. McDowell St. 28204
Hereford: I've been intrigued by Chambers American Grill since the first time that I rode by it. It's in uptown, a part of the Crown Plaza hotel, and directly across the street from the courthouse. Obviously, they cater to the people who have business at the court (lawyers, judges, jurors, maybe the occasional suspect), and they chose to draw those people by A) naming it Chambers and B) putting a gavel on the sign.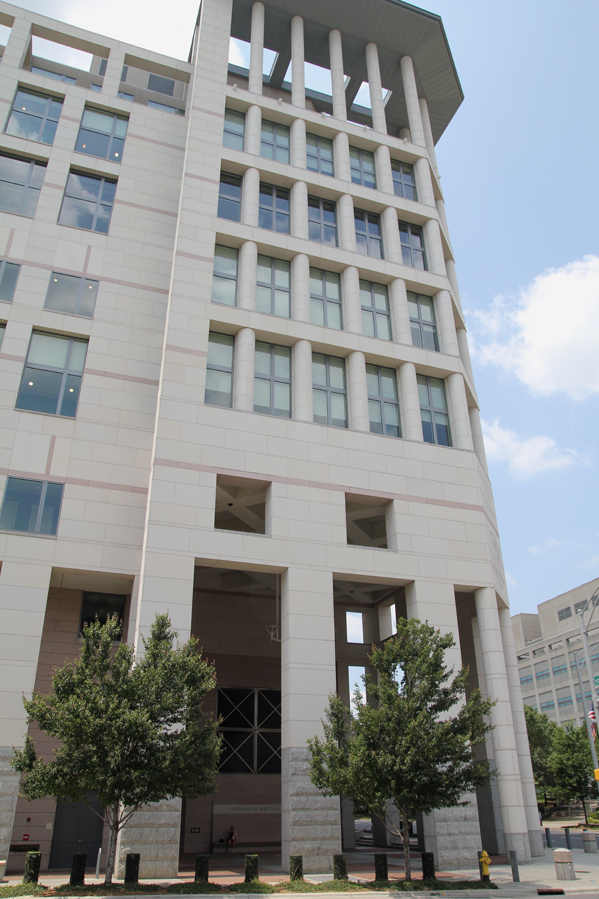 I am very much in favor of this, and I think we should extend it to every other realm possible. We could, for instance, create a restaurant outside of a hospital and call it "The Operating Room," and have a picture of a scalpel on the sign. Or have a bar outside of a school called "The Teacher's Lounge" and have and use a picture of a desk. I could go on.
So, I was very interested in finding out exactly how much their Law & Order theme extended. So, on Memorial Day, we drove to uptown at lunch to find out.
Angus: When we got there we noticed that we had a small, but significant, problem. We had no good place to park. It seems all of the parking in that part of town is designed to take advantage of those who are legally required to be here, and none of it was cheap. And, naturally, even though the courthouse was closed for the holiday, they had not reduced any of the prices.
We ultimately decided to park in the Crown Plaza's own parking deck, and for the pleasure of doing so they charged us over $10. Maybe we should have taken that as a sign to go somewhere else, but at that point we were already committed to going there. But, it wasn't a good sign.
Hereford: When we walked in I'm pretty sure that I saw a moment of shock register on the bartender's face. Because the courthouse was closed, I don't think she was expecting to serve any customers that day. We were probably the first ones there that day, and chances are that we were also the last.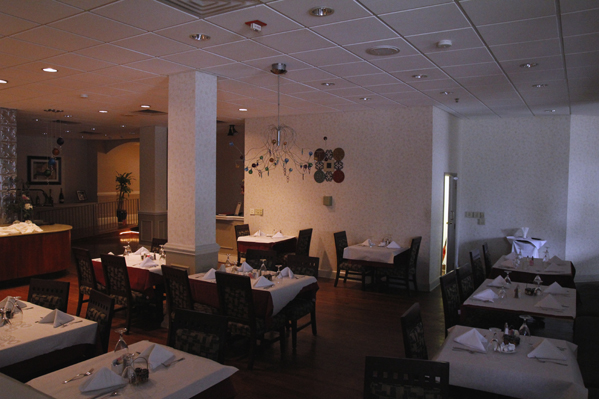 Chambers is separated into two sections. On the left is their regular restaurant part, where most days they serve a $9.25 lunch buffet (advertised as the best deal in town; obviously they haven't heard you can get your tennis racket restrung for $25 and receive a free hamburger from Mueller's .)
That section was completely closed when we came in, so we sat in the other side which is called the Sidebar. It's described as a lounge, but you can still order food there.
I suppose that the interior is nice and that this is a nice restaurant, but I find restaurants like this are fancy in the most boring way. It was decorated like a convention center, or maybe a hotel lobby (but maybe that makes sense). All of the glasses have stems and they have white linen napkins and they play neutered jazz, and I'm sure there are people who like that. But I found it a little too genteel. It doesn't have much character.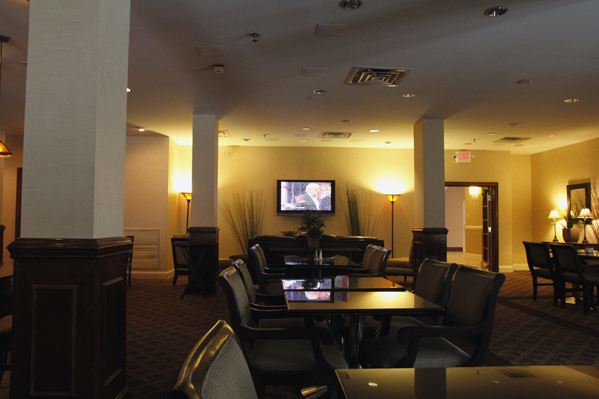 Angus: The most interesting thing about Chambers was the TVs—specifically what they were tuned to. One was just static, one was soap operas, and one was Jerry Springer. For some reason I doubt they have that on when the Who's Who of the Charlotte Legal Community is here for lunch, but it would be awesome if they did. The cognitive dissonance between the refined, high class surroundings and the crass, vulgar talk show would be pretty hilarious. Besides, I bet judges probably do watch that stuff in their real chambers.
Hereford: It felt awkward being the only people there. It's not a small place, and it was just the two of us and the bartender. And several times, and for fairly long stretches, the bartender went to the back, so we had the place completely to ourselves. It felt like we weren't supposed to be there, like we snuck in before it was open or after it was closed.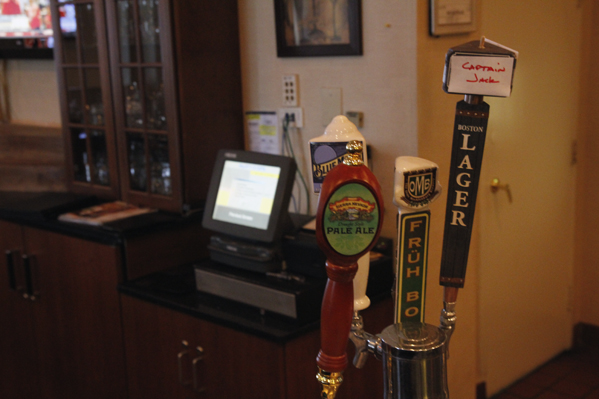 Angus: They do serve beer at Chambers (or, at least at the Sidebar), and although they only have four taps, two of those are from the Olde Mecklenburg Brewery. They had their seasonal, the Frau Bach and the Captain Jack (although the Captain Jack was poured from a Sam Adams tap, so I don't know what their normal offerings might be). The other two taps were Sierra Nevada and Blue Moon. Their bottled beer was all from large establishment breweries—Budweiser, Heineken, Guinness, etc.
We were going to have a couple of pints, and we ordered some Captain Jack, but they carded us and Hereford forgot to bring along his ID. I didn't want to be the only guy having a beer at 12:00pm, so we both got sodas.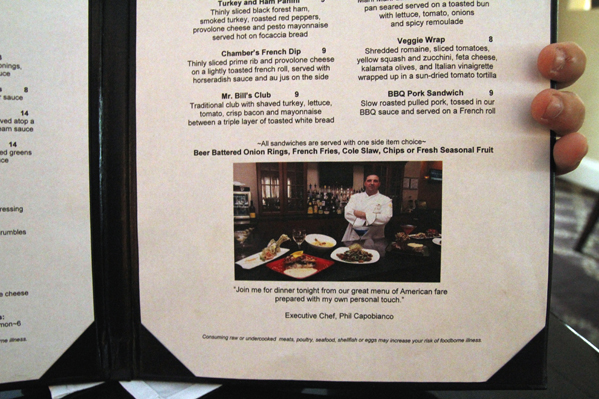 Hereford: Sadly, nothing on Chambers' menu is justice themed. It's unfortunate, because there seems like there could be some possibilities. The menu does quite prominently carry a photo of the Executive Chef, which we took as a good sign. I don't think that you would do that if you didn't take pride and ownership over what you serve. We asked if he was there, but he understandably had the day off.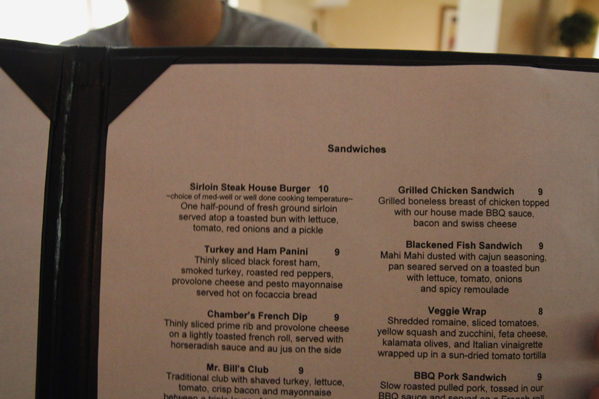 Chambers only has one burger on the menu, the Sirloin Steakhouse Burger, so that's what we ordered. Angus ordered his with bacon and cheddar and lettuce. I had mine served with the general toppings on the menu (lettuce, tomato, onions, & pickle) and asked her to surprise me with the cheese. (I got American.) She asked each of us how we would like the burgers cooked, and we told her medium-well. For sides we got fries and onion rings.
After only about 12 minutes our burgers came out.
Here's the tale of the tape:
EXHIBIT A: SIRLOIN STEAKHOUSE BURGER WITH BACON
Official Weight: 10.2 ounces
Official Diameter: 4 inches
Official Height: 3.5 inches
Cost: $11
Angus: I obviously eat a lot of burgers, and I think a lot about burgers. And I think certain expectations are created when you set the price for a burger. With bacon, my burger cost more than the ones I got at Cowfish and the Wine Shop —which were two amazing burgers. Those restaurants justified the cost of their burgers with the quality of their food.
Even at Bad Daddy's , a place that I didn't love, for $11 I got a bacon sandwich to end all bacon sandwiches. I knew what my money went towards, and I didn't feel ripped off.
Chambers, however, was a different story.
The bun was decent, and I liked the bacon, but I can't say much for the cheese. They use that garnish lettuce that we don't like. It adds no texture, and doesn't fit the size of the burger.
But what I was upset with was the meat. It was dry and flavorless, and I'm fairly sure that it was made with frozen, pre-formed patties. I could make out a tell-tale line on the edge of the meat.
I was expecting a lot more based on the price. And the onion rings were middling. They were a bit too big, and the onion pulled apart from the breading when you bit into them.
I kind of want to make a bad legal pun right now, but I don't think Hereford will let me.
EXHIBIT B: SIRLOIN STEAKHOUSE BURGER
Official Weight: 11.1 ounces
Official Diameter: 4.5 inches
Official Height: 3.5 inches
Cost: $10
Hereford: When I first tasted my burger, I didn't dislike it, probably because I initially focused on the ingredients. I liked the bread, and the tomato and onion were fine, although I didn't like my lettuce either. It covered my burger like a king-sized sheet covers a twin-sized bed.
But then I noticed how bland and dry the burger was (it came with no condiments). I thought that seemed odd, considering that it was, ostensibly, medium well.
A smarter man than I once told us that if a restaurant is just going to cook the meat the same, they shouldn't bother asking me how I want it. Neither Angus nor I got a burger that was actually medium-well, so they shouldn't have asked us. Since they probably use pre-made patties, they probably can't ever convincingly make them medium-well.
Overall, this burger reminded me of those Angus-Thick Burgers from McDonald's, but a little less greasy. And that's not meant to knock those fast food burgers—they are what they are. But, that's fast food.
Here's the final analysis:
Food: 2— We left Chambers completely unimpressed with our food. We could recommend nothing that we ate here.
Service: 3.75— Our server was nice, and our food came out quickly. But, then again, we were the only people there. And we were left alone a lot. At one point Hereford was out of soda for a long time, and she was nowhere to be seen, so he resolved to refill his glass himself at the bar. Just as he was leaning over and was trying to figure out the bar's handheld soda dispenser she emerged and stopped him.
Theme: 2— Chambers theme only extends to their name and their sign. Otherwise, they have no identity.
Atmosphere: 1— This was nearly the least impressive atmosphere of any restaurant we reviewed. The décor is a generic fancy, and it has no vibrancy. Frankly, it's boring.
Beer Selection: 2.5— This where they do something right. While they don't have a lot of beer, they do support local breweries with the two Olde Meck taps.
Hereford: So, having finished this review, we had a very earnest discussion about whether we should actually post it. After all, our concept of this blog is as a celebration of something we love about Charlotte. And this is the most negative review we've ever written.
Angus: But, it's honest. And it's a part of the chronicle of our quest . So here it is.
It's a shame that Chambers is relying on, or perhaps taking advantage of, its location. Obviously people who work at the courthouse have few nearby choices, and this is probably the nicest place within walking distance.
Hereford : Still, it could be a lot nicer. I think I would probably walk a little further.
I'll say, I'm proud of Angus for making it through this review without making any bad legal puns. I know he would have loved to added one to just about every paragraph.
Angus: Thank you. Obviously, I exercised a great deal of self-control.
Hereford: Isn't that the truth.
Angus: The truth? You can't handle the truth!
Hereford: Oh, brother.
Signed,